Thinking about what to wear in summer can be challenging. You reveal more about yourself and your body than in any other season and have fewer layering tricks at your disposal to either cover up certain parts or create a nice silhouette.
What to wear in summer – Putting together summer outfits
It's also harder to create a 'new' look every day, since you can't really play too much with jackets, layers and scarves.
Since I have been living in very hot weather year round for many years now, I have become very familiar with summer dressing, so here are some of my best tips & tricks for dressing for this season.
1. Use interesting design details for your summer clothes
If you are only wearing one layer, make it as interesting as possible. I often choose tops that have an interesting design detail.
My top (above) has a twist detail which adds interest even though I'm simply wearing a gray top and white pants. Look out for an interesting drape, asymmetrical detail or pattern.
All you need is a good basic bottom like some nice white trousers or skirt and you will look, modern, polished yet remain cool.
Qearal cowl neck sleeveless top
Dudo (above) chooses a tie-waist top to add interest to her monochrome outfit. Check out a similar top here.
2. Dress in very thin layers in your summer wear for women.
This is easy to do when you have a few very thin blouses or tunics. It doesn't matter if they are see-through because you will be wearing it with either your bikini or singlet underneath.
Monica (above) adds a lightweight linen blazer to add an element of layering during the summer months. You can find a similar striped jacket here.
3. Hide those bra straps when wearing summer style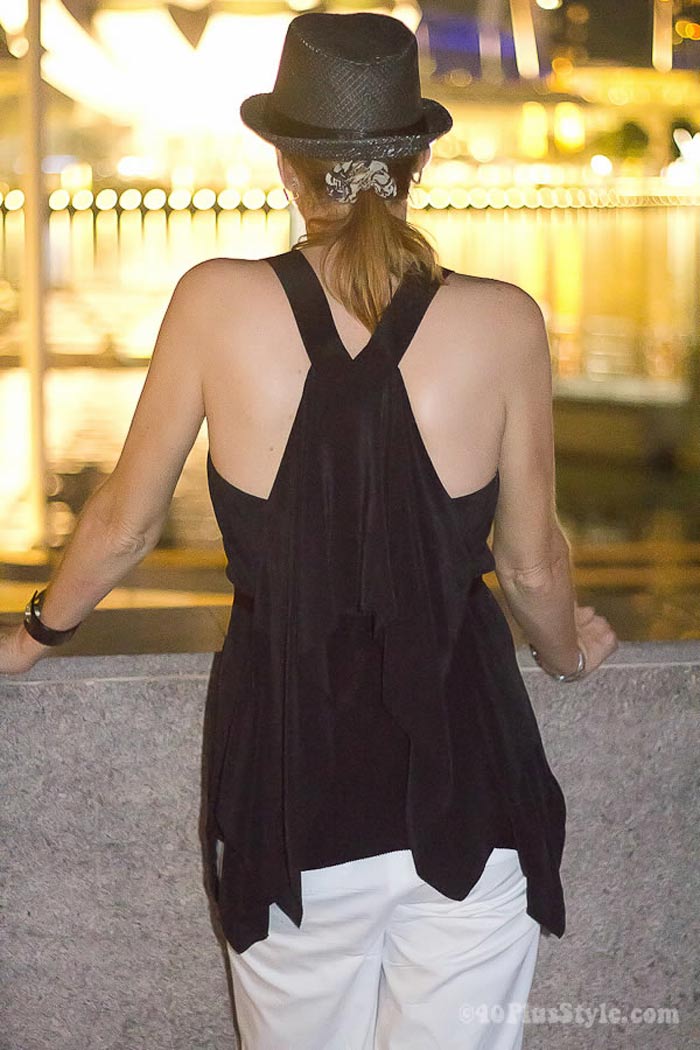 I personally don't like to see bra straps. If you are wearing a unique top, make sure that you have a bra that can be worn invisible underneath.
You can either buy a bra that can be worn in several ways or buy a bra clip like this one. This can be used with almost every bra.
Of course panty lines should be avoided too. I regularly wear panties from Uniqlo and Marks & Spencer.

4. Invest in a few good dresses
here
Get a similar floral dress here and an asymmetrical sleeveless dress here.
Cute summer outfits – the dresses you need
Nothing is as easy and glamorous and cool as a good summer dress. Ideally you will have at least 5 dresses:
1. A high summer beach dress.
This dress can be shorter than your other dresses and is easy to wash, doesn't wrinkle too easily and is not too precious.
Choose a dress that will be perfect for the beach but can also be used as a tunic worn over pants for casual clothes.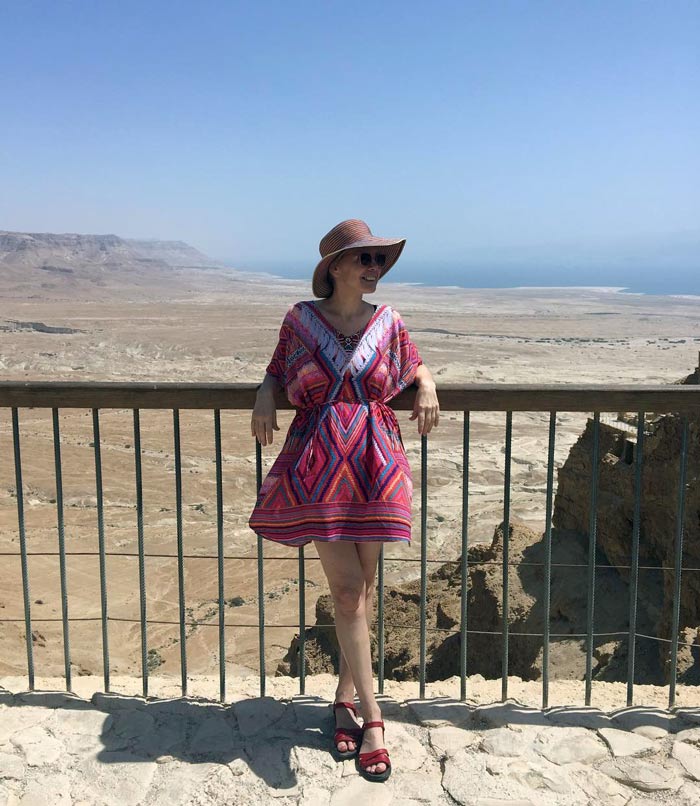 When I go to the beach I prefer to cover up rather than expose all my upper skin to the sun.
I could easily wear my tunic (above) with a pair of cropped pants, white jeans or leggings.
You can combine with either shorts or a long skirt if you like to cover up your legs as well.
2. A summer day dress
This dress should be the perfect dress for casual get-togethers during the day.
This could be a nice wrap dress in cotton jersey or a casual shift dress. Asymmetry will add interest to an otherwise simply day dress.
I've also found myself more drawn to patterned and floral dresses this year.
Eileen Fisher asymmetrical shift dress
3. A work dress
A traditional shift dress that looks both professional and conservative and that can be easily combined with a jacket or cardigan.
4. A dress for the evening
A dress that is a bit more special than your day and work dress. Silk is my preferred material for a special dress in summer and ideally it's asymmetrical too! Since I believe in wearing your nice clothes as often as possible.
Sam Edelman asymmetrical dress
5. A maxi dress
You may also want to add a maxi dress to your summer outfit choices. They can be a particularly good option for vacation time as they manage to be easy-to-wear yet glamorous at the same time.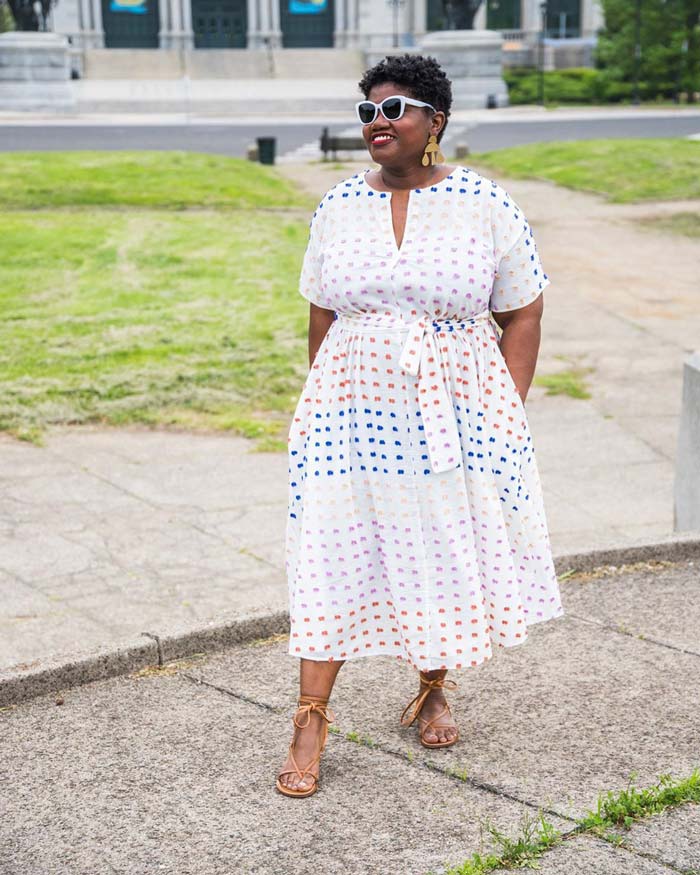 Georgette (above) looks super stylish as well as being comfortable in her lightweight summer dress. This is a Lou & Grey limited edition dress that sold out very quickly. But you can check this one out for a similar look. You can read more about Georgette's style in her style interview here.
5. Don't be afraid of silk when choosing summer clothes for women
I have mentioned silk a few times already. Together with good quality cotton it is my preferred material for summer.
It's cool, has a beautiful natural shine and it looks and feels sublime. If you can combine that with tip number 2, you have a true winner on your hands!
A common complaint is that silk is too precious for summer and that it requires too much care.
However, I am able to wash all my silk clothes by hand. Yes, it's more work, but not as expensive as dry cleaning.
Although all silk items will always have the 'dry cleaning' advice for washing, I personally don't believe it's necessary so long as you purchase silk of good quality.
Of course, you will have to do this at your own risk. I will not take any responsibility if this does not work for you! (just sharing how I personally manage my silk items).
It's true of course that silk is more expensive. But I feel it's worth investing is one special dress that will make you feel wonderful. When you look after your dress well, it can last for many years.
Eileen Fisher silk & cotton top
6. Summer outfit ideas: Cover up in smart ways
Ann Klein cowl neck top – Eileen Fisher asymmetrical drape top – Chaus shark bite top – Ann Klein asymmetrical tunic top
In summer you need to be even smarter with the types of clothes you choose when you want to cover up certain areas.
I personally don't believe in using shape wear too much as it's far too hot and uncomfortable.
Instead choose smart tops, skirts and dresses that drape in all the right areas to cover up any bulges. Asymmetric dresses and tops are usually very good at doing that.
Have a look at the following articles too:
– How to cover up your upper arms while staying stylish and cool
– How to hide your belly with the right clothes
Here are some of my favorite tops to hide your belly and favorite asymmetric tops and dresses currently available in stores.
7. Dress for your body type when choosing summer fashion
In this season in particular, it's very important to dress for your body type.
Look at some of the guidelines in my articles on the pear, apple, inverted triangle, hourglass and rectangular shape.
Apples for example look much better in tops that are fitted around the bust and wider around the tummy. The same counts for dresses. Here are also some tips on how to wear capris the right way.
8. Use accessories, shoes, color, pattern and graphics to make casual summer outfits more interesting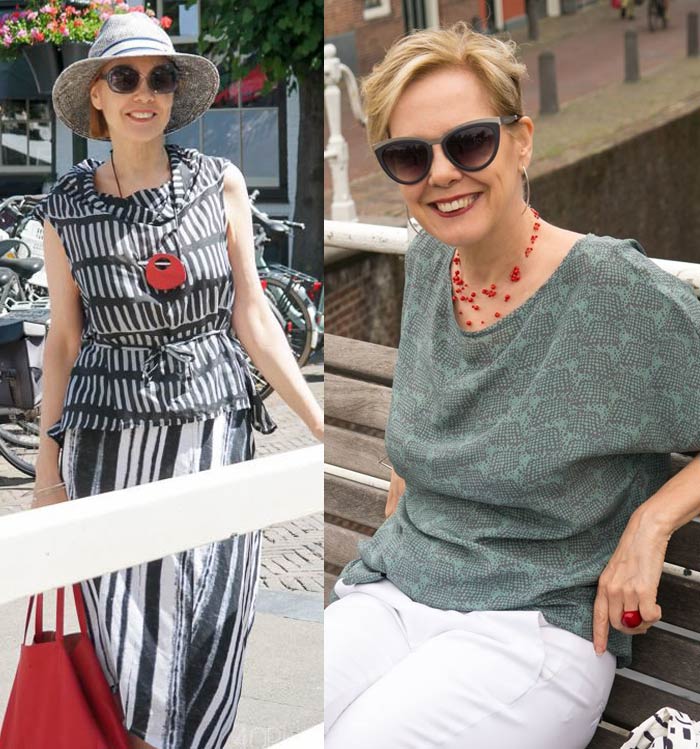 Accessorizing and playing with colors and patterns is the perfect way to make your summer outfit more interesting.
Play with color blocking
Add a belt in a print
Add interest with a brightly colored scarf (for lots of example see how to wear scarves)
Use the scarf itself as a top
Add color with a bag
Use a statement necklace
Get some colorful standout shoes
When wearing flats make sure they are cute. You may check these cute sandals for summer
Ann Klein drawstring midi dress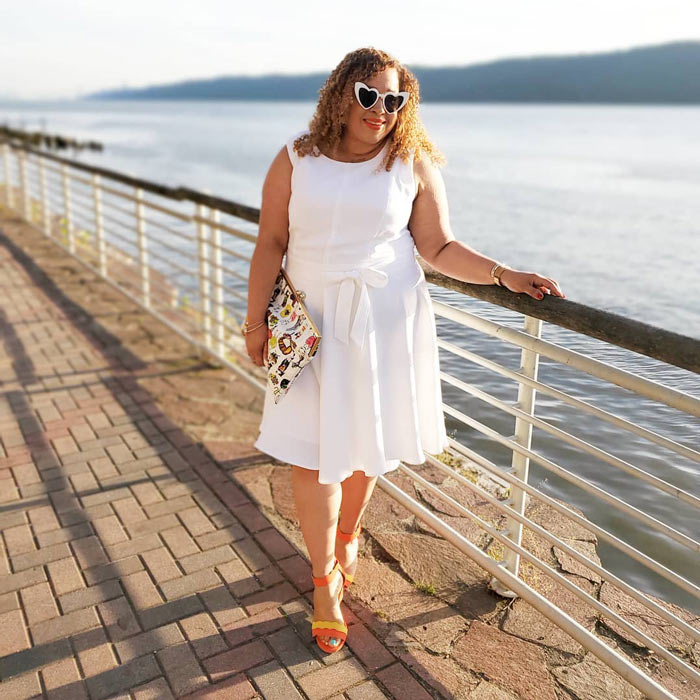 Sandra (above) lifts her white dress outfit with her accessories. Check out her cute sunglasses from Amazon. You can find a similar orange heels here and a similar colorful clutch here.
Claudia (above) adds the wow factor to her outfit with striped pants. Here is a pair of similar pants that you can get to copy this style.
9. Have fun with sunglasses with your summer wear
Sunglasses are the perfect way to cover up your wrinkles and dark circles around the eye for a young and hip look.
Use them in abundance in summer, if only to protect your eyes of the sun and harmful rays and have fun with colors and shapes.
For more tips on wearing glasses read what glasses to buy after 40and how to pick the right frames.
Quay Australia square sunglasses– Kate Spade square sunglasses– Ray-Ban Clubmaster sunglasses – Le Specs cat eye sunglasses
Madeline (above) looks fabulous in her classic aviator shades.
10. Wear white in your summer outfits for women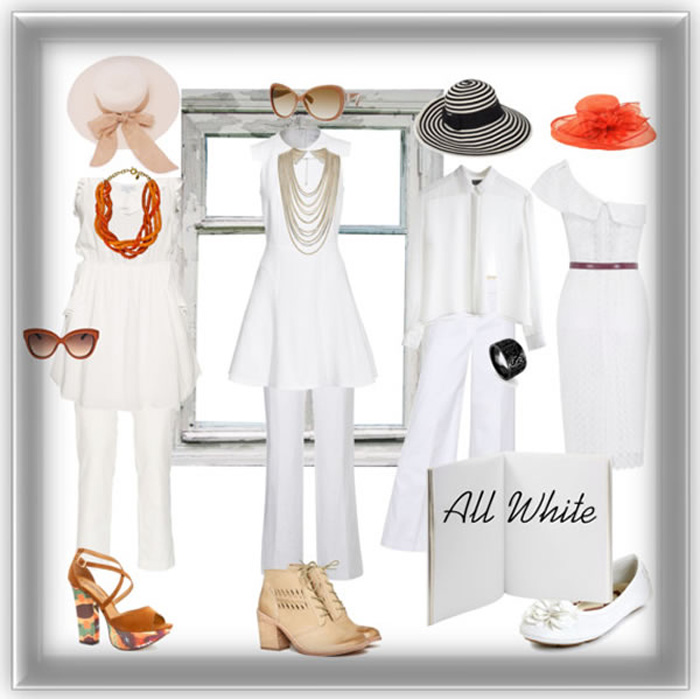 White is your best friend in summer. It is the most versatile color to wear and whenever I don't know what to wear I turn to it.
Combine with almost every color and pattern in your closet for a clean, modern look! Or while all white.
For more tips check out how to wear white and how to wear white pants.
Something Navy button-up midi dress
Look at these cute summer clothes below for white inspiration
Gloria (above) opts for a stylish white jumpsuit, tied at the waist and teamed with high-top sneakers. You can find a similar piece here.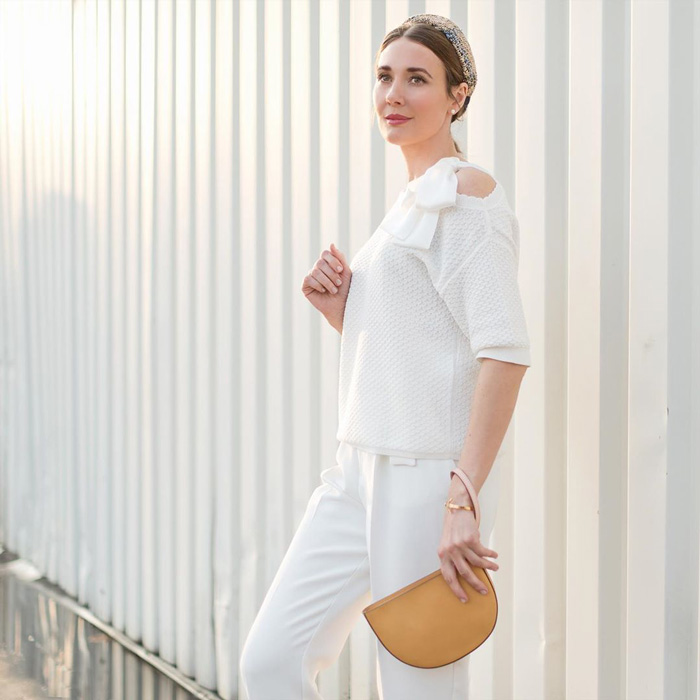 Kristina (above) wears an all-white outfit with tan accessories. You can get a similar top here and trousers here.
Here are some more summer attire ideas
A dress is easy to wear as you hardly need anything further apart from a few accessories.
If you select the right dress for your body type,you will always look put together and polished.
Here are just a few examples.
What to wear in summer
What are you looking forward to wearing most this summer? Do you have a favorite look from the above.
For even more tips you can read a previous post where I discuss all the DOs and DON'T of summer dressing.
For more inspiration on summer dressing, you can also visit the What I Wore section of this site where I showcase many of my own outfits.
What are your best tips for what to wear in summer?

Like this article on what to wear in summer? Share it on Pinterest
Want to get more articles from 40+style in your inbox, subscribe here.
You can also connect with 40+style on Facebook, Instagram or Pinterest.
Support 40+style by using the links in our articles to shop. As an associate for Amazon and many other brands, we receive a small commission (at no cost to you) on qualifying purchases which enables us to keep creating amazing free content for you. Thanks!