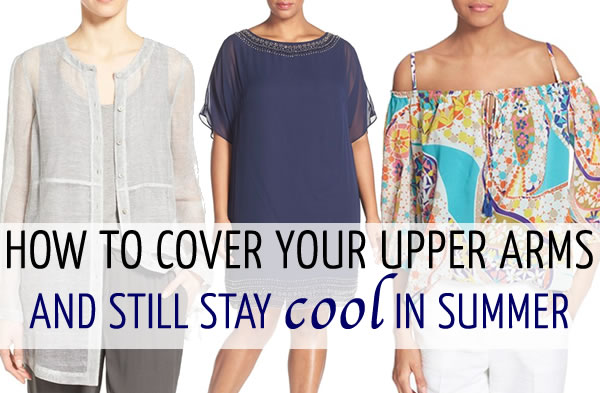 Summer is here which means fewer and breezier clothes! Even though the warm weather asks for sleeveless tops and dresses, many women still like to cover up their upper arms. 
Please note that covering upper arms is a personal preference for many 40+ women. I don't feel it's necessary to cover your arms, no matter how they look, but if you feel more fabulous while doing so, there is nothing wrong with that either.
Therefore today I will offer you some tips and tricks on how to cover your upper arms while still staying cool!
Ways of wearing sleeves when it is warm
To cover up your arms you can:
1. Wear something with sleeves, a no brainer.
There is a lot of variation in sleeves though. In the length, the shape and the material.
Opt for light or sheer fabrics
If you go for full length sleeves try to look for certain fabrics like light material, (semi-)transparent and lace. All of these are relatively cool and airy. You hardly feel transparent material on your ams and it is often good enough to mislead the eye of people.

Look for 'airy' kind of sleeves
Then look for shapes that are loose, like:
The batwing sleeve, a long sleeve with a deep armhole, tapering towards the wrist.
The bell sleeve, a long sleeve that is fitted from shoulder to elbow and flared from elbow onwards.
The bishop sleeve, fuller at the bottom than the top and gathered at the wrist in a cuff.
Bishop sleeve top
The butterfly sleeve, a short sleeve that gets a lot wider from the shoulder onwards.
Chiffon butterfly sleeve top
The hanging sleeve, a sleeve that opens down the side or front to allow the arm to pass through.
Stark white split sleeve blouse
Opt for for cut-open sleeves and cold should tops
Halogen cold shoulder tunic top
These tops are absolutely perfect for women who prefer to cover (part of their) upper arms yet still want to feel cool and sexy. Right now this is a HUGE trend so this is the time to stock up on these kind of tops as they can sometimes be hard to find.
Pinstriped top
Cold shoulder and cutout tops are a huge trend right now and perfect for covering those parts you don't like but showing those parts you do.
Strapless tops with sleeves are great for hot summer days and super sexy.
Floral cold shoulder top
2. Wear sleeveless, and wear something with sleeves over that
You can also start building your outfit with a sleeveless top like a short or long camisole.
Then you can add many kinds of toppers like cardigans, vests and boleros, but also the sheer blouses we mentioned above.
Her is an example of how I wore my sheer top over a long camisole.
Another option is a shawl or pashmina, but they take a bit more effort to keep them in place
3. wear sleeveless and wear something with sleeves under that
You can also take your sheer blouses or other tops with cool sleeves and wear something on top of that. The easiest way to do that is with a vest like this one from Covered Perfectly. (you can see how I wore this vest many different ways in this article).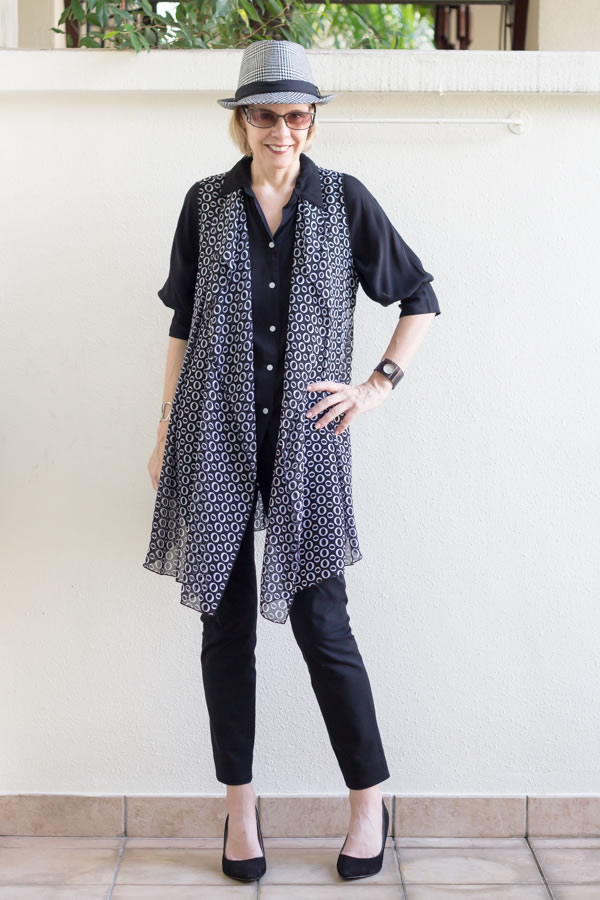 For many more ideas, check out this article on how to wear a long vest.
Do you want to cover up your upper arms in Summer? If yes, how do you do it?

This article contains affiliate links