Many 40+ women like to cover their upper arms.
So how do you cover your upper arms while still staying cool? We share lots of strategies and products on how to cover your upper arms in this article.
Do you even need to cover your upper arms?
Well, it depends…
As you age, you may find myself wanting to cover up more and more parts of your body.
You may prefer presenting yourself in the most flattering way possible and that implies covering up some parts, hiding loose skin, wrinkly parts, belly fat and so on.
It's a personal choice and certainly not something you have to do. If you're happy to show your arms, go for it!
There is no need to cover up at all and I personally believe that arms are beautiful, no more matter how discolored or wrinkly they may be, or if they have some loose skin.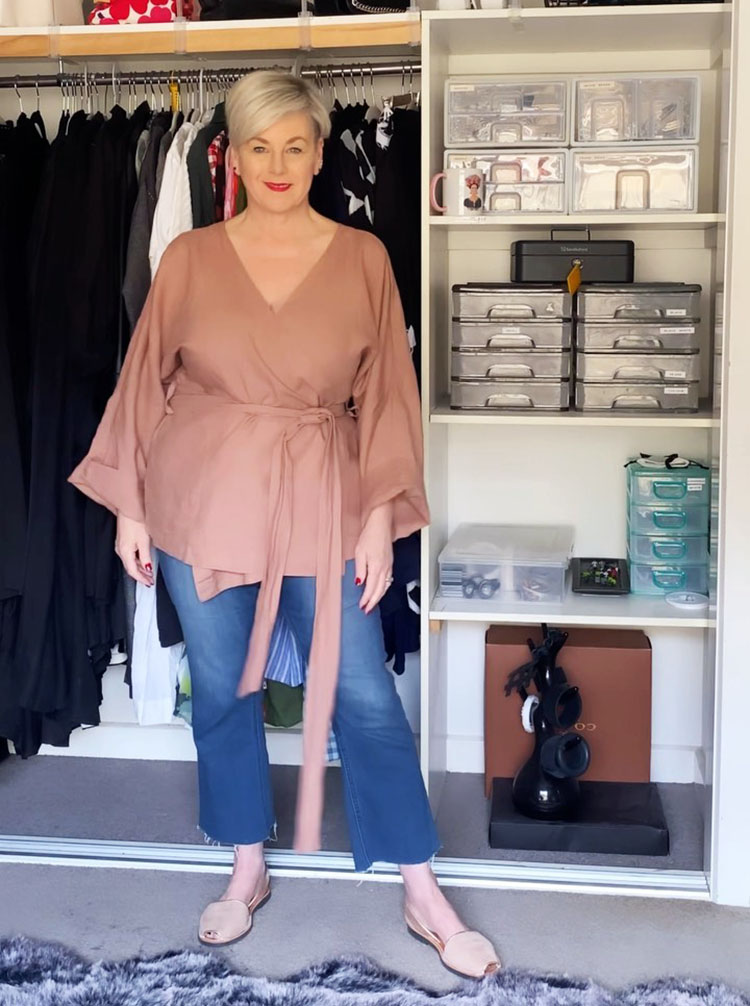 Deborah @deborahgates_ above (read her style interview here) shows how you could cover your arms with loose-fitting sleeves.
Check out this wide sleeve top that you can wear with this similar pair of jeans and flats.
You may also like our article on how to hide your belly with the right clothes.
How to cover your arms
However, if you, like many women, prefer not to show your naked arms anymore but still want to stay cool in spring and summer, you will like my ideas on how to cover your upper arms.
Does that mean that from on you can only wear full length sleeves?
No, not at all.
That would not be comfortable in summer and a shorter sleeve is actually more flattering in most cases.
Fortunately, there are lots of other ways to cover your upper arms apart from just long sleeves.
Strategies for covering up your arms
To cover up your arms you can:
Wear something with sleeves, a no brainer
There is a lot of variation in sleeves though. In the length, the shape and the material.
The linen shirt (below) comes in a variety of colors and is easy to dress up or down. Plus, even though it has long arms, the linen material should keep you cool.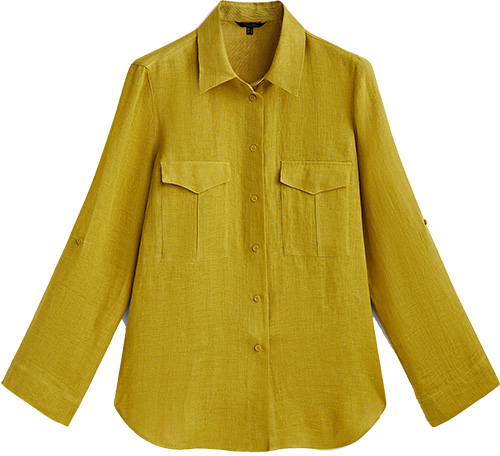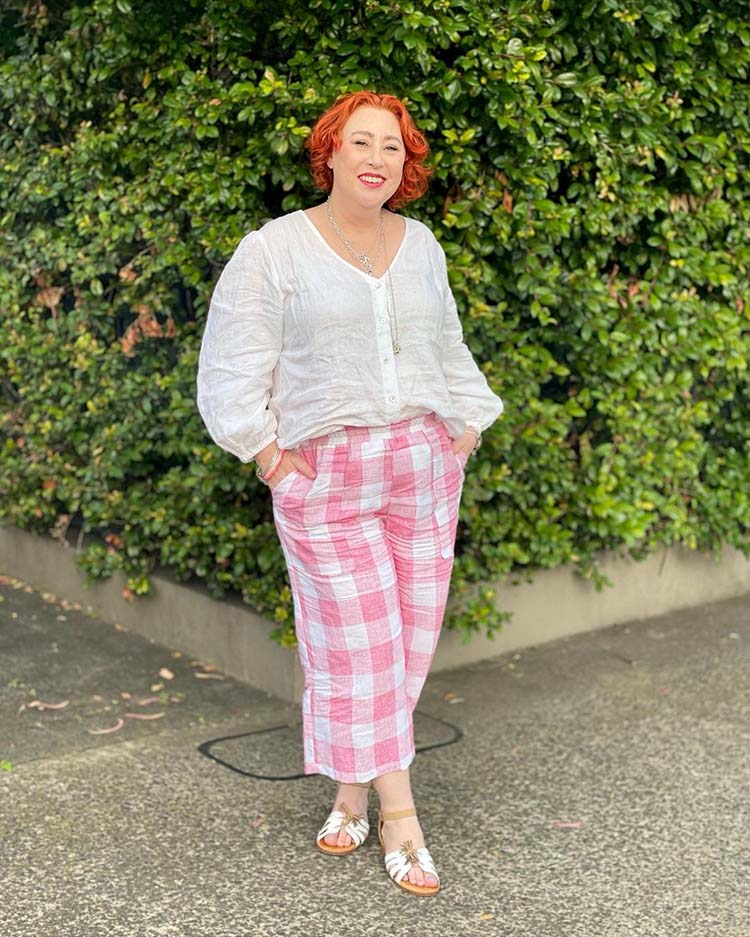 Kimba @kimbalikes above chooses a lightweight shirt with her check pants.
Recreate her outfit with this similar blouse (another option here), pants and sandals.
Opt for light or sheer fabrics
If you go for full length sleeves you may want to try to look for certain fabrics like light material, (semi-)transparent and lace. All of these are relatively cool and airy. You hardly feel transparent material on your ams and it is often good enough to mislead the eye of people.
The Massimo Dutti top (below) is made from ramie which, like linen, is extremely absorbent and will stay comfortable on hot, humid days.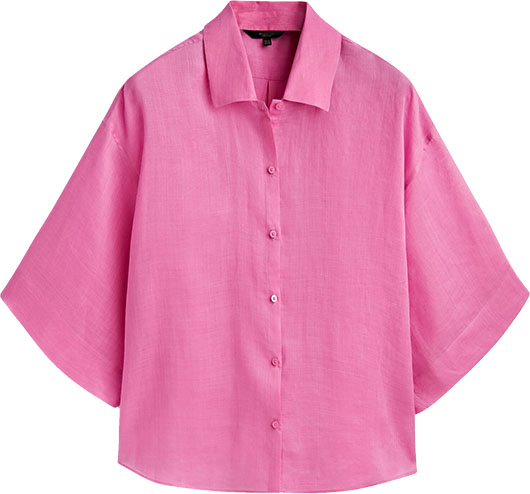 Look for 'airy' kind of sleeves
Choose sleeves that aren't too tight as these will drape over your arms and ensure you stay cool. The Massimo Dutti linen top (below) will be a good choice for summer.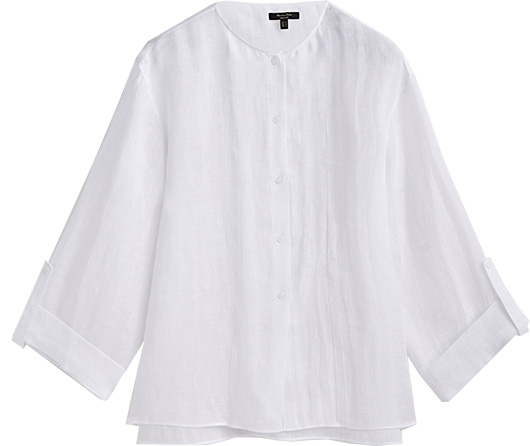 Massimo Dutti Wide Sleeves Linen Shirt
bell sleeve
The bell sleeve blouse, is a long sleeve that is fitted from shoulder to elbow and flared out at the bottom of the arms.
The print blouse below could be worn with your shorts, pants or jeans.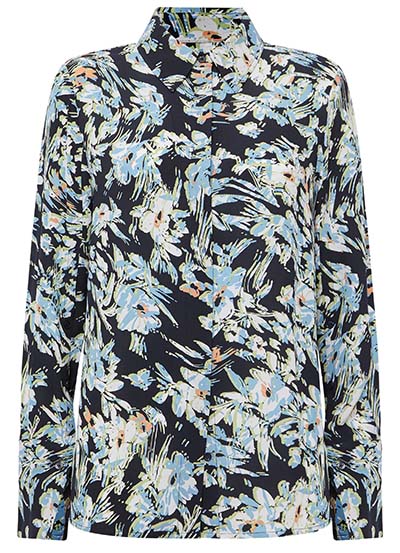 Reiss Laura Floral Bell Sleeve Blouse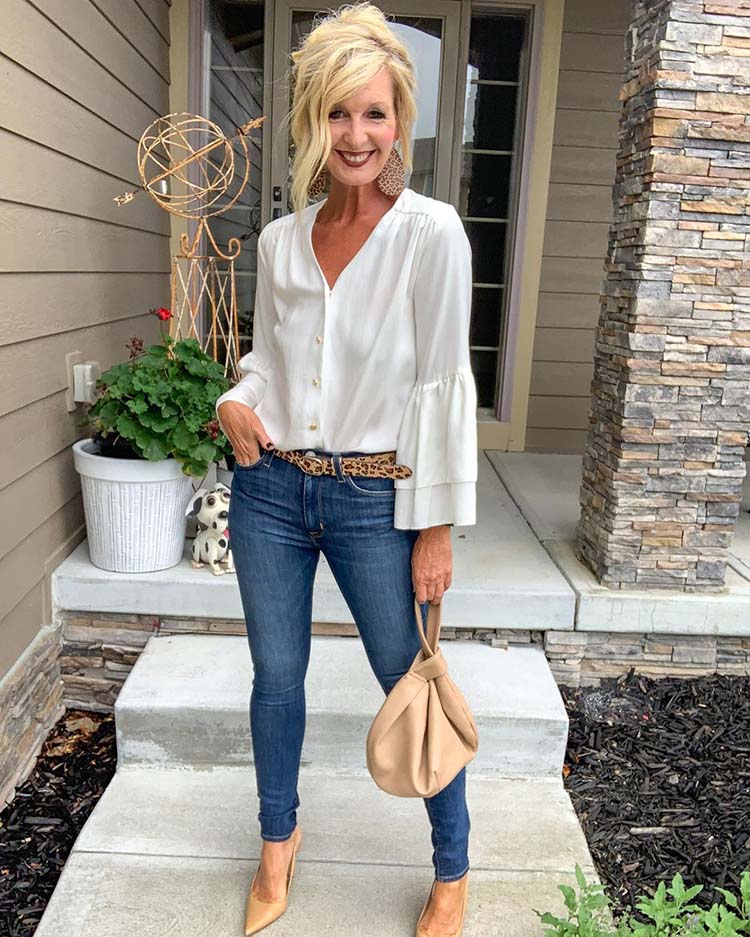 Melanie @melanie.rae.miller above chooses a flared sleeve blouse with her jeans.
Get her look with this similar blouse, skinny jeans, pumps, handbag, earrings and belt.
puff sleeve
Puff sleeve tops are particularly on trend at the moment and can be ideal for covering up the top of your arms. Because the sleeves are voluminous, this can help to make your lower arms look slimmer. The puff sleeve top (below) has a square neck which tends to be a flattering look if you have a big bust.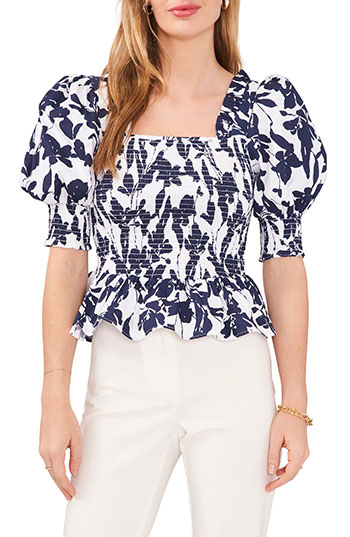 Chaus Floral Smocked Puff Sleeve Cotton Top
flutter sleeve
The flutter sleeve top (below) would be a good option for summer or vacation. Women who have worn it say they got lots of compliments.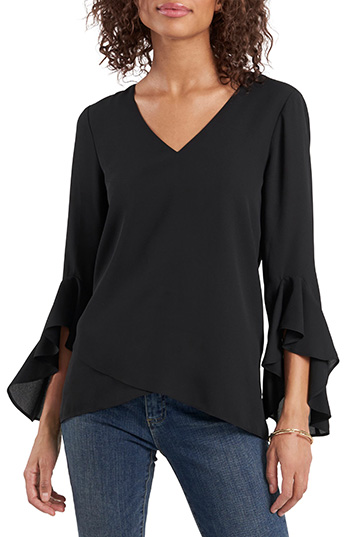 Vince Camuto Flutter Sleeve Tunic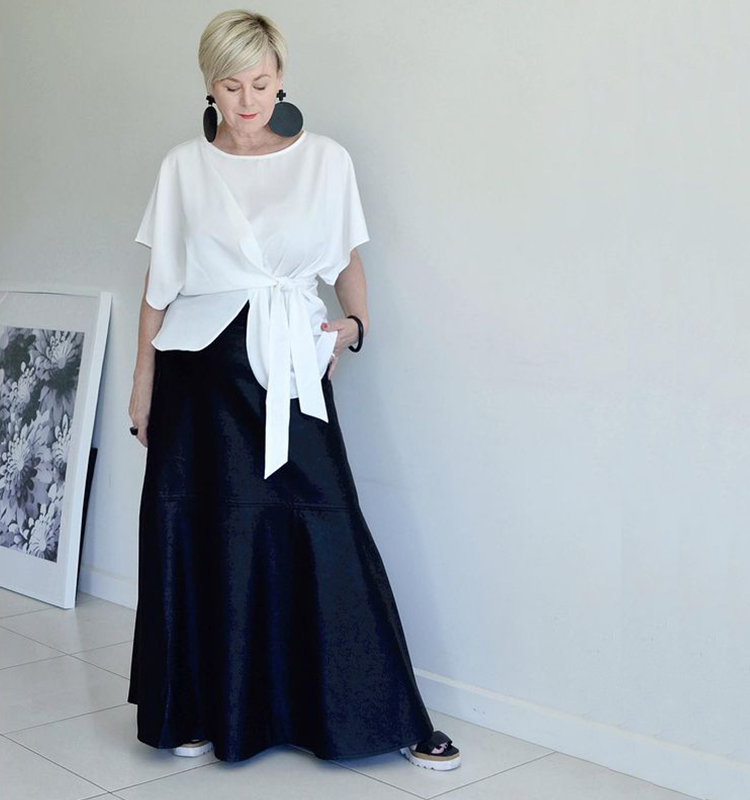 Above is another perfect example on how to cover your arms by Deborah @deborahgates_. She opts for a beautiful flutter sleeve top that would go with everything from skirts to jeans.
Get her look with this similar top, maxi skirt, sandals and earrings.
Split sleeve
A split sleeve style is a good choice to look out for, as it is cool and airy, while easily covering your upper arms. The chiffon top (below) comes in a wide choice of colors and has fantastic reviews from wearers who say it is flattering, doesn't show your bra through, and is good to dress up or wear with your jeans.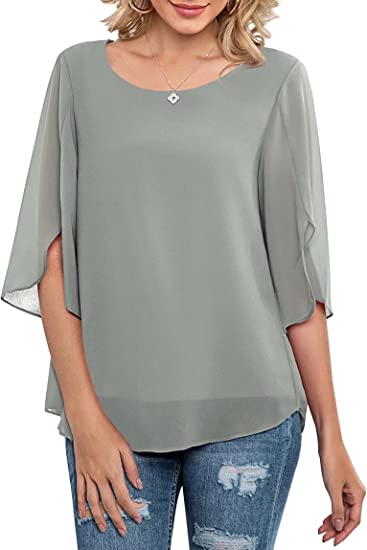 batwing sleeve
The batwing sleeve top, a long or mid-length sleeve with a deep armhole, tapering towards the wrist or elbow. The top below is available is super airy and available in all kinds of colors and prints. Reviewers say they have this top in multiple colors.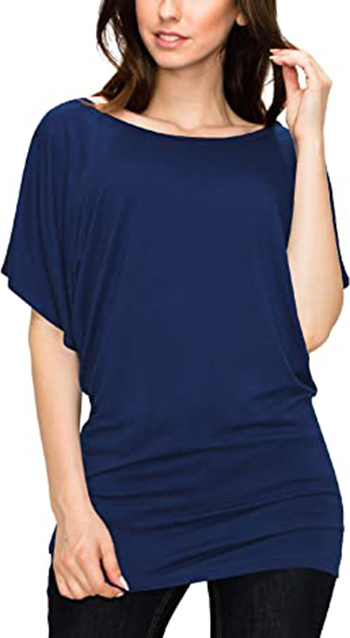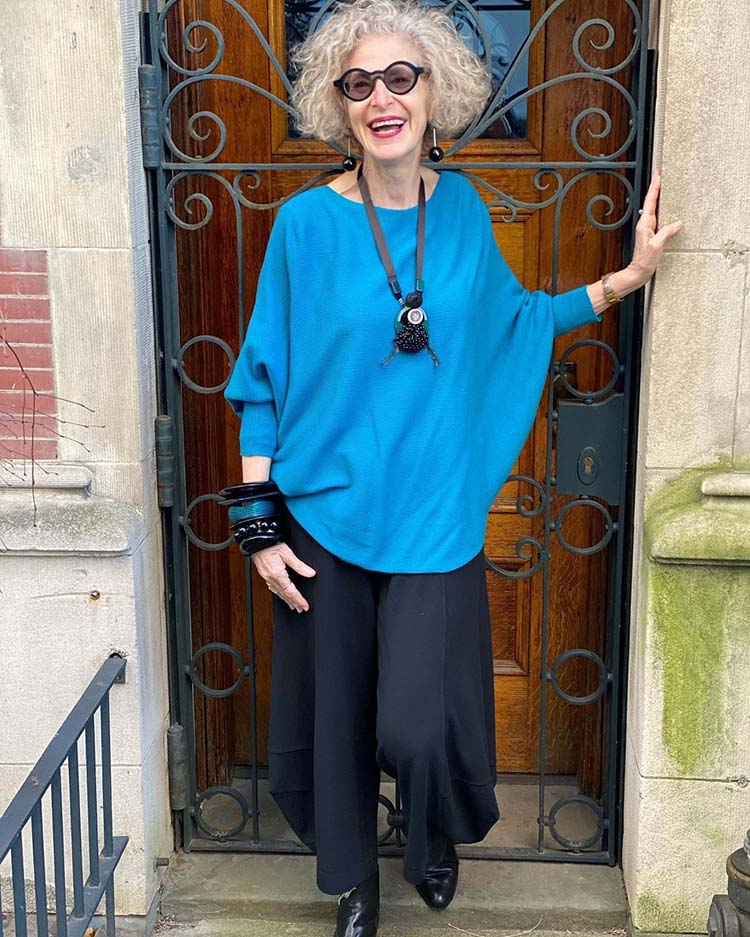 Dayle @artfulcitystyle above (read her style interview here) shows how you could style a batwing top.
Recreate her outfit with this similar top (another option here), wide pants, booties and necklace.
butterfly sleeve
The butterfly sleeve top, a short sleeve that gets a lot wider from the shoulder onwards.
The blouse (below) should flatter most body shapes, particularly if you want to hide both your upper arms and your belly. It comes in a choice of colors, and reviewers say it feels nice to wear. Many say it fits a little on the large side so you may want to order a size down.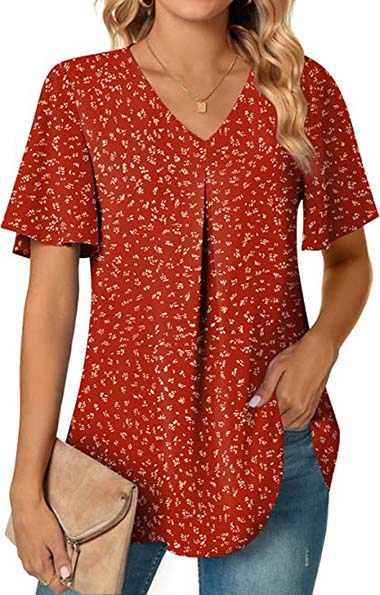 bishop sleeve
The bishop sleeve top, fuller at the bottom than the top and gathered at the wrist in a cuff.
The blouse below comes in neutral shades, and the square neckline is good for hourglass figures and fuller busts.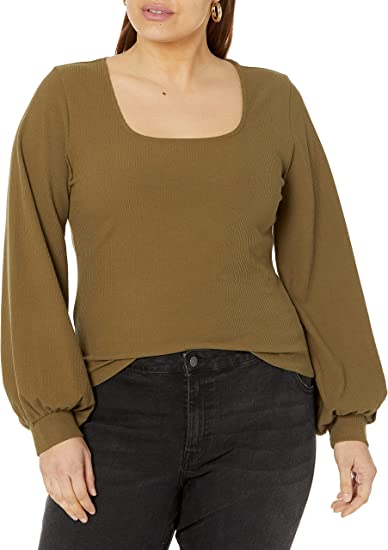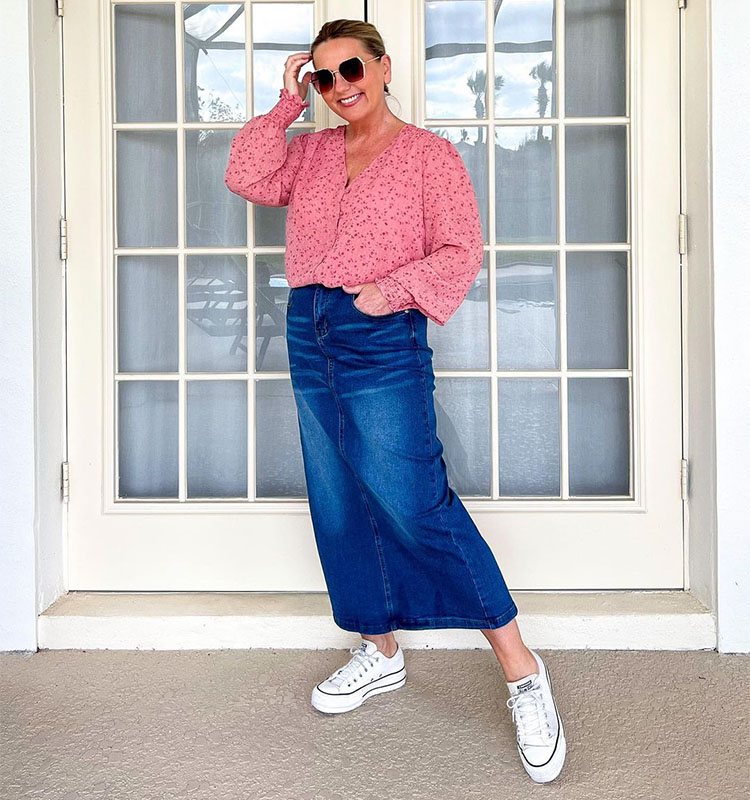 Jona @the50plusgirl above chooses a floral blouse with wide, cuffed sleeves.
Steal her look with this similar blouse (other options here and here), denim skirt, sneakers and sunglasses.
cold shoulder
The cold shoulder top, a sleeve that opens down the side or front to allow the arm to pass through. This has the advantage of showing off your shoulders, if this is a part of your body you like, while covering up your upper arms.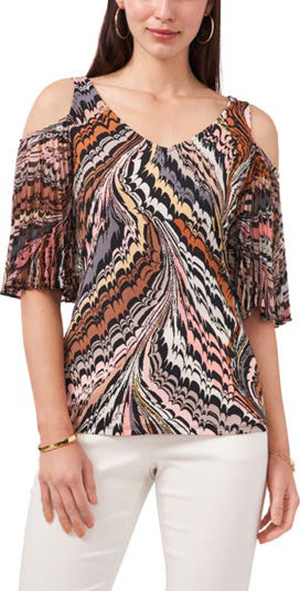 Chaus Print Cold Shoulder Knit Top
Lace
Because lace naturally has little holes in it, it can be a cool option to cover your arms. You could wear the lace blouse below with a camisole underneath.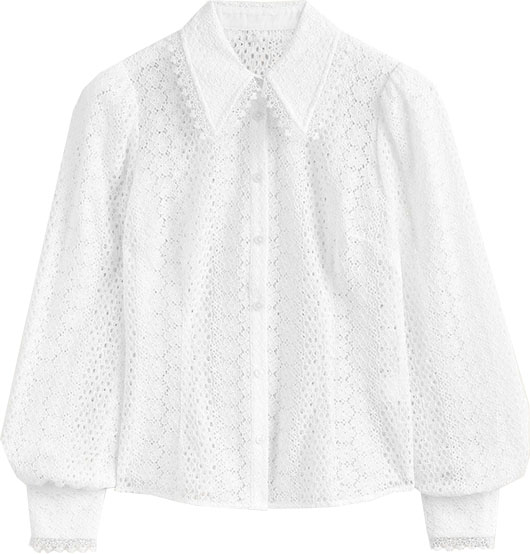 off the shoulder
These tops are absolutely perfect for women who prefer to cover (part of their) upper arms yet still want to feel cool and sexy. Right now this is a HUGE trend so this is the time to stock up on these kinds of tops as they can sometimes be hard to find.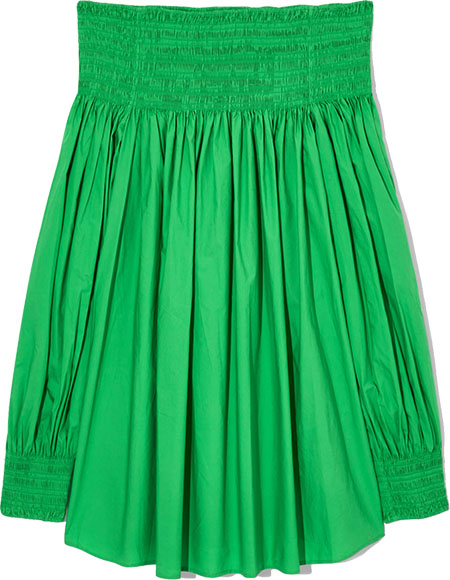 COS Smocked Off The Shoulder Top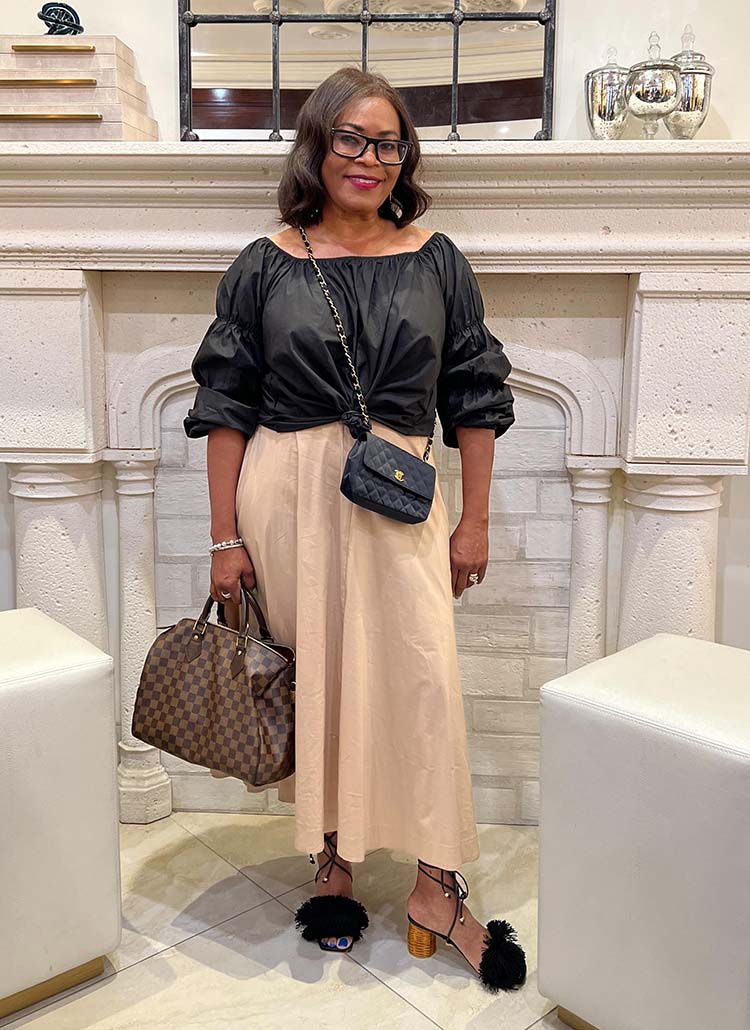 Eugenia @theeageofgrace (read her style interview here) pairs her off-the-shoulder top with her maxi skirt.
Get her look with this similar off the shoulder top (another option here), skirt, sandals and bag.
Wear 3/4 sleeves
If you want to cover up, a 3/4 or half arm sleeve is a great solution. It has the extra benefit that's it's super flattering too.
As the sleeves end at your waist, you tend to focus your eye there. The Karen Kane asymmetric top (below) is also a great style for covering your belly.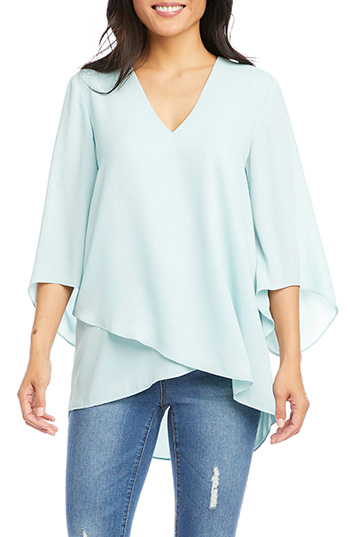 Karen Kane Asymmetrical Crepe Top
Wear sleeveless, and wear something with sleeves over that
You can also start building your outfit with a sleeveless top like a short or long camisole.
Then you can add many kinds of toppers like cardigans, vests and boleros, but also the sheer blouses we mentioned above.
Another option is a shawl or pashmina, but they take a bit more effort to keep them in place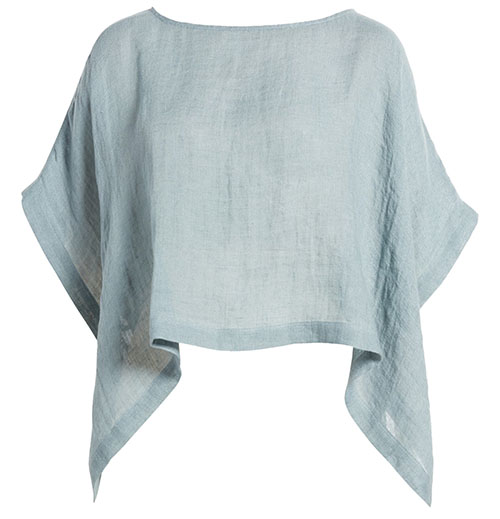 Eileen Fisher Bateau Neck Linen Crop Poncho
Below, you can see how you could wear a ruana over a camisole.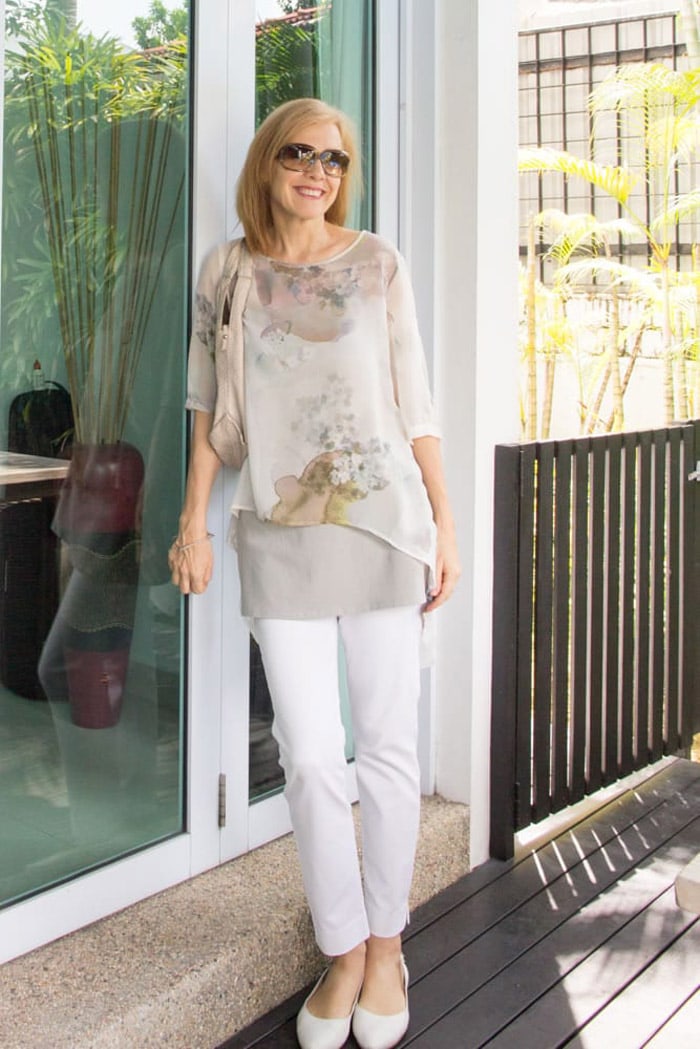 wear sleeveless and wear something with sleeves under that
You can also take your sheer blouses or other tops with cool sleeves and wear something on top of that.
Another advantage of wearing an outfit like this is that you're creating a long lean line in your outfit which makes you taller and slimmer and hides your belly too!
The example below shows how you could wear a sleeveless vest over a summer ruana or kimono.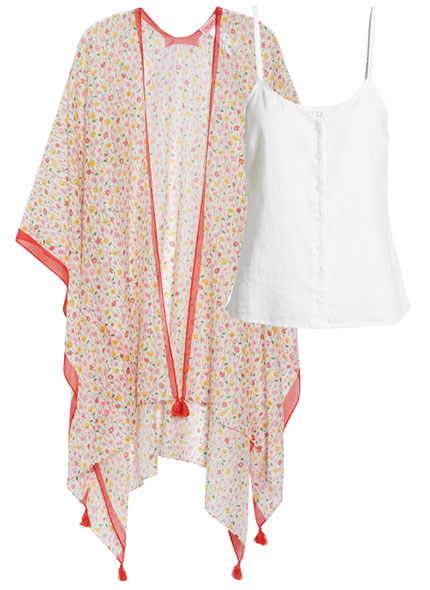 Kate Spade New York Floral Print Ruana – Treasure & Bond Button-Up Linen Blend Camisole
You could also wear a longer sleeved top, and then a sleeveless vest over the top, as shown below.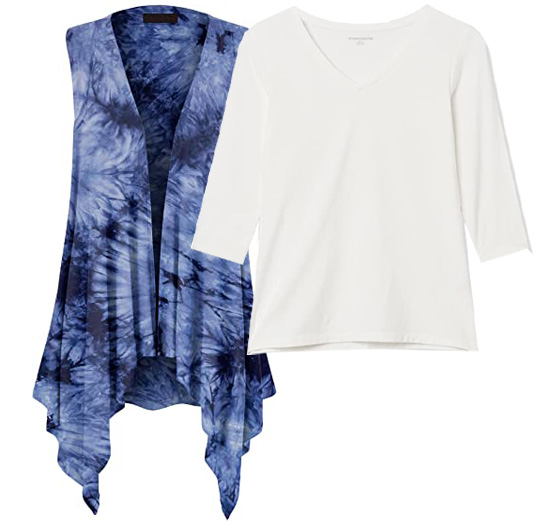 Made By Johnny Sleeveless Draped Open Cardigan – Amazon Essentials Classic-Fit 3/4 Sleeve T-Shirt
For many more ideas, check out this article on how to wear a long vest.
Cover up with a sheer cardigan or jacket
Another great way to cover up your arms is to use a sheer cardigan or a cool jacket.
You could add several of these sheer cardigans in a variety of colors to your closet. Not just to cover your arms but also to stay warm. They're super easy to pop into your bag as they don't wrinkle.
You can wear these loose or tied with a knot as in the example below. Reviewers say it is ideal as a cover-up for summer events and parties.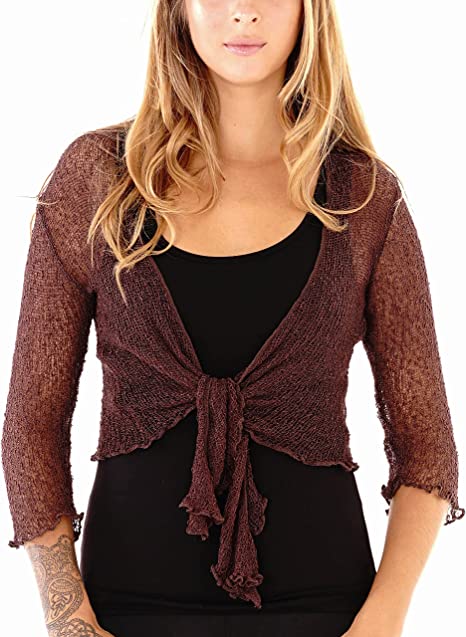 SHU-SHI Sheer Shrug Knit Cardigan
A sheer bolero could be another good option, particularly if you want a dressier evening choice.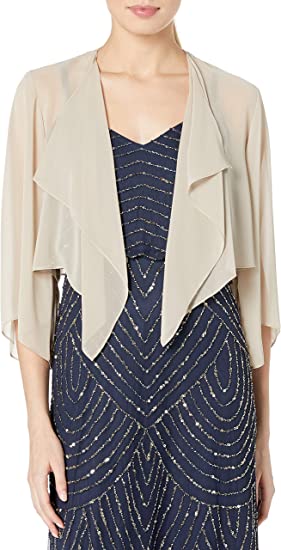 Alex Evenings Short Bolero Shrug Jacket
Get separate sleeves to cover arms
If you love many of the sleeveless blouses and dresses you already have in your closet but want to cover up your arms, use a separate sleeve or arm cover up.
Sheer sleeves to cover arms
Lace sleeves
A popular brand to cover arms that's of higher quality is Sleevy Wonders. They offer both sheer but also lace arm covers that are perfect for sleeveless dresses.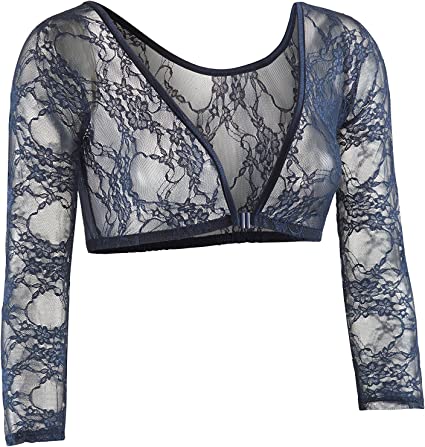 Sleevey Wonders Basic 3/4 Length Slip-on Lace Sleeves
Jersey arm sleeves
If you like to cover your arms with a sold color then a jersey sleeve is perfect for you. These are from Sleevy Wonders too and will be perfect to add under your sleeveless tops or dresses.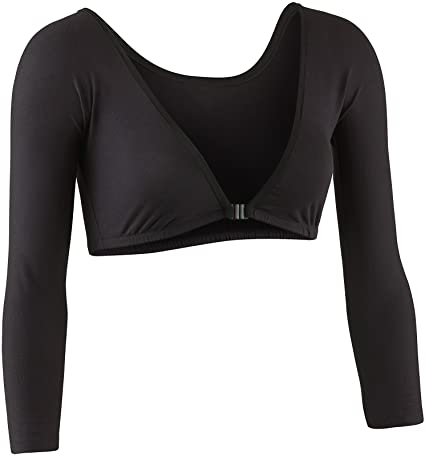 Sleevey Wonders Basic 3/4 Length Slip-on Jersey Sleeves
As you have seen there are many ways to cover up your arms in a stylish way. Now all you have to choose is whether you want to cover up or not. Both options are equally good!
shop more items here:

Do you want to cover up your upper arms in Summer? If yes, how do you do it?
Continue reading:
Like this article on how to cover your upper arms? Share it on Pinterest!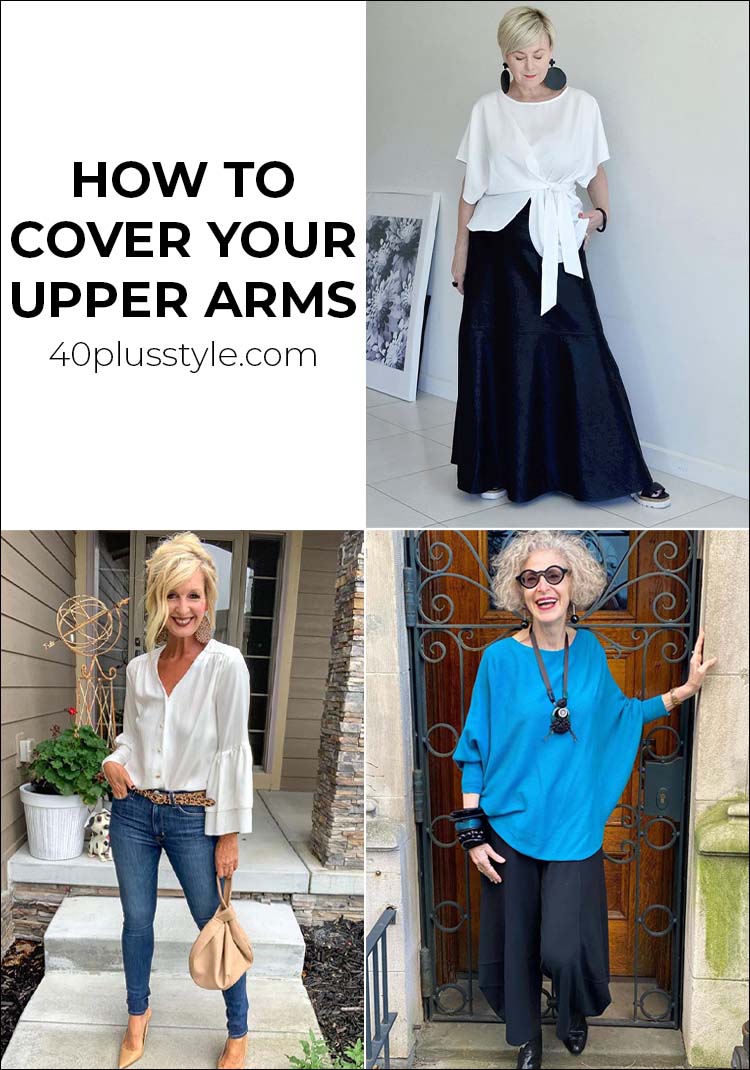 Feature image by Deborah @deborahgates_
Want to get more articles from 40+style in your inbox, subscribe here.
You can also connect with 40+style on Facebook, Instagram or Pinterest.
Support 40+style by using the links in our articles to shop. As an associate for Amazon and many other brands, we receive a small commission (at no cost to you) on qualifying purchases which enables us to keep creating amazing free content for you. Thanks!