Whether you are looking for a cover-up because you don't want to show your upper arms, or because you know you may get chilly at a winter event, we selected some perfect shrugs and boleros for evening dresses to get you party ready.
Why would you want to cover up?
There can be several reasons that you may want to cover up your arms for an evening event:
You don't want to draw too much attention to your arms and it's an area of your body you want to downplay. (Get more of our tips on how to cover up your upper arms here).
You can get cold really quickly and want to stay warm.
You have a sleeveless dress that you no longer love that much, but that you still enjoy wearing with a jacket.
You just prefer the look of your outfit more with a jacket or coverup
It may be that you've already combed stores looking for dresses with sleeves.
Holidays and formal parties can be a tough challenge if you want to cover your upper arms because so many beautiful gowns are either sleeveless or strapless.
The key is to find a stylish bolero, shrug or jacket which definitely doesn't look like daywear or outerwear – otherwise, you will spend the evening with your host trying to coerce you into giving them your coat.
How to find a cover-up online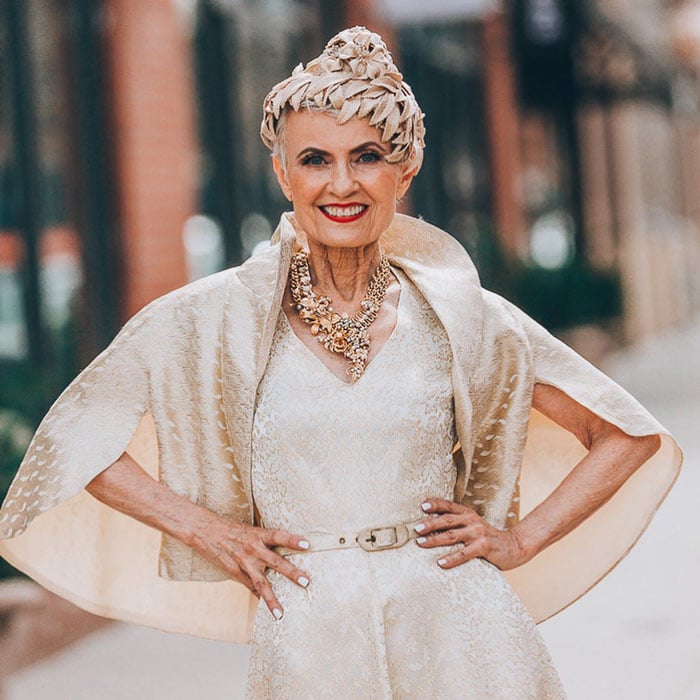 The Style Crone, Judith (above) looks incredible in shades of beige and off-white.
Check out these bolero options from rainwater-shop, Anna-Kaci and Radtengle, and choose from these embroidered dresses from Dress the Population, Tadashi Shoji and Finders Keepers to steal her look. Here is a statement necklace from BaubleBar that you can wear with the outfit.
It can be hard if you're shopping online to find exactly what you are looking for, because different brands and designers call their evening cover-ups different things.
If at first what you're looking for doesn't pop up, try a different search term. Try searching for boleros, capes, capelets, shrugs and wraps.
If you want something a little longer, you could also look at kimonos and ruanas. They should all provide a stylish way to cover up your evening dresses.
Here are 10 of my favorite cover-ups in stores now. How about you? What do you use as a cover-up? Don't forget to let me know in the comments.
The best shrugs and boleros for evening dresses in stores now
Silver shrug or gold bolero
Metallics are always a stunning option for the party season and I can see this gold bolero going with many pieces you already have in your closet.
For instance, it would be the perfect way to update a little black dress you already own. No one will ever know it is the same dress you wore last year!
You could also wear this with a simple pair of jeans and a white tee and it would look great, or with a pair of tuxedo pants for a party.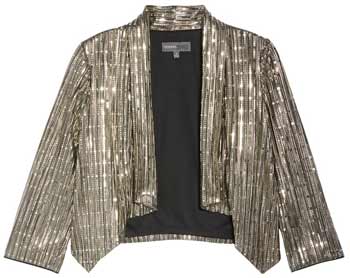 Donna Ricco sequin stripe bolero
Bolero jacket: Sequin bolero
Another fabulous option for party season is anything featuring sequins. Pop this sequin jacket over anything you already own to sparkle at any party.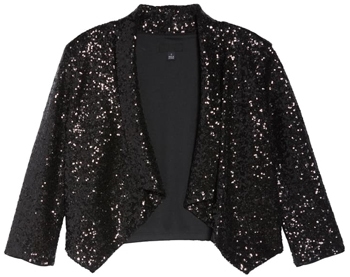 White bolero jacket: faux fur
Evoke the glamor of days gone by with a faux fur stole or jacket.
You could wear this with your evening wear, but it would also look stunning with daywear. You could use it to elevate your jeans.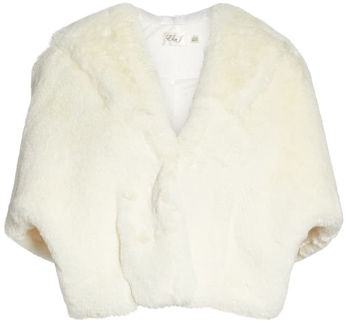 Crop fur jacket: Navy shrug
There are so many beautiful faux fur options to choose from.
While traditionally, you may think of faux fur in a taupe, black, white or cream option, how about this beautiful navy blue?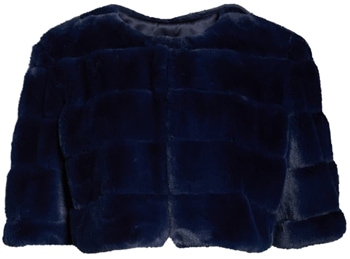 Black sweater: bolero cardigan
If you are looking for a totally classic style that will never date, you really can't go wrong with a timeless black bolero cardigan.
You can wear this over so many things such as a lace dress or a bright red dress, or you can just pop it over your jeans and tee outfit for a little extra warmth.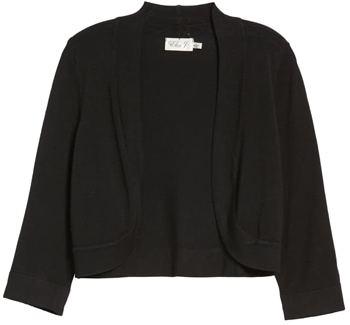 Black shrug: Transparent shrug jacket
A great way to provide some coverage while still making it very clear that your evening jacket is part of your party outfit and is not to be taken off is to opt for a bolero which has some transparency.
This bolero comes in a range of colors and has a flattering waterfall drape style.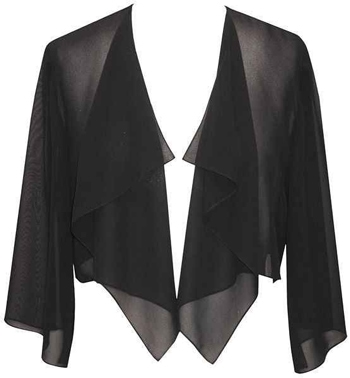 Boleros and shrugs or a shimmer wrap?
Of course, you don't have to stick to a bolero or shrug to cover up your evening gowns.
You could opt for a beautiful wrap. This Nordstrom shimmer wrap comes in different colors, so you should find one to pair with your party dress.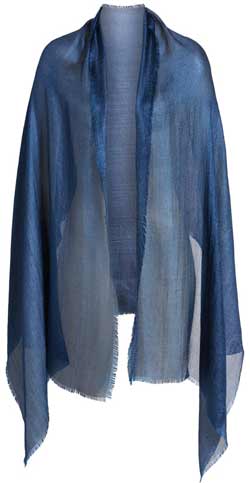 Cashmere and silk wrap
Another wrap option is to choose a beautiful wrap in a cashmere and silk blend, which will give a feeling of luxe to your evening wear.
The benefit of opting for a wrap rather than a bolero is that you will often find more color choices.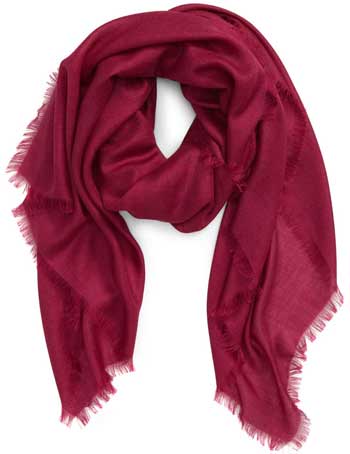 Nordstrom cashmere and silk wrap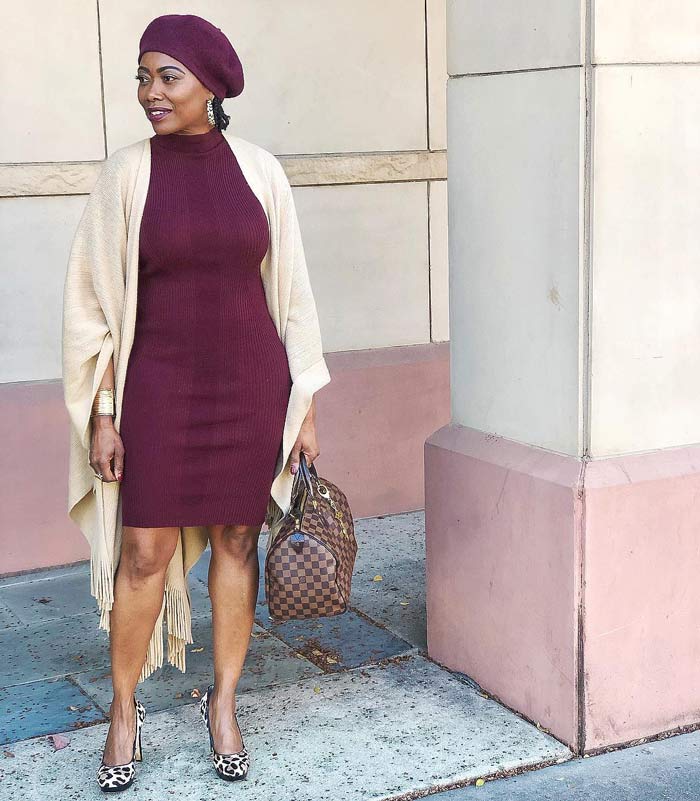 Dee (above) chooses a beautiful gold wrap with her burgundy dress.
Recreate her look with this similar wrap above in tan nomad color, dress and pumps.
Faux fur caplet
Fake fur always adds a touch of glamor to an outfit. You could wear this over jeans too so you would get lots of wear out of it during the holiday season.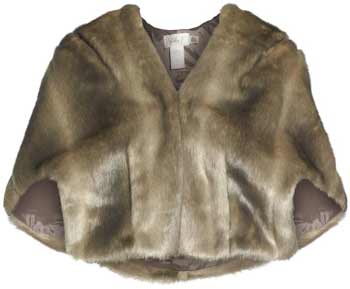 Shrugs for women: a knit wrap
You could opt for a very versatile knit wrap. If you choose a wrap with a touch of faux fur, this will add the glamor you need for an evening event.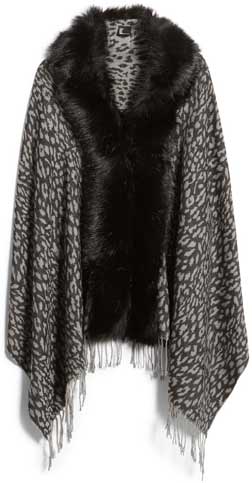 Love Token faux fur trim knit wrap
Lace bolero
A great way to get a little coverage and to make sure that your outfit is definitely evening ready rather than daywear is to add a lace bolero to your dress.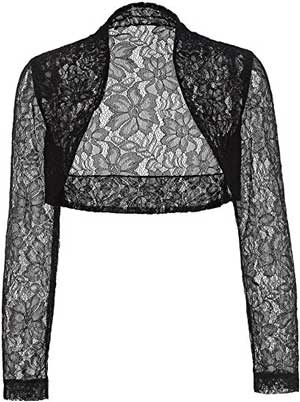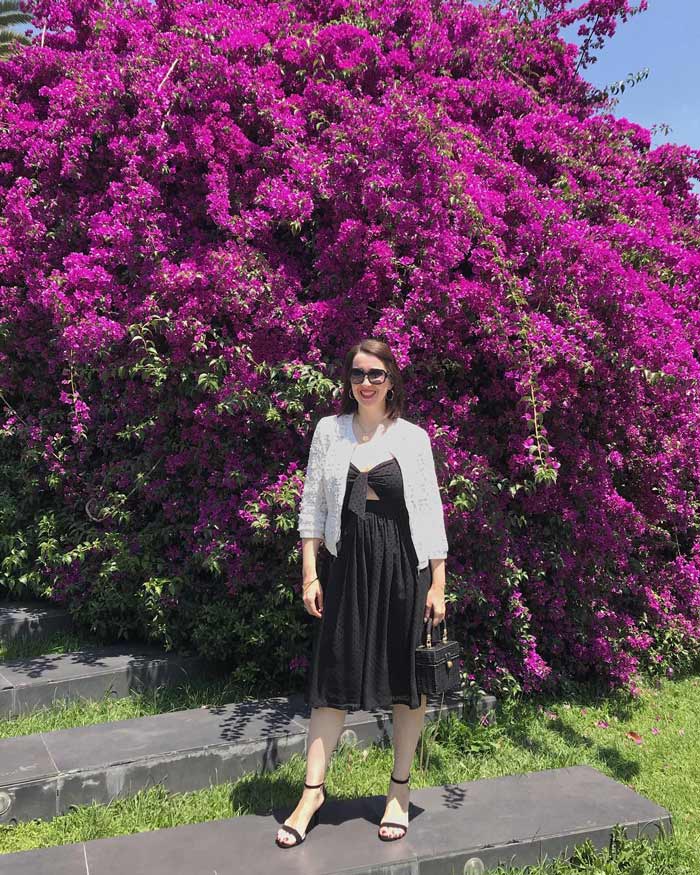 Patricia (above) opts for a monochrome look.
Check out these black dress options from Dress the Population and Mac Duggal. Complete recreating her look with this similar lace bolero and ankle strap heels.
Bolero shrug with chiffon sleeves
Another classic option is to choose a bolero with chiffon sleeves. That way, you can still cover up your upper arms but no one will ask if you want to remove your jacket at the door.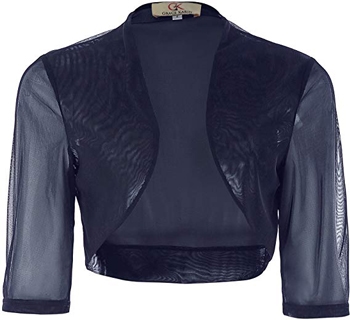 Red shrug
Red is always a beautiful color for the festive season. You could add a red shrug to your outfit for a pop of color.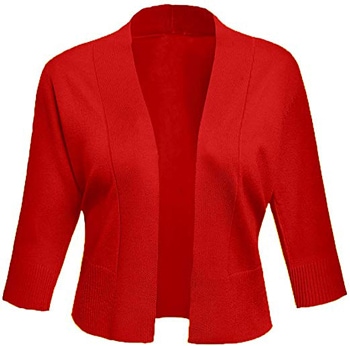 Kimono
I thought I'd also include a longer option here, as I've just discovered the New Friends Colony brand, which has lots of kimono options.

You could wear one of these over a LBD and let the kimono do the talking, or over cigarette-leg pants or smart black jeans and instantly take your outfit from daywear to evening.
I'd wear with a pair of tassel earrings to go with the slightly boho vibe of the kimono style.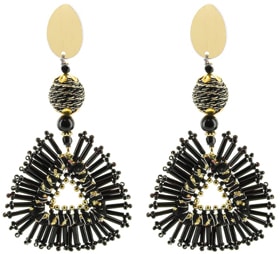 Panacea beaded triangle earrings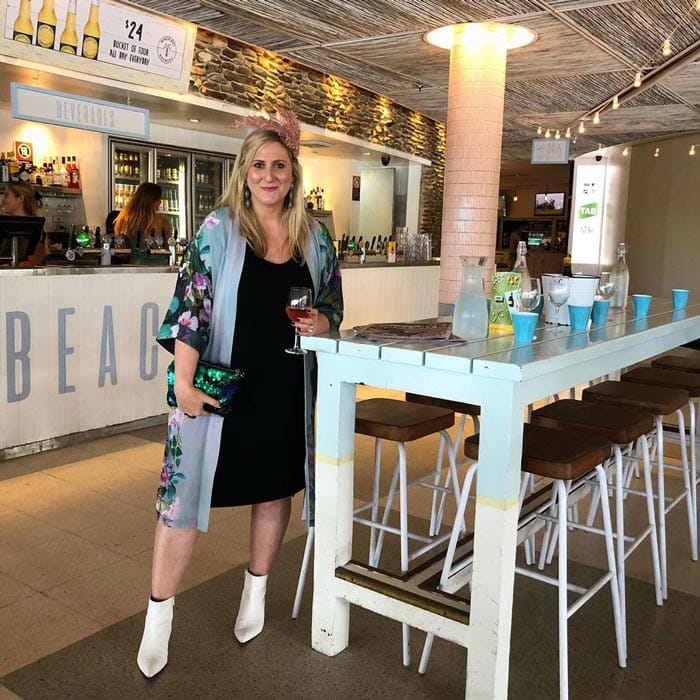 Andrea (above) wears her floral kimono over a black dress.
Get this similar black dress, floral kimono and booties to steal her look.
Lace dress and jacket
If you do have a formal event to attend, you could also look at dresses which have matching jackets like this one from Alex Evenings.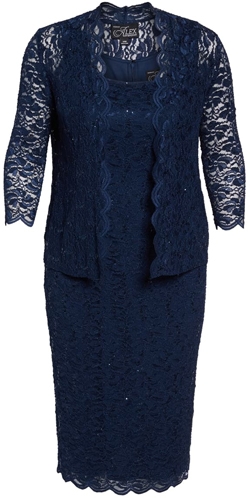 Alex Evenings lace dress and jacket
You could also wear the pieces as separates. The lace jacket would look lovely worn more casually with jeans and heels for dinner.
Do you cover up with shrugs and boleros for evening dresses? What is your favorite way to cover up your arms and stay warm during the holiday season?
Continue reading:
Like this article on the best shrugs and boleros for evening dresses? Save it on Pinterest!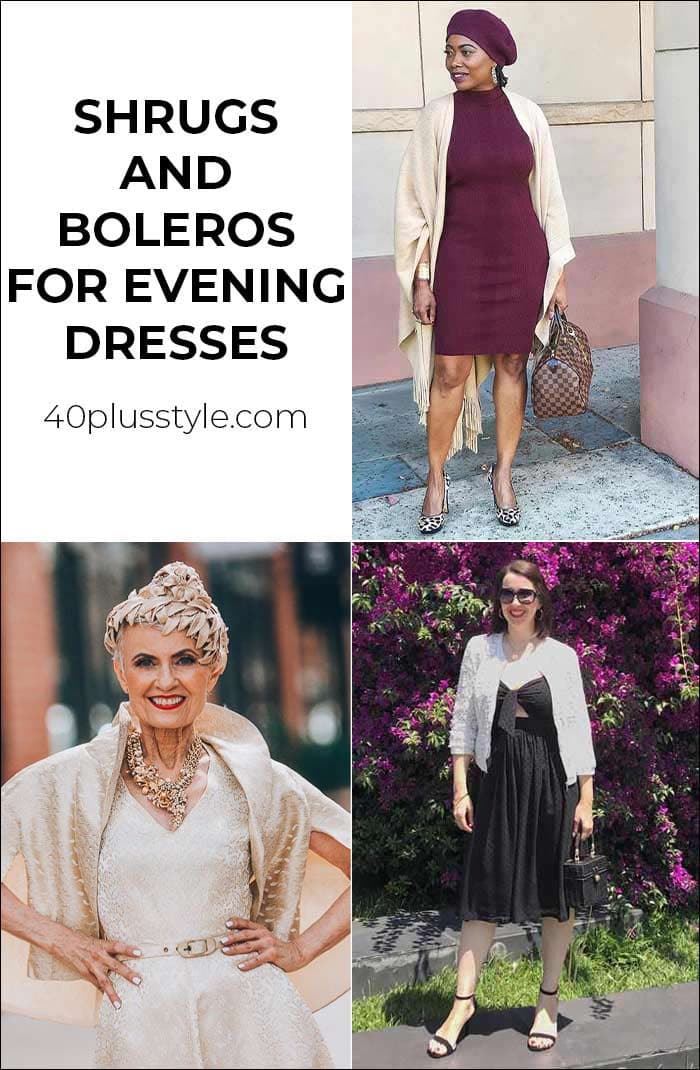 Feature image by Marina
Want to get more articles from 40+style in your inbox, subscribe here.
You can also connect with 40+style on Facebook, Instagram or Pinterest.
Support 40+style by using the links in our articles to shop. As an associate for Amazon and many other brands, we receive a small commission (at no cost to you) on qualifying purchases which enables us to keep creating amazing free content for you. Thanks!