Sir Ranulph Fiennes says "there's no such thing as bad weather, only inappropriate clothing".
But, it can definitely be tricky to dress in a way which is both warm and stylish when the mercury dips. In this article we show you plenty of cold weather outfits and tips to keep you cozy and looking great in the cooler months.
Tips for putting together cold weather outfits
So how do you keep warm in winter and still look stylish?
There are many ways and we'll share all of them below.
You will also find a complete cold weather capsule of tops, bottoms, dresses, shoes and accessories to see you through the winter months.
But first, our tips to look amazing AND feel warm this winter.
1. Layer like a pro
I know this is an obvious one, but there is a science behind it. Thin layers will keep you warmer than one thick layer because they trap warm air.
Ekaterina (above) layers a warm cardigan over her turtleneck and keeps her legs warm in stylish boots.
Recreate her look with this similar sweater, cardigan, pleated skirt, belt and high boots.
Find more tips in our articles on how to layer clothes like a pro and how to layer for transitional weather.
2. Use invisible layers
One of my favorite tricks is to use invisible layers. They allow you to wear 'cool' outer layers, like a beautiful silk shirt, while still feeling cosy warm.
These are camisoles or t-shirts with long or short sleeves that you wear underneath your clothes. No one needs to see them.
You can also wear leggings underneath your pants, which is especially useful for cold fabrics like jeans.
My favorite brand for this kind of clothing is the Uniqlo Heattech range. You can get shirt, sweaters and pants for mild, cold and super cold weather.

3. Play with textures
Cold weather may be a pain at times, but it also brings the opportunity to be playful with your outfits.
Liv (above) opts for a brushed wool style coat and adds more texture with her calf hair belt.
Check out this similar satin top, coat, jeans and high boots.
You can try out different textures such as faux fur and shearling that you probably wouldn't wear in summer.
Using different textures in the same outfit can add interest and originality.
4. Choose cold weather fabrics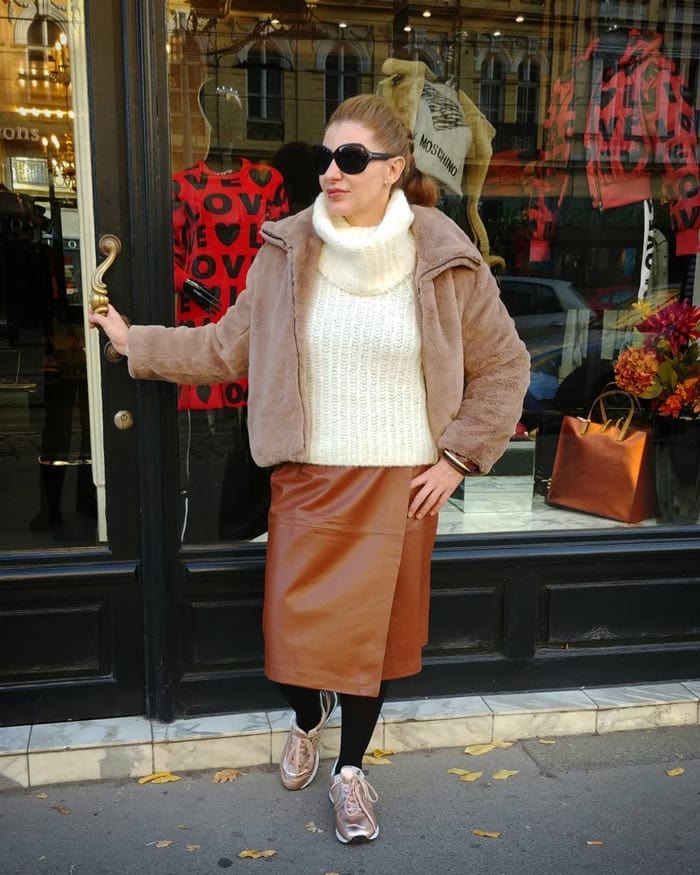 Look out for clothing in fabrics specially designed to keep you warm, such as wool, cashmere and fabrics that are fleece-lined or thermal so they have insulating properties.
Stella (above) wears a faux fur jacket from French Connection as well as a cozy sweater and a pair of pair of New Balance sneakers
Check out this similar sweater, skirt and tights to recreate her look.
5. Keep your head and your feet warm
Another piece of advice which is as old as time, but it's a good one to remember…
If your head is warm and your feet are warm, the rest of you is more likely to be too.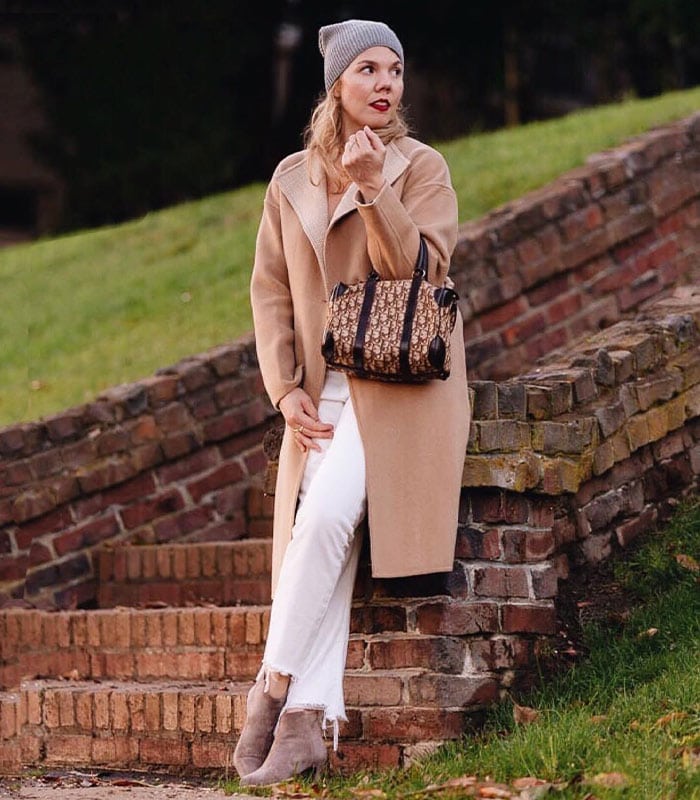 Cheryl (above) wears a warm beanie hat and accessorizes with red lipstick.
Check out this similar coat, jeans, beanie and booties.
6. Choose a great coat
It goes without saying that you will need a warm coat if you are venturing outside in cold weather.
Choose one according to your own style and the weather you get where you live.
For instance, does it rain a lot? Do you need a waterproof coat? Or do you tend to get lots of crisp, cool icy days? If so you may prefer a wool coat.
Patricia (above) wears a classic belted trench.
Get her look with this similar coat, black turtleneck, skinny pants and pumps.
Take a look at how to choose a coat for more ideas.
Are jeans warm enough for cold weather?
Another factor to think about is whether you will continue to wear your jeans during winter and fall.
Camii Mia thermal fleece jeans
Do you usually still wear your jeans when the weather turns cold and wet? Jeans aren't great for repelling the cold, especially if they get wet.
But you can still wear them. You could layer tights or leggings underneath your jeans if it's really cold, or look for a fleece-lined pair.
As mentioned above my favorite brand for invisible layering is the Uniqlo Heattech range. Shop below for leggings from this range.

If you prefer not to wear an under layer, wear a longer coat over the top, some cashmere socks and warm boots and you should be fine.
cold weather clothes: tops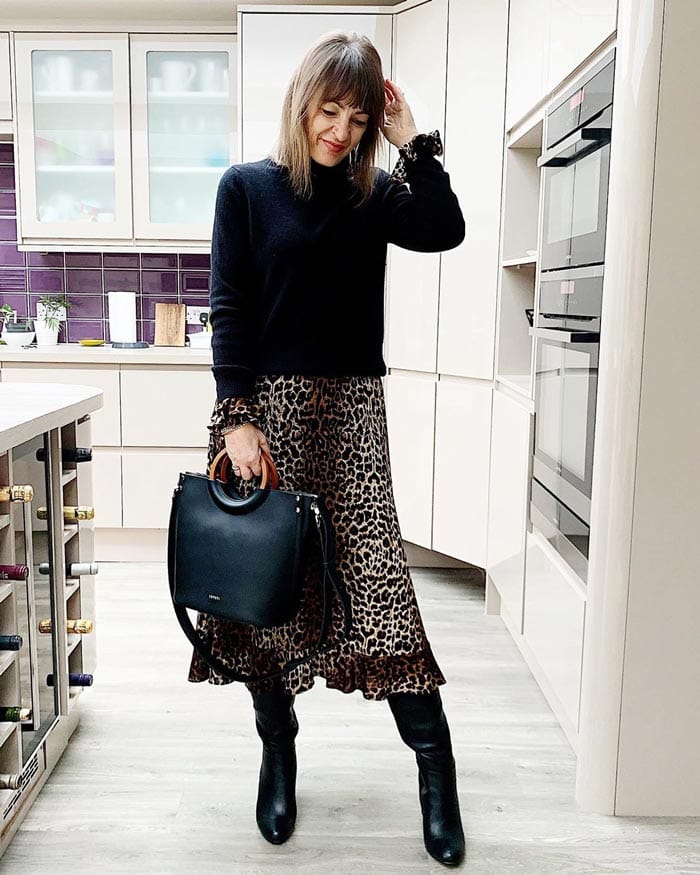 Lizzi (above) layers a sweater over her dress.
Steal her look with this similar sweater, midi skirt and high boots.
Everyone needs a few great sweaters when the weather gets colder.
But just because you need some extra warmth, it doesn't mean you can't find sweaters to suit you. For instance, you might like to opt for a boat neck if you are pear-shaped as this will balance out your figure.
Or you could choose a long-line cardigan to elongate your figure and add an illusion of height.

Jenni Kayne turtleneck sweater – Treasure & Bond one-shoulder ribbed sweater – Boden cuff sweater – Cupcakes and Cashmere shawl collar cardigan
cold weather outfits: coats & jackets
Coats with fur or shearling will keep you extra warm. If you opt for styles with removable fur collars, you can vary the warmth depending on the weather.
Or you could choose a classic wool or trench style, but add additional warmth with your scarves and hats.
Susie (above) opts for a fur collar and a scarf.
Check out this similar faux shearling moto jacket, leather leggings, boots and scarf.
Jack faux fur coat – BB Dakota hooded coat with faux fur trim – Blank NYC removable faux fur collar moto jacket – Court & Rowe tie coat
cold weather clothes: bottoms
Leggings may keep you warmer than jeans if you opt for fleece-lined and thermal leggings.
Jeans will still be fine for most weather conditions as long as they don't get wet. Also look out for pants in wool fabrics to keep you warmer.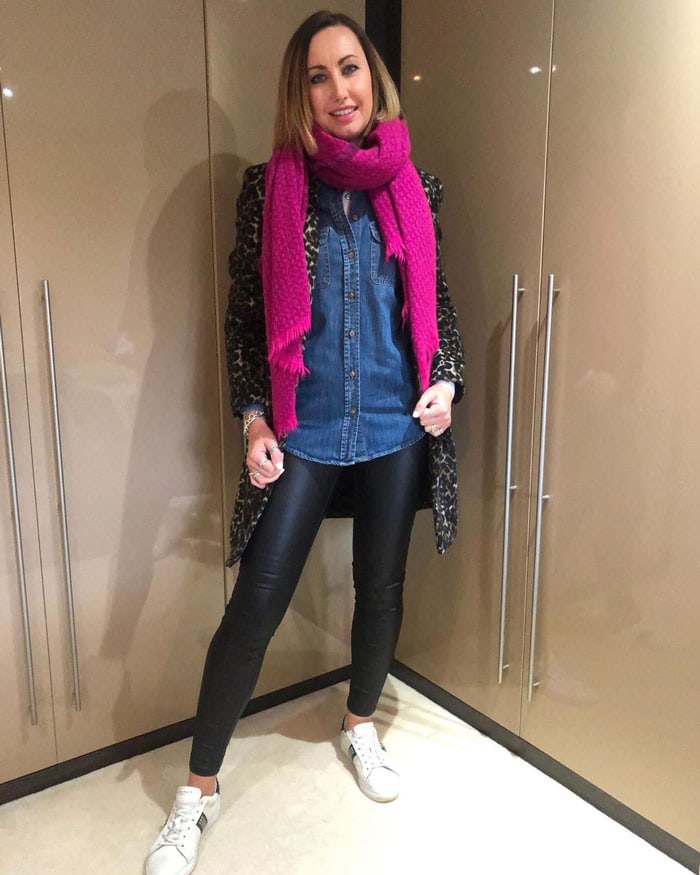 Lou (above) showcases another great option for winter. Because leather or faux leather leggings have a tight weave, the material will keep you warm in the wind.
Get her look with this similar denim blouse, coat, scarf, leather leggings and sneakers.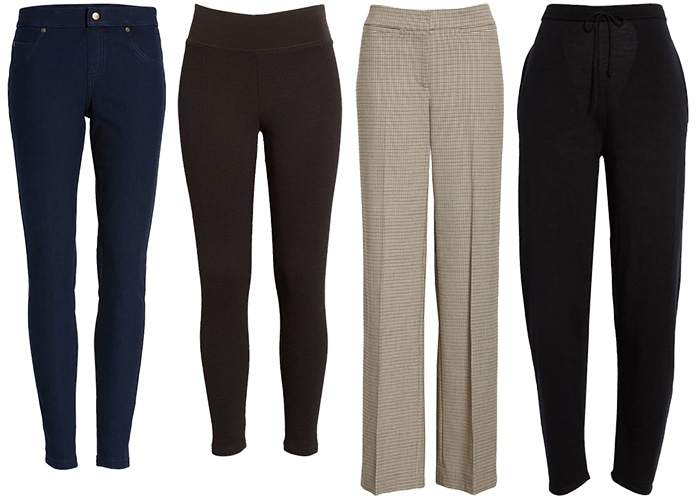 Hue fleece lined denim leggings – Eileen Fisher thermal leggings – Nordstrom Signature check trousers – Eileen Fisher wool jogger pants
Check out our extensive guide and tips on how to wear leggings.
Best cold weather clothing: dresses and skirts
You don't have to push your dresses to the back of the closet in cooler weather.
Think about investing in a sweater dress, or you can layer the dresses you already own by wearing a turtleneck or a shirt underneath and a cardigan, coat and scarf over your dress.
Oxana (above) stays warm in a sweater dress with a coat, scarf and knee-high boots.
Recreate her look with this similar sweater dress, jacket, boots, scarf and belt.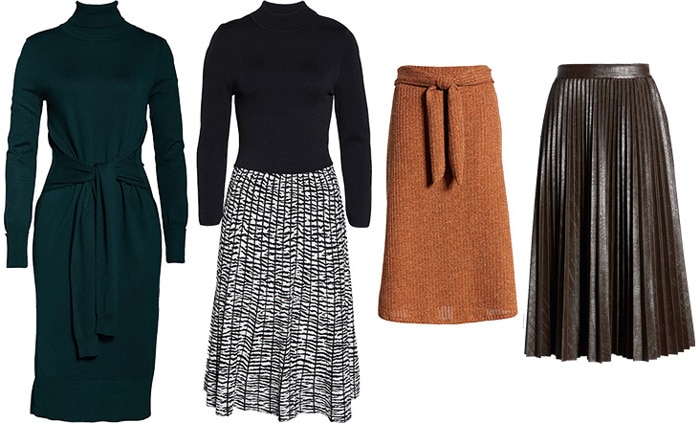 Eliza J turtleneck sweater dress – Eliza J fit & flare sweater dress – Sentimental NY belted knit skirt – Halogen pleated faux leather midi skirt
cold weather shoes and boots
Obviously, the shoes you wear during summer will be very different to what you need for winter.
But, even though you will have to put away your sandals (unless you want cold toes) winter does give you the chance to wear some fabulously stylish boots.
Sandra (above) pairs her knitwear with knee-high boots.
You can check out this cable knit sweater dress to pair with this similar pair of wide calf boots.
Michael Kors riding boot – Kurt Geiger ankle bootie – Sam Edelman shearling boot – Blackstone sneaker
Here, you'll find the best wide-calf boots for winter and fall.
Cold weather accessories
You don't have to forgo your accessories for winter. In fact, they become even more important.
Accessories during colder weather aren't just for adding style, but can also provide you with additional warmth.
Shelbee (above) shows how you can wear the same dress for different seasons.
While her red dress would look beautiful with sandals for summer, it also looks great worn with tights, booties, a wrap and hat.
Check out this similar dress, plaid wrap, beret, leather gloves, tights and booties.
Rebecca Minkoff embossed tote – Steve Madden hobo bag – Treasure & Bond scarf – Nordstrom leather gloves – Nordstrom wool & cashmere wrap – Treasure & Bond panama hat – Barbour wool blend beanie – The White Company cashmere bed socks
Capsule wardrobe of 9 cold weather outfits
There are so many ways you could choose to put together all the pieces from the cold weather capsule above, but here are 9 outfit ideas to get you started.
Read our ultimate guide to creating a capsule wardrobe that works best for you.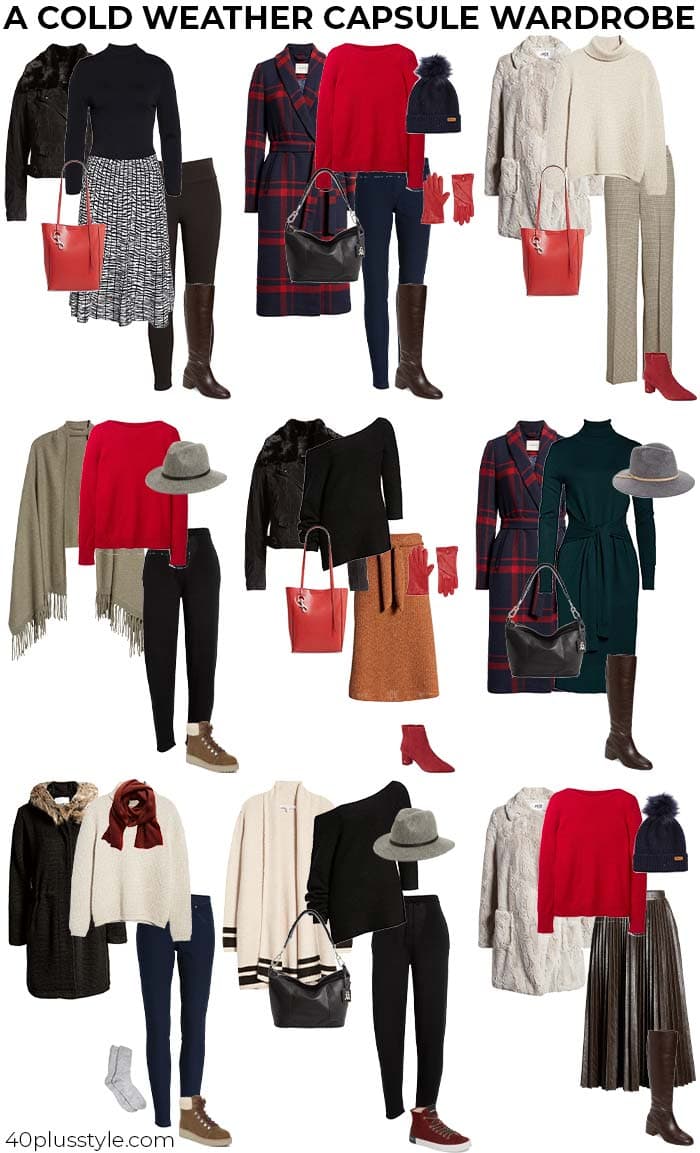 What are your go-to cold weather outfits? How do you make sure you are both warm AND stylish?
Continue reading:
Like this post on cold weather outfits? Share it on Pinterest!
Feature image by Cheryl
Want to get more articles from 40+style in your inbox, subscribe here.
You can also connect with 40+style on Facebook, Instagram or Pinterest.
Support 40+style by using the links in our articles to shop. As an associate for Amazon and many other brands, we receive a small commission (at no cost to you) on qualifying purchases which enables us to keep creating amazing free content for you. Thanks!