Have you already started thinking about how to incorporate fall 2019 trends into your closet?
Should you wear the fall 2019 trends?
If you've been reading my blog for a while now, you'll know that I'm not about slavishly following trends. And, I don't think you should either (unless you want to, of course).
But, by knowing what is on trend for fall 2019, you may well find that you already have pieces you can dig out of the back of your closet.
In the northern hemisphere and looking for summer trends? Check out our spring and summer trends report here.
Plus, you can make sure that the pieces you buy right now will also have longevity into fall and winter, by making some clever choices.
Here are the best fall 2019 trends from the runways for winter and fall
Let me know in the comments at the end of the article which trends are your favorite, and what you will be wearing this fall. And, just as importantly, which ones you don't like!
You can also check out our capsule wardrobe of the 9 timeless outfits you can wear this fall season.
Fall fashion trends: Tweeds and heritage checks
Designers often use years, decades and eras gone by as their inspiration. And, this fall is no exception.
This time around, the likes of Celine, Tory Burch and Givenchy have gone for very ladylike looks with the use of heritage tweed and checks.
A plaid coat could be a beautiful investment for winter and fall. Or you could opt to keep your look casual with checked pants and a cozy sweater.
Givenchy – Tory Burch – Celine

Fall 2019 looks: Dark florals
Florals are often thought of as a print for spring and summer.
But, by putting swirling florals in rich shades against a dark background, designers have definitely created pieces which will look beautiful during the cooler months.
If you choose a floral dress, you can always add tights and booties or knee-high boots to make sure you are warm enough. Then you can wear your dress with black sandals for next year.
Tory Burch – Dries Van Noten – Givenchy

Fall style: Leopard print
It's one of those prints that never goes out of fashion, but leopard print is particularly on trend for Fall 2019.
I'm sure you have some already in your closet whether it's a pair of leopard print pumps or a shirt, or you could invest in a leopard print coat to really make a statement.
Tod's – Marc Jacobs – Jacquemus

Winter 2019 trends: Super long coat hemlines
If you're on the fence about what winter coat to buy this year, then go long.
Many designers opted for lengths which were well past the knee, and even down to the ankle.
You will not only be warm, but you'll also create a dramatic look as you swish past in your ankle-grazing outerwear.
A full-length coat will add pizzazz to even the simplest of outfits. You could wear over jeans and a shirt or sweater.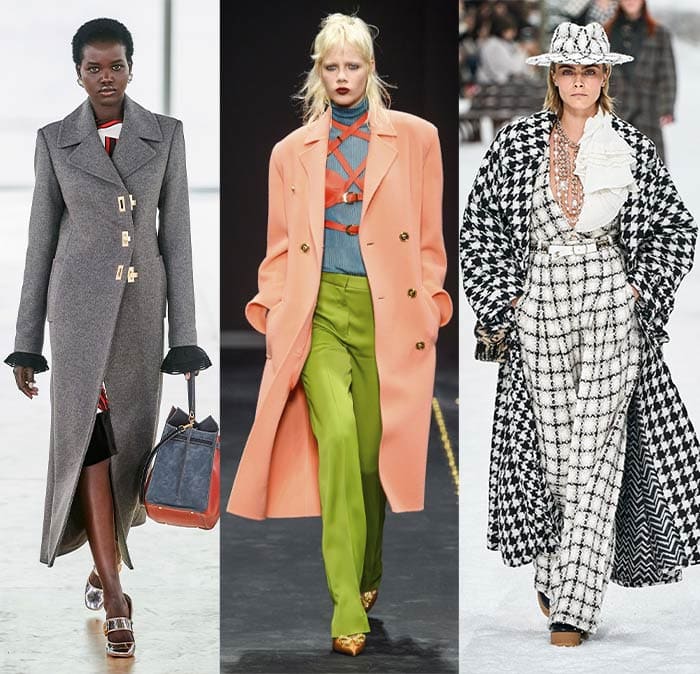 Tory Burch – Versace – Chanel

Fall fashion trends 2019: Dipped in gold
If you want to channel some Bond-girl style glamor, without the gruesome death involved in being painted head-to-toe in gold paint, then adding some gold to your outfits is the way to go.
Plenty of designers opted for top-to-toe gold looks, but I loved the outfits which added gold in a more subtle, or unexpected way.
Dries Van Noten – Celine – Dries Van Noten

Women's fall fashion: Satin
Satin was last really 'in' with the 90s slip dress, but it is back on trend in a big way for fall 2019.
It can definitely be an 'unforgiving' material though, as satin tends to cling to lumps and bumps.
So, you may wish to wear your satin on the parts of your body you feel most confident about.
Burberry – Cushnie – Versace

Fall outfits for women: Brights
While there were plenty of subtle, subdued, autumnal shades on the catwalks for the fall 2019 trends, there were also lots of bold, primary colors as well as neons.
If you don't want to wear top-to-toe brights as shown on the catwalks, you could always get the trend with a bright handbag or a bright silk blouse.
Givenchy – Jacquemus – Chanel

Autumn outfits: Elegant pleats
As well as the ladylike trend for heritage tweed, pleated skirts are still very much on trend.
If you have already bought a pleated skirt to wear over the warmer months, you can make sure you can still wear it into fall by wearing with a sweater, a moto jacket or a blazer, and booties or knee-length boots.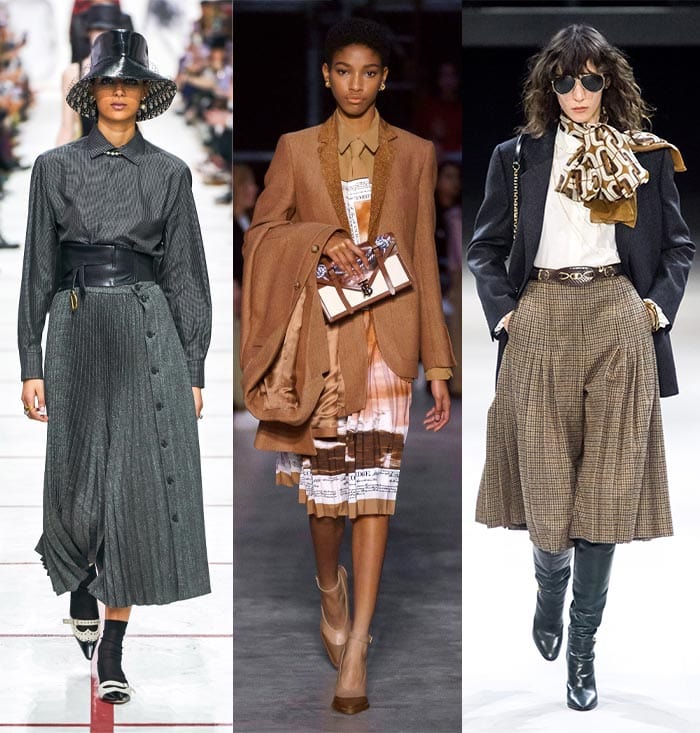 Christian Dior – Burberry – Celine

Fall 2019 trends: Reptilian textures and prints
As well as leopard print, snake print is a trend which is carrying on into the winter and fall months.
Textures as well as prints were also on display on the catwalks.
Tod's – Celine – Givenchy

Fall fashion outfits: Asymmetrical details
You know how I love asymmetry in my clothes, and there was plenty of that on display when it came to necklines this season.
We've seen off-the-shoulder Bardot-style tops as well as cold shoulder cut-out tops during recent seasons.
But, this fall, the biggest trend was for asymmetrical one-shoulder tops and dresses. This is a beautiful choice if your shoulders are one of the parts of your body you like.
If you love asymmetrical pieces, you will also want to see this article on how to wear asymmetrical clothing.
Jacquemus – Cushnie – Versace

Fall 2019 trend: Smart suits
Wearing a two-piece suit has fallen out of favor in recent years, because it tends to be seen as an 'old-fashioned' thing to wear.
However, there were plenty of beautiful, matching suits on the catwalk.
A tuxedo suit is always a stunningly classic option for evening events, while Burberry opted for a slightly mismatching color for jackets and pants to give a more modern vibe.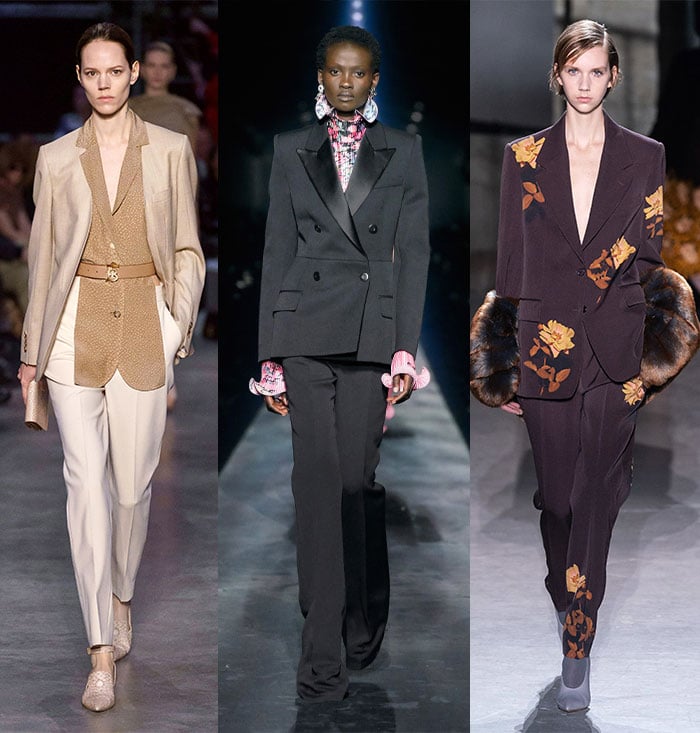 Burberry – Givenchy – Dries Van Noten

Winter fashion 2019 trend: Capes
If you want to channel your inner superhero, how about a cape?
As well as the very long coat, the cape was another big outerwear trend seen on the catwalks.
You can wear a cape over pretty much anything. I love the casual way Celine styled the cape with a pair of jeans and boots.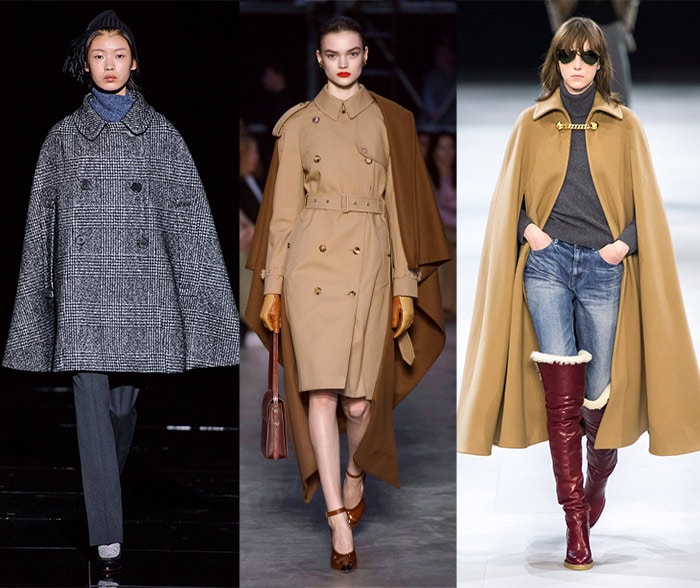 Marc Jacobs – Burberry – Celine

Want to see more of the trends? You can watch all shows on Vogue here.
For previous trend reports check them all out in the trends section.
You can already shop the latest trends from a special capsule wardrobe for fall I created here.
Which of these fall 2019 trends is your favorite? Which will you be wearing?
Like this article on the best fall 2019 trends? Share it on Pinterest
Want to get more articles from 40+style in your inbox, subscribe here.
You can also connect with 40+style on Facebook, Instagram or Pinterest.
Support 40+style by using the links in our articles to shop. As an associate for Amazon and many other brands, we receive a small commission (at no cost to you) on qualifying purchases which enables us to keep creating amazing free content for you. Thanks!