From the moment she became associated with Prince William, Kate Middleton has become a media mainstay. In today's post on how to dress like the Duchess of Cambridge we go behind the glitz and glamour of being royalty, and show you how easy it is to achieve the Duchess of Cambridge's chic and classically British style.
So, what does it take to dress like the PRINCESS OF WALES?
What makes Kate Middleton's style so covetable AND achievable, is that she is very classically stylish. Once she was bound for royalty her look metamorphosed into the epitome of proper style. However, she plays up her assets very well and integrates trendy pieces in a very subtle way.
Kate Middleton height and body shape
The Princess of Wales has a figure that many models would be envious of. She is 5'9" so she can definitely use plenty of these tips about how to dress if you are tall.
She has elements of the inverted triangle and rectangle body types.
Here are a few quick tips to flatter your figure and get your Princess of Wales inspired wardrobe together:
How to dress like the Princess of Wales: Define your waist
You can do this with belts or extremely well tailored pieces.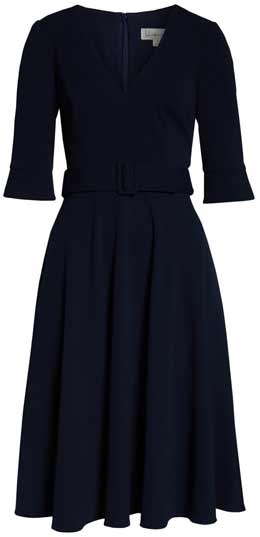 Harper Rose belted fit & flare dress
Dark blazers are your friend
If you look through most of Kate Middleton's casual looks, a dark blazer is involved and with good reason. Well tailored (once again), they polish every look and define her body shape well.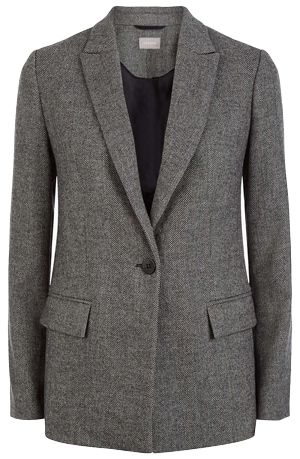 John Lewis Jaeger Herringbone tailored jacket
Stick to knee length styles
As the future Queen, Kate already has this element of propriety down. Most, if not all, of her shorter dresses are knee length. A knee-length style is a good tip if you are looking at how to dress like the Princess of Wales.
She still is able to carry a classy and sexy look without going above the knee.
Check out this photo of Kate Middleton in stunning blue dress with three-quarter length sleeves. She completed her look with a pair of nude heels and a clutch.
Recreate her look with these sheath dress options from Harper Rose and Boden, clutch and pumps
Pastels are always appropriate
Like Kate, find pastels that flatter you and wear them with pride.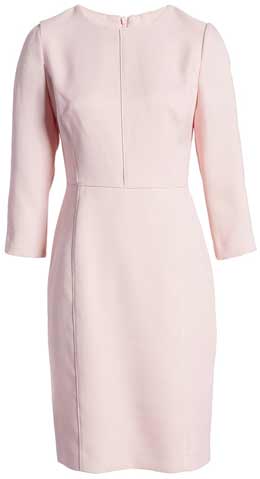 See this photo of Kate wearing a pale pink Alexander McQueen peplum dress that she paired with nude heels and a clutch.
Steal her look with this similar dress, pumps and minaudière
Nude pumps are glorious
The John Lewis L.K.Bennett pointed toe pumps, need we say more.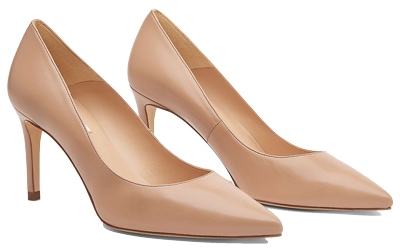 John Lewis L.K. Bennett pointed toe pumps
Repeating an outfit is an art
Kate Middleton is never shy about repeating an outfit and has become quite an expert in this regard. When something fits well and is a wonderful investment, never be shy about reinventing it in new ways or repeating it.
Take a look at some of the Duchess' great looks here in the article, and give yourself the royal treatment with our guide to dressing like Kate Middleton below.
The 34-piece Duchess of wales wardrobe
Kate Middleton dress and skirt ideas
Kate has an enviable collection of dresses. The rule of thumb here is not to shy away from patterns and bright colors.
A number of the Princess of Wales' dresses consist of patterns and/or bright colors. She isn't demure about celebrating color, but always finds a way to keep it tasteful.
Here is a photo of the Princess of Wales in a red coat dress paired once again with nude heels and an envelope clutch.
Get her look with this similar coat from Boden and ForeMode, clutch and pumps.
She also understand the power of knowing what fits her body shape well with the value of good tailoring. Combine those two elements and you have a knockout dress.
For daywear, she usually sticks to a long-sleeve or a three-quarter length. For evening, she is often more daring, choosing off-the-shoulder or one shoulder.
Kate has also developed a more relaxed, yet still very refined style in recent years, frequently opting for prints such as florals or polka dots, and wearing a midi dress when dressing for family days rather than royal duties. Also polka dots.
Here is one of the best outfits of Kate wherein she is wearing a cardigan and a plaid skirt
See this photo of the Princess of Wales wearing a chic long plaid skirt, cropped cardigan and suede boots.
Recreate her look with this button-up cardigan, skirt and boots.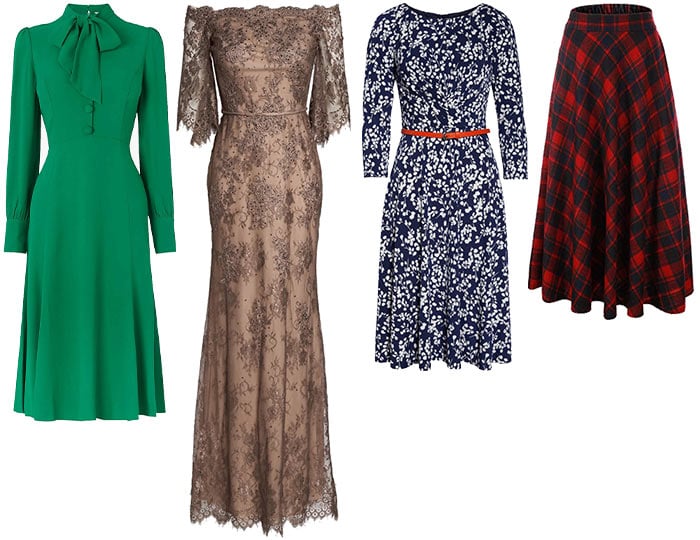 John Lewis L.K. Bennet Mortimer tie neck dress – La Femme off the shouler lace gown – Harper Rose belted midi dress – Vionic flared long skirt
Kate Middleton style: tops
We love Kate Middleton's top selections because they are so accessible.
She tends to follow a standard approach to high quality basic pieces that can be mixed and matched (think breton and gingham tops).
For a ladylike touch she has been frequently seen in pussy bow blouses.

Saint James sailor shirt – Anne Klein turtleneck – Grayson gingham check shirt – Anne Klein tie neck blouse
Check out this nautical inspired outfit of Kate Middleton wherein she wears a Breton tee and a matching pair of navy trousers and pumps.
Recreate her look with this similar stripe top, trousers, red clutch and suede pumps.
Kate Middleton fashion: Pants
The Princess has a working formula and she tends to stick to it when it comes to her pants.
Black and blue straight leg or skinny jeans, navy and black pants, and bright well tailored pants on occasion.
Once again, these can be mixed and matched with a variety of tops. While everything is high quality, nothing is ever ostentatious.
Anne Klein sailor pants – JEN 7 by & For All Mankind skinny denim leggings – Citizens of Humanity ankle skinny jeans – John Lewis Hobbs Gael tapered trousers
Here is a photo of Kate teaming her wide-leg olive hued pants with a burgundy sweater and accessorising the look with gold hoops and a Chanel handbag.
Recreate her look with this similar sweater, pants, handbag (dupe for Chanel calfskin bag) and shoes
Kate Middleton coat, blazer and jacket ideas
Kate Middleton believes in a well fitting blazer for casual affairs.
Recreate her look with this similar long coat.
Reiss is one of her favorite brands, and she tends to go for dark gray, navy blue, and black blazers. She also has an affinity for a well built nylon jacket when she's engaged in anything physical.
Kate's coats are always well-tailored. Severely classic (you'll never see them go out of style), The Princess has invested in a variety of high-quality coats.
They nip in at the waist perfectly, flare out in just the right way, and always take her look to that next level. She also doesn't shy away from pastels and treats her coats like a pivotal piece of her look.
She also often opts for a military style or a waxed country-style jacket.
Barbour waxed jacket – Halogen double breasted blazer – Boden Mitford coat – Hobbs maxi coat
Kate Middleton shoes
LK Bennett, Stuart Weitzman, and Sebago loafers are regulars in Middleton's shoe closet.
She tends to favor nude pumps and skin tone sandals that give enough height to further elongate her frame, match most anything, and are comfortable enough to walk in.
Check out this photo of the Princess of Wales wearing a pair of riding boots and matches it with an an oversized sweater, skinny jeans, and waxed jacket.
Recreate her look with this similar sweater, jacket, jeans and boots.
Charles by Charles David pumps – Sebago boat shoes – Frye belted knee-high riding boots – Seychelles knee high boots
Kate Middleton jewelry and accessories
For obvious reasons, we're not including any tiaras (though the temptation was there).
Beyond her access to a vault of amazing and priceless jewelry, Kate Middleton's other accessories are classic and chic. Think Longchamp totes, neutral clutches for the evening, and high quality printed silk scarves. The foundations of a classic capsule wardrobe.
See this photo of Kate accessorising her sweater and jeans with a Longchamp Le Pliage tote, scarf and heels.
Get her look with this similar Longchamp tote, sweater, jeans, heels and scarf.
She has an impressive collection of clutch bags. Her favorite stance is to literally clutch her hands in front of her holding onto her bag. She is queen of the clutch – she has one to match every outfit.
You'll also notice she always wears earrings – even for casual days, she will have on a small pair of studs, hoop or drop earrings.
Steve Madden mini satchel – Nina crystal minaudière – Nordstrom clutch – Longchamp large tote – CRISTABELLE crystal line bracelet – BaubleBar drop earrings – Treasure & Bond leather belt – Rag & Bone classic wool scarf – Scala outback hat – Nina crystal clasp frame clutch – Gucci silk twill ribbon neck bow – Anzie pearl stud earrings – Majoricas pearl drop earrings – Ray-Ban wayfarer sunglasses
Brands Kate Middleton loves
While Kate wears plenty of designer brands, she also loves the high street. She is regularly spotted in brands including J Crew, L.K. Bennett, &OtherStories, Reiss, TopShop, Whistles, Ted Baker London and Superga.
Kate Middleton outfits
If you're inspired by Kate Middleton's style, here are 9 looks using the clothes, shows and accessories featured above.
Read our ultimate guide on how to create a capsule wardrobe that works best for you.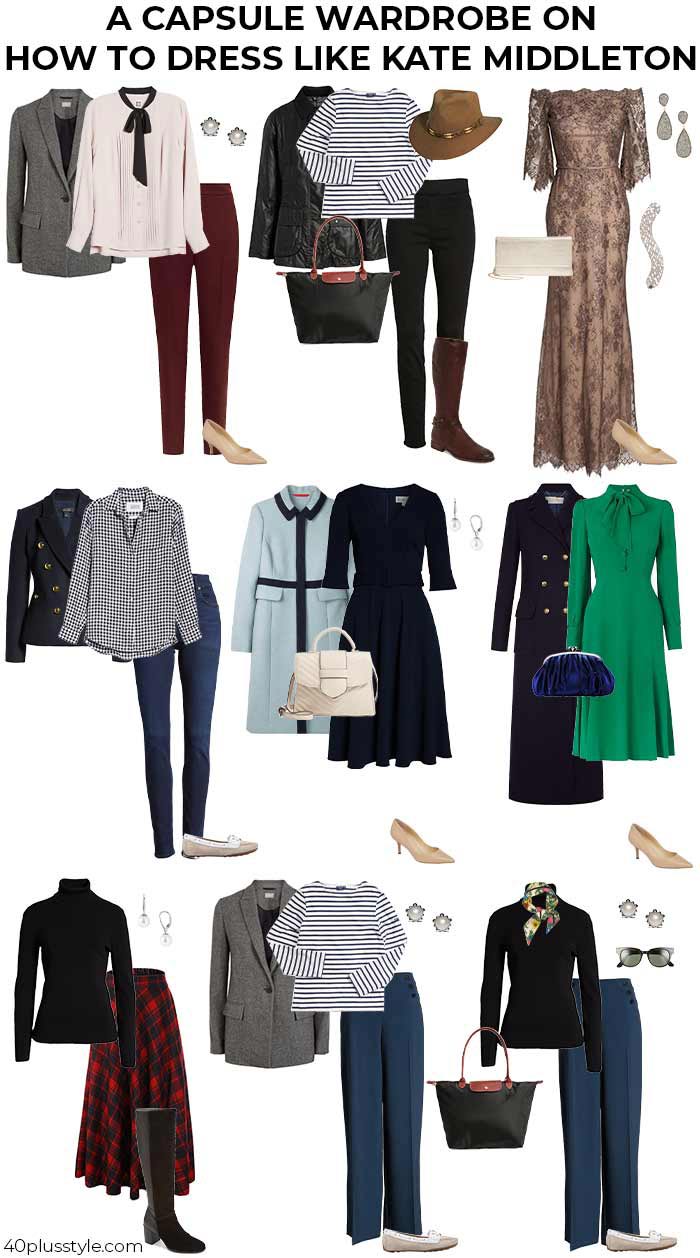 Are you a fan of Kate Middleton's style? What do you think of these tips on how to dress like the Duchess of Cambridge?
Continue reading:
Like this article on how to dress like the Princess of Wales? Save it on Pinterest!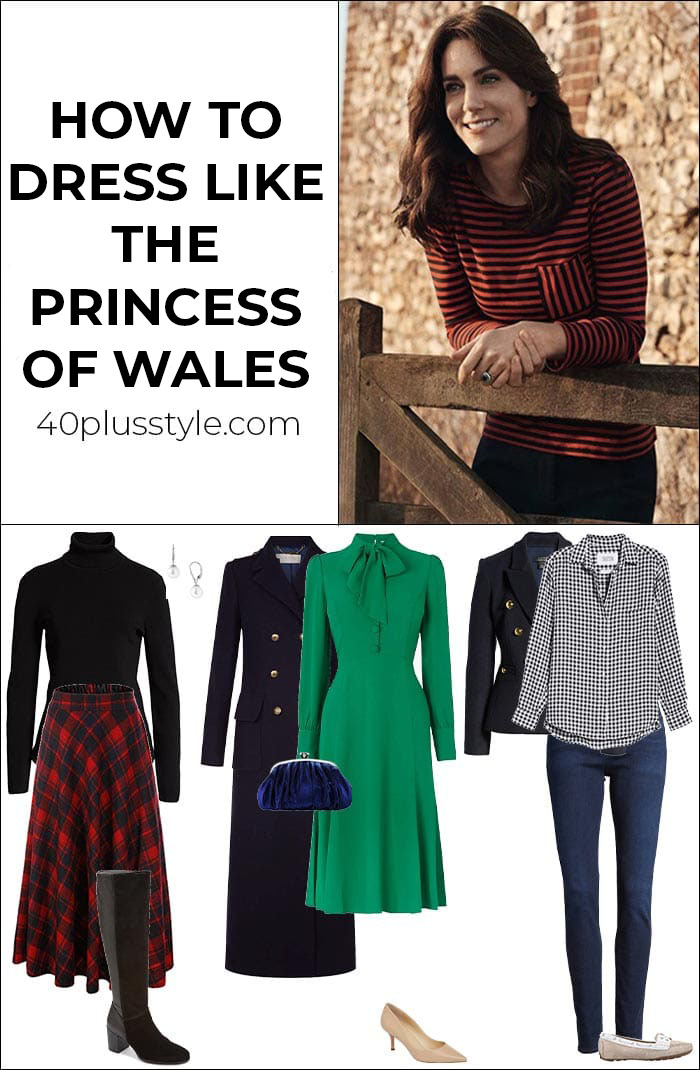 Want to get more articles from 40+style in your inbox, subscribe here.
You can also connect with 40+style on Facebook, Instagram or Pinterest.
Support 40+style by using the links in our articles to shop. As an associate for Amazon and many other brands, we receive a small commission (at no cost to you) on qualifying purchases which enables us to keep creating amazing free content for you. Thanks!