There can't be a woman out there who hasn't stood in front of her closet and thought "I have nothing to wear". But, if you have the right wardrobe essentials in your closet, it doesn't have to be that way for you.
If you have staple clothing pieces as the "foundation" of your wardrobe, you will always be able to create an outfit you love.
These staples will be different for each woman as we all have a different body type, style personality, lifestyle and preferences.
However, no matter what the right wardrobe basics are for you, you can then use these clothing essentials as the basis for a capsule wardrobe to make getting dressed stylishly a breeze. Take a look at the ultimate guide to creating a capsule wardrobe that works for you.
You may also want to check out our article on the most popular fashion pieces women over 40 couldn't resist.
Use your wardrobe essentials to build your wardrobe!
A closet which you put together on a foundation of carefully selected pieces makes getting dressed every day so much easier.
So, where should you begin when it comes to selecting the essentials of your closet?
Below, I list 33 pieces that you can use as a starting point. As mentioned yours may be slightly different.
It's worth investing more in your basics because these can form the backbone of your closet for many years to come. So, look for classic items which are good quality. Think about cost per wear rather than cost to purchase alone.
Clothing essentials: Your basic wardrobe
Once you have the essentials figured out, you can then "color them in" with hero pieces, more color and more accessories. Having your essential pieces in place will make sure that you can always mix and match easily.
These are your basic wardrobe staples and the building blocks of your bigger wardrobe.
33 wardrobe essentials for WINTER and sPRING
This is a list of wardrobe essentials that we created for you. You can use this to create your own personalized list.
As most of you will be in winter and looking forward to spring, there are plenty of options which will work for these seasons. But you can easily adapt these essentials, no matter what the weather.
Read on for my 33 essentials as well as a capsule closet created with them. Don't forget to let me know in the comments at the bottom of the article if you agree with me, or if you would add anything to my essentials list.
Wardrobe essentials – Tops
1. A white shirt
A white button down shirt offers endless outfit possibilities.
There are so many ways to wear it. You could team it with a pair of jeans, a blazer and ballet flats for a classic look, or wear under a sweater or a dress to give your outfit extra interest.
The white shirt from rag & bone features a high-low hemline, making it both timeless but also interesting.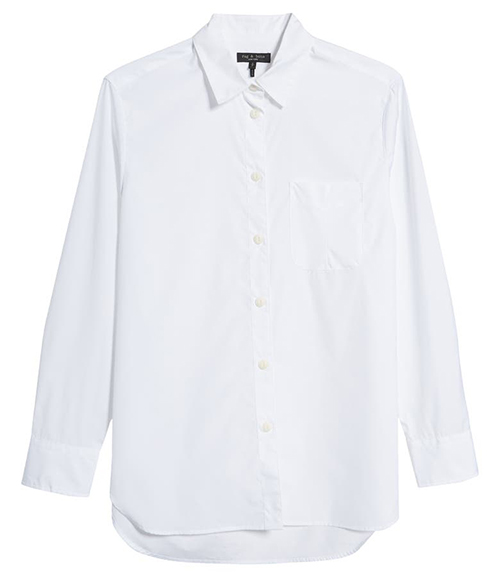 rag & bone ICONS Maxine Cotton Poplin Button-Up Shirt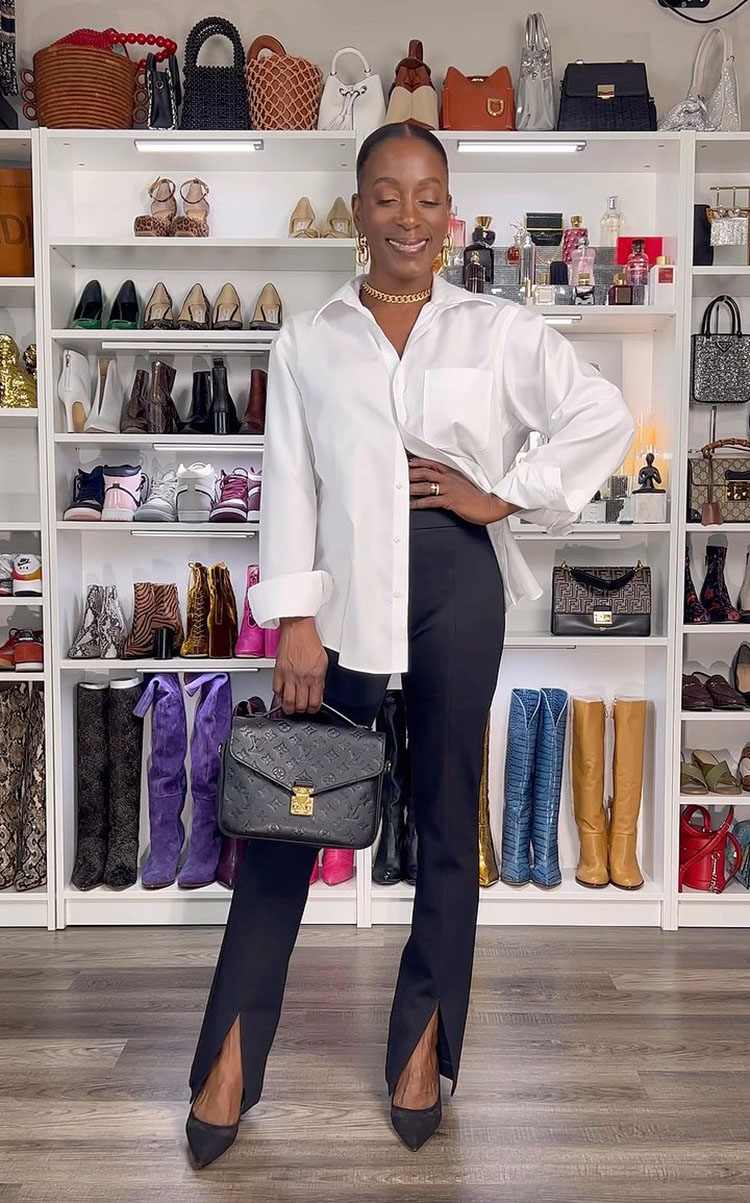 Angela @angelamashelle above (read her style interview here) updates her white shirt with on-trend slit-hem pants.
Recreate her outfit with this similar shirt, pants (another option here), pumps, handbag, earrings and necklace.
2. Cashmere sweater
A cashmere sweater adds an instant feeling of luxury to even your most casual of outfits, making it perfect to add to your wardrobe essentials. Pair with jeans and ankle booties, or you could wear with a leather or pleated skirt for evening.
The cashmere sweater from Vince (below) is a true classic.
You could always wear the white shirt from above underneath it.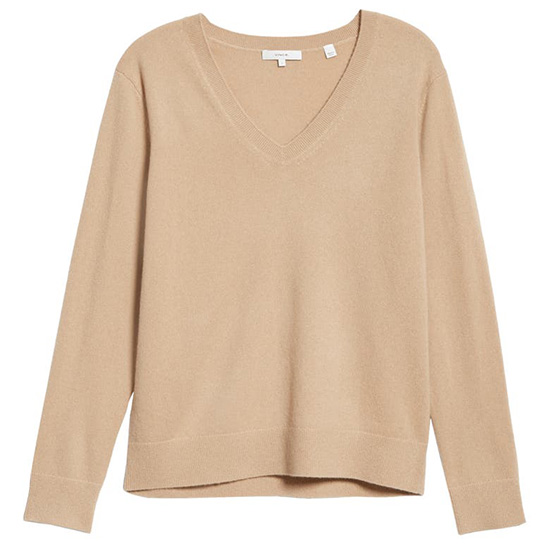 Vince Weekend V-Neck Cashmere Sweater
There are also great suggestions here from the 40+ Style Community on the best cashmere sweater brands to buy.
3. Silk shirt
Silk is another of those fabrics which adds instant luxury to your outfits.
You can expect to pay more for silk – but the beauty of it is that you can wear with absolutely everything for all occasions.
The silk blouse from Boden (below) comes in a choice of three colors and would look great worn with your favorite jeans.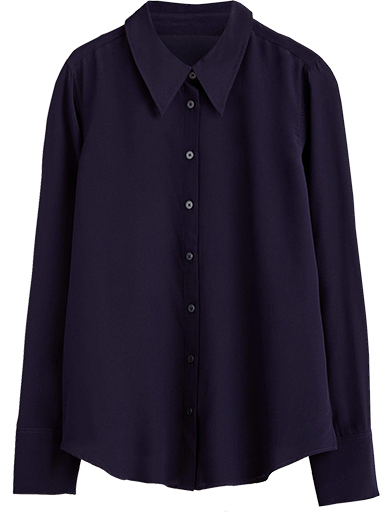 4. Basic clothing – a solid color tee
It's often advised to have a plain white tee in your closet. And, I don't disagree that a white tee can be a hugely useful closet staple.
But, it doesn't necessarily have to be white.
A tee in a solid color can provide a useful background to show off any statement jewelry that you have.
If, for example, you have a great red necklace, then opting for a blue, navy or a gray tee could allow you to show it off beautifully.
The COS T-shirt (below) features an on-trend boxy shape, and would look good dressed up or down.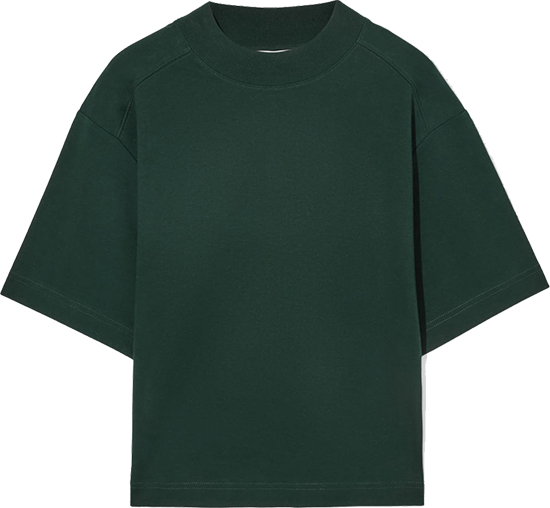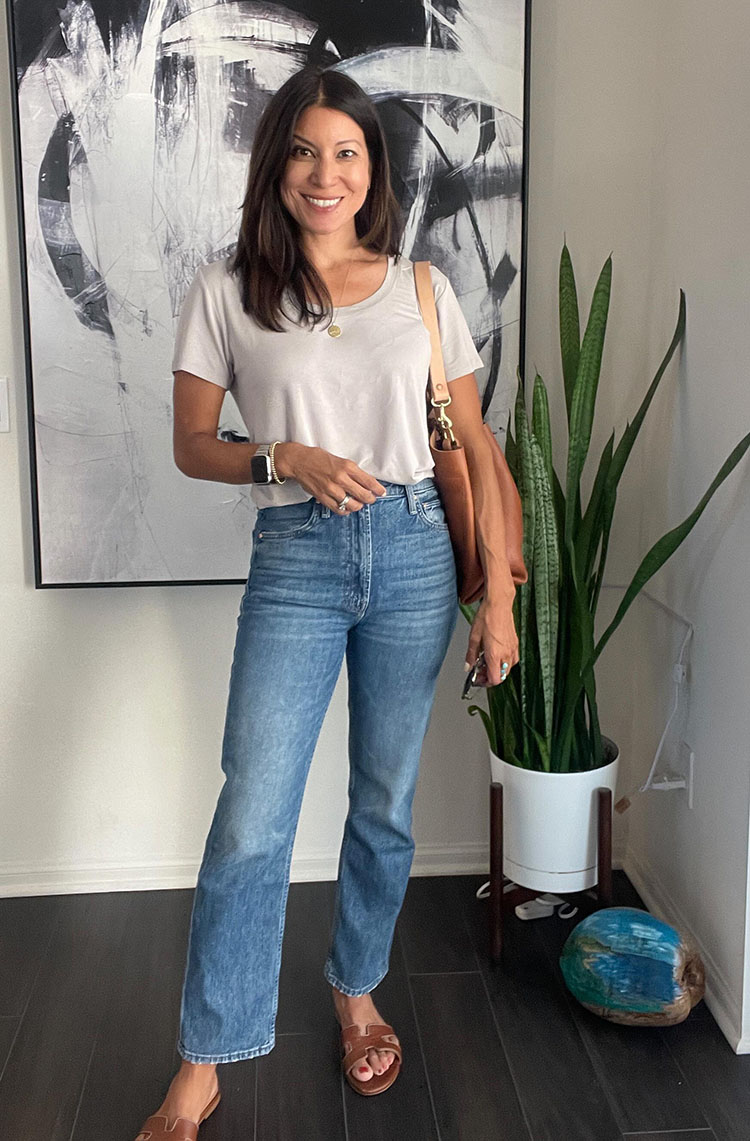 Adaline @sdmomstyles above wears an easy, stylish, timeless look. You could always wear for colder wear with a pair of booties and a blazer if you need to add warmth.
Get her look with this similar tee (more options here and here), jeans, sandals, hobo bag and necklace.
5. Asymmetrical top
I'm a huge fan of asymmetry for all sorts of reasons.
Asymmetry can make a simple outfit look far more interesting. It can also help you to downplay the parts of your body you aren't so keen on and play up what you do like.
The handkerchief hem top (below) from Amazon drapes well and would be a good option for wearing over leggings or skinny jeans. It is available in a vast array of colors and has plenty of positive reviews from women who say it is flowy and fabulous as well as having enough fabric to cover any "bumps and rolls".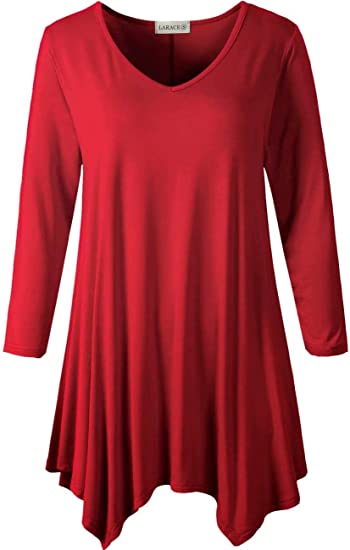 You may also like this article on how to wear asymmetrical clothing, which has some stylish shoppable options.
Bottoms you should have in your staple clothing essentials
6. Black pants
Whether you wear them to work or you dress them up for evening, a classic pair of black pants will never go out of style.
This pair of BOSS wool trousers (below) has a classic wide-leg style which is particularly on-trend this year.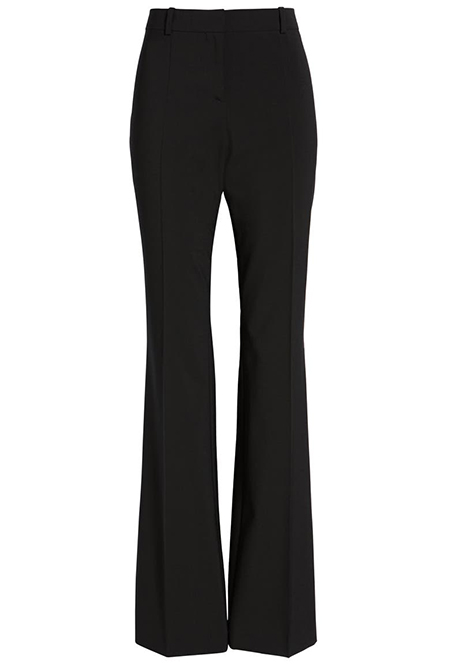 BOSS Tulea3 Tropical Stretch Wool Trousers
7. White pants
Just like black pants white pants should be a staple in your wardrobe. Other than black, no other color is as easy to combine and the extra benefit is that an outfit with a white base will look fresh and energetic.
You can still wear white pants for winter but you probably want to swap your sandals for a closed toe option like ankle booties!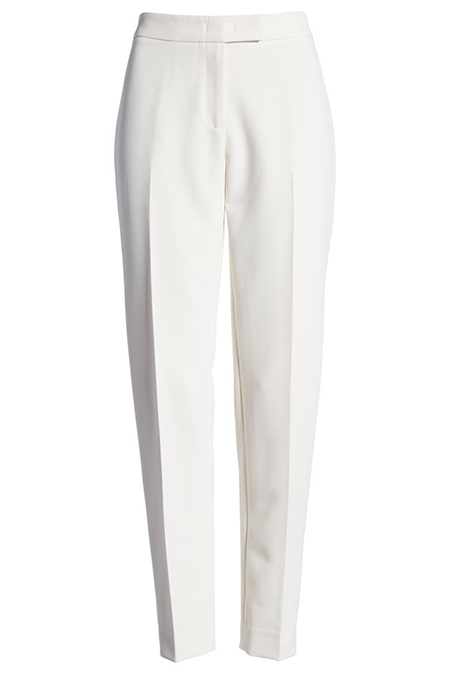 Anne Klein Slim Stretch Woven Pants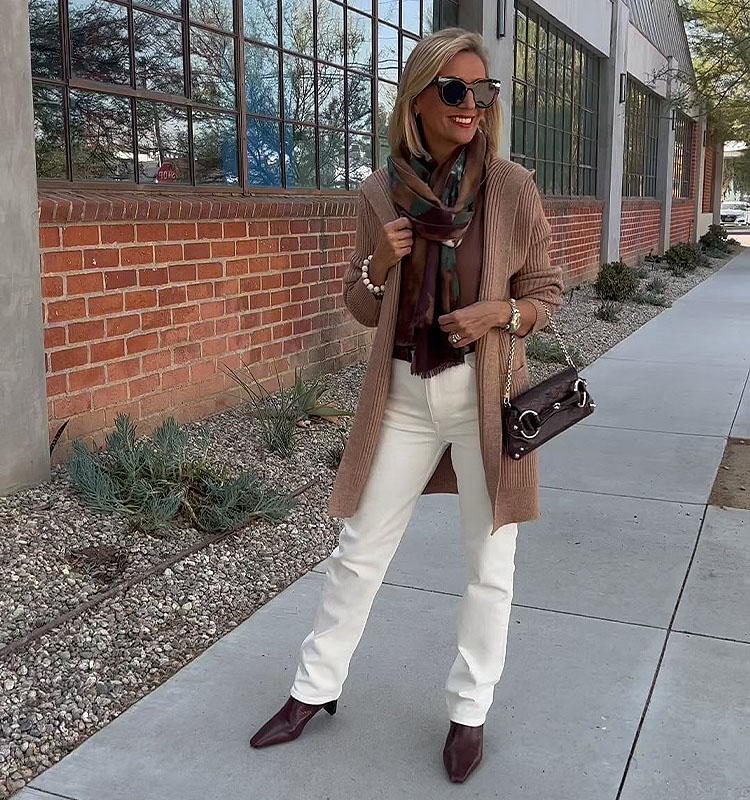 Nora @jacketsociety above (read her style interview here) shows how you could wear white or cream pants in cooler weather.
Check out this similar sweater, cardigan, jeans, booties, clutch, scarf and sunglasses.
8. Dark denim jeans
Finding the perfect pair of jeans isn't easy. But, I'd definitely advise you to make it a dark wash pair.
Not only do they work in a huge range of scenarios, but they're also very flattering. Plus, they're less likely to stain so, if you invest in a pair which are a little more expensive than the norm, they're likely to last you longer.
A classic bootcut will suit most body shapes, but you could also opt for flared, cropped or skinny, depending on which style looks best on you.
The Wit & Wisdom bootcut jeans (below) will flatter most body shapes, and would look great paired with the silk shirt from #3.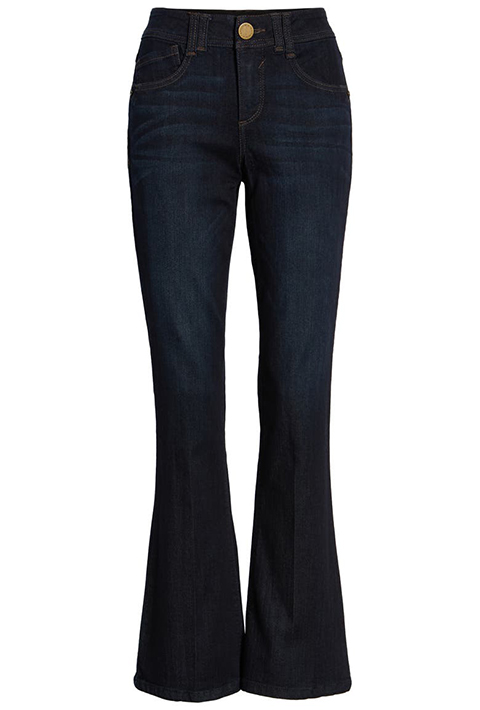 Wit & Wisdom 'Ab'Solution Itty Bitty Bootcut Jeans
9. LOUNGE PANTS
Lounge pants didn't previously feature among my wardrobe essentials, but I decided it is definitely time to add them, given many of you will be spending more time at home than usual right now given new work from home arrangements – and will want to stay warm and comfy.
You could wear the Natori lounge pants (below) for a casual outing with sneakers, or just for relaxing at home. Or, of course, you could always add a smart top for virtual meetings if you are working from home.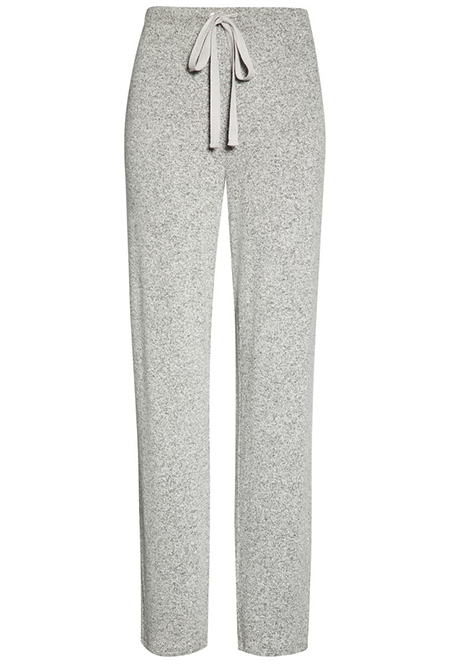 10. A classic skirt
A classic skirt will mean different things for different women. But most women will suit the two classic styles. Choose either a pencil or an a-line to flatter your figure.
You could opt for a patterned skirt to wear with your plain tops, or a plain skirt to wear with your patterned tops. Or, of course, you could try out some pattern mixing.
This Kate Kasin skirt isn't "classic" as you would expect because of the side tie detailing, but I've included it in my wardrobe essentials because it could be worn so many ways, and it comes in a huge choice of colors so you can choose one that will go best with the other items in your closet. Reviewers say it has a nice weight to it, and looks classy.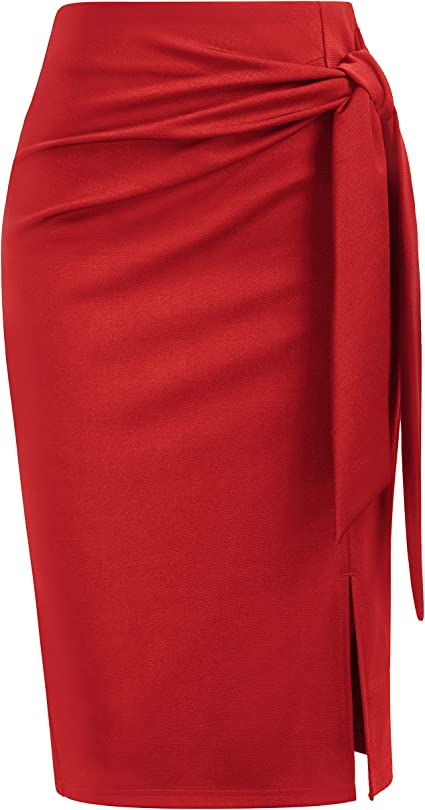 Kate Kasin Bow Tie Pencil Skirt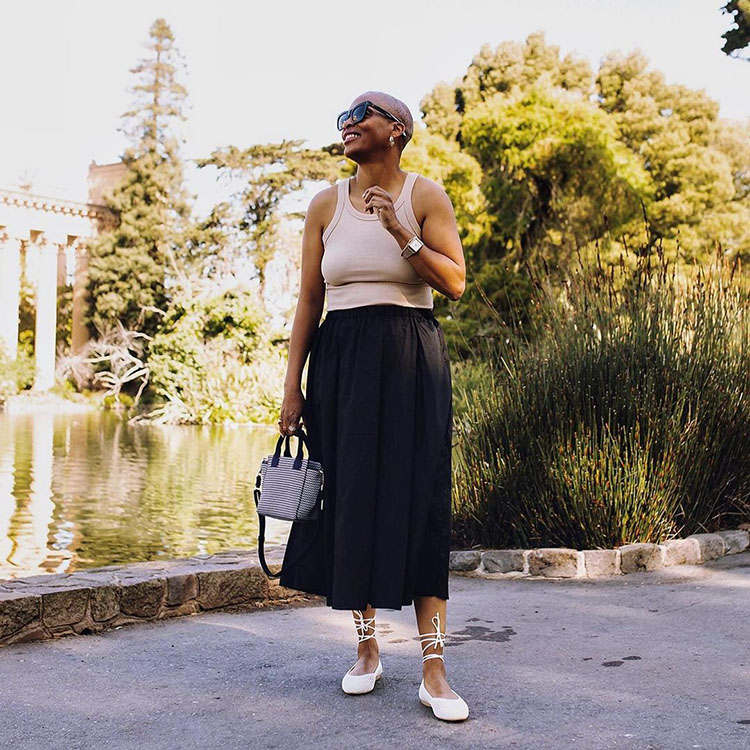 Kim @kimair above (read her style interview here) wears a black midi skirt that would be a great staple for your wardrobe.
Recreate her outfit with this similar tank top, skirt, flats (another option here), handbag, earrings and sunglasses.
Wardrobe staples: Dresses
11. An evening dress for formal occasions
No matter whether you go out frequently, or hardly at all, everyone needs a dress that you can pull out of your closet at short notice for formal events, and know that it will look great.
A classic little black dress will see you through most events. You can add a silk wrap or some great jewelry to make it look different every time.
Choose a style to suit your body type. The black dress below from Maggy London features a flattering see-through top that adds a point of difference.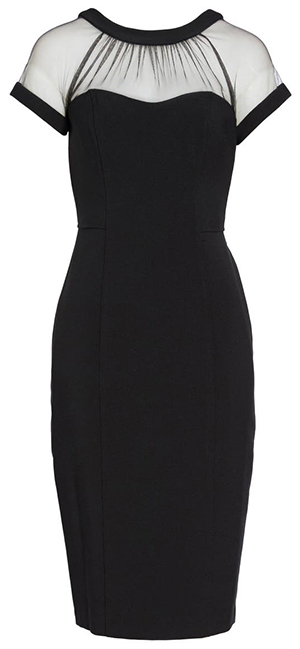 Maggy London Illusion Yoke Crepe Cocktail Dress
12. A wrap dress
A wrap dress is one of those wardrobe essentials that suits everyone, no matter what your body type.
The wrap dress defines your waist thanks to the waist tie and elongates your figure, thanks to the v-neck. It skims over your hips and thighs, making it a flattering option for pear shapes.
Not only that, but you can wear a wrap dress for pretty much any occasion. Depending on the fabric you choose, you could wear to work, to a casual lunch or to a formal event such as a wedding.
Many wrap dresses also have sleeves if you prefer a dress which covers your upper arms.
This faux wrap dress below has a flattering high-low hemline, and is perfect for any season. You could wear with tights and knee-high boots for winter, or with heeled sandals for summer.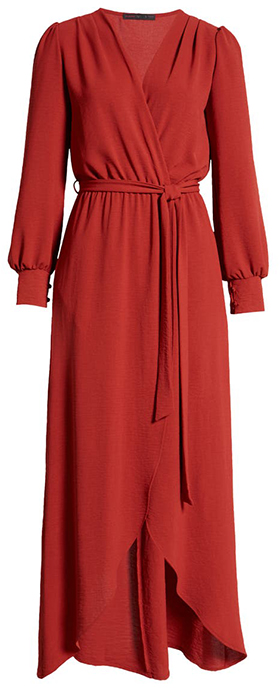 For more options for dresses with sleeves, take a look at this article.
Outerwear
Of course, most of us don't live in a climate warm enough year round to ensure that we never need to wear a jacket or a coat.
Not only that, but a layer of outerwear can add extra style to your outfits. Below are my essentials.
13. Leather or faux leather moto jacket
A leather moto jacket is a classic which exudes a certain rock star cool. This is one the go-to pieces of women who have a rock style personality.
You could wear on casual days with jeans and sneakers.
But, you can also use a moto jacket to toughen up, and add an unexpected element, to outfits such as a maxi dress, or a pleated midi skirt with a sweater and booties. In short, it pretty much goes with everything.
Not only that, but a leather jacket can actually get better with age, so you're sure to keep it for many years if you choose a classic, fitted style.
You don't have to choose classic black. You could opt for a lighter color which may be more flattering close to your face, and which you can also wear during spring and summer.
The Massimo Dutti jacket (below) would go beautifully with your jeans, or over your summer dresses so you can wear them year round.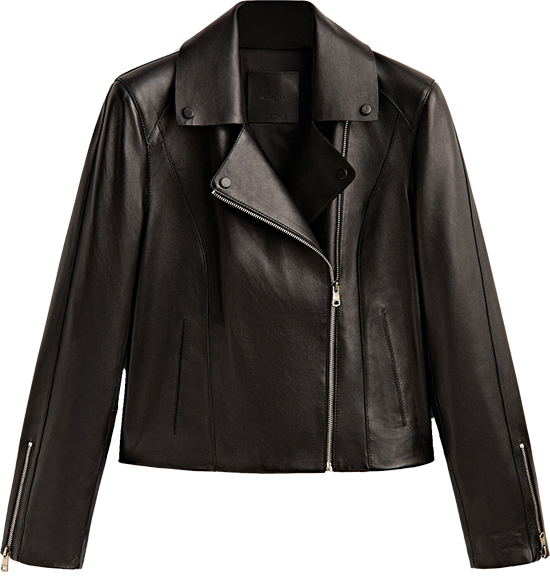 Massimo Dutti Nappa Leather Biker Jacket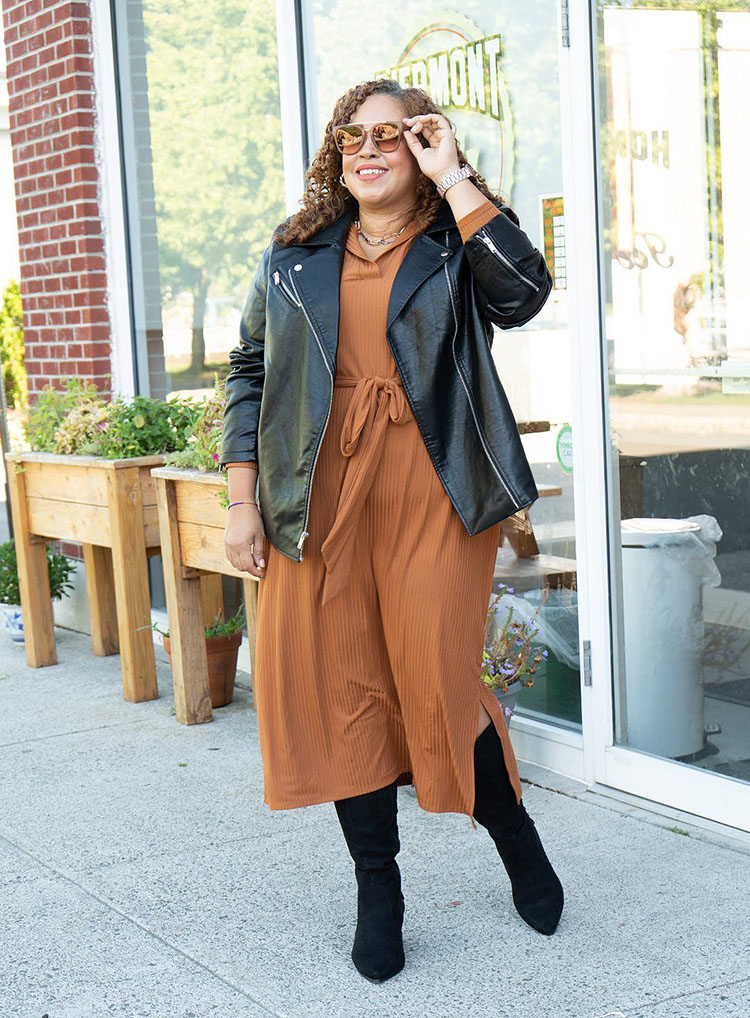 Sandra @lapecosapreciosa above matches her jacket to her boots.
Steal her look with this similar moto jacket, dress, boots, necklace and sunglasses.
You can also check out our list of the best leather jackets for women that you can wear with any outfit.
14. Blazer
A blazer is another one of those pieces which is so versatile. Choose a timeless color or pattern and it will be something you will want to wear for many years.
You could add to your jeans with a tee and a pair of sneakers or heels to instantly elevate your outfit, or you can wear for a night out or for work.
You will want to opt for a style which nips in at the waist for the most flattering effect, unless you have a rectangular figure and you want to play up your androgynous figure with a boyfriend-style, looser fit.
An open style or single-breasted style like this one from Massimo Dutti is generally more flattering as double breasted blazers do have the potential to make you look wider.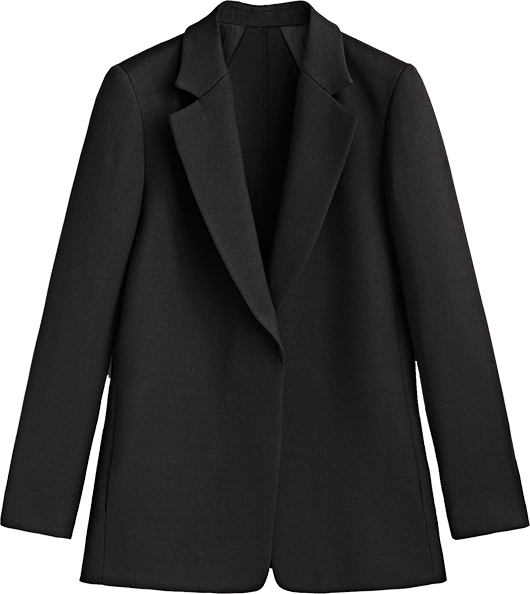 Massimo Dutti Micro-Textured Open Blazer
Take a look at how to fit a blazer to get the right one for you.
15. Trench coat
There can be few pieces of outerwear which are as iconic as the trench coat.
Developed as an alternative to the heavy coats worn by soldiers in the First World War, a trench adds an instant touch of class to any outfit, even if you're simply wearing jeans and a white shirt.
The shape itself is a classic and you could opt for the traditional beige shade or you could opt for a different color.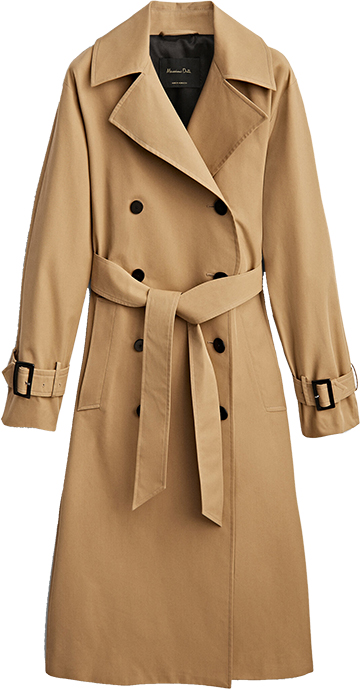 Massimo Dutti Belted Trench Coat
16. LONG CARDIGAN
A long cardigan is a fabulous transitional piece that you can wear instead of a coat when the weather starts to warm up.
Long cardigans, however, are not just for warmth. They can also be very useful for creating long, lean, flattering lines. Wear a block color underneath and then add your cardigan and you instantly look taller and slimmer.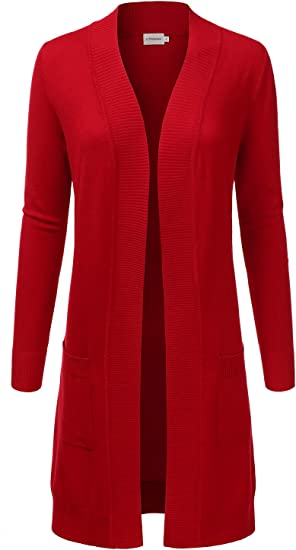 JJ Perfection Open Front Long Cardigan
Karen @styledbykaren above shows a perfect way to wear your long cardigan. She creates a column of color underneath by wearing black from top to toe and then adding the cardigan over the top – a perfect way to elongate your figure.
Recreate her outfit with this similar sweater, cardigan, jeans, booties, belt and sunglasses.
17. Long sleeveless vest
A draped cardigan such as this one from Made by Johnny (below) is a versatile piece of outerwear that you can use to add interest, or to skim over the parts of your body you aren't so keen on.
It is particularly useful for hiding a belly, or for elongating your figure if you are petite. Reviewers say this vest drapes beautifully.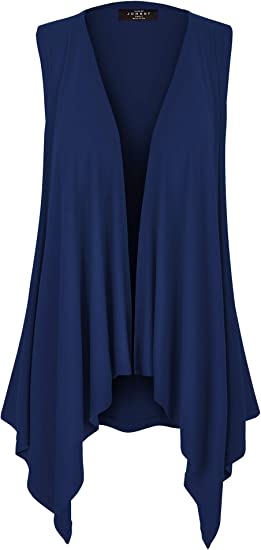 Made By Johnny Draped Open Cardigan
Check out this article for more sure-fire ways to hide your belly with the right clothes.
18. Denim jacket
Jean jackets are always on trend because they exude an effortless sort of cool.
They've been worn by everyone from Marilyn Monroe to Madonna.
While over-sized, boxier denim jackets have been particularly on trend recently, a more fitted style like this jacket by Mavi Jeans (below) is generally more flattering.
You can swap your heavier coats for a denim jacket as winter starts to turn to spring.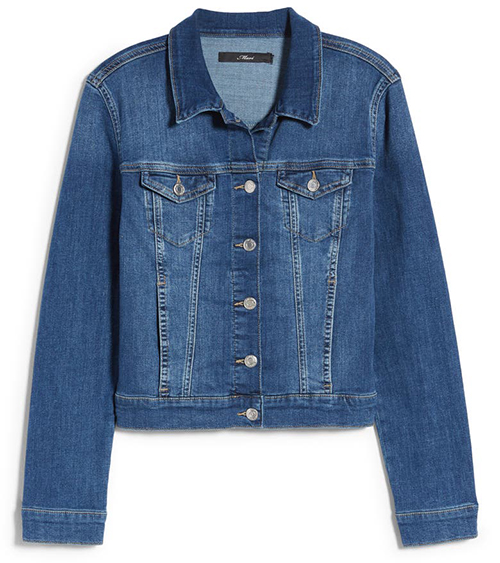 Mavi Jeans Denim Trucker Jacket
19. warm coat
It goes without saying that you will want to stay cozy in the cooler months. Choose a warm coat that suits your lifestyle and style personality, like a casual puffer jacket.
The coat (below) has a removable fur hood and comes in a wide choice of colors. Reviewers say it's very warm.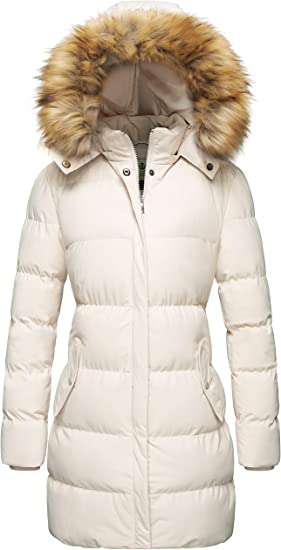 Shoes
20. A comfortable AND stylish pair of shoes for every day
Find a pair of shoes which you find both comfortable AND stylish which you can wear every day.
Depending on where you live and what your lifestyle is like, these will be different for different women.
These can be flat shoes of are have a small heel but you may want to consider a shoe with arch support.
One shoe style I often fall back on is to wear a pair of metallic color shoes. The FitFlop flat below are comfy but still add impact to your day-to-day outfits.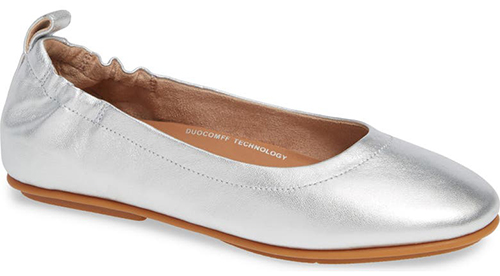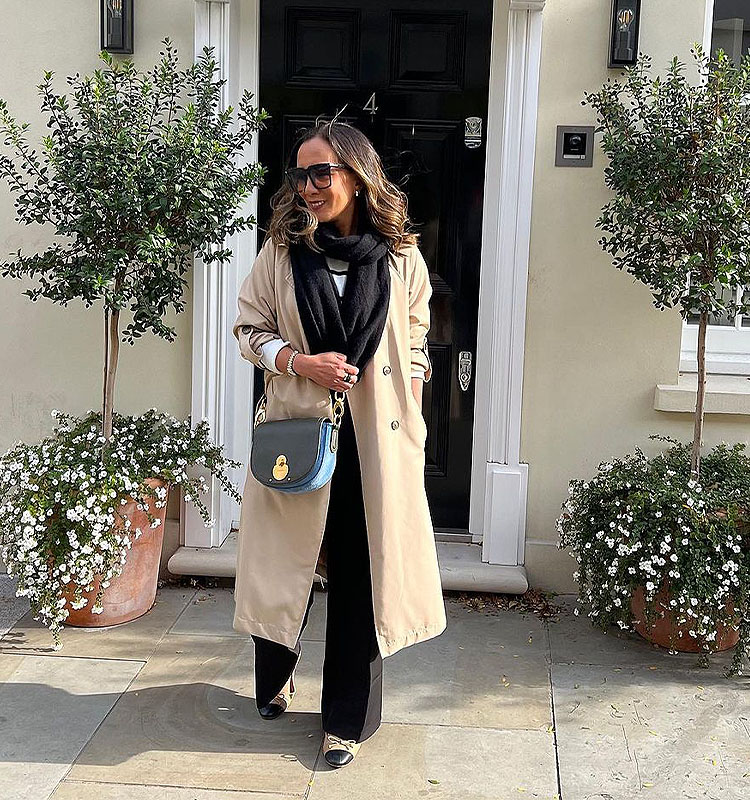 Abi @stealmystyle40 above wears a pair of toe-cap style shoes in colors that tie in with her outfit.
Steal her look with this similar sweater, coat, pants, flats (another option here), bag (another option here), scarf and sunglasses.
21. ballet flats
A pair of ballet flats are a wardrobe staple which will go well with your skinny jeans and capri pants.
They will never go out of style and will be comfortable enough to wear all day.
The Tory Burch ballet flat is a cult classic that always comes in a good choice of colors or neutrals. Take a look and see if you prefer this neutral shade or one of the pastel or bright colors.

Tory Burch Minnie Travel Ballet Flat
22. Heeled sandals (to go with everything)
There can be very few women who want to wear heels all of the time.
But, if you have a pair of heels in your closet, make it a versatile pair.
I believe a pair of block heels is a great option like this pair from Sam Edelman You could wear these sandals with everything from an evening dress to with a pair of jeans and a nice top for a more casual evening out. You could even mix casual with formal and wear with the lounge pants from above and a blazer.
You'll find a block heel more comfortable than a regular stiletto heel.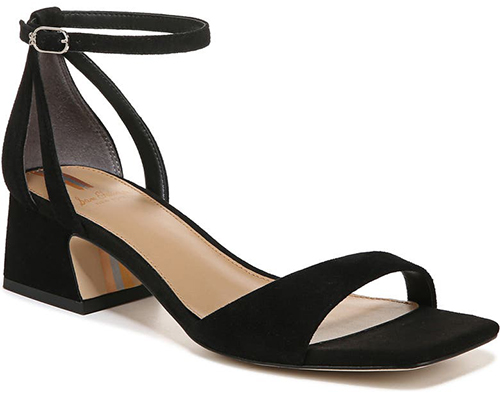 23. Sneakers (in white, BLACK or metallic)
Thankfully, sneakers have never been more fashionable.
So, that means it's easy to be both on trend AND comfortable, without having to suffer for fashion. I've never believed in the old "beauty is pain" adage.
If you choose a classic white, black or a metallic pair, then you should find they go with a lot of pieces in your closet.
The adidas sneaker below have a comfy sole and will go with your jeans or dresses.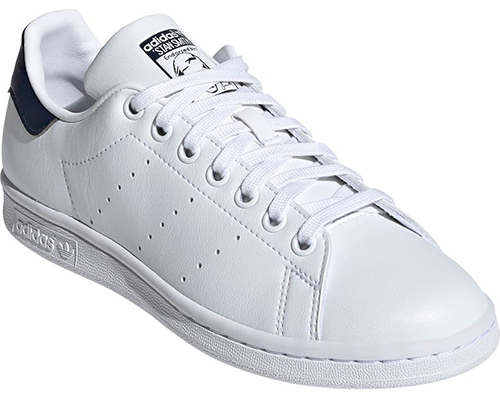 adidas Primegreen Stan Smith Sneaker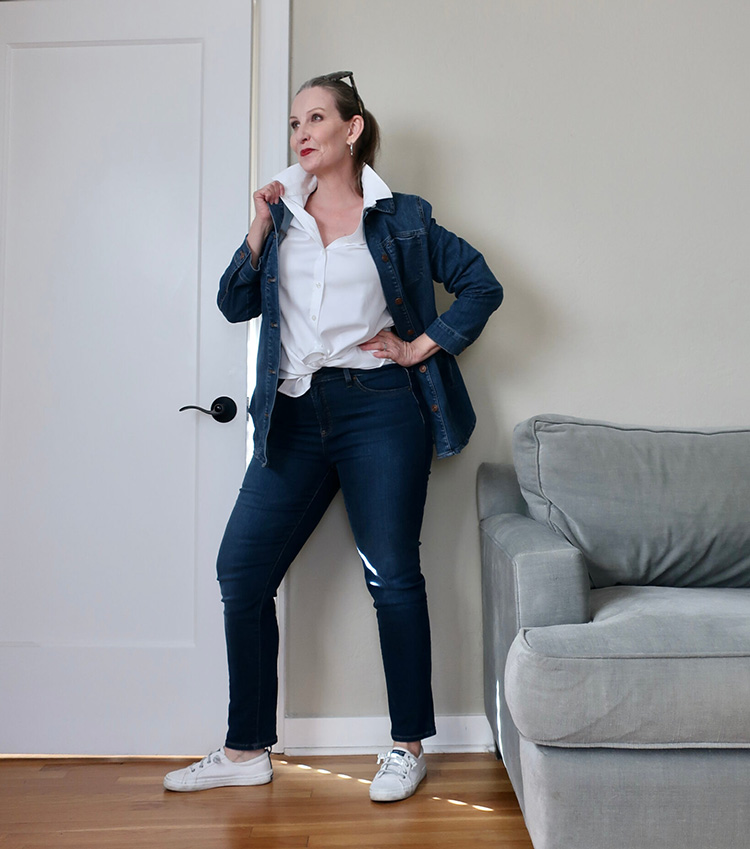 Dawn Lucy @fashionshouldbefun above (read her style interview here) matches her sneakers to her shirt.
She is wearing a shirt, denim shacket and jeans from Chico's, sneakers from Sperry and earrings from Kendra Scott.
24. Ankle booties (for transitional dressing)
One of the most useful pieces of footwear you can have in your closet, ankle booties can be worn throughout all the seasons. You could wear with your jeans, or with tights and a dress.
They can also add a little edge to outfits.
You can opt for flats or heeled depending on your preference. You can also choose booties to suit your style and weather, opting for closed or peep toes.
This pair by ECCO are in a classic style which won't date.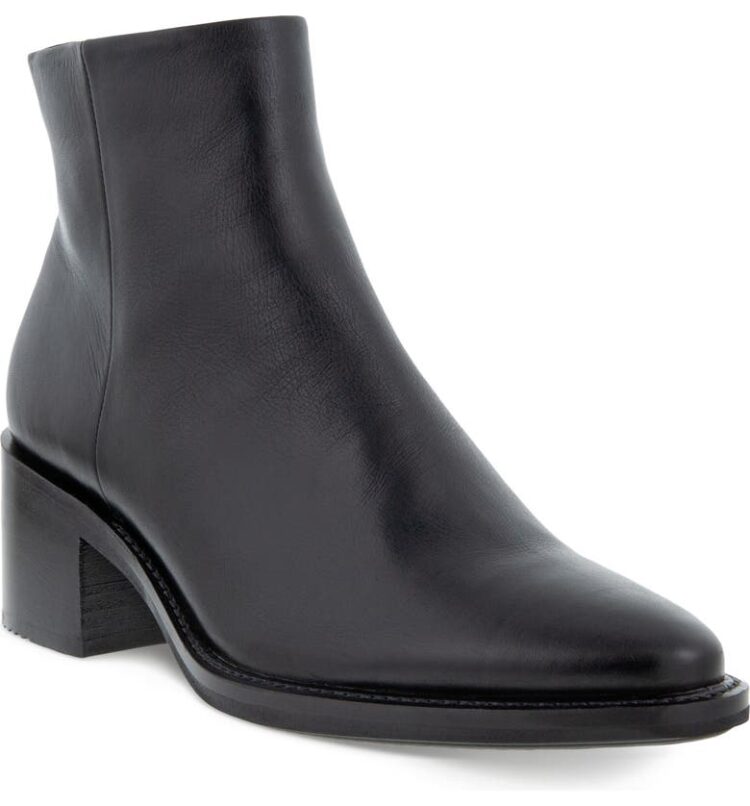 ECCO Shape 35 Sartorelle Bootie
25. KNEE HIGH BOOTS
A pair of knee high boots can be worn with pretty much everything during the cooler months. Wear with your skirts and dresses, or wear over your leggings and skinny jeans.
Dune London Savoir Knee High Boot
Accessories
26. Classic leather belt
Not just for keeping your pants up! A leather belt can be used to create a different look and feel for your outfits.
You could belt around a dress, or you could cinch in the waist of a cardigan, for example, to show off your waist.
You may find that belting pieces that you have pushed to the back of your wardrobe, because you don't feel they are flattering enough or that they have enough shape, could well give them new life.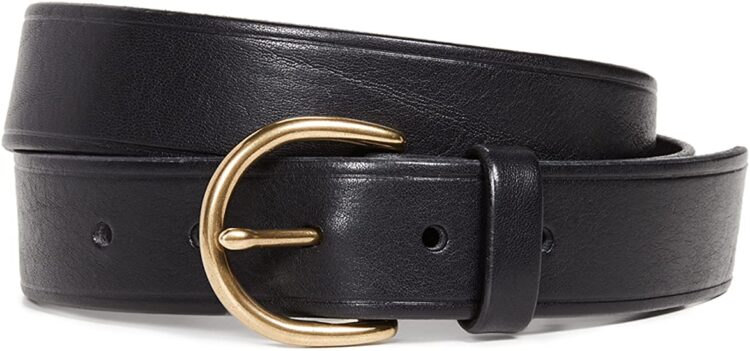 Madewell Medium Perfect Leather Belt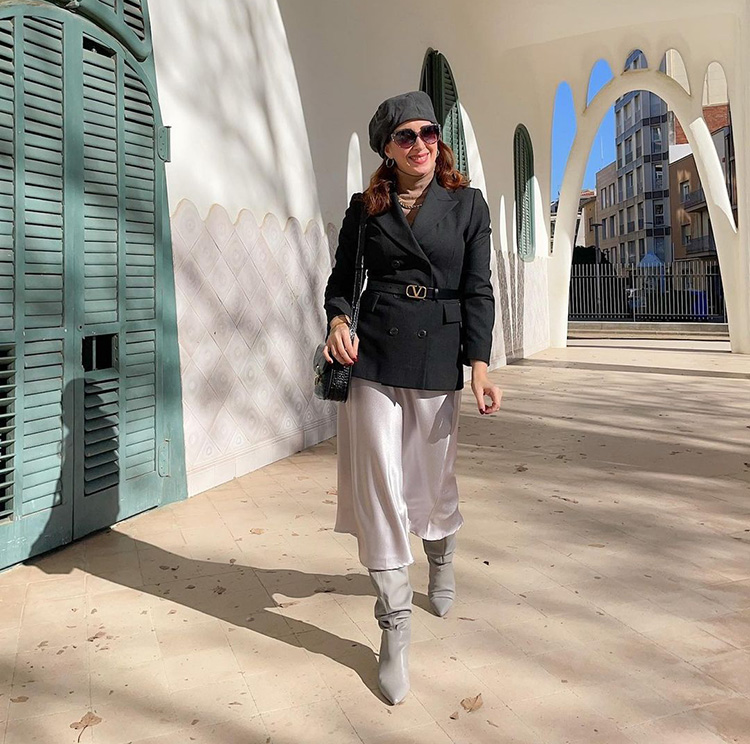 Patricia @madamechicbcn above (read her style interview here) shows how you could wear your knee-high boots under a midi skirt.
Get her look with this similar sweater, blazer, skirt, boots, belt (another option here), bag, beret, earrings, necklace and sunglasses.
27. Tote bag
Your tote bag should be large enough so that you can carry all of your day-to-day essentials around with you.
It should also be sturdy enough to ensure that it lasts, even if you use it everyday.
Opting for a classic leather style will add luxe to your outfit and give your tote longevity.
With everything on this list, it's worth seeing your purchase as an investment, but this particularly holds true for your tote bag, like this one from Marc Jacobs (below).
Tory Burch Perry Triple Compartment Leather Tote
28. Evening clutch
Of course, if you are heading out for the evening, then you won't want to take your large daytime tote with you.
Choose an evening bag you can fit in what you need (phone, lipstick, credit card!) while not being too large to hold in your hand.
This clutch from Olga Berg should go beautifully with anything in your closet.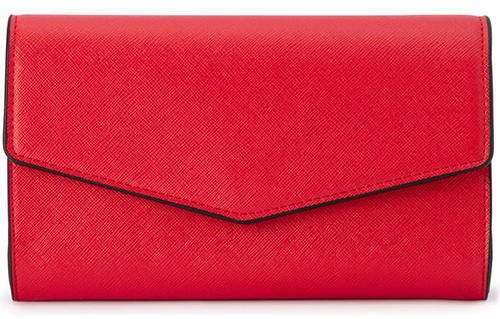 Olga Berg Nic Faux Leather Clutch
29. Silk or lightweight scarf
A scarf will allow you to add pizzazz to an otherwise fairly plain outfit.
Just think how much more stylish a simple pair of jeans and tee could look with the addition of a scarf.
Opting for lightweight scarf will bring extra luxury to your outfits during warmer months or choose a heavier option for winter. Choose a color which is flattering for your skin and hair tone.
This scarf from Nordstrom below comes in a soft cashmere that should feel wonderful against your skin. Plus, it is available in four different colors, including this autumnal cinnamon shade.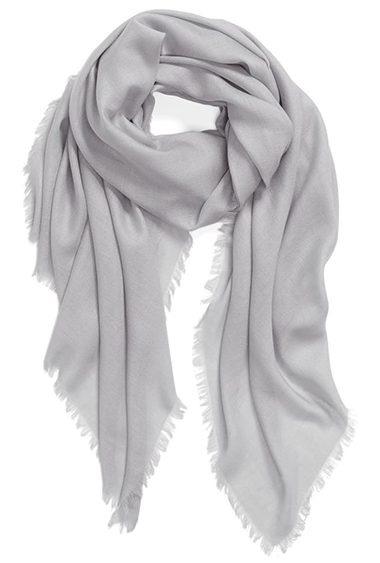 Nordstrom Cashmere & Silk Wrap
30. Statement necklace
Just as a scarf can really make an outfit, so too can a statement necklace.
Useful for adding extra style to outfits which could otherwise be a little boring, a statement necklace can also draw attention away from parts of your body you aren't so keen on and up to your face.
Opt for a necklace to suit your individual style.
This BaubleBar crystal necklace would add a modern touch to any outfit.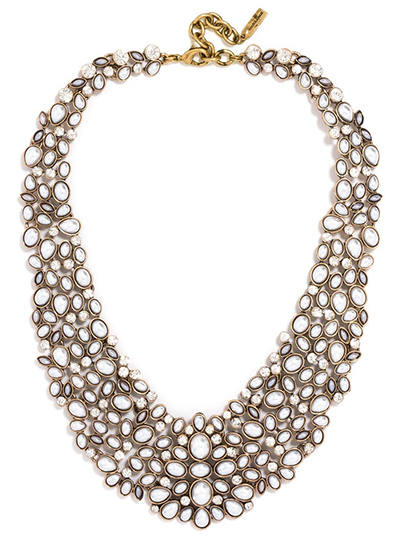 BaubleBar Kew Crystal Collar Necklace
Check out this similar shirtdress, sandals, bag, necklace, earrings and sunglasses.
31. warm hat
A hat is essential no matter what the season. For winter, you want to stay warm, and for summer, you want to keep the sun off. And, of course, a hat can add extra style as well as practicality. The cable knit beanie (below) has tens of thousands of positive reviews on Amazon.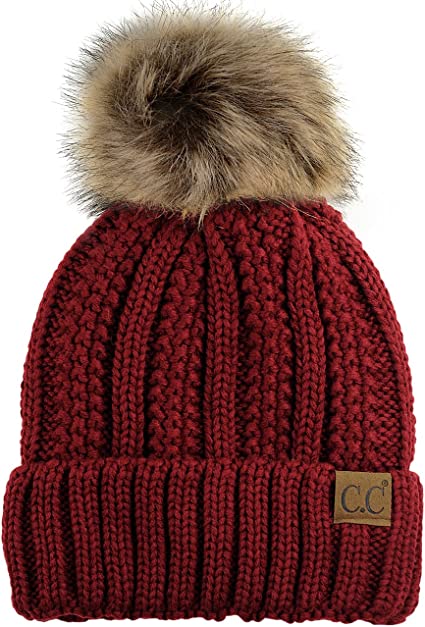 C.C Thick Cable Knit Pom Beanie
Wardrobe essentials
Of course, there are plenty of extra essentials you will need in your closet, such as pajamas and other underwear, but I've included the two essentials which will make your outfits look better and provide versatility to your closet.
32. A perfectly fitting bra
So many women are guilty of not having their bras correctly fitted, or of wearing the same old bras for years.
But, by making sure you have really well fitting bras, you will ensure that what you wear on top of them will look great.
Your bust will be supported and held in place where it should be. You definitely don't want your bust meeting your tummy as that can make you look older than you really are.
The bra you will get most wear out of in your wardrobe will be a smooth t-shirt bra that you can't see under your outfits. The Wacoal bra below comes in a huge choice of colors and larger sizes.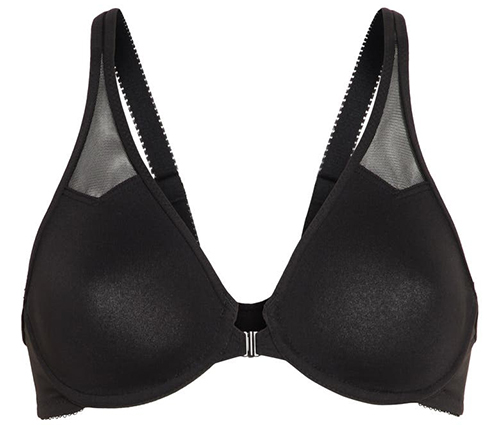 Wacoal Seamless Racerback Underwire Bra
If you have larger breasts, there are some great recommendations here for the best bras for you.
33. Opaque tights or leggings
A pair of opaque tights or black leggings are your best friend when it comes to transitional dressing.
They give your outfits longevity which cuts across seasons and makes your closet a much more flexible place.
You could, for example, wear with your little black dress for a night out, or you could wear under a pencil skirt for work.
But, you could also wear with a floral summer dress and team this with your leather moto jacket to ensure you can wear your dress for spring.
If you choose control top tights or leggings, this could also help you to make sure you get smooth lines under your clothes.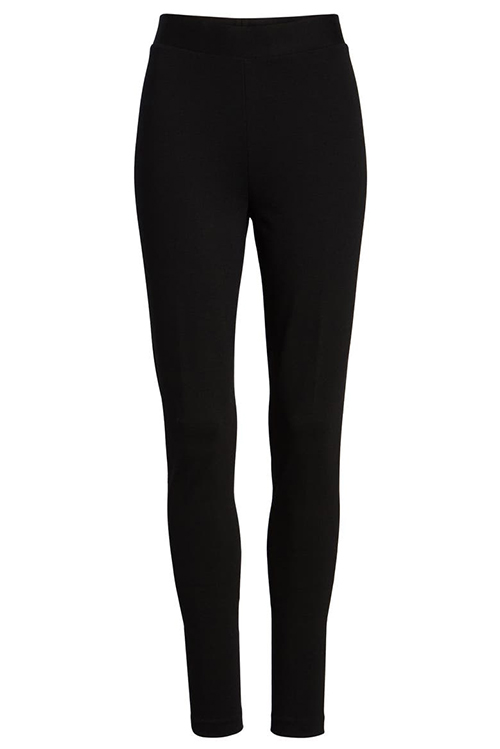 Vince Camuto Seamed Back Ponte Leggings
Also take a look at how to wear leggings over 40.
Your wardrobe essentials in one capsule
Below you can see just a few of the ways you could put all of the clothes, shoes and accessories used in this article together.
But you could actually create countless other outfits. The seagreen t-shirt, for example, would look good with the white pants, you could wear the long white shirt over leggings, the sweater over the lounge pants, or tuck the silk shirt into the wide legged pants.
Shop featured wardrobe essentials below


More wardrobe essentials inspiration for you
The looks below are from a previous spring/summer essentials list. However, you can see that they're all timeless outfits that should still give you plenty of inspiration for seasons to come.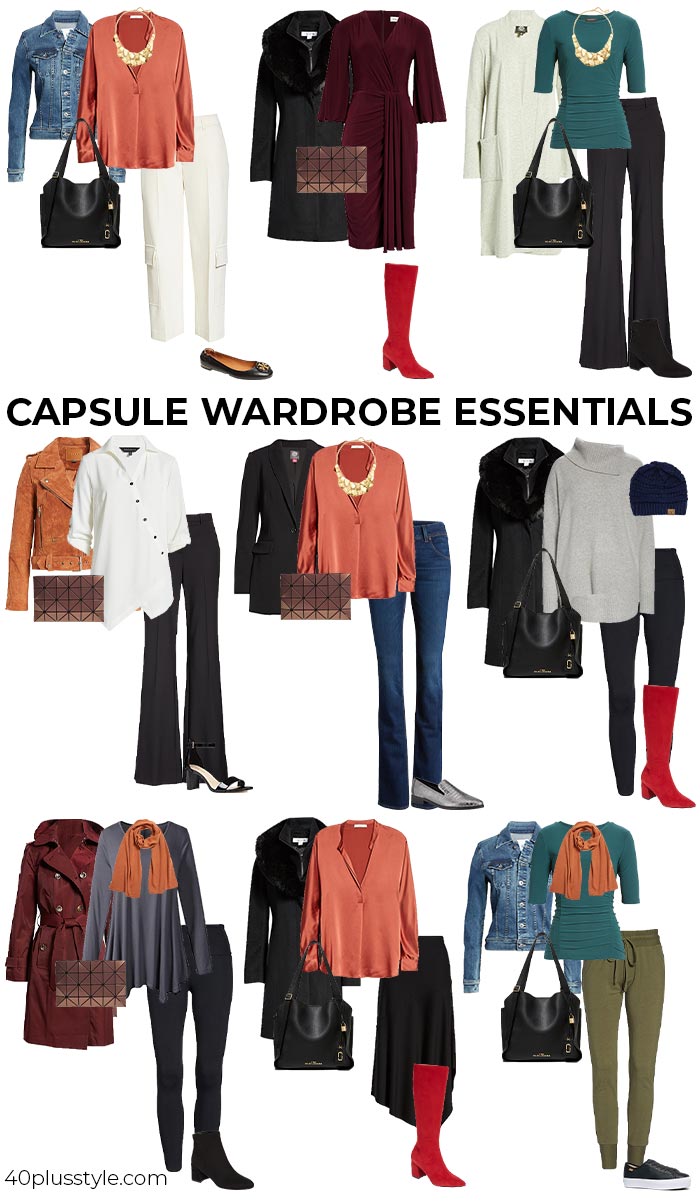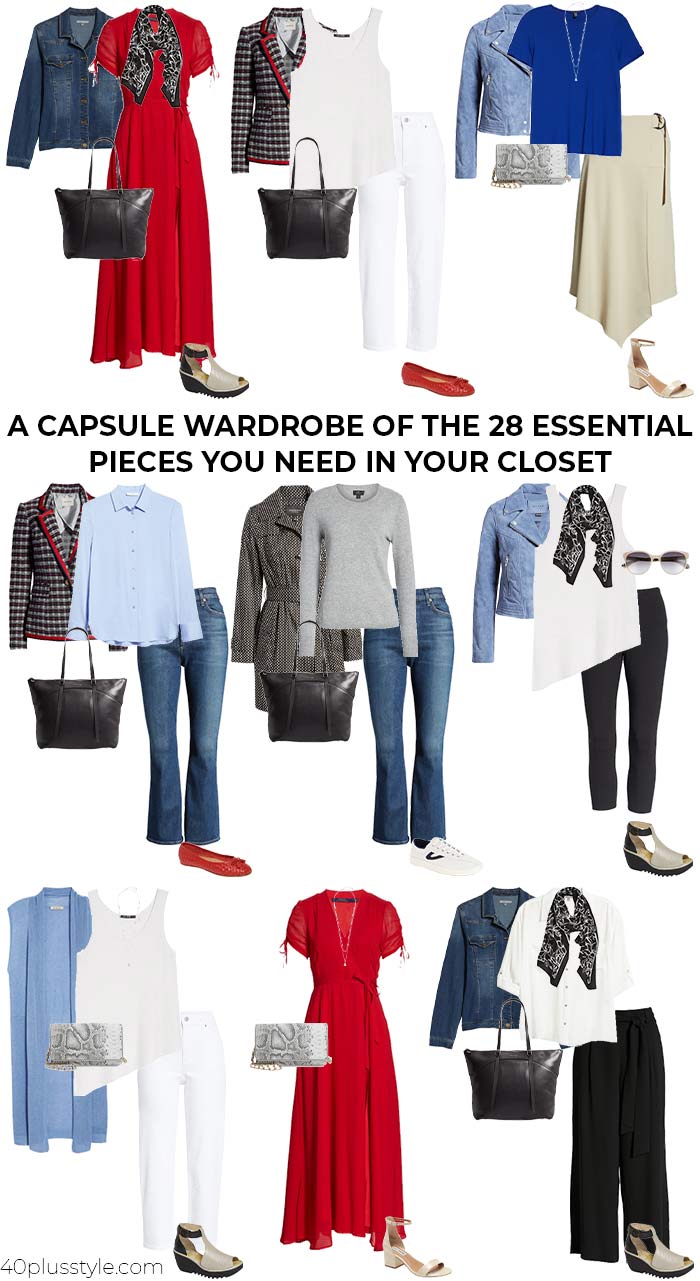 That concludes our list of wardrobe essentials.
Very likely your list will be different and you may start to think about how your list differs from mine.
Do you agree with my choices? What would you choose as your wardrobe essentials?
Continue reading:
Do you like this article on the ultimate checklist of wardrobe essentials? Share it on Pinterest!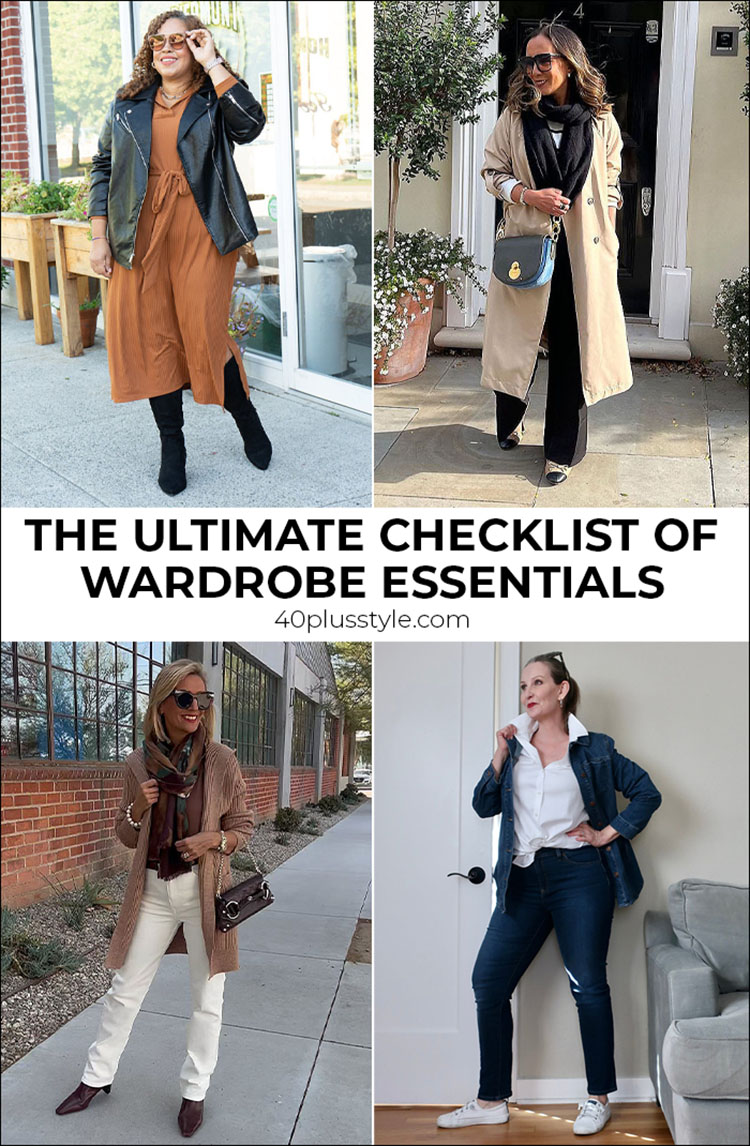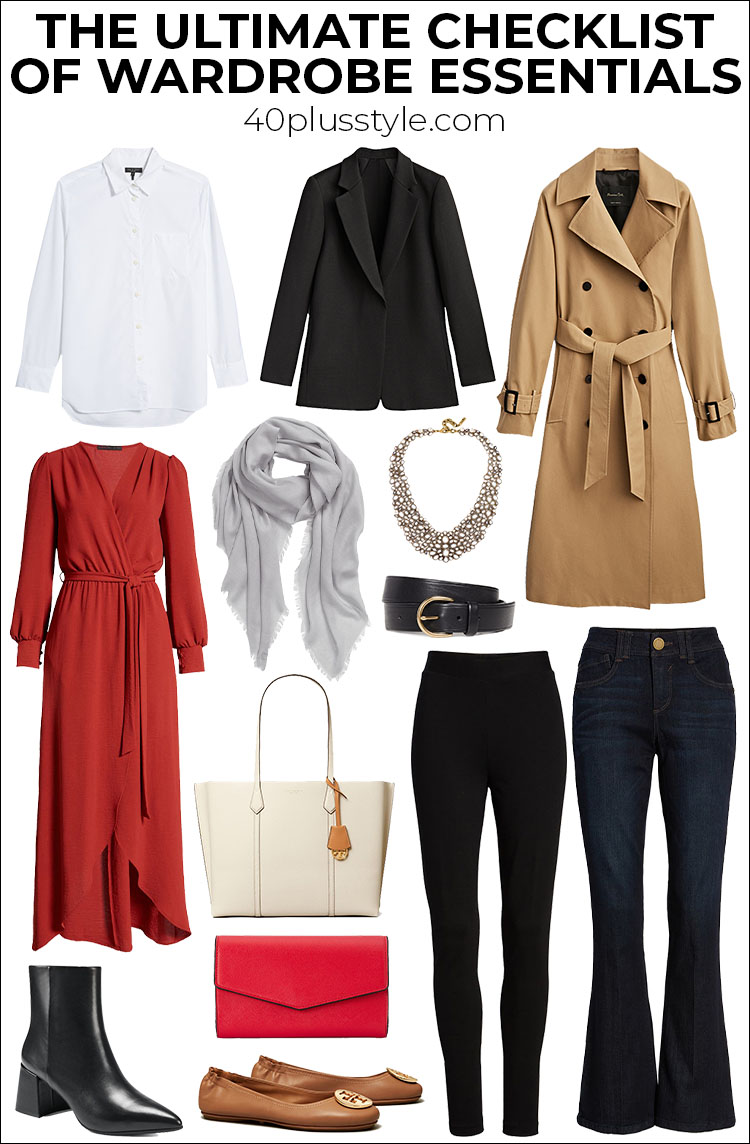 Feature image by Abi @stealmystyle40
Want to get more articles from 40+style in your inbox, subscribe here.
You can also connect with 40+style on Facebook, Instagram or Pinterest.
Support 40+style by using the links in our articles to shop. As an associate for Amazon and many other brands, we receive a small commission (at no cost to you) on qualifying purchases which enables us to keep creating amazing free content for you. Thanks!