Want to appear more youthful? In this article we discuss the things that make us look older and what you can do about it.
15 THINGS THAT MAKE US LOOK OLDER
Perhaps you don't want to look younger but most of us certainly don't want to appear older. I'd like to think that most of us want to appear youthful and hip.
Let's look at some examples of what can date us or make us appear older and how to fix it.
1. TOO MUCH OR THE WRONG COLOR MAKEUP
As we get older, our coloring softens and dark or bright colors that once worked for us may overwhelm us now. Know which colors suit your skin tone.
If you don't know if you are warm or cool then go to a make-up counter and try on yellow and blue based lipstick and blush colors to see what suits you best.
You can view many of our make-up tips here.
Also, find out the best mascaras for women over 40.
HOW TO LOOK YOUNGER: CHANGE YOUR MAKE-UP ROUTINE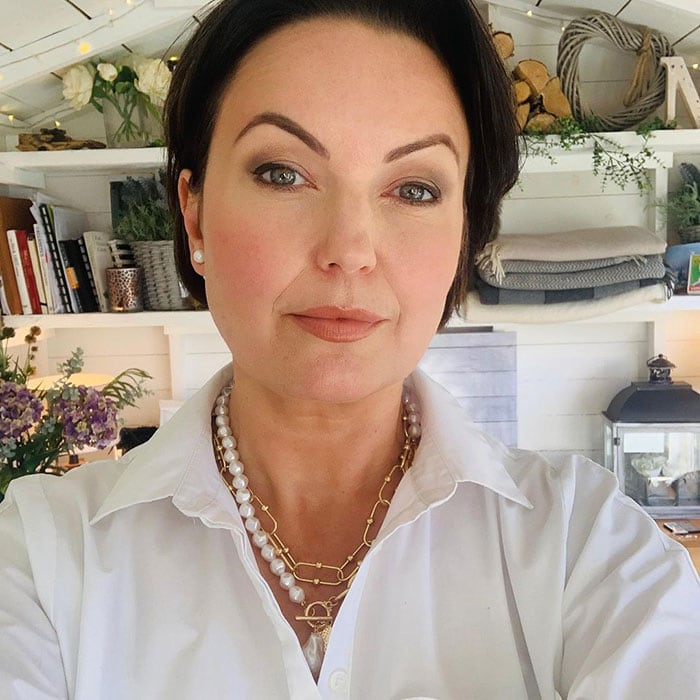 Consider what decade you learned to apply makeup. If you are still using those techniques and colors, it is time to up-date. Below are some changes to think about:
HOW TO LOOK YOUNGER NATURALLY: DON'T WEAR TOO MUCH EYELINER
Rather than a liquid eyeliner, try an eye pencil and smudge a bit after application to soften the line.
Or apply eye shadow with a small angled brush as the liner. For more info read How to apply eyeliner after 40.
Rachel (above) achieves the perfect balance between natural and glamorous with her eye make-up.

Sisley Paris Phyto-Khol Star Sparkling Waterproof Liner
DON'T MATCH YOUR EYE SHADOW COLOR TO YOUR OUTFIT
We're not in the 1980's anymore. Go for a softer, natural look and avoid shimmer as this will magnify any crepiness.
LOOK YOUNGER BY SAYING NO TO THICK FULL COVERAGE FOUNDATION
Consider a tinted moisturizer or a lighter weight foundation and apply only to the center of the face and blend outwards. Also see: the best foundation for mature skin.
CHANEL VITALUMIÈRE AQUA Ultra-Light Skin Perfecting Sunscreen Makeup Broad Spectrum SPF 15
AVOID TOO DARK OR MATTE LIPSTICKS
Our lips thin with age and a dark or matte colour will make lips look even thinner.
Try a crème or pearl colour and rather than dark go for a brighter or lighter color. Check out some of Sylvia's favorite lipsticks.
MAC Cremesheen Lipstick in Modesty
TOO MUCH BLUSH AND IN THE WRONG AREA
Don't opt for anything too harsh and obvious when it comes to your blusher. Try using a natural colored blush on the apples of your cheeks to create a youthful glow.
Apply sparingly along the cheek bone and blend, blend, blend.
Laura Mercier Blush Colour Infusion Powder Blush
HOW TO LOOK YOUNGER AT 40 OR BEYOND: STAY AWAY FROM TOO DARK A LIP LINER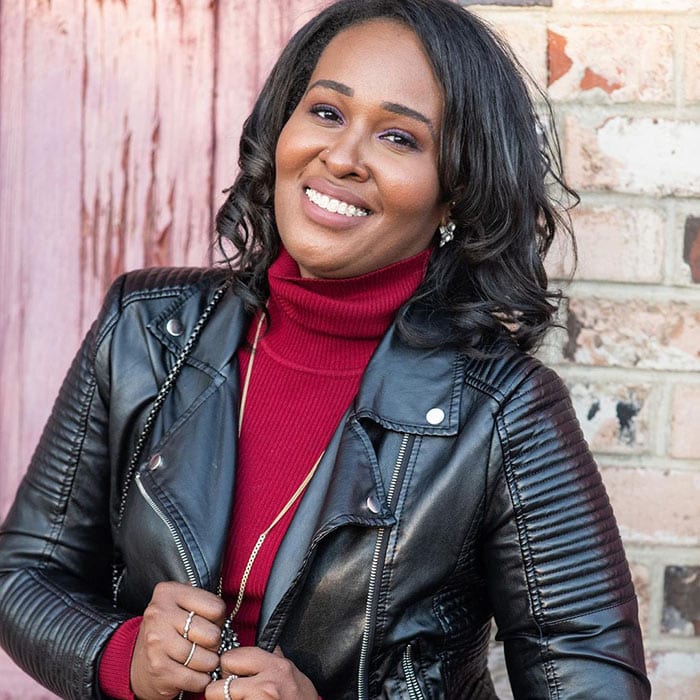 Lip liners should match the lipstick color. You don't want an obvious line around your lips, but a lip liner can be a useful tool to prevent lipstick from bleeding into fine lines.
EMPHASIZING EYES AND LIPS
As with clothes, choose one star and the rest as supporting players.
If you are wearing a dramatic lipstick, keep the blush and eye shadows softer.
Dionne (above) chooses to emphasize your eyes and leaves her lips looking full and natural.
2. EYEGLASSES OR SUNGLASSES THAT ARE YEARS OLD OR NO LONGER FASHIONABLE.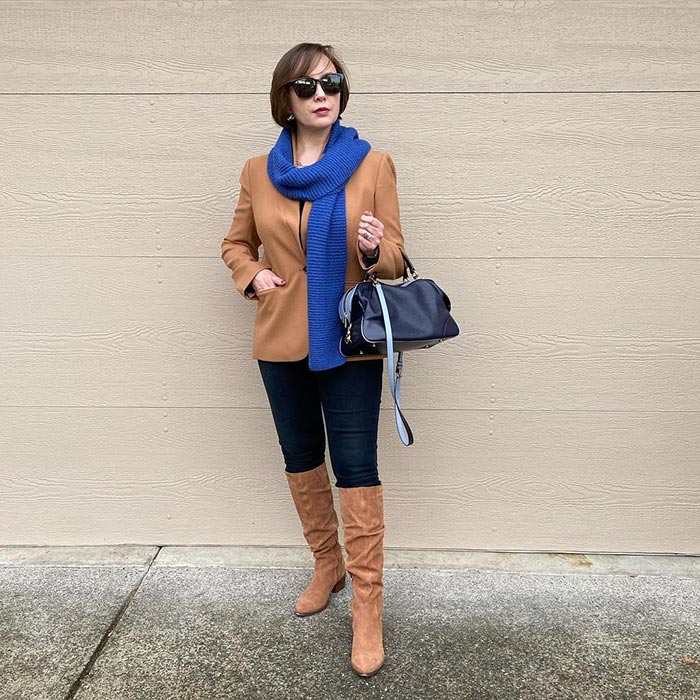 Eyeglasses and sunglasses follow trends just as fashion does and should be considered just as necessary to update.
An easy and inexpensive way to modernize your style is to pick up a few pair of sunglasses. Perhaps a sportier and an elegant pair for different outfits.
Consider your face shape, skin tone and personality when selecting glasses. Our face shape and coloring will change with age, so you may need to select a different frame shape and color now.
Oxana (above) opts for timeless sunglasses that will never look dated.
Salvatore Ferragamo 57mm Gradient Cat Eye Sunglasses
Also see on how to find the right glasses for you.
If you have prescription glasses a good reminder to change is when you get a new prescription.
Tom Ford 53mm Cat Eye Blue Light Blocking Glasses
If you have changed your hair color or if you go grey, you may want to consider a lighter color or a silver frame.
Also take a look at the best glasses to buy after 40.
3. HAIRSTYLE OR HAIR COLOUR THAT HASN'T CHANGED IN YEARS.
How long is too long to keep the same hairstyle or color? The running joke is whether you've had the same style for so long that it's popular again.
Seriously, if your hairstyle is from another decade, it's time to change.
Our hair changes with age. It may get thinner, coarser, less curly or frizzier. Our face shape may also change, so a hairstyle that suited us in our 30s may not be the most flattering in our 50s.
TIPS FOR HOW TO STAY LOOKING YOUNG – WITH YOUTHFUL HAIR
YOUTHFUL LOOKING HAIR HAS MOVEMENT
Stay away from too many styling products and too much hairspray as this will make hair look stiff and unnatural.
ONE OVERALL DARK COLOR IS AGING
A few highlights around the face and crown will add softness and create a more natural look.
Highlights, lowlights, ombre or balayage will add interest, definition and a modern look with any hair colour.
Sara (above) opts for a youthful, on-trend blunt bob which she styles with a little wave.
GREY HAIR CAN BE DRY, FRIZZY OR COARSE
If you've let your hair go naturally grey, you should use specialized products for grey hair to keep it moisturized and prevent yellowing.
If you're wondering whether you should go gray or not, you may enjoy the discussion in our article: To grey or not to grey.
L'Oreal Paris EverPure Brass Toning Purple Shampoo and Conditioner Kit
Check this article for more fabulous gray hairstyles.
CONSIDER YOUR HAIR TEXTURE
If you have curly hair and fought with it all your life you may want to go with your natural curls now.
Natalie (above) looks fabulous by emphasizing her natural curls.
You may like to check our article on how to manage curly hair.
TAKE THE ADVICE FROM YOUR HAIRDRESSER
When you get a new haircut, have your hairstylist show you how to style it. Styling techniques and products have changed over the years.
TWEAK YOUR CLASSIC STYLE
Even if a classic haircut such as a bob is your style of choice, you can tweak it with more layers, fewer layers, angled or longer or shorter. Even subtle changes make a difference.
4. WEARING TOO MUCH BLACK
There's no denying that black outfits can be effortlessly cool. They can also be slimming.
However wearing black close to your face can also have a draining effect, making wrinkles and dark circles appear more prominent.
That doesn't mean you have to give up on black completely.
You can always wear a scarf or statement jewelry next to your face over your black to make your complexion look brighter and more youthful.
Or you could keep your black on your bottom half and wear a more flattering color on your top half.
Jeanne (above) opts to wear black, but chooses a face-framing statement necklace to flatter her skin tone, as well as bright lipstick.
TZ Promise Cashmere Feel Scarf
5. OVER PLUCKING YOUR EYEBROWS
Just like clothing trends, eyebrow trends change. While full brows were on trend in the 60s, by the time the 90s and 2000s came around, thinner brows were the way to go, meaning many of us overplucked our brows.
If you are still plucking your eyebrows to create a thin shape, you might want to let your natural brows grow as the current trend is definitely about bigger brows.
As most of us have found out, however, our eyebrows may not grow back. To compensate, use a powder or pencil to fill in the sparse areas. Also check: how to get the perfect eyebrows.
Anastasia Beverly Hills Brow Powder Duo
This is a positive trend for women over 40 as a well-defined brow can definitely give a youthful appearance as well as creating definition for the rest of your face.
6. WEARING SHAPELESS OUTFITS CAN PREVENT YOU FROM LOOKING YOUNGER THAN YOUR AGE
Too often, as we age we end up trying to disguise parts of our body that we don't like. And, that is, of course, fine up to a point.
But the idea is to play down the areas you aren't so keen on, and emphasize the areas you like, rather than to hide your whole figure.
For ideas on what will flatter your, take a look at the guidelines on how to dress your body shape – whether you are an hourglass, a pear shape, rectangle, inverted triangle or apple.
Shameka (above) makes sure to define her waist with a cinched dress.
7. WEARING THE WRONG SIZE BRA
There's no doubt that gravity can have an effect when we get older. Sagging is just part of the natural aging process. After menopause, a natural drop in oestrogen can make breast tissue less elastic.
If you've been wearing the same size bra for decades, it could be time to change.
Not only will you be more comfortable, but you will have a more youthful silhouette.
Wacoal Instant Icon T-Shirt Bra
Plus, by making sure that there is a clear division between where your bust ends and the rest of your torso begins, you can ensure that you don't look bigger than you really are.
Also take a look at the best bras for big busts.
8. NOT TAKING CARE OF YOUR HANDS
While you may have an established skincare routine for your face, how about for your hands?
Hands are often one of the first places that we start to show our age. Making sure that you protect your hands from the sun, and that you give them the nourishment they need can ensure that your hands don't age prematurely.
9. Wearing frumpy shoes
As you age, you may find that you need shoes which are more comfortable, or you are simply no longer prepared to suffer for fashion anymore.
However, there's no need to wear typical "old lady" shoes. There are now plenty of shoes that are both on-trend and comfortable.
Kurt Geiger London Olive Eye Mule
Take a look at the best arch support shoes to choose.
10. Wearing floral prints
It can be tricky to wear florals as they can have something of an "old lady"reputation. However, if you choose the right florals and add modern touches like Bev (above) you can definitely still look youthful.
Tommy Bahama Fabulous Floral Cotton & Silk Popover Top
However, the jeans (below) would be a way to wear florals with a bit of an edge.
HUE Ultra Soft Denim High Waist Capri Jeans (another option here)
11. Wearing the "wrong" skirt length
Midi skirts are definitely back on trend. But, they can be tricky to wear. The key is to choose a length that ends at the slimmest part of your legs.
Melinda (above) adds a modern element to her midi skirt by choosing a high-low style.
12. Wearing nude tights
While nude hose may be the preserve of the British royal family, they can be hard to wear without looking old-fashioned.
A safer option is to choose a pair of black opaque tights like Jas (above).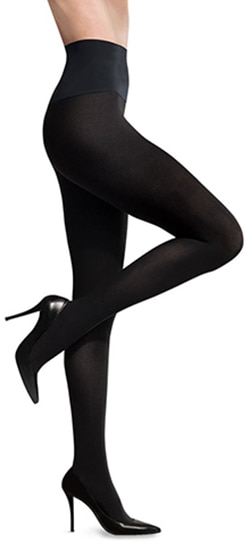 Commando Ultimate Opaque Matte Tights
13. Not looking after your teeth
Aging can lead to thinning tooth enamel which can naturally make your teeth look yellow. However, yellowing teeth could also be down to a build up of stains.
A toothpaste designed to remove stains may help to give your teeth, and therefore your smile, a more youthful appearance.
Colgate Optic White Renewal Teeth Whitening Toothpaste
14. Wearing all the trends…
While I always think it's important to at least be aware of the latest trends so you can decide whether or not they will work with your style, if you wear every trend of the season together in one outfit, it can look as if you're trying too hard to be current.
Wearing all of the latest trends that you might expect to see on teenagers or women much younger can draw attention to your age rather than making you look youthful.
Kim (above) shows how you can mix latest trends with classic style for a fantastic look.
15. Or, wearing none of the trends
You may find you get stuck in a style rut and only wear what you think are "age appropriate" clothes. But, there's really no such thing.
Even if you love a classic, timeless style, you can still play around with your looks in subtle ways to add modernity.
Cheryl (above), for example, sticks to a classic black sweater, but adds one of the latest trends – reptile textures – with her boots.
Dune London Savoir Knee High Boot
CHANGE IS GOOD!
Remember change is good and think of all the possibilities and fun you'll have making those changes.
For more tips on staying youthful after 40, check out our tips on how to dress after 40 and still look hip.
How do you keep yourself modern and hip and what do you think will date us and make us look older?
Continue reading:
LIKE THIS ARTICLE ON THE THINGS THAT DATE US OR MAKE US LOOK OLDER? SAVE IT ON PINTEREST!
Feature image by Kim
Want to get more articles from 40+style in your inbox, subscribe here.
You can also connect with 40+style on Facebook, Instagram or Pinterest.
Support 40+style by using the links in our articles to shop. As an associate for Amazon and many other brands, we receive a small commission (at no cost to you) on qualifying purchases which enables us to keep creating amazing free content for you. Thanks!