Using eyeliner really isn't all that difficult – if you've got the right kind of eyeliner and the right bag of tricks. Start with the right preparation for your eyeliner.

Eyeliner Preparation
1. Prime
Prepare your eyes with an eye primer. This will create a more even and smooth base for your eye makeup. Try: Make Up For Ever Eye Prime 
2. Eyeshadow
Put on your eye shadow before your eyeliner. This will help the liner stay in place and prevent that smudging that makes your eyes look shadowed and messy.
Choosing an Eyeliner
1. Type
Choose an eyeliner with a thin, soft point. A very thin line will define your eyes without making you look too heavily made up. Pencil eyeliners are popular, but tend to smudge and smear. If a pencil is your go-to eyeliner, opt for one that is long-lasting or smudge-proof.
Try:
Another alternative is to look for gel-based liners that will glide on smoothly and resist smudging.
Try:
2. Colour
Use soft colours to give your eyes depth and enhance your natural eye colour. Deep plum, grey and dark brown will define your eyes beautifully, in addition to shades of blacks, blues and greens.
Drawing out your eyes
Step 1
Begin at the outer corner of your eye and move inward with a smooth, gliding motion. Do not go all the way to the inner corner, where the tear duct is located. Stop the line when your natural lashes stop, or just before.
Hint: Don't extend the line beyond the outer corner. If you do, it can potentially draw attention to crow's feet or make your eyes look droopy.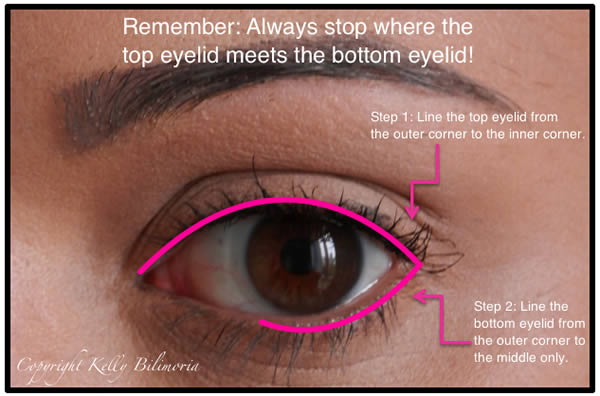 Step 2
If you feel the eyeliner is too strong, simply wipe gently across the line with the tip of your finger or cotton bud (Q-tip), or a clean eye shadow brush, to slightly smudge and soften the line.
Jen is using eyeliner in a subtle way to accentuates and highlight her eyes.
Step 3: Bottom lashes
Starting again from the outer corner, line your bottom eyelids only halfway to place just a little colour along the lash line. Bottom eyeliner tends to smear more, so a little colour goes a long way. Hint: Finishing touch – Once you've lined your eye along the top and bottom, brush or smudge a little bit of eyeshadow over the lines. This touch of powder will help the liner stay in place. Eyeliner Fun If you want to be more adventurous, you can create a cat-like eyeliner by applying eye shadow to the outer corner of the eyes rather than using eyeliner. This creates a modern look with a soft effect. Are you using eyliner? Do you have more tips to add?
Written by Kelly. For more information or bookings contact her through her website.
Feature image by @jencrzycurls
Want to get more articles from 40+style in your inbox, subscribe here.
You can also connect with 40+style on Facebook, Instagram or Pinterest.
Support 40+style by using the links in our articles to shop. As an associate for Amazon and many other brands, we receive a small commission (at no cost to you) on qualifying purchases which enables us to keep creating amazing free content for you. Thanks!