Like many women over 40 I always wonder whether I should let my hair go grey or color it. Until now my decision had been to color it, but it was certainly a very costly one. My hair occupied the largest chunk in my monthly beauty budget by far and I often wondered if it's worth the money and hassle.
Even with all that expense, for a big chunk of the month my hair still looked less than perfect because of gray roots, and you could argue that it may be better just to adapt to grey.
So how do you make a decision? What are the pros and cons of going grey? Let's examine that in this article.
Pros and cons of going grey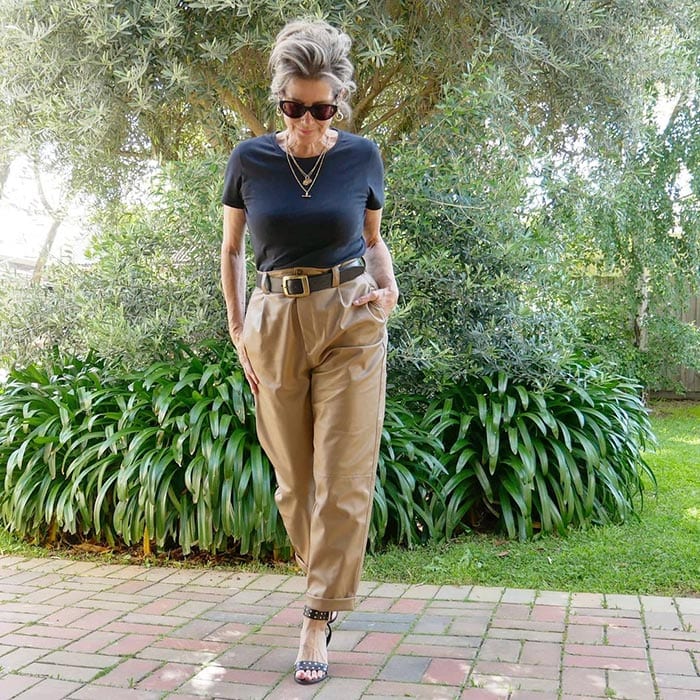 Let's look at some of the advantages and disadvantages of letting your hair go grey.
FACTORS IN FAVOR OF COLORING YOUR HAIR
1. You may look older if you don't
Let's fact it – grey hair usually can age you and it could be that you don't like the feeling of "looking your age".
2. You can add some edge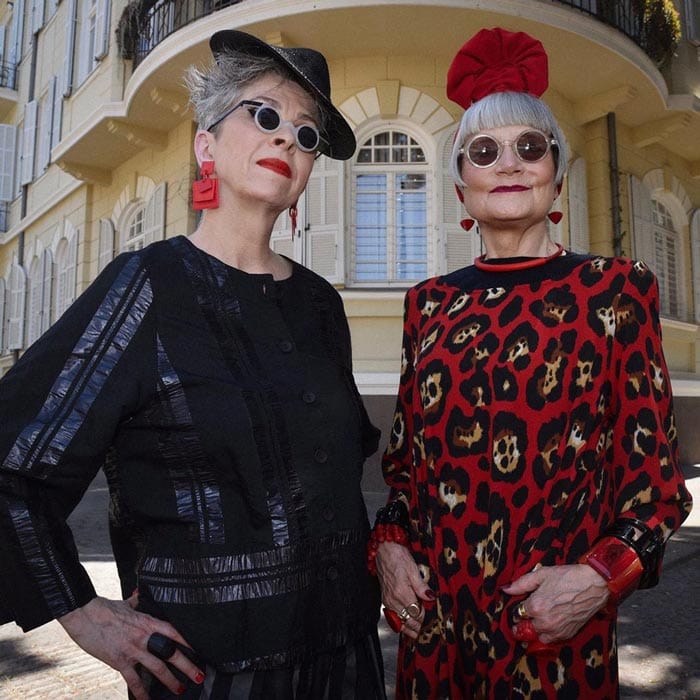 Jean and Valerie (The Idiosyncratic Fashionistas)
Having a funky color can really add to your style and can even become a "signature" part of your look.
3. You can change colors whenever you want
I like to change it up all the time. In fact, I feel I should push myself a little bit further in that area.
If you want to add a different element to your color without a huge commitment, you could always consider a semi-permanent like the Keracolor conditioner (below), which has tens of thousands of positive reviews.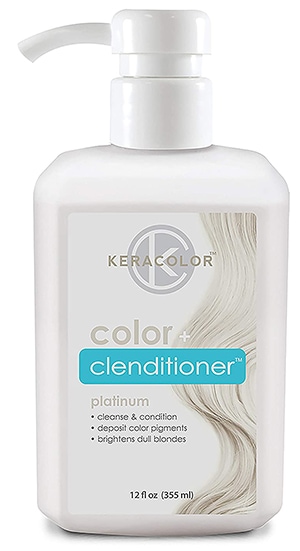 Keracolor Clenditioner Hair Dye
4. Grey colors can be very nice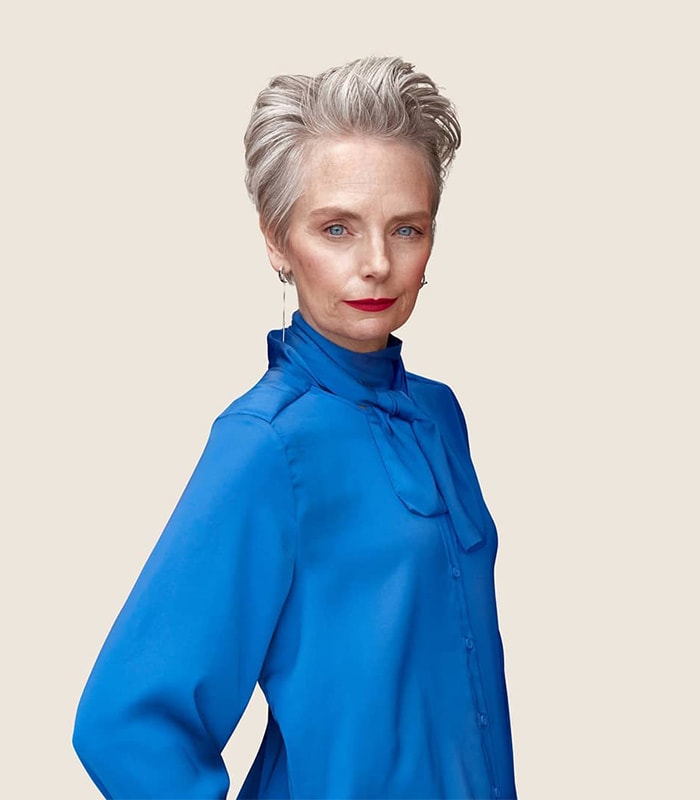 Some grey colors can look very nice, while others not so much. The current trend seems to be the lighter, more silvery color grey. However, your grey hair may have a completely different tone to it that may not be what you were expecting.
However, you can alter the tone of your gray hair to an extent by using a purple shampoo such as the No Yellow Fanola shampoo (below).

You'll find more recommendations here if you're looking for the best purple shampoo for gray hair.
5. Your clothes might not suit you anymore
Letting your hair go grey may completely change your coloring. Clothes that have always looked good on you may no longer work.
Of course we can help you with that with our article on choosing the right colors to complement grey hair.
6. You may need more make-up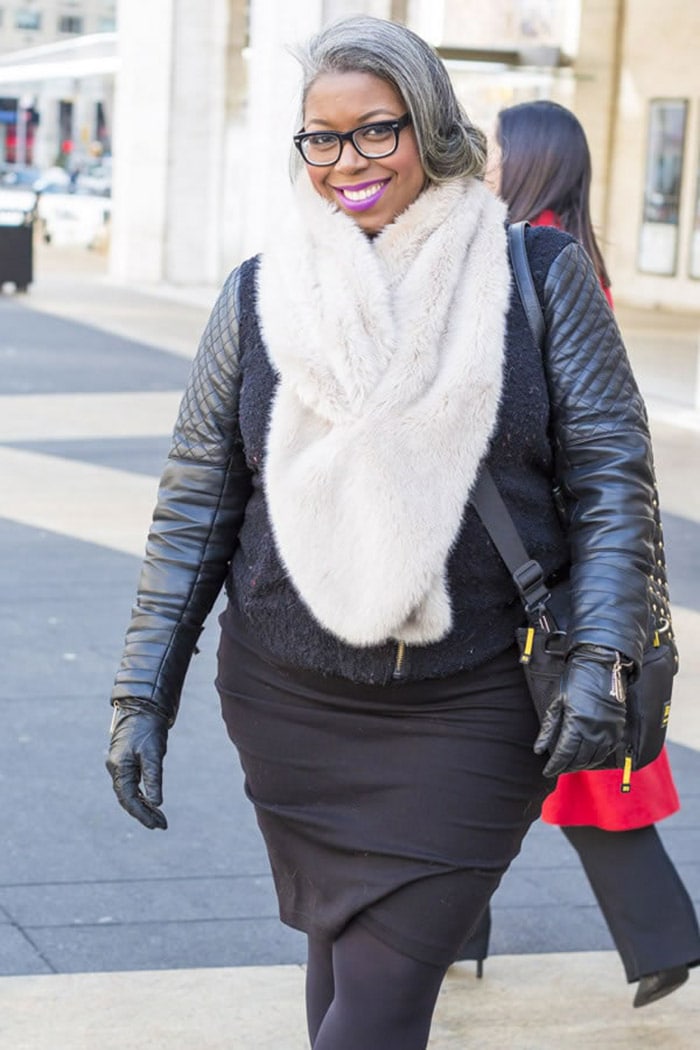 Photo by Denton Taylor
You may find that gray hair could leave you feeling washed out. To counteract this, you may feel you have to wear more make-up than you previously did.
FACTORS IN FAVOR OF LETTING YOUR HAIR GO GREY
However, having said all of that, there are also plenty of positives about deciding to go gray.
1. You save a LOT of money every month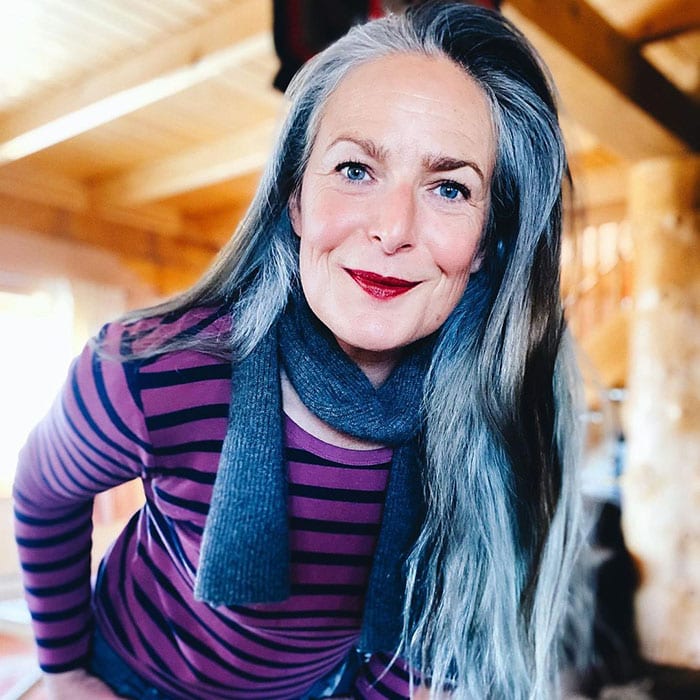 There's no doubt that coloring your hair can be pricey. If you stick to the color grey that your hair naturally has, you'll save a lot of money. However, you may feel that your hair looks better with additional coloring to change the tone of your gray.
Amanda's gray tones (above) look fantastic.
If you want to continue coloring but you want to save money, then you may like to read how to color your hair roots at home.
2. Save time
You'll have no more hassle of having to keep up with coloring your roots, saving you a lot of time AND money.
3. You will look more natural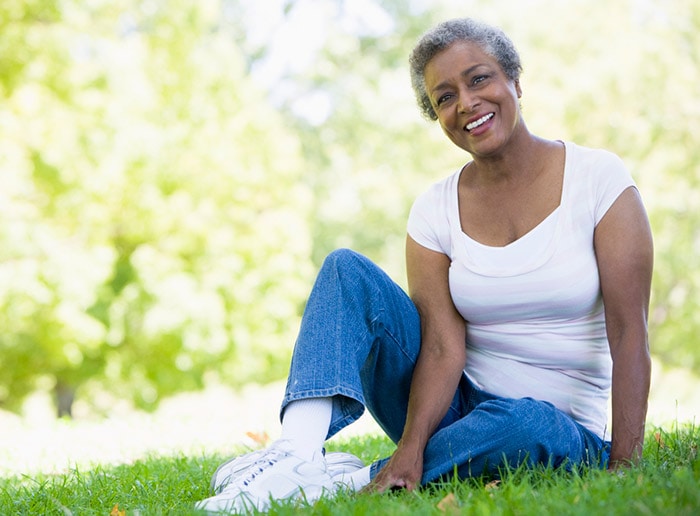 You may look more natural with your natural grey hairstyle. After a certain age, people will expect you to have grey hair and will find it more natural that you are sporting a grey hairstyle.
4. No more chemicals
Freeing your hair from monthly chemicals may be beneficial to the actual quality of your hair and you may feel more comfortable not using so many chemicals. Your hair may look and feel healthier.
5. Going grey could suit you!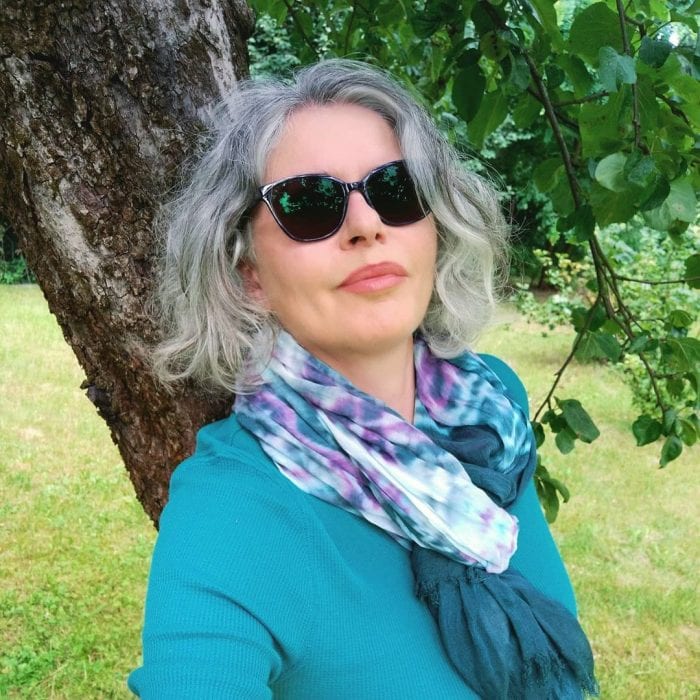 Your change of coloring may actually be beneficial to you. Perhaps your new color gray suits your (paling) skin tone better.
Ewa looks fantastic with her gray choppy bob – and chooses clothing colors that go perfectly with her hair.
6. You may find different clothes suit you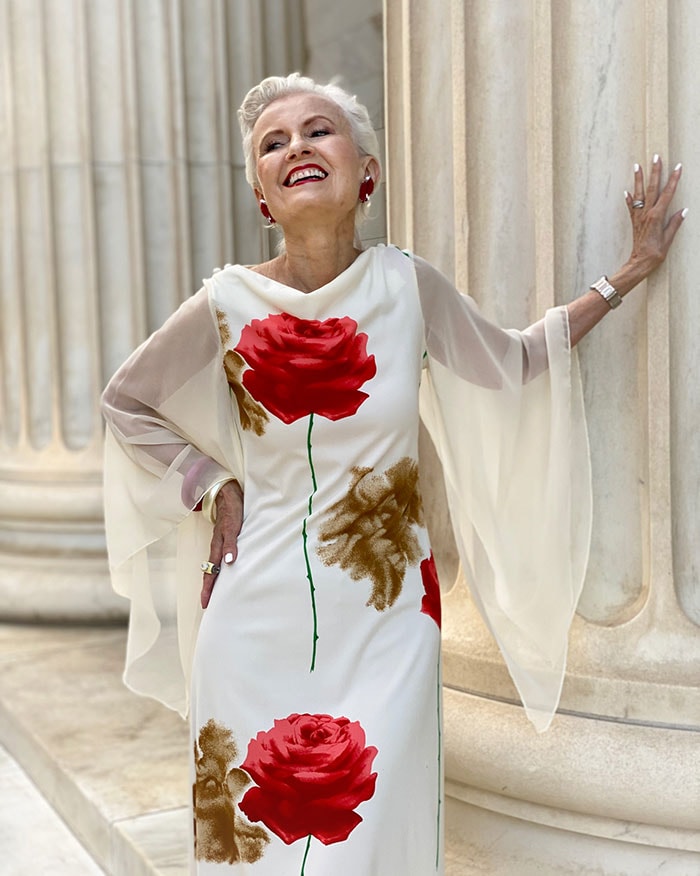 No matter what your skintone is, you may find that going gray allows you to wear colors that previously didn't suit you.
Take a look at the colors that complement grey hair for inspiration.
Judith (above) shows how you can still wear pale colors without worrying about looking washed out – by adding a pop of red.
7. You may discover a new (improved) style
If you've been stuck in a style rut, you may find that going gray naturally gives you the impetus you need to rediscover a new you and to try new outfit and make-up styles that you haven't worn previously.
8. You could have natural highlights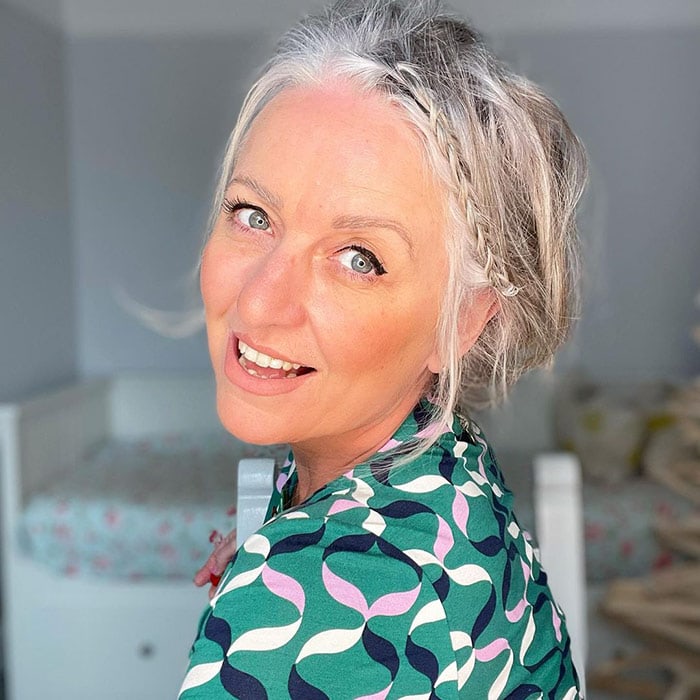 Have you ever highlighted your hair? Or wanted highlights? Well, you could find that as you go gray, the different tones naturally give you high and lowlights, adding an extra dimension to your look.
Gail (above) has lots of lovely shades of gray in her hair.
9. You could look younger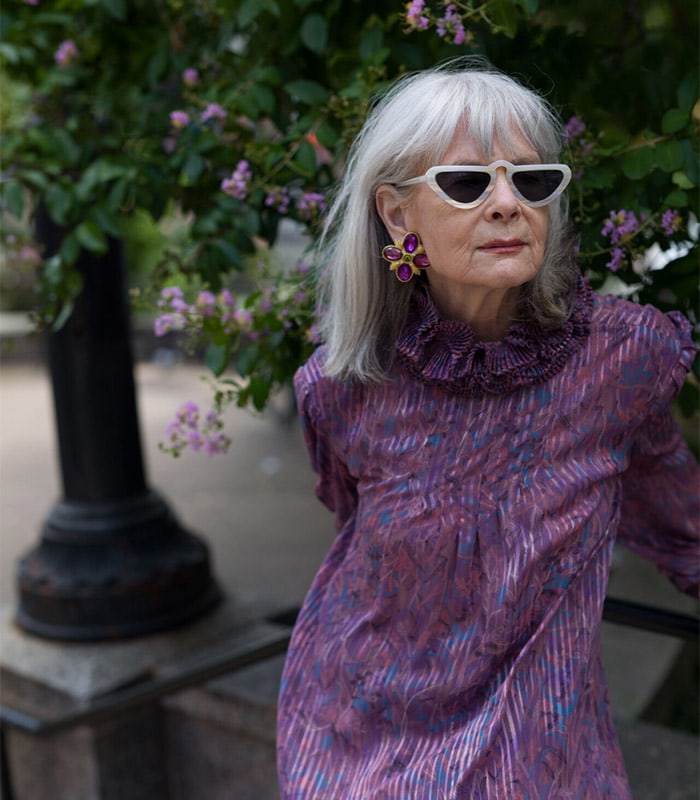 I know I already said that grey hair may age you. However, the opposite could also be true. If you continue coloring your hair in the same way as you always have, the color may start to look too harsh against your changing skintone.
By stopping coloring and deciding to go gray, you may find that you actually look younger, rather than older.
Lyn (above) adds a youthful blunt cut to her gray hair.
So, how do you decide whether to go grey or not?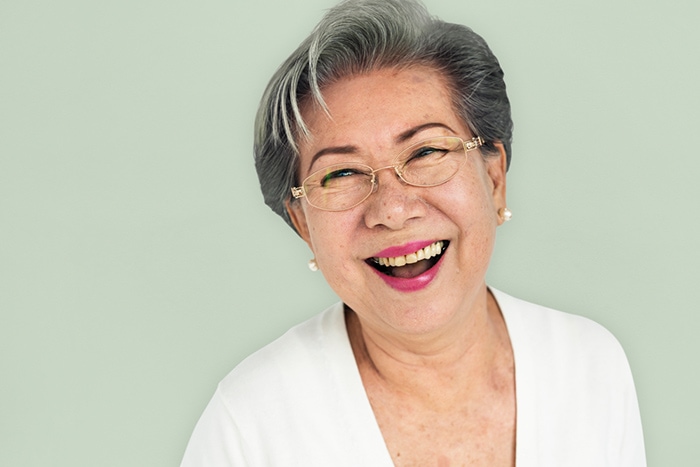 It's not an easy decision. Both the pros and cons are quite convincing. I was certainly starting to get increasingly annoyed with the time and money it took to keep up with my hair color. I also love to just be ME. Gray hair and all.
On the other hand I worry a bit that I may be perceived as 'too old'. However, that's all for me to decide. In the end I want people to accept me as me, gray hair and all. I still feel young and hip and grey hair doesn't need to affect that.
I felt that the lockdown I'm in now was the perfect time to let the gray hair come through.
This is my hair before a long-overdue haircut.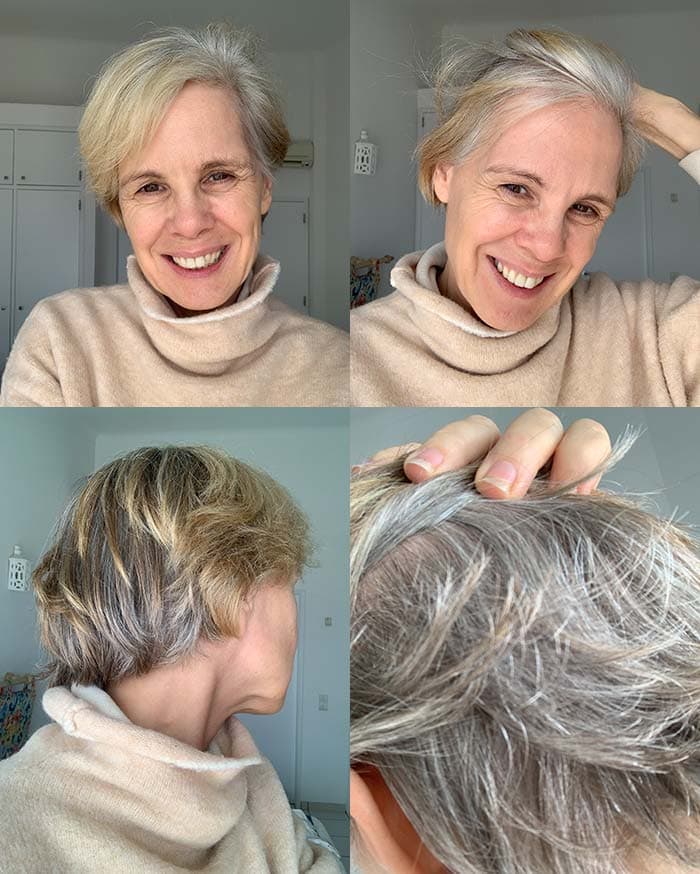 And this is what it looked like a few months back.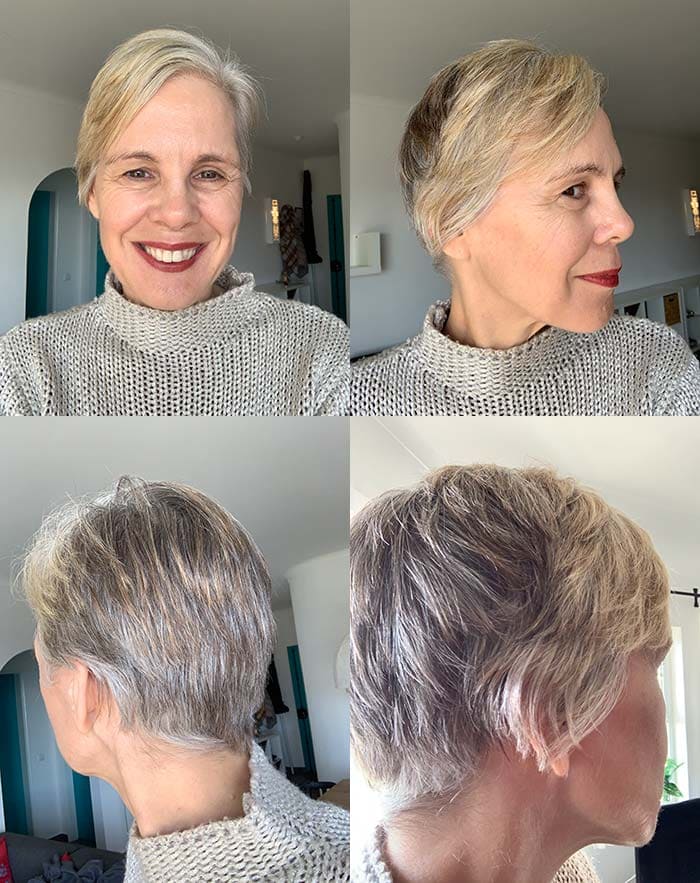 My hair became a colorful mix of all kinds of colors, but gray is definitely dominant. I haven't added any extra color; the blonder color is just the remainder of the dye from before.
Right now my hair is like this.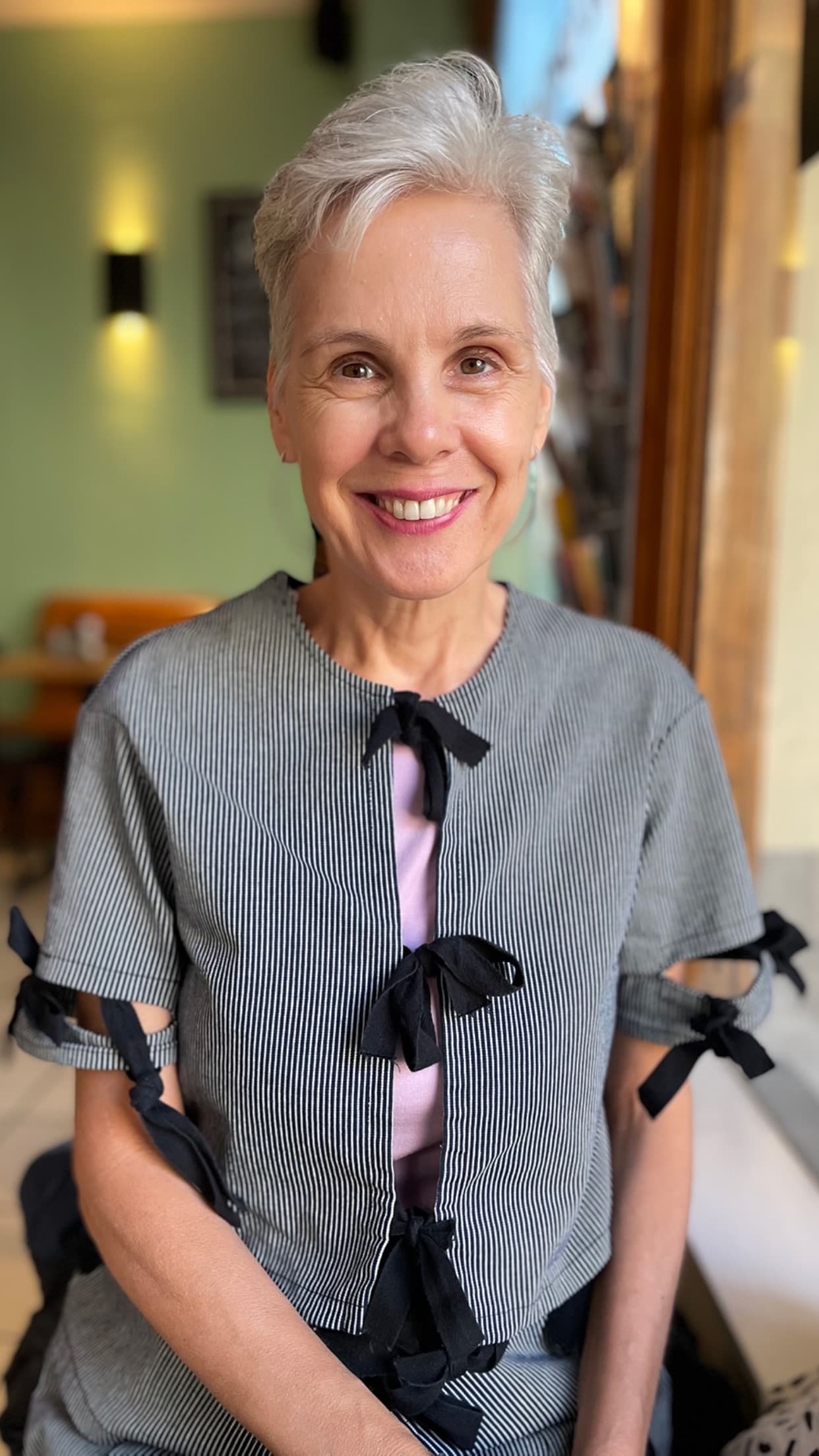 I'm going to see how I like it and if not, I may go back to coloring it. For now, I'm happy to let my hair go grey!
I may have to make my hair a bit funkier. I may need to add some pink streaks. Or I may just enjoy my natural hair just the way it is! Time will tell.
How do you feel about grey hair now? Join the discussion!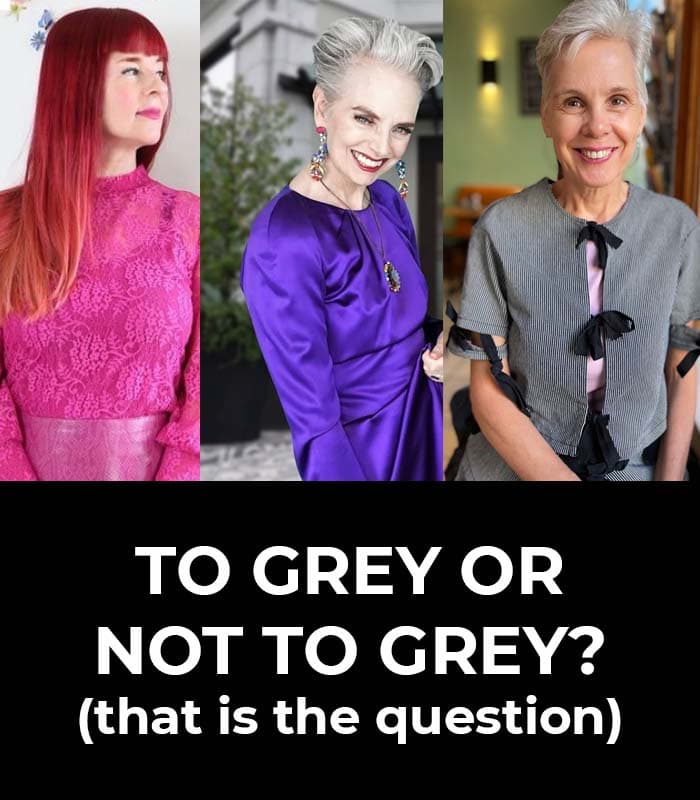 Does grey hair make you look older? Should you even care about that? Does convenience trump over beauty? Is colored hair actually more beautiful than grey hair?
I will discuss these and many other questions with 2 of my fabulous friends. Suzanne swears by colored hair and is proudly bright red, while Mel is absolutely rocking her grey locks.
You can join us for a live conversation on Instagram this coming Monday 4 October at 7pm Portugal time, which is 2pm New York time.
Get inspired by grey hairstyles for women over 40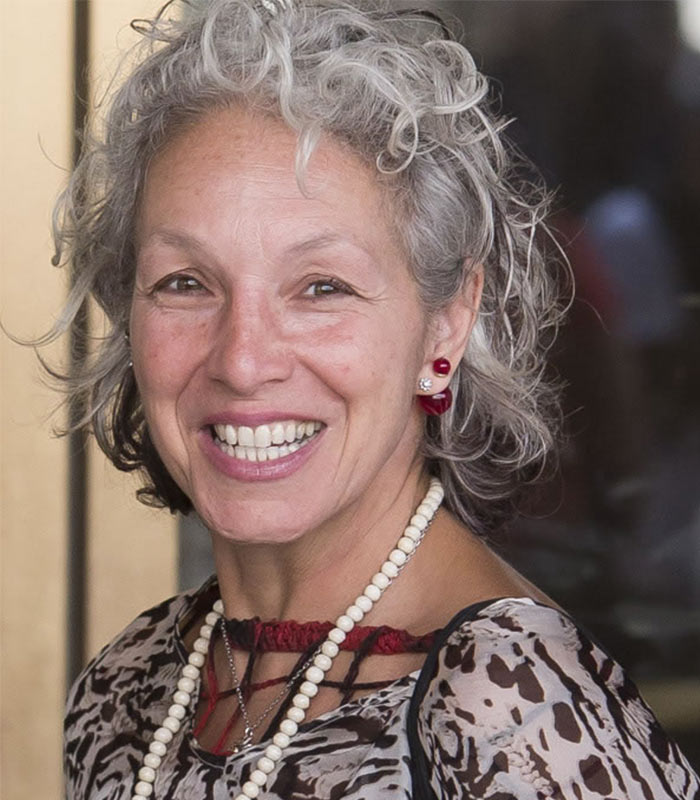 Photo by Denton Taylor
If you're thinking of going gray, there are lots of inspirational grey hairstyles on my Pinterest board, where you can also see that there is enough evidence that grey can look extremely good. For more tips, you can also check out my tips for the best hairstyles for women over 40.
Decided that going gray is the way forward for you? Then you're definitely in good company. Celebrities including Helen Mirren, Dame Judy Dench, Meryl Streep, Jamie Lee Curtis are all embracing gray hair.
If you're still not sure about letting your hair go gray at 40 or beyond, take a look at Elaine's journey where she talks about her own personal decision to go gray. Start with How to transition to gray hair (part one) for plenty of tips on letting your hair go gray.
RELATED ARTICLES:
I'd love to hear your opinion. What do you think about going gray? To let the hair go grey or not?
(just scroll all the way to the bottom of this page to leave your comment)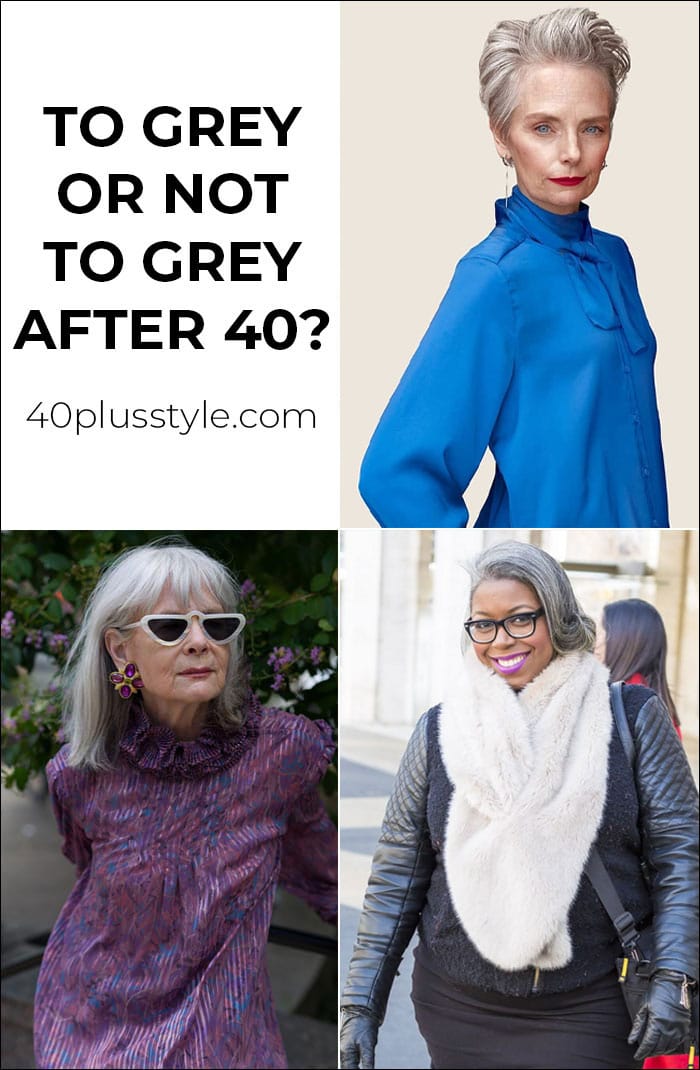 Feature image by Mel
Want to get more articles from 40+style in your inbox, subscribe here.
You can also connect with 40+style on Facebook, Instagram or Pinterest.
Support 40+style by using the links in our articles to shop. As an associate for Amazon and many other brands, we receive a small commission (at no cost to you) on qualifying purchases which enables us to keep creating amazing free content for you. Thanks!