I have talked before about the enormous amount of black and dark clothes on the streets in Europe. I imagine it's similar in the colder US states.
I understand it. Really I do.
Dressing for the winter or colder weather is tough and black is just practical. It does not stain so much and goes with everything. Whenever I'm in The Netherlands I like to wear black too in winter.
But I wonder if there is another reason that we all opt for the same kind of clothing? In summer it's not that much different.
True. There is a bit more variety in colors and black is not so dominant, but very few people stand out from the crowd.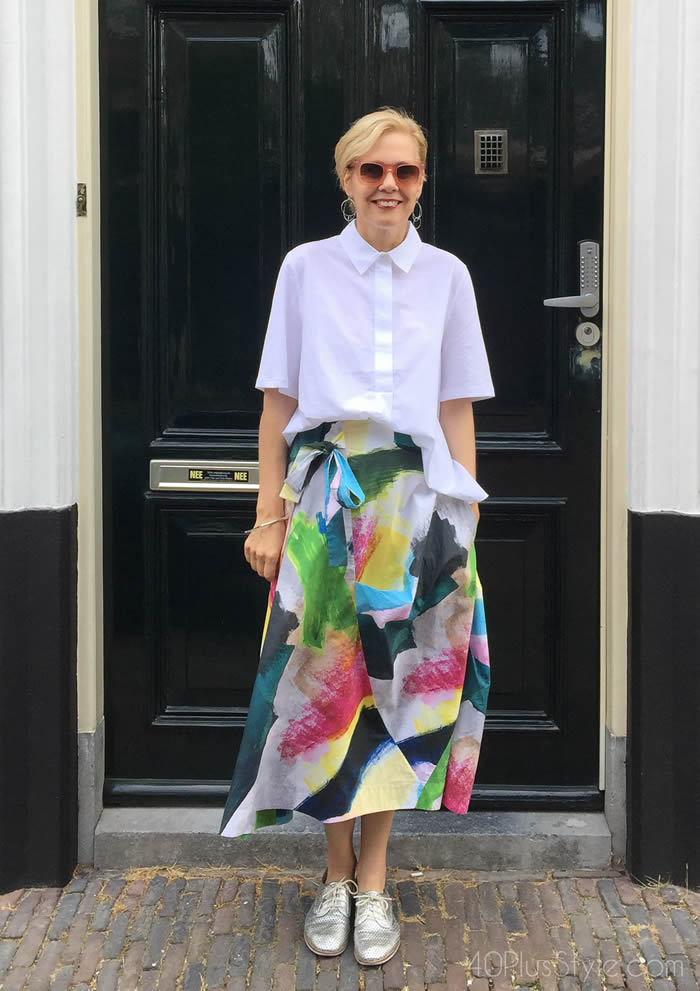 This look is very neural on top but still stands out because of the colorful skirt. I got stopped many times on the street by others complimenting this look!
Why do we have the urge to blend in so much? Are we afraid to stand out?
It starts early of course. I see it with my cousin and how much she wants to blend in with all the other teenagers. There is barely a hint of color and she is wearing almost exactly the same as all the other kids. I recognize that of course. I was not much different when I was young.
Many of us hardly grow out of that stage though. There are really very few people that stand out on the streets and that you especially notice.
And with standing out, I don't mean that you have to be super bright, wear something crazy, have a funny haircut, be incredibly beautiful or wear a high hat. Standing out simply means that for some reason I notice you.

This is a very neutral look that I still notice. It's still different from the rugular black (with the black white pattern), the fit is perfect and the whole look is accessorized well – Photo by Denton Taylor
This woman gets noticed because of the unique way she wears her jeans with a green jacket (having a matching bike helps too!) – Photo by Denton Taylor
How to stand out and have confidence in your style?
But there were still people that stand out on the streets and that I always turn around for, although it is surprising how few times that actually happens. So what did they do different?
It could be any of these:
They highlighted their body strengths to perfection and created a great silhouette.
They used texture and pattern to great effect.
They combined neutrals in new and exciting ways.
They wore color!
They showed a unique sense of style through the way they put themselves together.
They had a great hair color or cut that exuded style and hip ness. And that includes a great grey hair style too!
They wore their looks with confidence!
Another neutral look that people will definitely notice because of all the pattern mixing.
Why would you want to blend in so much?
Don't you want to get noticed, even just a little bit?
Don't you want to show us a little bit about your personality?
Even though we are not all extroverts (I'm very introverted!), why would we want to completely hide away behind the sameness of our clothes?
Surely there is a way to blend in without completely surrendering our own style or do exactly the same as everybody else?
We are 4 friends (Misja, Greetje, myself and Anja) that are very different but we all have different styles that you will definitely notice! – Photo by Misja B
I believe that the key is confidence and knowing ourselves
If we feel secure in our style, we can wear whatever we feel like on a particular day. If you dress mainly to please yourself, it doesn't matter so much what others think about your style.
Over the years I have definitely become a lot more confident about my style.
I feel that I dress more for myself now and not so much to blend in. However, that doesn't mean I stand out so much either, since my preference is often for neutral colors.
But I do try to give those neutrals a bit of an edge. To make the style my own and give a clear message about my personality.
I often add a pop of color
I add an interesting accessory
I may add an interesting design detail to my clothes, like asymmetry or an unusual cut
If I wear neutrals then my lips may be a little bit brighter

An interesting detail like these bigger earrings or this faux fur collar will help make your outfits more special.
Do you have the confidence to wear what you want?
How about you? Have you developed enough confidence in you and your style to wear what you like? Or are you too concerned about blending in and the opinion of others?
I absolutely WOULD own a few coats other than black if I lived in a colder country. I know myself and my style well enough now to wear something that makes me stand out.
Like I heard from many women over 40, I feel more daring now and know myself better. So it's easier to do something different.
So rather than becoming invisible after 40, use that power of confidence and self knowledge to stand out a little bit more and show your personality through your clothes. Display the knowledge and style you have acquired over the years!
You never know. You may just attract more people into your life and have a bit more fun. In any case you would really please people like myself who greatly enjoy seeing men and women on the streets that stand out and show something of their unique style.
Let's make the streets a little more interesting and beautiful together!
I'd love to hear your opinion on this? Does anything in this article resonate with you? Do you feel you have the confidence to wear what you want or do you prefer to blend in?

Like this article? Share it on Pinterest!
Want to get more articles from 40+style in your inbox, subscribe here.
You can also connect with 40+style on Facebook, Instagram or Pinterest.
Support 40+style by using the links in our articles to shop. As an associate for Amazon and many other brands, we receive a small commission (at no cost to you) on qualifying purchases which enables us to keep creating amazing free content for you. Thanks!