Four and a half months later and over two inches of natural hair growth, I'm on the path of letting my processed hair color go and returning my hair to its natural state.
As you may have read in Part 1, I started my journey to gray on a winter trip to Arizona. My previous colorist closed her salon and moved away. My first priority was to find a local stylist to help me navigate the rest of the way. Luckily, I located one of her long time employees, Master Stylist Kathy Hull-Yurek to continue my transition to gray hair.
So far, so good
Like many women, I was self-conscious and apprehensive about how my natural color would grow in and how "bad" it might look. So far those fears have been unfounded. No one has noticed my transition to gray hair or they are just too polite to say anything, which I appreciate!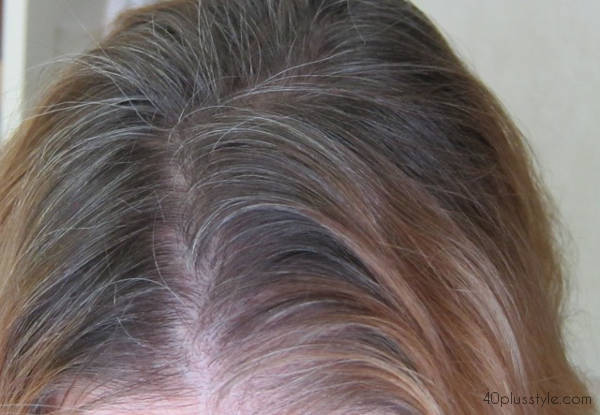 The highlights I added more than two months ago helped me adjust to the changing situation and since then, my natural color is emerging. It's light at the temples and hairline with grey and silver strands on top. The process is further along in the back where my hair is shorter, with a lighter gray growing in.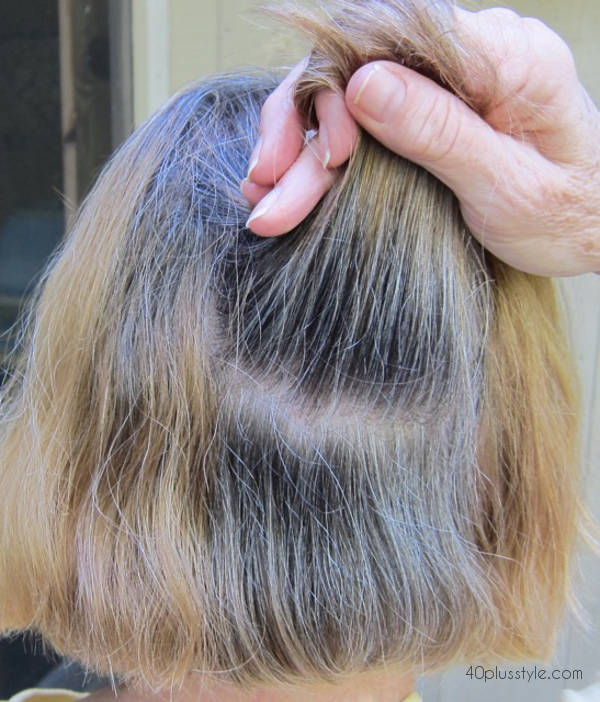 The highest contrast area is the back of my head where you can still see the processed color. But the newly exposed natural hair is a light shade that is blending with the processed color and helping to disguise new growth.
---
You may also like: how to dye your hair roots yourself
---
In addition to color change, my hair has undergone a noticeable change in texture. The smooth, easy-to-style, bob I sported four months ago has turned to a wild kinky mess in the summer heat and humidity. I've stopped blow-drying in protest.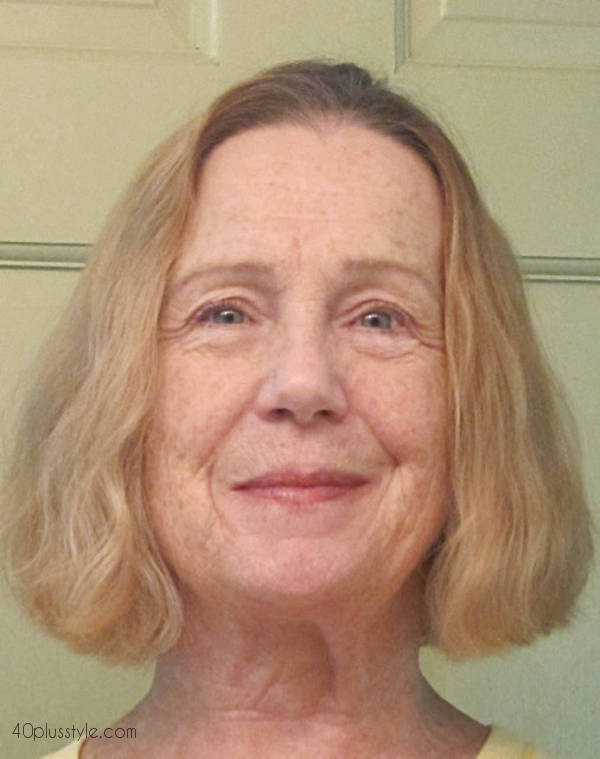 I'm not unhappy with this development because I'm now on-trend with a "beachy waves" look and enjoying the low maintenance it offers. I planned to discuss how to optimize the new waves with my new stylist Kathy to understand my best styling options.
The day of my hair appointment, I arrived at the salon with these questions in mind:
How can I best take advantage of rather than fight with the new texture?
Is a different cut a good idea and would it expedite the grow-out process?
With my natural growth becoming more obvious, what color strategies should I consider for the next stages of transition and when should they take place?
How to transition to gray hair: attitude and inspiration
When I greeted Kathy she had a big surprise. She had just colored her own blond hair purple and it looked fantastic!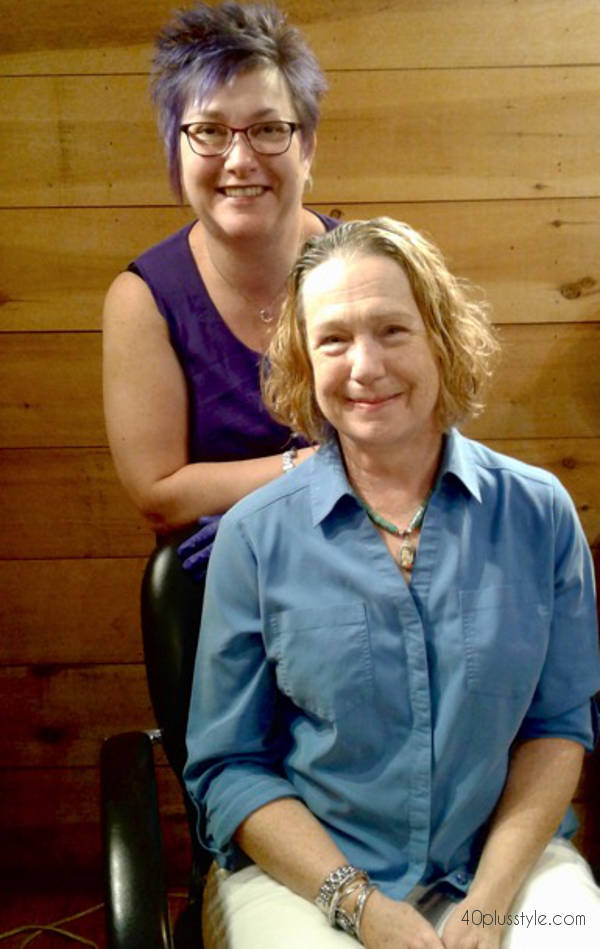 "It's just hair," she said. "It will grow back when I'm tired of it." All at once I was reassured that I came to the right person. Kathy has always expressed her fearless and fun personality through her rocker-style hair and clothes. She is just the inspiration I needed to keep going!
She washed and trimmed my bob, and with her advice, we made the following plan:
Maintain my current haircut to keep things simple and avoid any frustration caused by managing a new style.
Start using curl styling products (DevaCurl for all Curlkind) to set the curly hair in place for the best beachy waves. Now all I do is wash, blot dry, scrunch in the product and air dry.
From July through September, continue to grow my natural color to a length of four inches. When the length is reached, Kathy will add low lights to blend the two shades until the full natural growth is completed.
These steps will ensure my hair stays in good condition by minimizing the impact of color processing and avoiding brittleness due to excess blow-drying.
From Sylvia: More ways to cover up too obvious gray roots – with temporary hair colors
If you're transitioning to gray or just want to take a bit longer between hair coloring appointments, you can also use grey root fixers.
I personally use L'Oreal Paris Root Cover Up Temporary Gray Concealer Spray, Light to Medium Blonde. It helps me cover up my gray roots and I can last much longer between coloring appointments
Other options are:
Are you considering going gray?
Join the popular discussion over at our article, To gray or not to gray.
We will continue to follow Elaine through her journey into grey. Sign up for our email newsletter to make sure you don't miss it. If you'd like to share your story and images of your transition to gray for a possible story, email us at support [at] 40plusstyle.com.
Related articles:
Are you considering going gray? How will you do it?
Elaine
P.S. Want to take your grooming and makeup to a new level? In the style club this month we will groom ourselves to perfection. Check out all the style training here.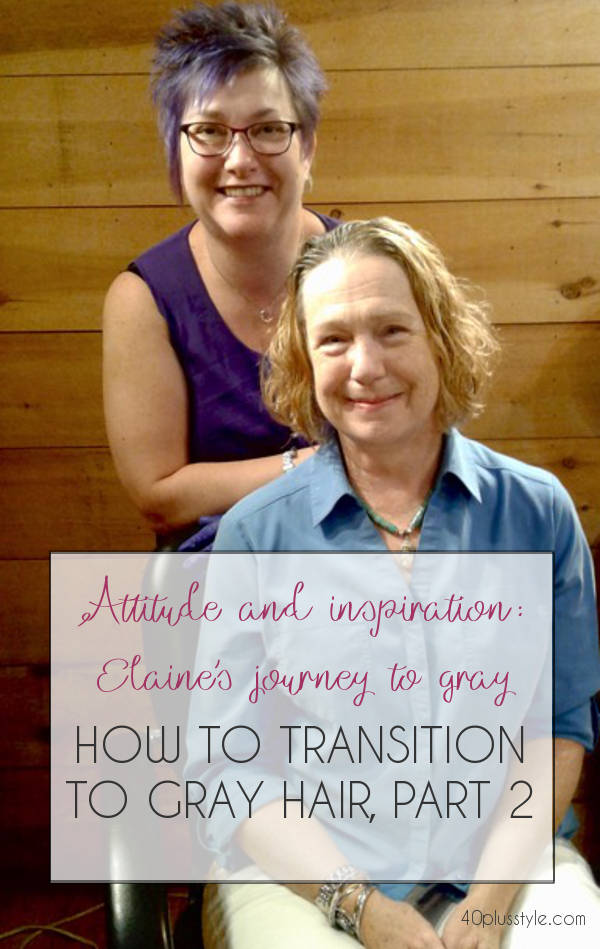 Want to get more articles from 40+style in your inbox, subscribe here.
You can also connect with 40+style on Facebook, Instagram or Pinterest.
Support 40+style by using the links in our articles to shop. As an associate for Amazon and many other brands, we receive a small commission (at no cost to you) on qualifying purchases which enables us to keep creating amazing free content for you. Thanks!