If you are still coloring your hair like I do, you will be well aware of the continuous maintenance necessary to keep up with the ever upcomig grey roots. Maintaining colored hair is very expensive indeed.
Getting professional root touch ups every 2 weeks, as J Lo famously does, is a luxury in both time and cash most of us simply cannot afford. So I asked local beauty writer Clare to give us some tips today on how to color your hair yourself.
Color choice
Skin tone awareness helps you pick the right color. Warm complexions are perfectly complemented by warm, golden or auburn shades, while skin with rosy undertones works best with cooler shades like ash and champagne tones.
Of course, the safest choice is to choose the colour closest to your natural hair shade.
Choosing the DIYcolor kit
Mousse or foam formulas are the easiest to apply. The result in an all-over even colour that is less likely to leave a patchy finish.  Application is as simple as shampooing, as the foam texture expands to surround each strand and effortlessly massages the dye into the hair.  Foams will not drip but if you do get the dye onto your skin it will wash of easily with soap and water, where cream dye is a little more stubborn. 
Try these: Garnier Nutrisse, Clairol Nice & Easy and Schwarzkopf Perfect
Crème or Cream hair dyes need a little extra effort and are perhaps more suited to the experienced.  This is because careful application is important.  It can be tricky but following the simple steps below will see you mastering cream dye application in no time.  Cream dyes are best for root touch-ups.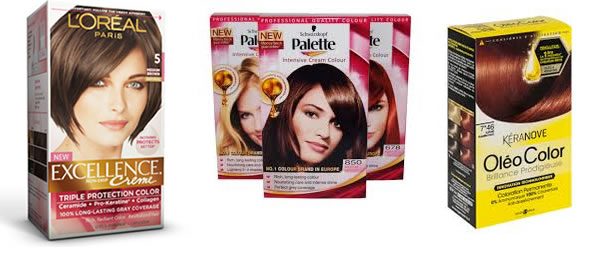 Try these L'Oreal Excellence, Schwarzkopf Palette or Krenove Oleo Color.
Pre-DIY hair care
The condition of your hair prior to colouring will have dramatic results to your finished look. Dry/damaged hair takes on a more vibrant colour while the risk of further hair damage is strong. A damage repair mask used 3 times weekly for 2 weeks leading up to your dye date will help. I like Macadamia Natural Oil Deep Repair Mask and Organic Coconut Oil.
For optimal results, dyes should be applied onto dry hair that has not been washed for 1 to 2 days and has little to no hair styling products.
How to apply
Steps 1 to 5 will see you achieve the perfect full head dye while, simply skipping step 3 will see you cover those tell-tale roots up in a breeze.
Using a tail comb, make partings from front to back of head, then paint on the dye (crème formula) or squeeze the mix (mousse) all along your parting as you go. Take care to avoid too much dye sitting on your scalp. Now make partings from side to side and similarly apply the mix as you go along.
Apply the dye fully around your entire hairline.
For a full head color evenly spread the remaining mix all over.
Now leave to develop. Developing time will alter depending on the temperature of you room. A warm environment is ideal. If your room is particularly cool then you can cover your hair with a plastic bag and tie a knot to secure in place.
When it is time to rinse, apply a little water then massage your scalp to loosen the mixture, rinse thoroughly until the water runs clear.
Post dye hair care and maintenance
DIY dye kits contain an after color care conditioner. Apply this after rinsing to lock in your new colour and get a glossy, silky finish. Refrain from shampooing for 48 hours to ensure your colour settles and does not fade too quickly.
Choosing a shampoo and conditioner specifically for chemically treated hair will help to maintain colour and condition. I like Kéranove Colour Care with Pomegranate and Aveda Colour Conserve.
Sun and Chlorine damage is a higher risk to chemically treated hair, so keep hair covered when out in the sun and tied up and out of the water when swimming.
Thanks Clare for sharing your tips!
Do you color your hair yourself? What has been your experience? What are your favorite DIY hair coloring products?