Stylish gloves are still very much on trend. In fact, if you take a look at some of the runway looks in this article, you'll see gloves are definitely having a fashion moment. But they need to be practical and warm too!
Below, we round up the best winter gloves for women to choose this season, as well as how to wear gloves as a stylish accessory.
Let's look at how you can wear gloves and how they can elevate your style.
How leather gloves for women are made
Gloves are made from leather that has been prepared by specialist tanners as it has to be rolled and stretched many times to make sure it has the flexibility to move with your hand. The leather is either cut out with scissors after tracing the pattern out, or stamped out with a tang, a hand-shaped cutter, where you can cut several pairs at once.
There are between three and eleven separate pieces that make up a glove. There is the front and back piece, plus the thumb, but you may also have fourchettes, that are the leather strips that run between the fingers, and on higher-end gloves you should also have quirks.
The quirks are the triangular or diamond shaped pieces of leather at the base between the fingers, that link the front and back panel, and the fourchettes together.
Why is there a difference in price when searching for the best winter gloves for women?
Lower price gloves are usually sewn inside out so the seams are hidden, and more expensive gloves trend to have the stitching on the outside. Outer stitched gloves are either stitched by hand, or by a machine that mimics hand stitching. Either way, it is a highly skilled job to create them. They may have silk, cashmere or thermal lining; some even have fur.
These elements all add to the cost and it takes one highly skilled craftsperson a whole day to make just one pair of gloves, when they are totally handmade. The price of a pair of leather gloves ranges from around $15 to $34,000, if you have an unlimited budget.
Erika (above) finishes off her outfit perfectly with a pair of black leather gloves.
Recreate her outfit with this similar pair of leather gloves, coat, scarf, boots, tights, beret and handbag.
Fits like a glove: how to find out your glove size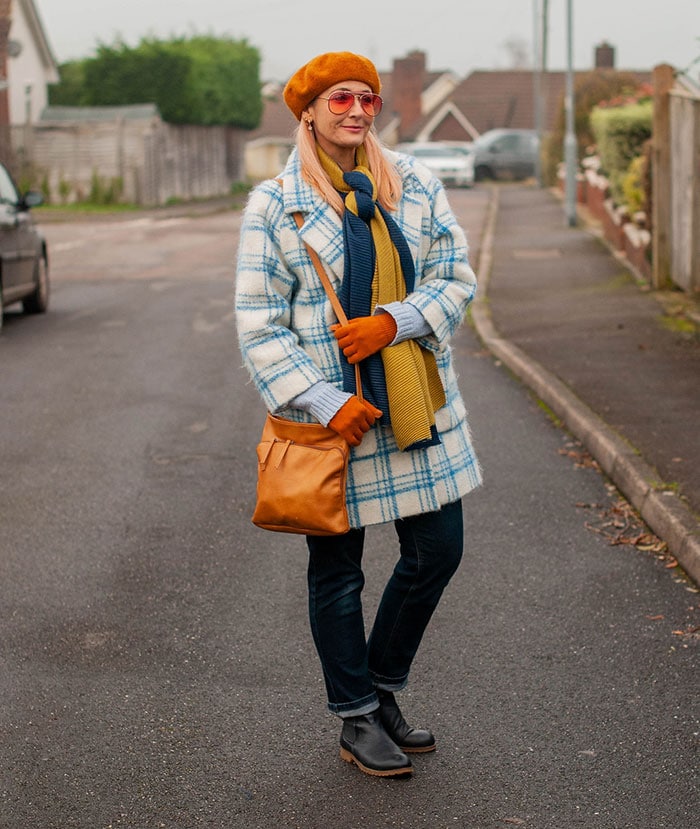 A glove should fit snuggly, hence the term, "fits like a glove." To discover your glove size, measure around the widest part of your hand, in inches. E.g. 7. 7.5, 8, 8.5 etc. and this is your glove size. Some manufacturers offer small, medium, large etc. but do check sizes and go down a size if you are between, as leather gloves will stretch over time.
Catherine (above) perfectly matches her gloves to her tan handbag.
She is wearing a coat similar to this one from Marks & Spencer and a beret from Amazon. Complete her look with this similar pair of knit gloves, jeans, bag, boots, scarf and sunglasses.
Gloves are the perfect accessory for women over 40!
I think that the idea of the right glove is really good for 40-plus women who want to downplay certain things, too. If you're self-conscious about your arms, an elbow length glove (or longer) could help downplay your insecurities about your arms and boost your confidence. And the super cool wrist length glove is fun, fashionable and a great way to hide veiny hands or age spots when we're having one of those days.
Nordstrom lambskin leather gloves – Alepo genuine sheepskin leather gloves – Elma leather gloves – FEIQIAOSH super-soft leather winter gloves
Top 10 warmest gloves for women
Before taking a look at some of the major gloves styles on the catwalks for winter 2020, let's take a look at some of the best reviewed, warmest and most stylish gloves you could choose in stores now.
The best winter gloves for women: Warm gloves to choose
If you are looking for a pair of warm gloves that still allow your fingers plenty of movement, as well as being able to check your smartphone without taking them off, you could try the winter gloves from Achiou (below).
They have plenty of good reviews on Amazon, with one reviewer saying they even cope well with Michigan winters. They come in a range of dark neutrals and autumnal shades.
Warmest gloves for women
I'm a big fan of Uniqlo for warm base layers. You'll see I feature Uniqlo's heattech thermal tops in this article on the best thermals for women over 40.
Warmest winter gloves
A traditional looking winter knit will never go out of style. You could definitely wear these Luther Pike Seattle gloves for many winters to come without them being "off trend".
They have a thinsulate lining to keep your hands cozy. Reviewers say they are soft, warm and cozy. One reviewer described them as excellent gloves for a Vermont winter.
Luther Pike Seattle knit winter gloves
Best gloves
If you're looking for the best gloves for this winter – either for yourself or as a gift – I really don't think you can go wrong with a pair of classic leather gloves.
The cashmere-blend lined leather gloves (below) come in a huge range of colors, so you could choose from soft neutrals, or opt for a bright pop of color like orange or pink. Reviewers say they are soft and supple.
WarMen cashmere & wool blend lining leather gloves
Best heated gloves
If you always have really cold hands and you know you'll be outside for a while, these battery heated gloves (below) could be the answer. They should keep your hands warm for hours (depending on which heat setting you choose).
One reviewer whose hands are always freezing cold as she suffers from Raynaud's syndrome, says the Velazzio heated gloves (below) provide huge relief for her.
VELAZZIO Thermo1 battery heated gloves
Cold weather gloves
Made in a traditional cable knit style, the CC gloves (below) have a faux suede palm for an anti-slip grip (so they could be good driving gloves). Plus, they are touchscreen compatible.
Best winter gloves for women
With retro styling and button detailing, the Alepo knit gloves (below) not only look good, but they should keep your hands nice and warm as they have thinsulate lining. They come in a choice of neutrals, pastels and brights.
Best cold weather gloves
A touch of faux fur is always a stylish option for winter. Waterproof and windproof, they should keep your hands cozy even in rain and snow. Reviewers say they kept their hands warm in New York winters and at -10C.
Best touchscreen gloves
Another touchscreen compatible option for you. These gloves from Alepo (below) are modern enough for you to be able to check your smartscreen without taking them off, but they are beautifully retro styled, so should be perfect if you love a classic style.
Alepo winter gloves with sensitive touchscreen finger
Best women's gloves
What could be more timeless than a pair of classic black leather gloves? The cashmere lined gloves (below) from Nordstrom have plenty of positive reviews. One woman even described them as "perfect in every way!".
Nordstrom cashmere lined leather touchscreen gloves
Gloves that are currently on trend
Designers like Gucci, Chanel and Balmain made gloves look really sexy and possible to wear daily for this season. They have become more like a fashion accessory such as a good pair of shoes or the perfect necklace, instead of part of just outerwear I drop off at the coat check when I arrive at an event.
We saw 5 main glove trends on the runways for fall and winter 2020: the elbow-length glove, the wrist-length glove, the colored glove and the patterned. Let's check them out in more detail.
The wrist length glove
A classic, easy-to-wear style, the wrist length glove is a wardrobe staple. Designers featured wrist-length gloves in neutrals, pastels and brights. Erdem offered a unique take on the wrist-length glove by giving it a metallic effect.
Patricia (above) looks super stylish in her black wrist length gloves, which she matches to her beret.
Steal her look with this similar pair of leather gloves, blouse, pants, pumps, beret and belt.
Chanel – Erdem – Marc Jacobs
How to wear the wrist length glove
The wrist length glove is sexy and edgy.
Try a pair when you're in the mood to add a little punch to your outfit. A fun, bright leather that doesn't necessarily match your outfit adds a unique touch to your outfit.

The elbow length glove
Also known as the opera glove, the above-the-elbow glove enjoyed their greatest vogue in the late 19th century and the years running up to World War I.
They were also hugely popular in the 50s. Who can forget the image of Marilyn Monroe in those long pink gloves while starring in Gentlemen Prefer Blondes?
Elena (above) looks incredible in a pair of long velvet gloves.
Steal her look with this similar pair of gloves, jacket, pants, booties, handbag, head scarf and sunglasses.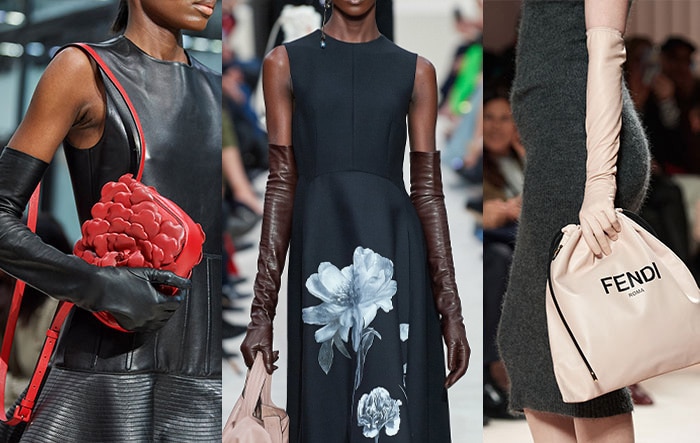 Valentino – Valentino – Fendi
How to wear the long length glove
Long length gloves are definitely having a resurgence right now. Add a pair of glamorous over-the-elbow length gloves to a party outfit for evening wear.
Or, you can use your longer length gloves to take your daywear to the next level. For example, if you have a jacket with shorter or three-quarter length sleeves, you could wear your longer gloves underneath to add both warmth AND style.
If you have a short sleeve top or sleeveless dress you'd love to wear, add a long glove to your look instead of a long sleeve undershirt. The look is fresh and sexy.
If you're planning to wear a couture length (three-quarter length) sleeve, a long glove with a little slouch updates the look. If you want to thin and lengthen the arm, choose darker, richer glove colors or a matching color to the sleeve to lengthen your arms.

Colored gloves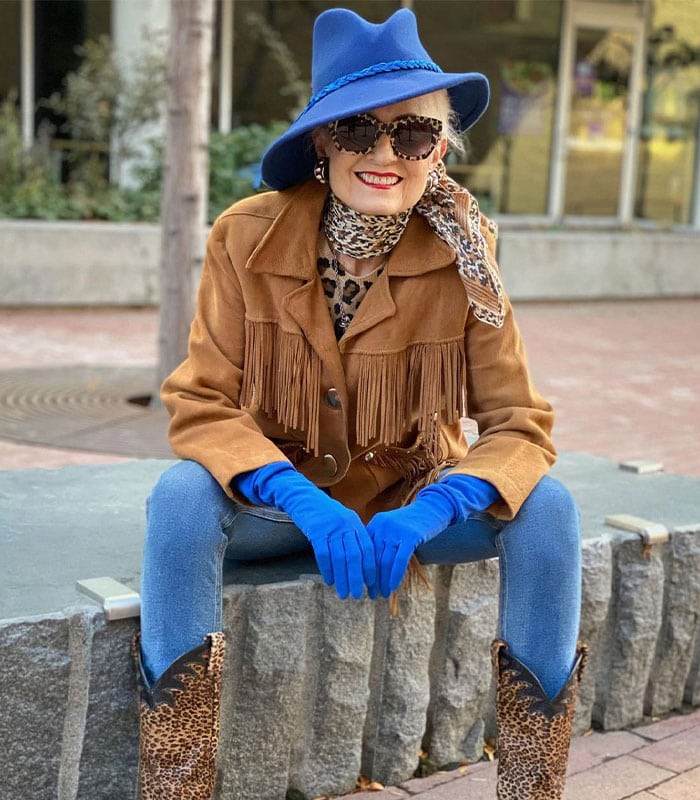 Colored gloves are a great way to add some color to your outfit and there were definitely some beautiful pairs on the runways.
Judith (above) wears a pair of cobalt blue gloves which she matches to her hat.
Check out this similar pair of gloves, jacket, jeans, hat, boots, scarf and sunglasses.
Chanel – Miu Miu – Gucci
How to wear a colored glove
You can add colored gloves to evening or daywear. You can pt to go for a look where you match your coat or outfit to your gloves or add a pop of color to your neutrals.
You can also color clash and create some unexpected combinations. For example: wear orange gloves with burgundy or red gloves with burgundy.

Patterned gloves
While we've definitely seen wrist-length, elbow-length and colored gloves in previous years, the patterned glove was something of a micro trend for 2020.
Giambattista Valli – Rodarte – Prabal Gurung
How to wear the patterned glove
Just as with colored gloves, you can choose to wear your patterned gloves in a number of ways.
You can go for a matchy-matchy option, or opt to pattern mix, or use your patterned gloves to add interest to an otherwise neutral environment.

Ruched gloves are among the best winter gloves for women
A new trend for 2020 – we saw ruched boots on the catwalks among the 2020 shoe trends, so it wasn't a huge surprise to also find ruched gloves.
Jona (above) wears her ruched gloves with her faux fur accessories.
Check out this cape from Amazon that you can wear with this similar pair of gloves, jeans, boots, beanie and a Gucci shoulder bag.
Givenchy – Saint Laurent – Balmain

Do you love to wear gloves? What type is your favorite?
Continue reading:
Like this article on the best winter gloves for women and how to wear gloves? Save it on Pinterest!
Feature image by Judith
Want to get more articles from 40+style in your inbox, subscribe here.
You can also connect with 40+style on Facebook, Instagram or Pinterest.
Support 40+style by using the links in our articles to shop. As an associate for Amazon and many other brands, we receive a small commission (at no cost to you) on qualifying purchases which enables us to keep creating amazing free content for you. Thanks!