A classic accessory got attention during this year's Fall/Winter runways: the glove.
I have always adored accessories and I love gloves. Today, let's look at how you can wear gloves and how they can elevate your style.
For an introduction into gloves, you may like to see this short video.
I was lucky enough to grow up around some very stylish women. My mother, three aunts and two grandmothers all had fabulous individual style.
And though they were all different, the one item you could find in all their wardrobes was coloured leather gloves. And I think this is where my obsession may have stemmed from, as you can see from these few examples from my own collection.
Gloves are made from leather that has been prepared by specialist tanners as it has to be rolled and stretched many times to make sure it has the flexibility to move with your hand. The leather is either cut out with scissors after tracing the pattern out, or stamped out with a tang, a hand shaped cutter, where you can cut several pairs at once.
There are between three and eleven separate pieces that make up a glove. There is the front and back piece, plus the thumb, but you may also have fourchettes, that are the leather strips that run between the fingers, and on higher end gloves you should also have quirks.
The quirks are the triangular or diamond shaped pieces of leather at the base between the fingers, that link the front and back panel, and the forchettes together.
Lower price gloves are usually sewn inside out so the seams are hidden, and more expensive gloves trend to have the stitching on the outside. Outer stitched gloves are either stitched by hand, or by a machine that mimics hand stitching. Either way, it is a highly skilled job to create them. They may have silk, cashmere or thermal lining; some even have fur.
These elements all add to the cost and it takes one highly skilled crafts person a whole day to make just one pair of gloves, when they are totally handmade. The price of a pair of leather gloves ranges from around $15 to £34000, if you have an unlimited budget.
However, much as I adore gloves, I would never spend that on a pair, because imagine you lost one??
A glove should fit snuggly, hence the term, "fits like a glove." To discover your glove size, measure around the widest part of your hand, in inches. E.g. 7. 7.5, 8, 8.5 etc. and this is your glove size. Some manufacturers offer small, medium, large etc. but do check sizes and go down a size if you are between, as leather gloves will stretch over time.
I have a bag full of gloves I have collected over the years. Some new, some old; many were gifts. Some I inherited, others were treats from Italy or serendipitous thrift stores finds. They add the "Je ne sais quoi" to my outfits and are a way of expressing who I am.
I love an element of chic in my outfits and along with colour and texture, this is what I feel these beautiful items add.
Gloves are the perfect accessory for women over 40!
I think that the idea of the right glove is really good for 40 plus women who want to downplay certain things, too. If you're self conscious about your arms, an elbow length glove (or longer) could help downplay your insecurities about your arms and boost your confidence. And the super cool wrist length glove is fun, fashionable and a great way to hide veiny hands or age spots when we're having one of those days.
Gloves that are currently on trend
Designers like Prada, Marc Jacobs and Dries Van Noten made gloves look really sexy and possible to wear daily for this season. They have become more like a fashion accessory such as a good pair of shoes or the perfect necklace, instead of part of just outerwear I drop off at the coat check when I arrive at an event.
We saw two glove trends on the runways: the elbow-length glove and the wrist-length glove. Let's check them out in more detail.
The wrist length glove
Who did them well: Marc Jacobs, Balenciaga, Matthew Williamson, Haider Ackerman, Fendi.
Pearl leather gloves – Yiseven fur cuff glove – Pratt and Heart classic insulated gloves – Warmen glove – InlnDtor blue leather  gloves
How to wear the wrist length glove: The wrist length glove is sexy and edgy.
Try a pair when you're in the mood to add a little punch to your outfit. A fun, bright leather that doesn't necessarily match your outfit adds a unique touch to your outfit.

The elbow length glove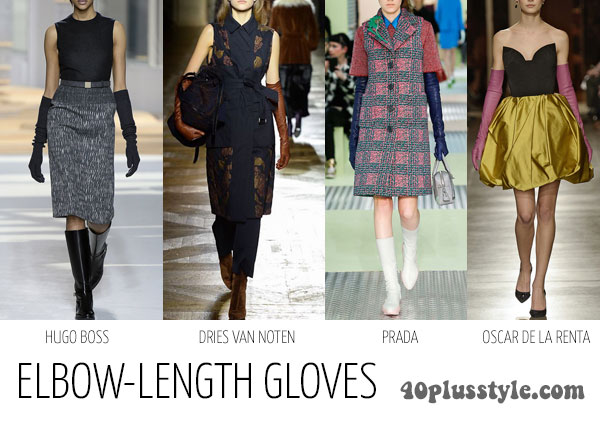 Who did them well: Marc Jacobs, Prada, Elie Saab, Haider Ackerman, Fendi, Oscar de la Renta, Boss.
Jamor UV protection cotton gloves – Jill Sander long gloves – N21 sequin ribbed blouse – Kate Spade pearl gloves – Lauren Ralph Lauren embroidery glove
How to wear the elbow-length glove:
If you have a short sleeve top or sleeveless dress you'd love to wear, add a long glove to your look instead of a long sleeve undershirt. The look is fresh and sexy.

If you're planning to wear a couture length (three quarter length) sleeve, a long glove with a little slouch updates the look. If you want to thin and lengthen the arm, choose darker, richer glove colors or a matching color to the sleeve to lengthen your arms.

For more on fall and winter trends visit the fall/winter 2017 trends report or the fall / winter accessory trends report and our special reports on shoes and bags.
If your outfit could do with a lift, is there a pair of coloured leather gloves out there that you might fall in love with?
About the author:
Ruth Essex is a professional image consultant, color coach and expert stylist at the 40+Style Club where she supports all members in their style journeys!
Like this article? Save it on Pinterest!