We will show you lots of ways to wear a scarf and style your scarf in many different ways.
A well-chosen scarf can add instant polish to any wardrobe, no matter how basic by bringing in new colors, patterns, and textures.
Scarves extend your wardrobe and let you play with new patterns and colors you might shy away from in a top or dress.
how to wear a scarf
Scarves are definitely one of my favorite accessories.
While many people may think that scarves are for fall and winter and for adding warmth, they can be a great year-round tool for refining your style.
You can choose lightweight scarves for summer to pull together all of the colors in your warm-weather wardrobe.
Scarves also make a great addition to your vacation wardrobe because you can use them as a blanket on the plane, to put down to lie on on the beach or by the pool, as a sarong over your swimwear, or as a wrap when the weather cools down in the evening.
A scarf can also cover or distract from areas of your body that you aren't so keen on. For example, you can use a colorful scarf to draw the attention up to your face and away from your hips if you are a pear shape and want to create more balance in your outfit.
Read on for inspiration on how to wear your scarf, as well as 5 different ways to tie your scarf.
Check out this article for more ideas on dressing the pear shape.
Basic scarf types, shapes and scarf styles
1. Rectangle scarf
This size is really easy to wear which is probably why it's the most popular.
It often comes in 30″ x 80 but you'll see it in many other variations. Rectangle scarves often come in knits and wools, rayons, viscose, silk, or cotton.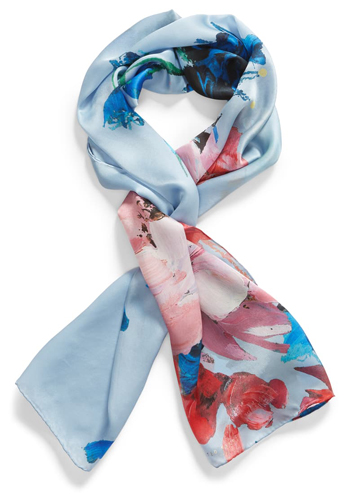 Ted Baker London rectangle silk scarf
2. Square scarf
Square scarves are usually made in lighter materials like rayon, silk or soft cotton.
You'll find these scarves in squares as large as 60″ x 60″, and often in smaller sizes called neckerchiefs.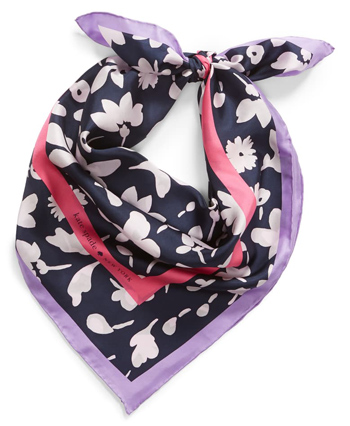 3. Infinity Scarf
An infinity scarf is a circular scarf with no ends.
This scarf is sometimes called the closed loop. You'll see infinity scarves in heavy knits and cables for winter, or lightweight cotton, linen, or rayon fabrics for summer.
Infinity scarves are especially great to wear if you're wearing a jacket with a zipper since they don't have any ends or fringe that can get caught.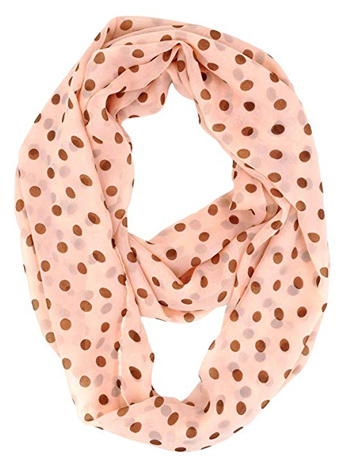 Tapp Collections sheer infinity scarf
4. Pashmina
Pashmina is a very particular fabric. It's made from the belly hairs of the Tibetan goat (I kid you not!) It explains why these type of scarves can be expensive.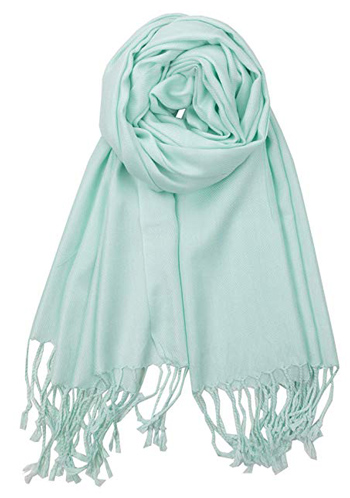 Pashmina scarves often come in solid colors with fringe ends, and are large enough to use as a wrap. There are many similar styles that are rayon/silk blends and therefore less pricey, but with the solid colors and fringe and so they are still called pashminas.
5. Blanket Scarf
Blanket scarves are extra large wool blanket styles that are worn as over-sized scarves, ponchos or wraps.
You can always secure them with a stylish broach, or hide a safety pin under the layers if you don't want it to be seen.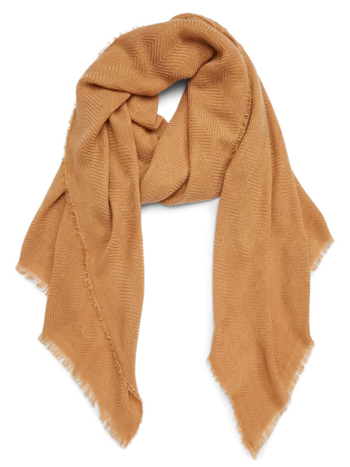 Sole Society oversize blanket scarf
6. Kite scarf
A kite scarf is designed in a diamond shape so you can easily tie around your neck.
You will also find similar styles shaped like a smaller, wider, men's tie which you tie in the same way. These give an outfit a polished, slightly retro style, like those worn in the 50s.
7. Travel scarf with pocket
Have you heard of travel scarves? These are not only stylish, but also a great security measure if you are heading off for a city break.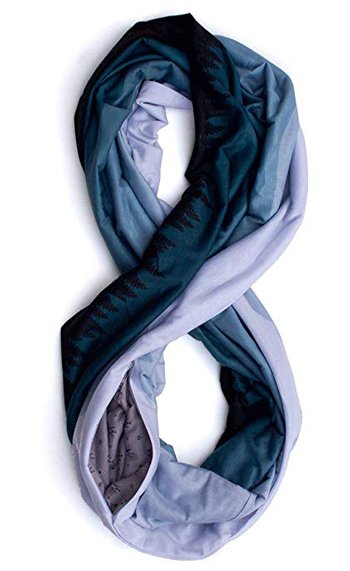 Travel scarves are specially designed with a hidden zip pocket so you can keep your money or a credit card in to keep you safe from pickpockets.
Waypoint Goods infinity travel scarf
Scarf styles for your closet
A basic scarf wardrobe should include a rectangle scarf in a heavier weight for winter, and a lighter cotton or rayon/silk rectangle scarf for summer.
Choose a scarf in a bright color or fun print to add fun and pattern to your warm weather wardrobe.
Select an infinity scarf in a large print or pattern that can be worn over jackets with a zipper.
Make sure you have a square silk or silk blend neck scarves. A neck scarf can be extremely versatile (as we show below).
If you are petite, select scarves that aren't too long so the scarf won't overwhelm your smaller frame.
Here are some stylish, different ways on how to wear a scarf
Looking for ways to wear a scarf? We have lots of examples for you.
Wear your scarf As a head scarf
AussieJul shows how adding a scarf as a headscarf adds a huge amount of pizzazz to an otherwise relatively simple outfit.
She deliberately lets her scarf be the hero piece of her look. The neutral background of her scarf is complimented by the neutral lace-up shoes.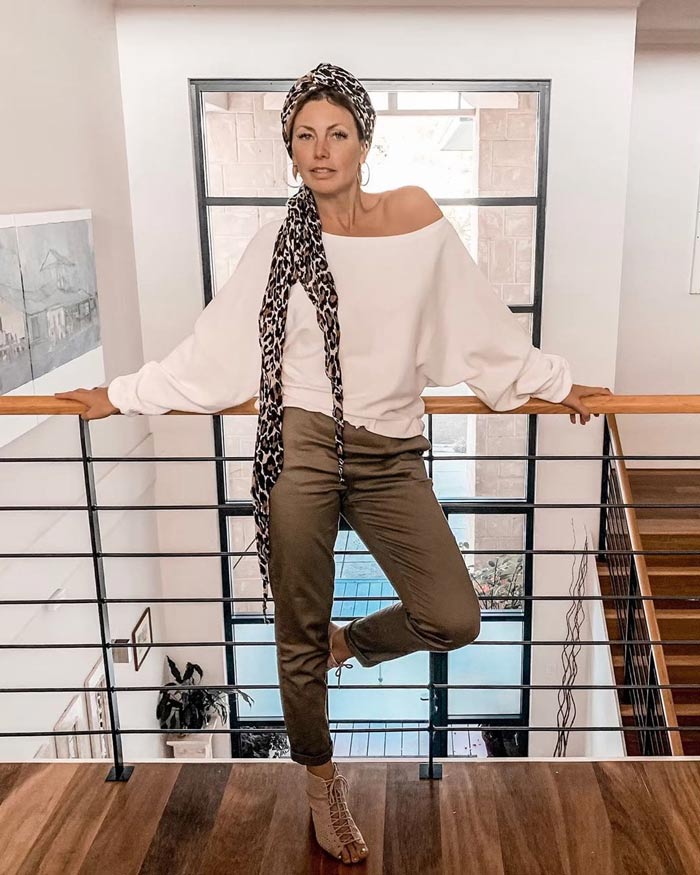 wear your scarf As a stylish wrap
Morag (below) demonstrates how a scarf can make the perfect wrap, either for a summer event or for your vacation.
This also shows how a scarf can beautifully tie your outfit together. Here, the pink of the scarf matches fabulous pink shoes.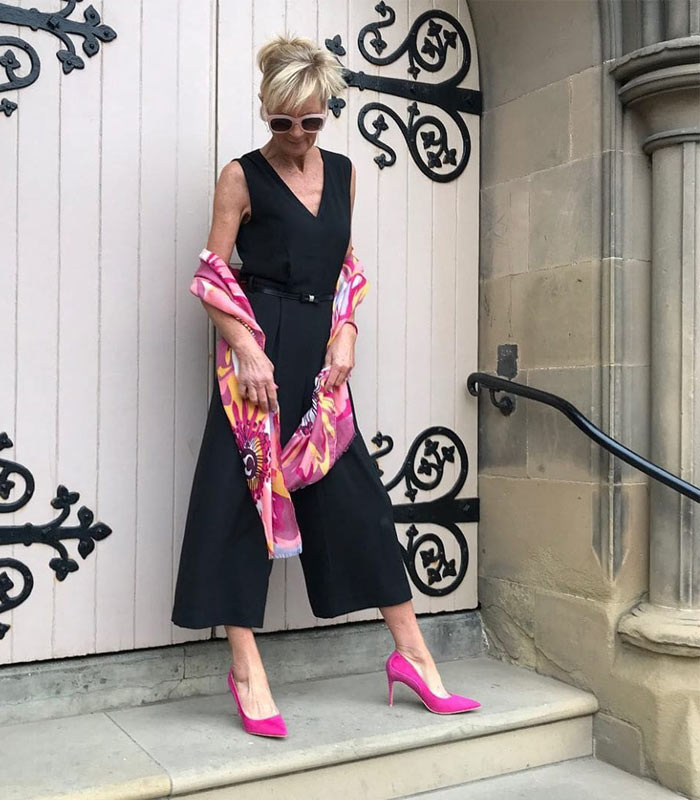 Use your scarf to add an extra element of fun
Denise (below) mixes her patterns with the print on her jacket and her scarf.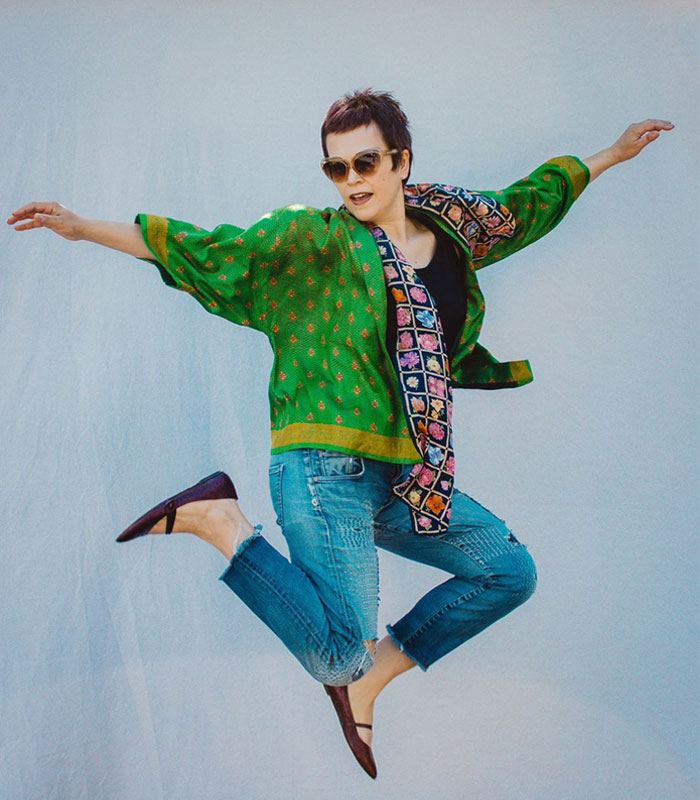 Use your scarf to pull together the colors in your outfit
Danielle (below) gives a masterclass in using your scarf to tie an outfit together.
The yellow in the scarf matches her coat while the darker burgundy pulls together the shades in her pants.

add some pizzazz to your look with your scarf
I'm sure you'll agree that the scarf Polly wears elevates her outfit to the next level. A blue and white outfit is given extra style through the use of a scarf.

Use your scarf As a neck tie
You could experiment with the way you tie your scarf, like Melissa (below).
She has tied her scarf so that it is kind of a cross between a pussy bow and a neck tie, adding a slightly androgynous feel to an outfit which still retains plenty of femininity, thanks to the print on the scarf and the over-the-knee boots.

To add a pop of color with your scarf
Divina (below) has added a pop of orange to her neutral outfit through the use of her scarf.

Use your scarf to add a little rock 'n' roll edge
Claudia (below) has chosen a skull print scarf to not only tie in the color of her pink tee, but to add a little rock 'n' roll edge to her classic outfit.

How to wear a scarf As a belt
Who says you have to wear your scarf around your neck? A scarf can also look equally stylish worn as a belt.
Jen (below) demonstrates what a stylish option this can be. The pinks and purples of her outfit are pulled together perfectly with her scarf.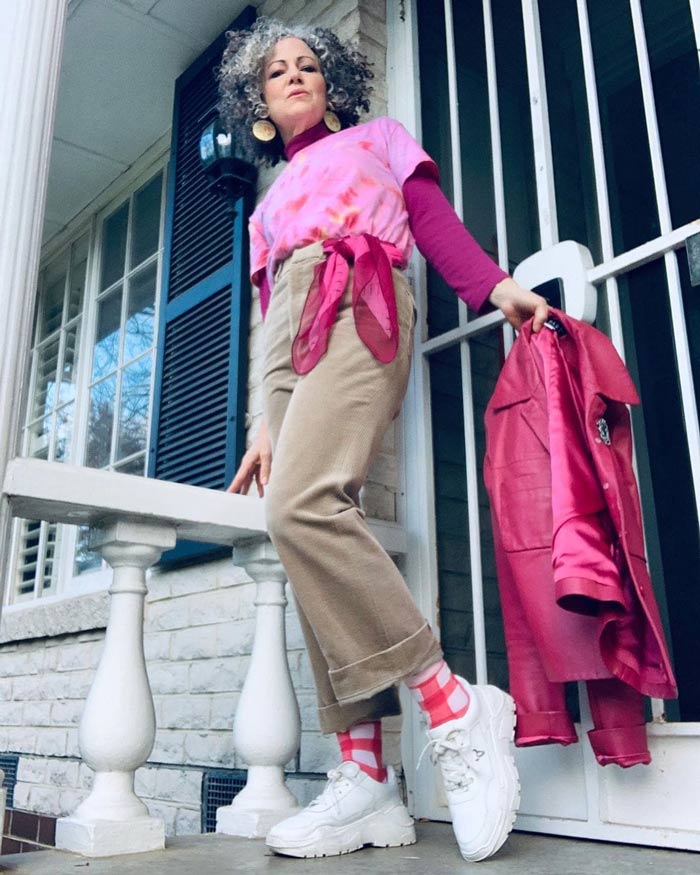 Scarves can be mixed with other accessories (think about a chain intertwined with a scarf or a purse wrapped into a silk scarf). A bright scarf will be eye catching and will divert the eyes from parts of our body we are not comfortable with. In other words, scarves can do miracles!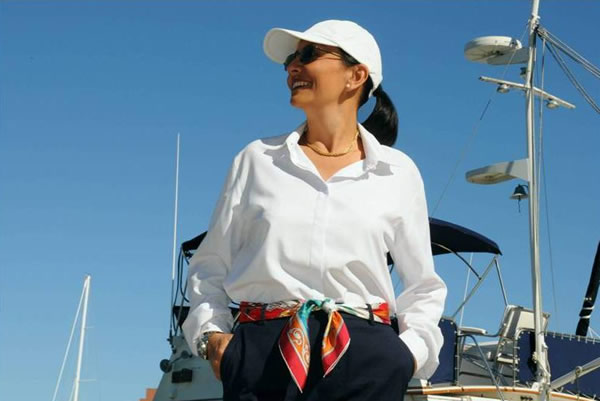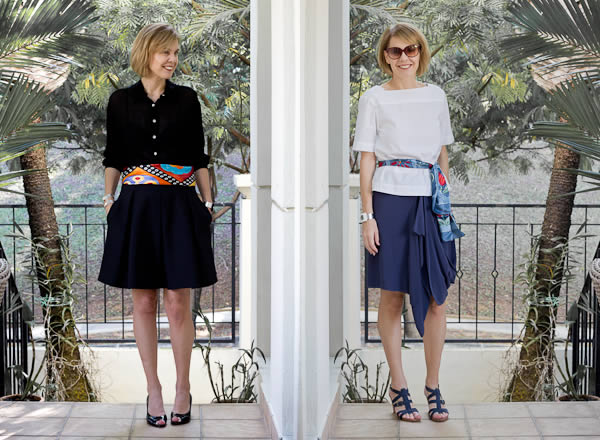 Make the scarf the focus of your outfit
There is another way to look at scarves though. You can decide to make your scarf the "star du jour". In this case you pick the scarf first and then build your outfit around it.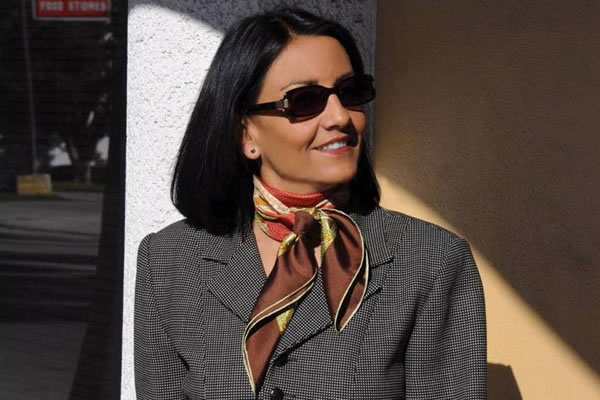 For more advanced scarf lovers: start your outfit with a scarf.
Before getting dressed you can decide which scarf you want to wear and how you want to wear it and then select your dress or top, but also your purse or even your shoes accordingly.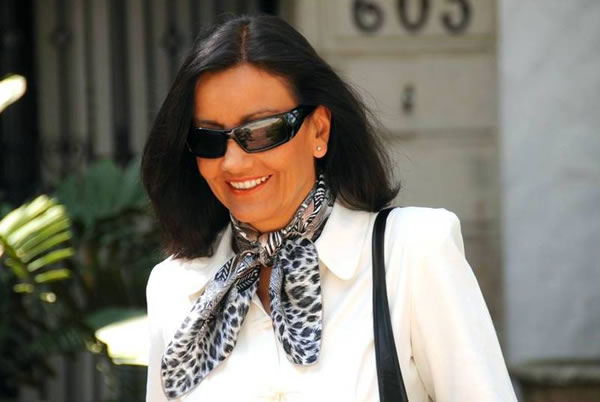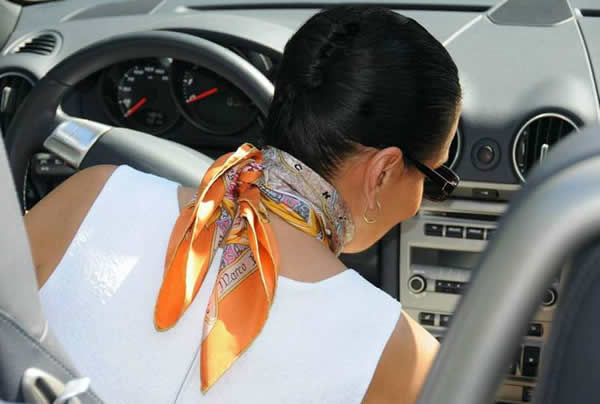 Use scarves to add color to a black outfit
Scarves are more than just an accessory. They provide us with the touch of color we need, they brighten up basic clothing.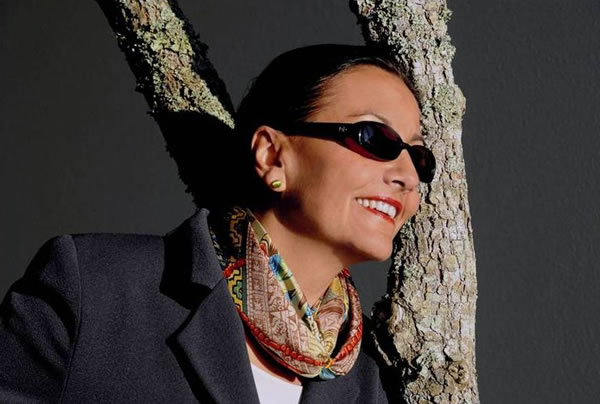 Black is almost never the best hue to wear close to your face, and a scarf is an excellent way to add that much needed color.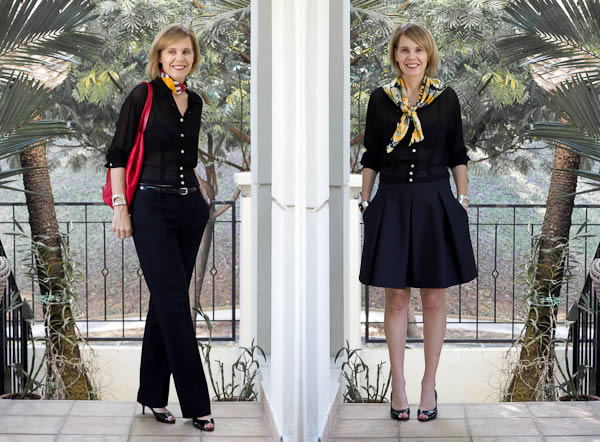 I used to wear scarves a lot as a necklace as shown on the left, in the days I worked for a scarf design company. The picture on the right shows one of the most straight forward ways to wear a square scarf.
A scarf will complement your outfit in an elegant way. In this case the scarf – usually chosen for its contrasting or matching color – acts like a subtle enhancing touch. It's probably the easiest way to start incorporating a scarf.
Wear your scarf as a top
A scarf is a great way to add colour to an all white outfit, as seen on the right. Great if you want to highlight or bring back the colour of your fabulous shoes!
Or how about wearing your square scarf as a top. Fabulous for a stroll on the beach and very sexy! For those in colder weather, you could also use this method to wear the scarf as a top underneath your blazer or jacket.
Another, more demure version, of a scarf worn as a top. This scarf was slightly bigger so you can make your top bigger as well and tie it slightly higher at the back. Great look for a summer holiday beach stroll.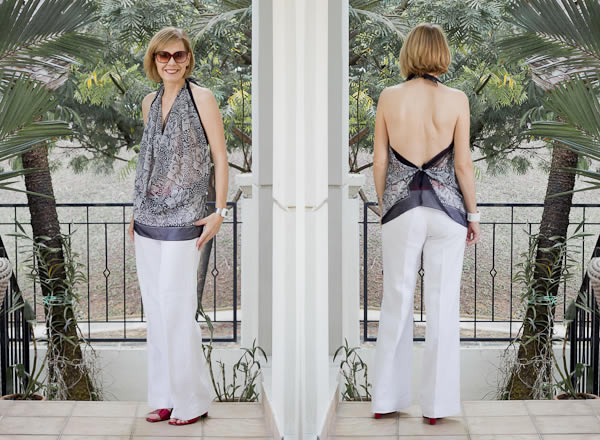 Tie your scarf on the handle
This is a great way to add a pop of pattern or color.

Wear scarves in your hair
A scarf can be a fabulous head band.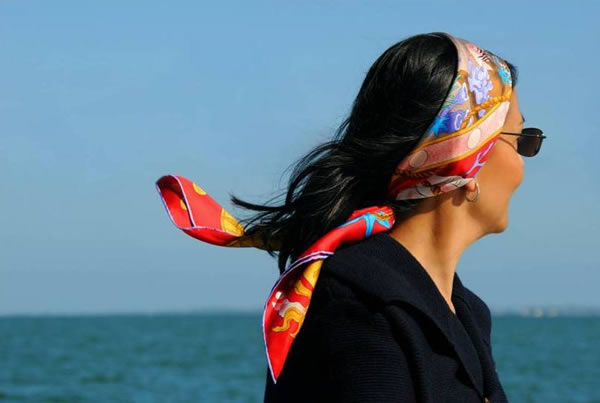 Or tie the scarf around your pony tail.


Add a scarf in your pocket for a pop of color
This can break a sea of all black and makes the outfit just a touch more glamorous.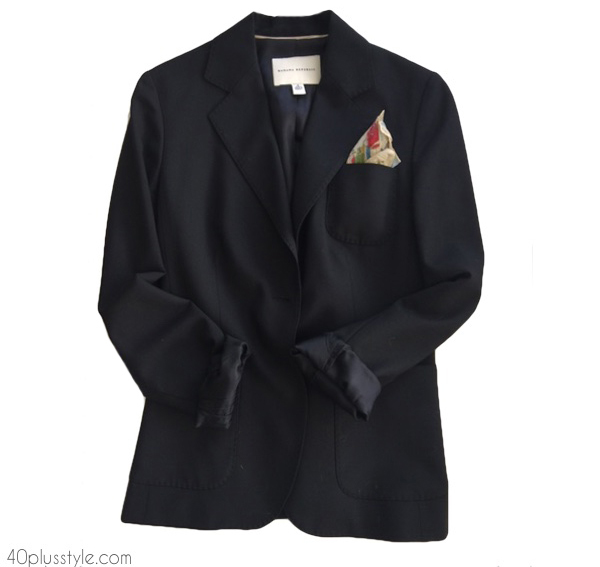 Wrap your scarf around a hat
This is a fun and creative way to wear a scarf in the summer.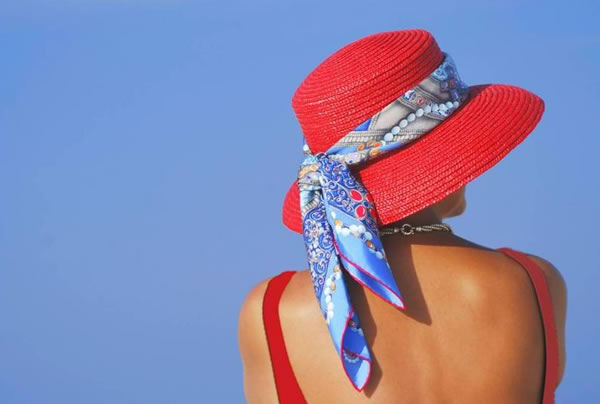 How to tie a scarf
Here are several basic ways to tie a scarf.
1. Ways to tie a scarf – the European knot
One of the easiest and most stylish ways to tie a scarf.
Create a loop with one hand, put the scarf around your neck, and thread the ends of the scarf through the loop. You can wear looser or up closer to your neck when it's chilly.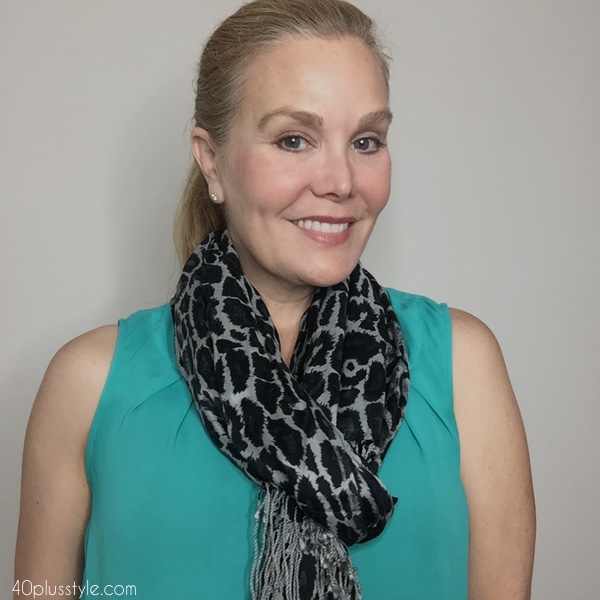 2. How to wrap a scarf – the Basic Loop
Simply drape the scarf around your neck and loop the ends back around to the front.

3. How to tie a neck scarf – the Menswear knot
Tie in a loose knot the same way you'd tie a men's necktie. You can adjust the knot up or down to make it lower or higher.


4. How to wear a silk scarf – Basic silk scarf knot
Add a bit of French style to any outfit with a simple neck scarf.
Tuck the ends in or leave them loose (and you can leave the knot in the center or wear it jauntily to the side, a polished look with a white buttondown shirt.)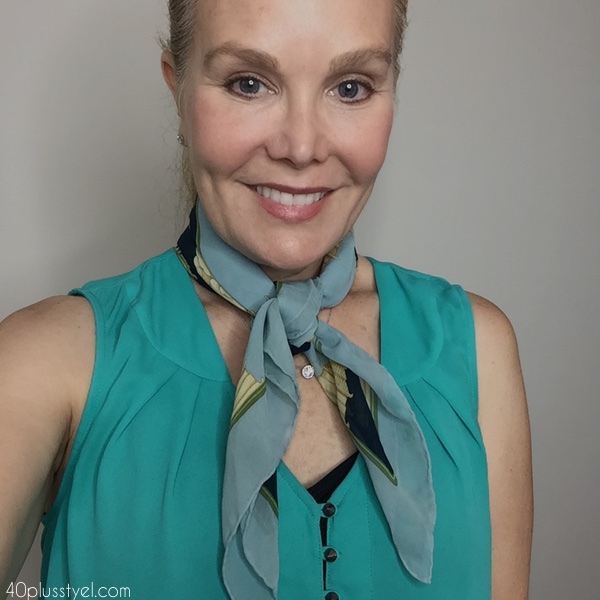 5. How to tie a short scarf – the Ascot knot
Wear with the triangular ends of the scarf frontways, wrap around your neck, and hide the ties underneath. Easy and tres stylish!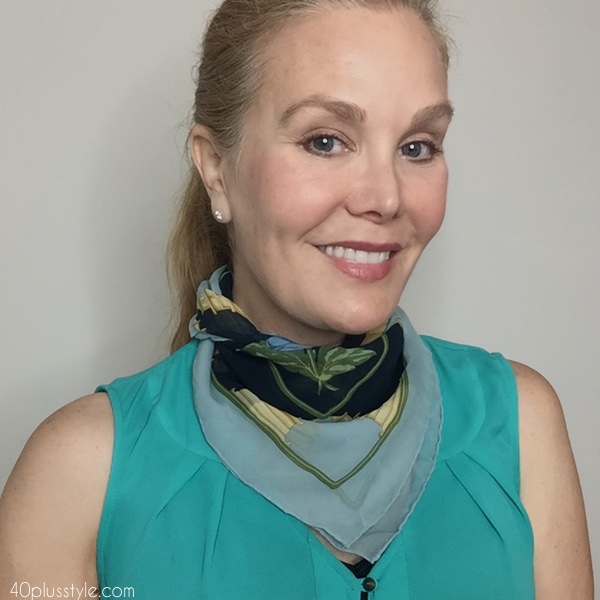 PS. Want to learn even more ways to up your style game?
You will love our accessories course. There is lots of training on accessories and how they can truly elevate your style!
Like this article on how to wear a scarf? Share it on Pinterest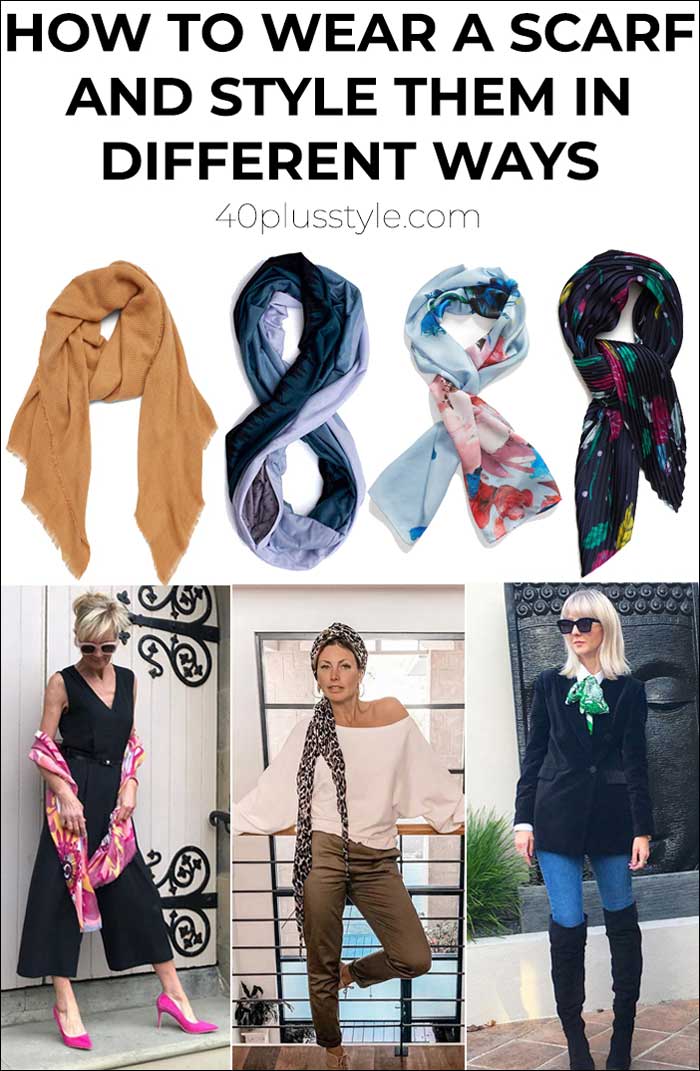 Feature image by Denise
Want to get more articles from 40+style in your inbox, subscribe here.
You can also connect with 40+style on Facebook, Instagram or Pinterest.
Support 40+style by using the links in our articles to shop. As an associate for Amazon and many other brands, we receive a small commission (at no cost to you) on qualifying purchases which enables us to keep creating amazing free content for you. Thanks!