Handbags are an essential item in your wardrobe. But which types of handbag are essential and what are the best handbags for women?
The best handbags for women
How many handbags do you own?
Do you consider yourself as someone who has a glamorous style personality who loves to have their hands on the best, luxurious pieces?
Perhaps you are more of a shoe person or maybe you already have handbags stuffed into every nook and cranny of your closet.
But, really, there are only 5 types of handbags for women you need to see you through every scenario.
Which types of bags will work for you?
Obviously I'm not suggesting that everyone has the same lifestyle, so you may need to tweak the types of handbags for women you choose as being necessary for you.
But, generally, you will need a bag large enough to carry around your day-to-day essentials, along with bags to keep your hands free and an evening bag.
Essential handbags for women
Here are my 5 essential bags.
But, don't forget to tell me in the comments below if you think there is another bag style that should be here in this list of handbags for women.
1. Tote bag
I'm sure most of you already have a tote bag in your wardrobe. This is the bag you are most likely to use as your everyday bag, whether heading to work or running a few errands.
At one point, tote bags were made of canvas. But, now tote bags are also often made of leather and any number of materials.
Really, a tote bag is just a large, strong, useful bag. But, just because it is functional, that doesn't mean it can't also be stylish.
As this is the bag which is likely to be most used, I would invest in a tote bag which will last and which you really love.
This Tory Burch tote is a complete classic so it definitely won't date. Plus, if you do need to fit a fair amount in, or you want to carry around your laptop or tablet, this is designed so you can do exactly that.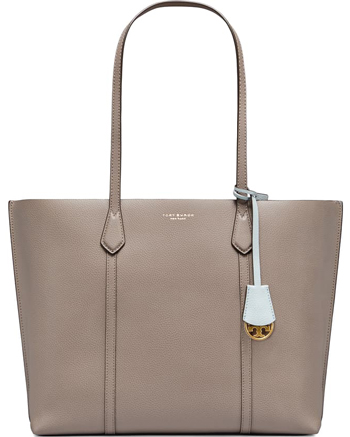 Alternative ladies handbags to choose instead of a tote
There are also other options you could choose from if you don't want to choose a tote.
If the structure of a tote doesn't fit with your more relaxed style, you could instead opt for a hobo bag. Or, if you actually prefer more structure and more of a preppy look, you could choose a satchel.
Hobo bag
You may well be able to fit just as much in a hobo bag as you can a tote bag, but they have more of a slouchy, relaxed feel, which can suit a number of style personalities, including the natural style personality, those who have a bohemian style and Eurochic style.
Check out this article a capsule wardrobe and styling ideas if you have a eurochic style personality.
Bridget (below) is using a hobo bag to complete her casual look. You can get a similar bag here.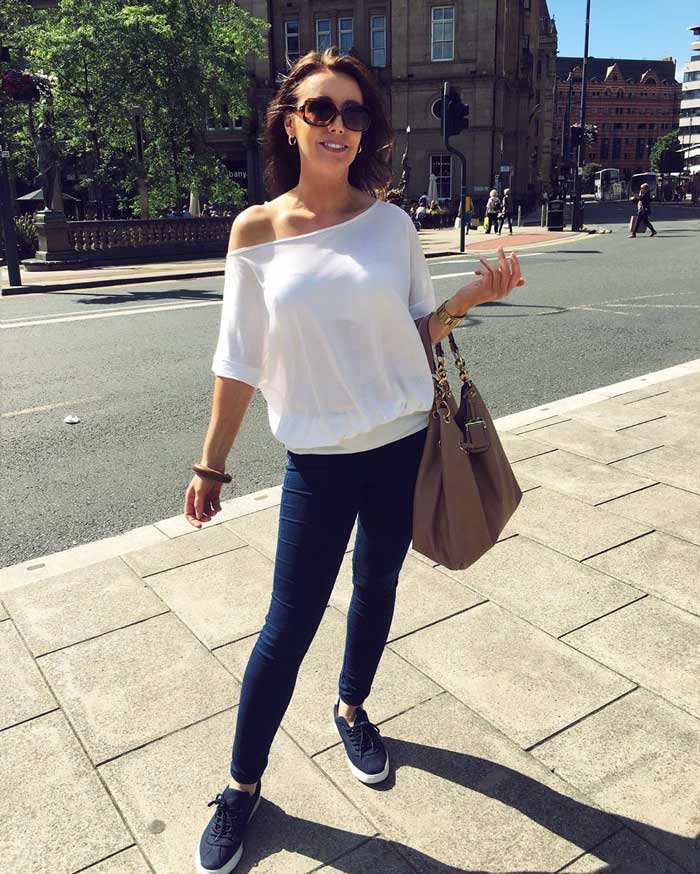 You will find hobo styles in a number of different sizes so you can choose the size which you will find most useful on a day-to-day basis.
rstyle.me/+f-z7eyXdIU4Gd4UQg0IWnA(opens in a new tab)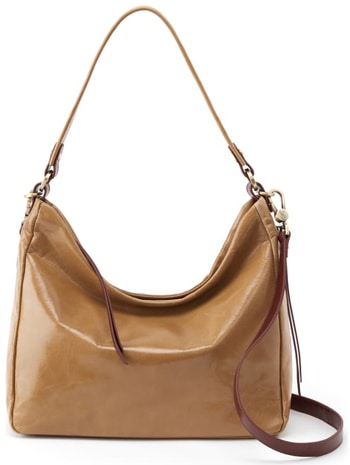 Satchel bag
Another choice for you to think about for your everyday bag could be a satchel bag.
You could add in a pop of color like Greetje does here with her green handbag or opt for a trendy version of a classic. Check out this transparent handbag for a similar look.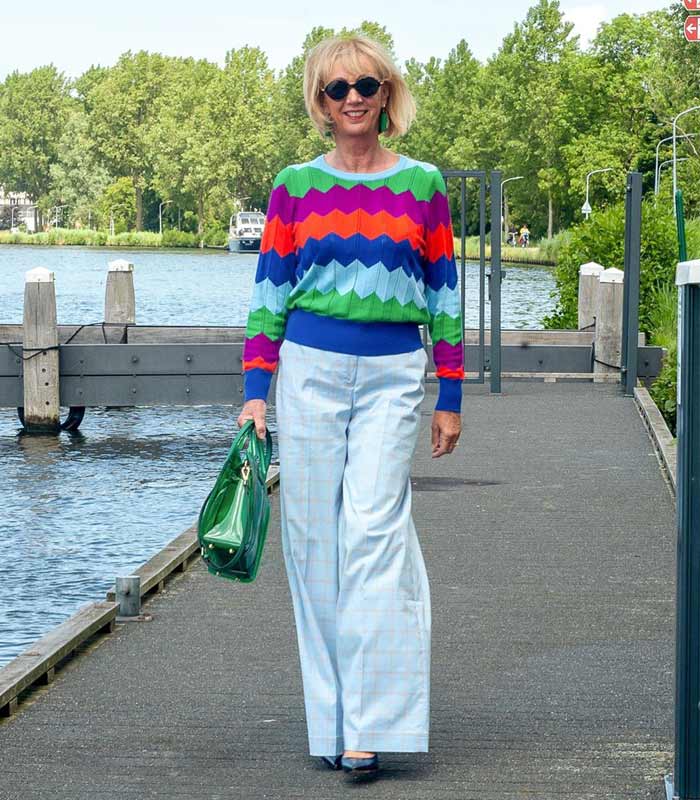 There is some crossover between the design of tote bags and satchels.
You could opt for a satchel which is very traditional and looks like a more grown-up version of the satchels children carried to school in the 50s, or you could look for one which veers towards the look of a tote.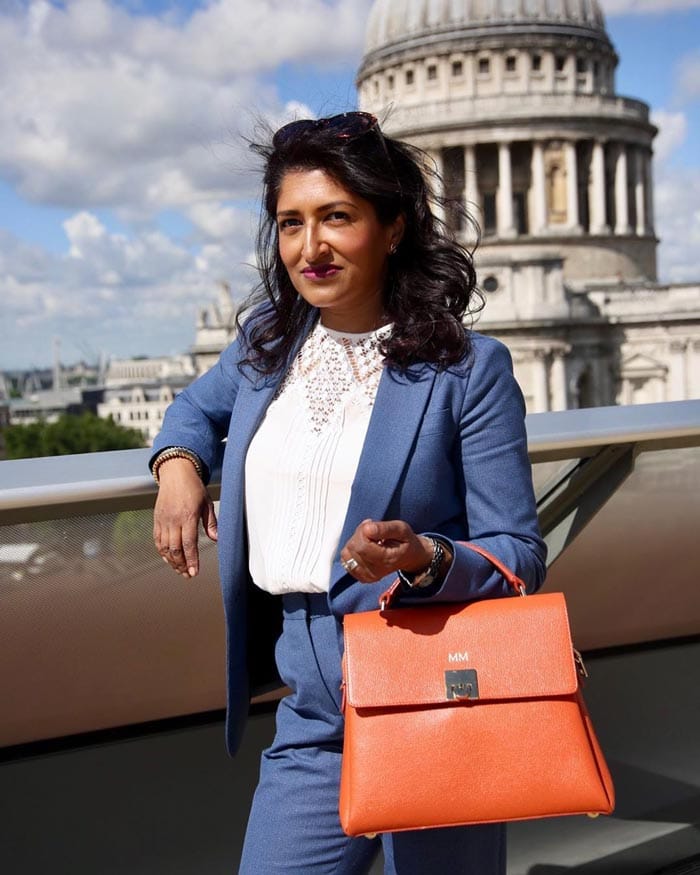 Monika (above) chooses to add a pop of orange to her outfit. If you love the look of orange, you can find other orange handbag options here.
Or you could choose a different bright shade, such as red, to add a pop of color to your closet.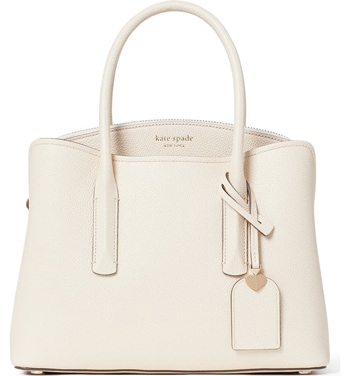 Kate Spade New York leather satchel
2. Shoulder bag or Crossbody purses
Depending on the type of tote you choose, and the length of the straps, you may either sling your tote over your shoulder, or simply carry it by your side.
You are likely to also want a smaller shoulder bag or crossbody bag to keep your hands free.
I find this type of bag particularly useful while shopping or traveling because I can look at what I want to, sightsee and browse without having to use my hands to carry my bag.
Jennifer(below) paired her neutral outfit with a Chloe crossbody bag.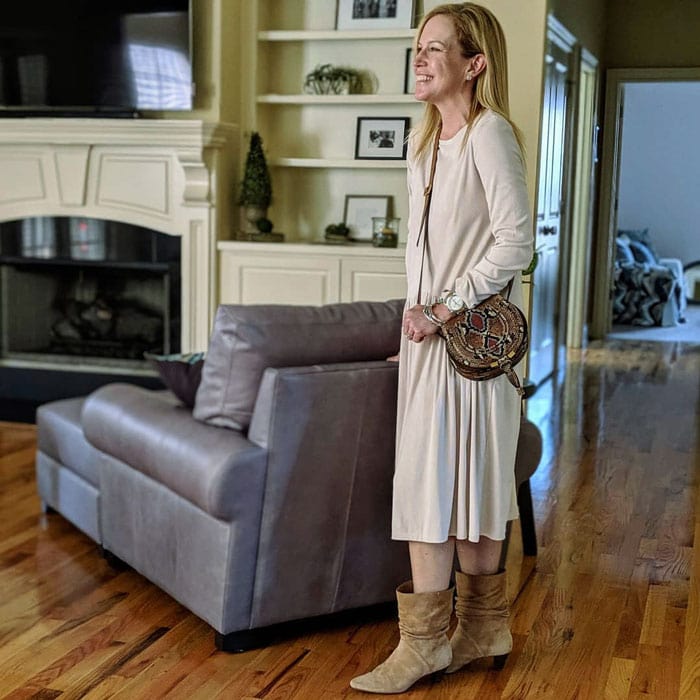 I tend to opt for a smaller crossbody bag than my tote bag. I just want to make sure I can carry my essentials such as my wallet and my smartphone.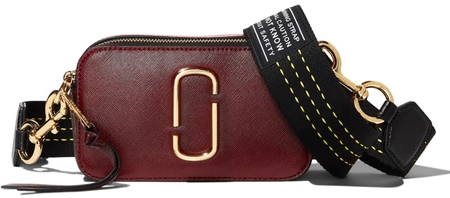 The Marc Jacobs leather crossbody bag
3. Clutch bag
For evening, you definitely don't want to be carrying your large tote around, nor are you likely to want a crossbody bag to ruin the lines of your elegant outfit.
A clutch bag which you hold in your hand is much more fitting for an evening event, or a formal affair such as a wedding, or even just for dinner, when all you are likely to need with you is your wallet (unless you aren't paying!), your phone and maybe your lipstick.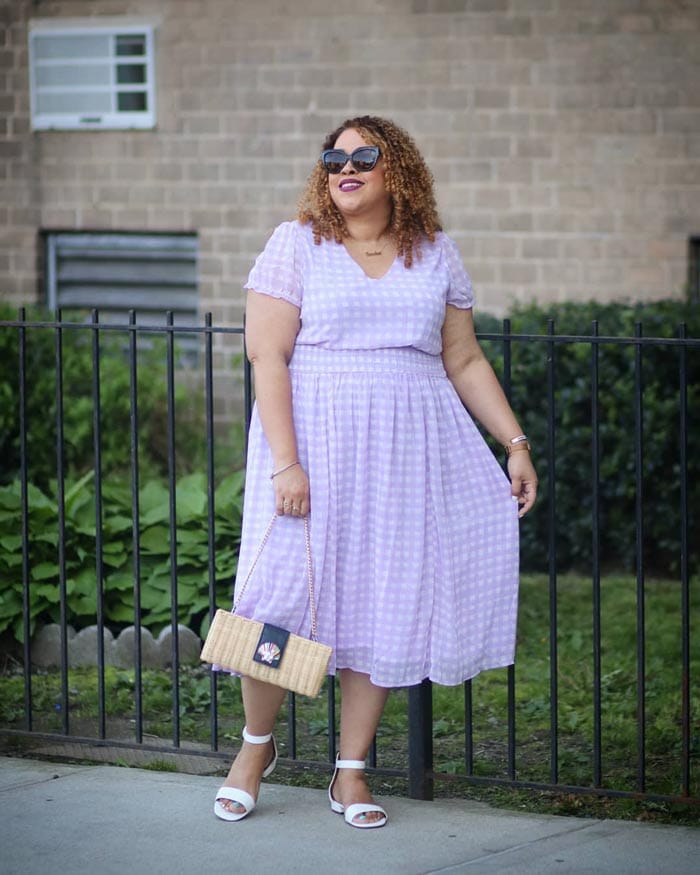 Sandra (above) finished off her look with a shell wicker clutch from Talbots. It's a lovely choice for a lunch date.
If you don't want to match your clutch to each new outfit, then choose something in a neutral shade which will go with most pieces.
You could opt for a black, taupe, metallics, or even a leopard print. Any of those should go with the vast majority of your dressier outfits.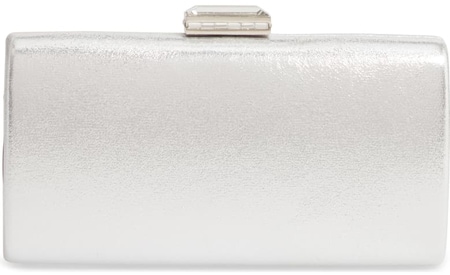 4. Canvas bag
If you are heading off on vacation, or you want a casual bag for your shopping, you may also want to add a bag to your collection which is made of a more relaxed material, such as canvas or rattan.
Get a similar canvas bag to the one @avecunksvp is wearing here.
You could use this as a shopping bag, or a beach bag.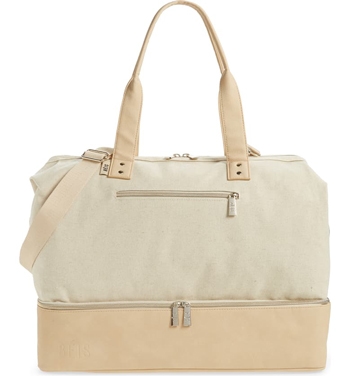 5. Travel handbags
If you do a lot of travelling, you may also want to add a special travel bag to your closet. That way, you can ensure that all of your valuables are safe and secure, and that your hands are free for sightseeing.
You'll find plenty of inspiration in this piece on the best travel handbags for vacation and every day use.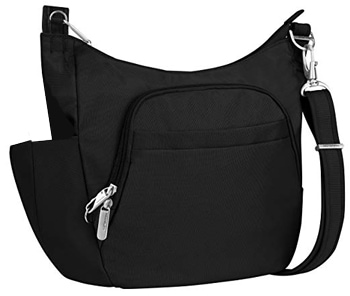 Designer handbags for women
When choosing the most essential handbags for your closet, you can afford to think of them as an investment as they definitely aren't throw-away fashion, but bags you should be able to use season upon season.
Check out our list of the 10 best designer handbags you can definitely afford.
Think about how much use you will get out of your bags, how many years you are likely to keep them for, and consider the likely cost per year rather than just the initial cost.
You may wish to treat yourself to a designer handbag, or think about quality materials which will stand the test of time.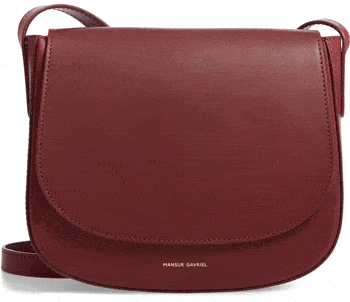 Leather handbags
As well as thinking about which designers you really love, I would think about what material you would like your handbags to be made of.
Leather is always a good option to think about because, as long as you take care of it, your bag should last for a long time. Leather tends to age very well meaning you should be able to use your bag for a long time to come.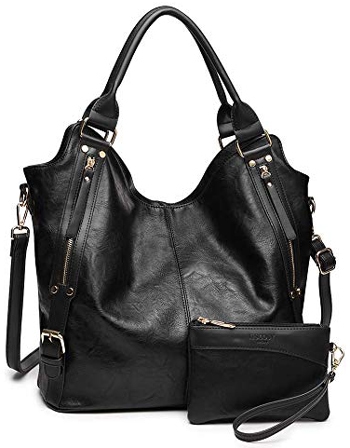 Bag trends
Just as with your clothing, if you have key handbags which you know you will use for season after season, year after year, you can then think about adding seasonal pieces, which you love, but which you may only use for the summer.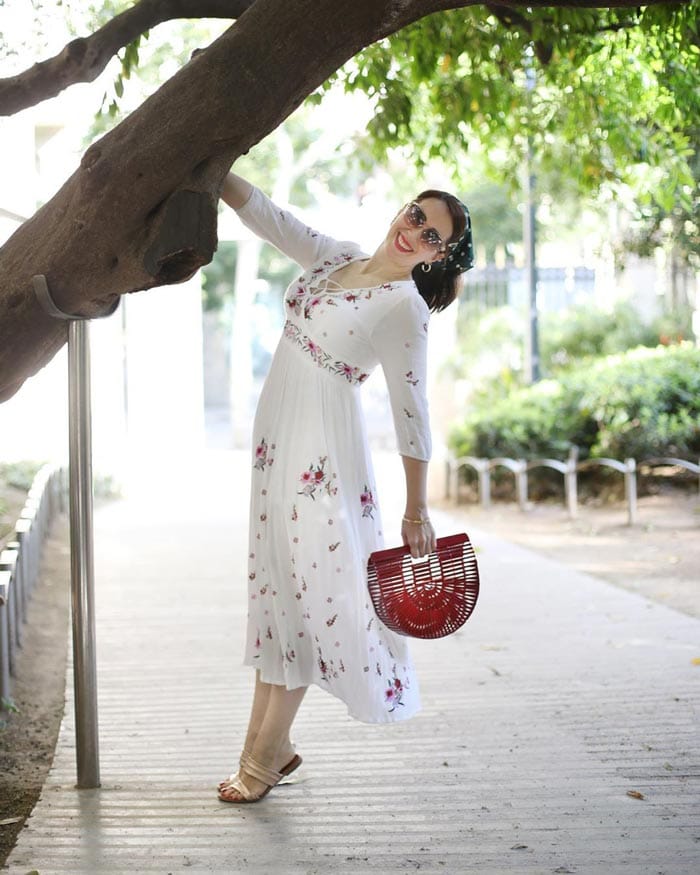 Patricia (above) adds a pop of color on her outfit with an on-trend bamboo arc handbag.
For ideas on the classic pieces you need for your closet, look at this 28 wardrobe essentials article

You may also want to take a look at this piece on the best handbag brends
How many handbags do you currently own? What do you think are the essential handbags for women?
Like this article on the best handbags for women? Share it on Pinterest!
Feature image by Greetje
Want to get more articles from 40+style in your inbox, subscribe here.
You can also connect with 40+style on Facebook, Instagram or Pinterest.
Support 40+style by using the links in our articles to shop. As an associate for Amazon and many other brands, we receive a small commission (at no cost to you) on qualifying purchases which enables us to keep creating amazing free content for you. Thanks!