A travel bag that's stylish enough to work with your outfits yet just right for travel is essential if you travel a lot. In this article you'll find some of the very best travel bags and purses that will keep your stylish, while your belongings are secure.
Although you can probably use any handbag for your travels, the right travel purse is vital to hold your important travel documents and valuables when you're on the go. Below are tips on how to choose the best travel bag and some of my favorites, whether you prefer a crossbody, backpack or tote.
Best travel purses: How to choose a travel bag
First, let's talk about what you should look for in a travel purse:
1. Comfort and ease
Choose one that's lightweight, somewhat weather proof and easy to clean. Nylon is a good option because the material meets all three requirements.
How will you carry your purse and is the one you're looking at comfortable? Wider straps will make the travel purse more comfortable on your shoulders if you have a long day of sightseeing ahead of you.
2. Low key style
For safety's sake, it's usually good to leave your designer handbag at home, unless you're in Monte Carlo, Capri, or somewhere where everyone is walking around with an expensive handbag so yours won't stand out.
A non-flashy travel purse is less tempting to thieves.
3. Holds everything in an organized way
You may carry more than normal when traveling, so choose a travel bag that has plenty of pockets and compartments to sort out all your items.
4. Is theft-proof
Although no bag is completely theft proof, choose one with zippers and snaps to prevent thieves from having easy access to your items.
Choose a bag that sits close to your body, like a cross-body style. Wider or heavy duty straps make it harder for someone to cut the straps and run away with it.
There are also bags specially designed to prevent thieves from being able to cut through them. Some of those are in my top travel purse picks below.
5. Versatile
A convertible travel purse, where the straps can be changed around, is helpful when you want to carry your bag in different ways.
Some are expandable to carry more items when needed. The more versatile your travel purse is, the more likely you'll use it often.
You may want to take one larger travel bag and one smaller travel purse on your trip.
Travel purse ideas: The best travel bags to choose from…
These travel purses (below) are mainly designed just for travelers. I like them most because they are still stylish enough to use everyday to complete your outfit.
I've divided these travel bags up into crossbody bags, anti-theft bags, backpacks, phone bags and fanny packs so you can choose the style which best suits you, the type of trip you're taking, what you need to carry with you, and your destination.
The best travel with anti-theft features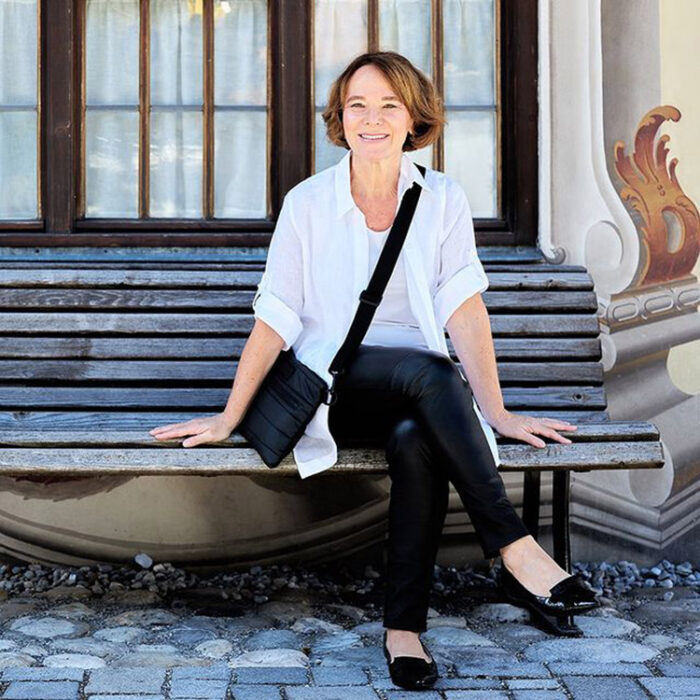 First, let's take a look at anti-theft travel purses. These are bags especially designed to make it harder for thieves to get to your valuables…
Annette @annette.hoeldrich above (read her style interview here) opts for a crossbody, which is a useful, hands-free style for travelling.
Get her look with this similar crossbody bag, shirt, leggings and flats.
1. Travelon bucket bag
Travelon bags are some of the most highly-regarded and best reviewed travel bags out there. That's because not only do they tick the box for low-key style, but they also have some pretty smart anti-theft features too.
The Travelon bucket bag is a classic shape, which looks like an ordinary handbag, but which actually has a slash-proof strap and lockable compartments. It will easily fit in an e-reader or small i-pad if you're planning on some vacation reading.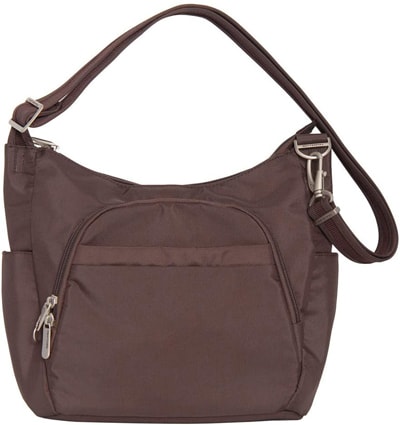 Travelon anti-theft crossbody bucket bag
2. Travelon crossbody bag
Or, you could opt for the Travelon crossbody bag instead. There's a lockable main compartment to keep your money safe and slash-resistant body and shoulder strap, making it one of the best travel purses to choose. You can also attach the strap to your chair if you are sitting at a restaurant, and there are RFID blocking card slots to prevent cyber crime.
It comes in a good range of colors so you're sure to find a shade to match your travel outfits.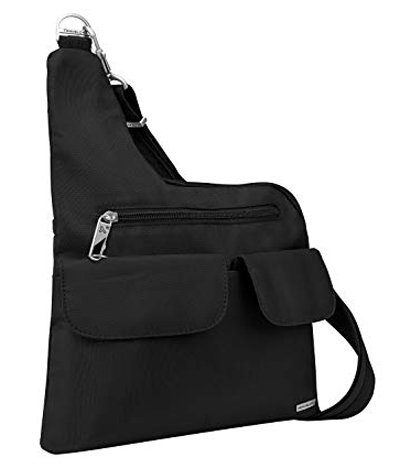 Travelon anti-theft crossbody bag
3. Pacsafe bag
Another of the best travel purse brands to take a look at is Pacsafe, which has all kinds of bag and luggage options, from backpacks to portable safes.
One of the best reviewed Pacsafe bags is the CS100 which wins praise for its anti-slash straps and the turn and lock security feature, which allows you to lock your bag to a fixture to stop anyone grabbing it while you have lunch, for example.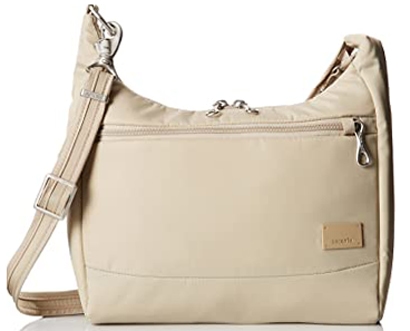 4. Baggallini bag with RFID
The Baggallini Everywhere bag with RFID is a hobo style travel bag with lots of pockets. You can fit an iPad in the interior one. It has card slots, ID windows and is made of heavy nylon. I love that it comes in 20 colors!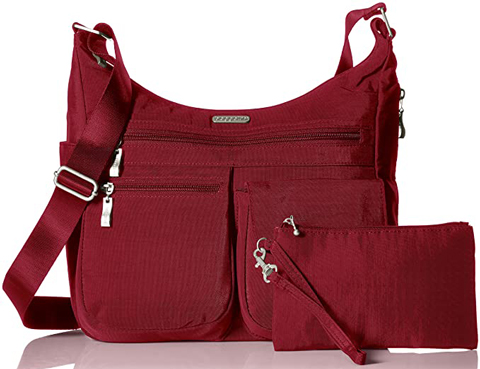 Baggallini Everywhere bag with RFID
5. Sherpani
Fitted with exterior zipper locks and a clip lock for the main compartment opening, there's also a chair lock system so you can secure the Sherpani anti-theft bag to your seat while dining. The bottom of the bag and the strap are anti-slash to prevent thieves from cutting through.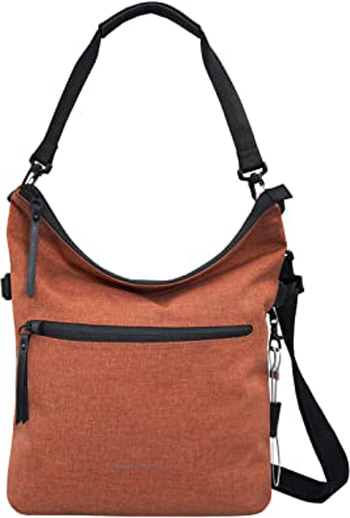 Sherpani anti-theft travel crossbody bag
6. sukry
The Sukry bag (below) has 10 compartments so you're sure to find a place for everything including your tablet and water bottle. It has anti-theft devices and a sturdy shoulder strap. One reviewer said there weren't enough stars for how much she loves this purse!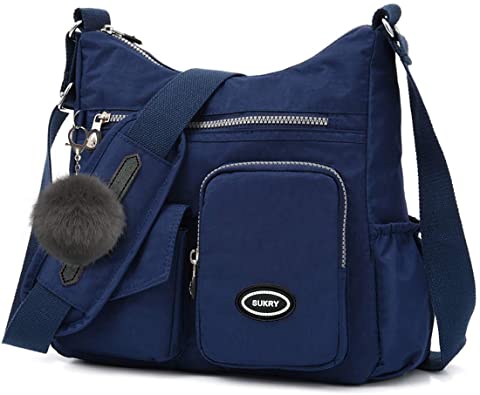 SUKRY nylon crossbody bag with anti- theft RFID pocket
Crossbody purses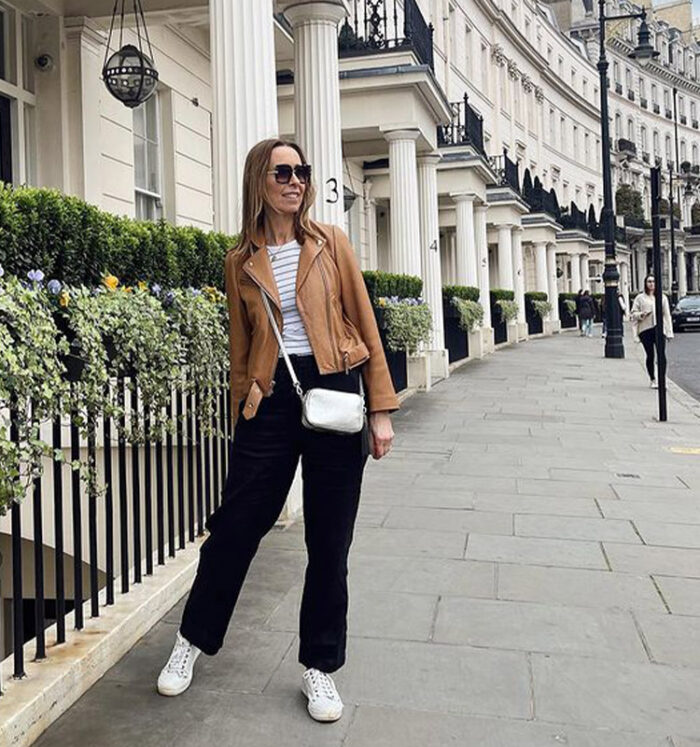 A good style to look for when you travel if you are searching for the best travel purses for your vacation is a crossbody bag. These are much harder to snatch than a bag you carry over one shoulder, for example. Plus, you can keep your hands free while shopping or sightseeing.
Marie-Louise @mrsmlmode above chooses a small crossbody that would be ideal if you just want to take your purse and phone out with you.
Check out this similar crossbody bag, top, moto jacket, pants, sneakers and sunglasses.
1. Roma Leathers
Small in size but with plenty of pockets to fit everything in, the Roma Leathers bag (below) is roomier than it looks. The pocket on the back fits in your smartphone so you have easy access.
Roma Leathers genuine crossbody bag
2. Leather crossbody
Made from real leather, the Estalon crossbody (below) has storage in the main body of the bag and in the front. Reviewers say it is good quality and has the right amount of room for day-to-day essentials.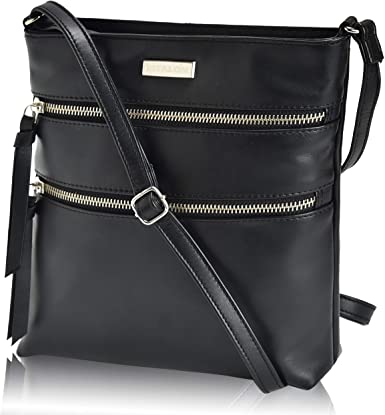 3. Tory Burch crossbody
If you do want to opt for a designer brand, you could choose a classic option such as the Tory Burch crossbody (below) which is just the right size for your phone and purse. You could choose a neutral shade or add a pop of color.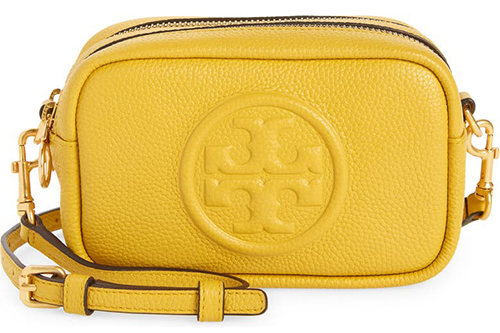 Tory Burch leather crossbody bag
Backpacks
A backpack can be a good choice, particularly if you have a lot of items to carry, or you prefer to keep your hands free. However, be careful about the backpack you choose as these can also be targets for thieves.
1. Longchamp
Longchamp can be a good brand for travel as many of the styles are nylon, making them easy to wipe down and keep clean, even if you get caught in a rain shower. The style (below) has waterproof lining and folds flat for easy storage if you want to take it in your main suitcase. The double fastening – of the zip and popper – also adds a little extra security.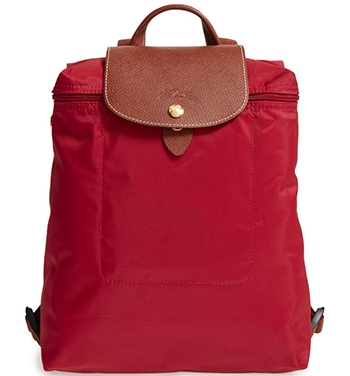 2. Travelon
As well as their better known crossbody styles, you'll also find anti-theft backpacks from Travelon such as the one below, making them a good option for sightseeing. The backpack (below) features locking compartments, anti-slash material and a locking system so you can secure it to your chair.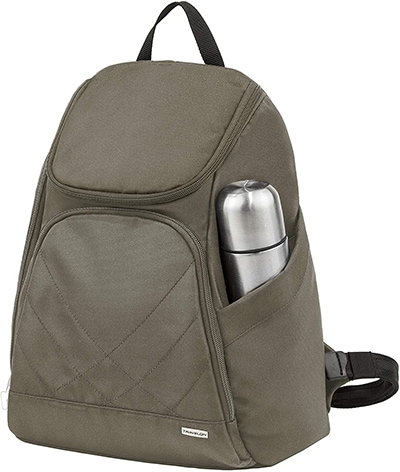 Travelon anti-theft classic backpack
3. Rebecca minkoff
This stylish leather back pack from Rebecca Minkoff has been a long time travel favorite and will never go out of style. Both suitable for travel and every day use, this back pack will remain a wardrobe and travel staple for years to come.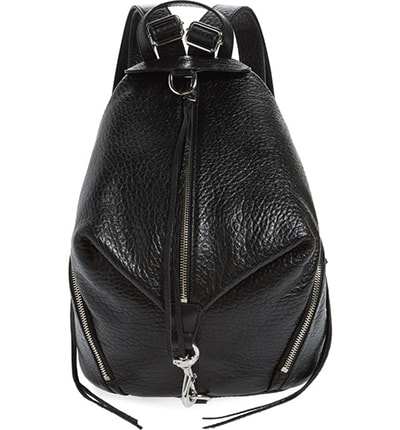 Rebecca Minkoff Julian backpack
4. Travistar
If you want flexibility from your travel bag, then take a look at the Travistar multiway bag (below), which can be worn as a shoulderbag, crossbody or backpack. It's a relatively large option so best if you have a lot to fit in.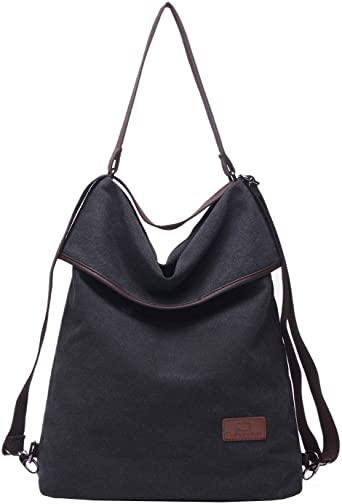 Travistar multifunction canvas daypack
5. Charmore
Waterproof and minimalist, the Charmore bag (below) comes in 17 different color pathways, so you're sure to find one to fit in with your travel outfits. It's compact but has a generous capacity so you should be able to fit everything in you need for a day trip.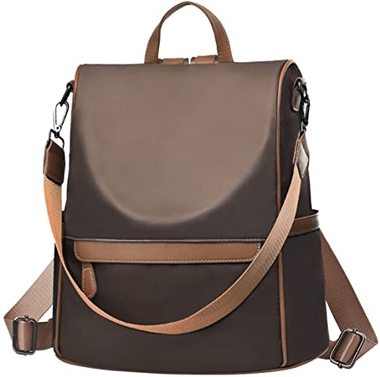 Charmore travel nylon backpack
6. CLUCI
Convertible so you can carry in a number of different ways, and available in 22 different colors, the Cluci backbag (below) is roomy enough to fit in all you need, as well as having two side pockets – you could pop your water in one and your sunscreen in the other.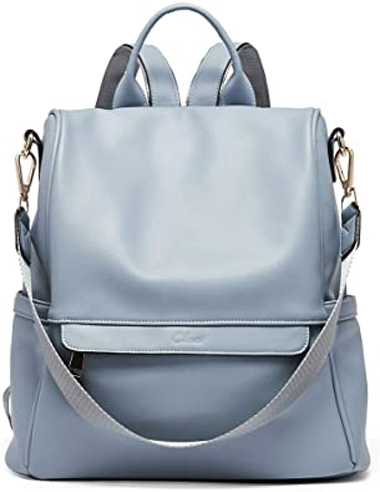 CLUCI PU leather travel backpack
Totes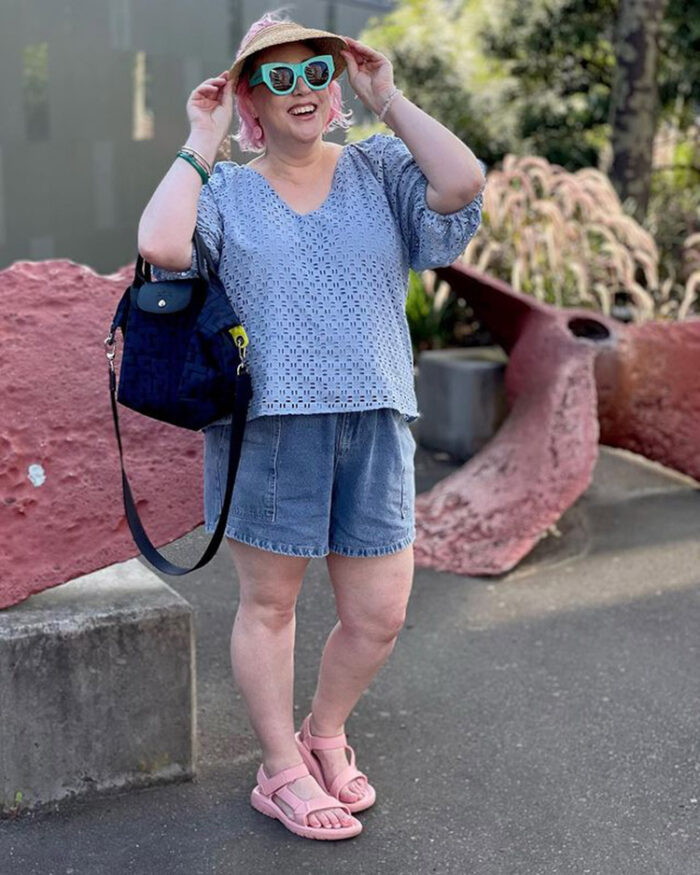 A classic tote is another good option for travel, particularly if you need to fit larger items in, such as your beach towel, for example. For security, look out for a tote with a zipper fastening across the top, rather than one which is open as you carry it.
Kimba @kimbalikes above chooses a blue backpack that matches her outfit.
Steal her look with this similar tote, blouse, shorts, sandals, hat and sunglasses.
1. Longchamp
The classic Longchamp tote (below) is easy to clean, nylon option with a zipper fastening and popper closure. Choose from 3 neutral color pathways. Whichever you choose should go with everything in your closet.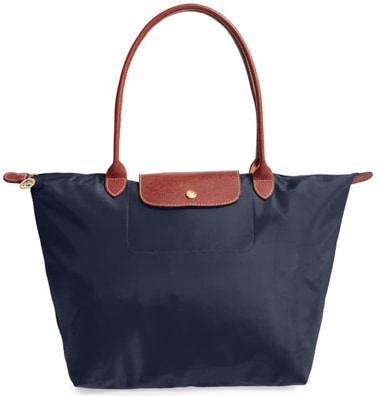 2. Béis
If you're looking for a larger option for a weekend bag, then how about the Beis travel tote (below) You'll fit everything in you need for a few days away. Then, when you get to your destination, you can always use it as a beach bag to fit in your towels, water and sunscreen.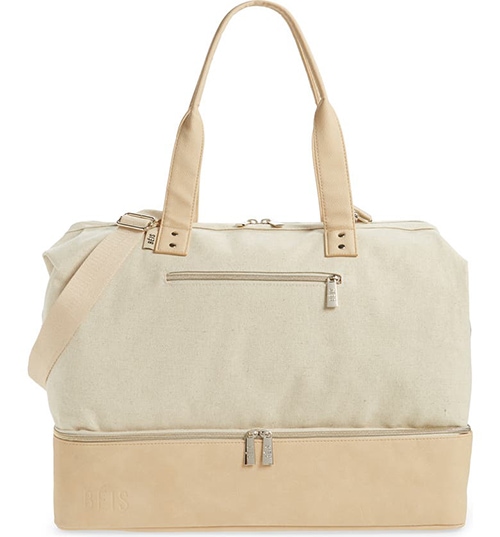 3. Tory Burch
If you love a classic style, Tory Burch is always a good brand to look out for. Clean and sleek looking, it will fit in a laptop if you are travelling for business, and features a zip fastening to keep your valuables secure.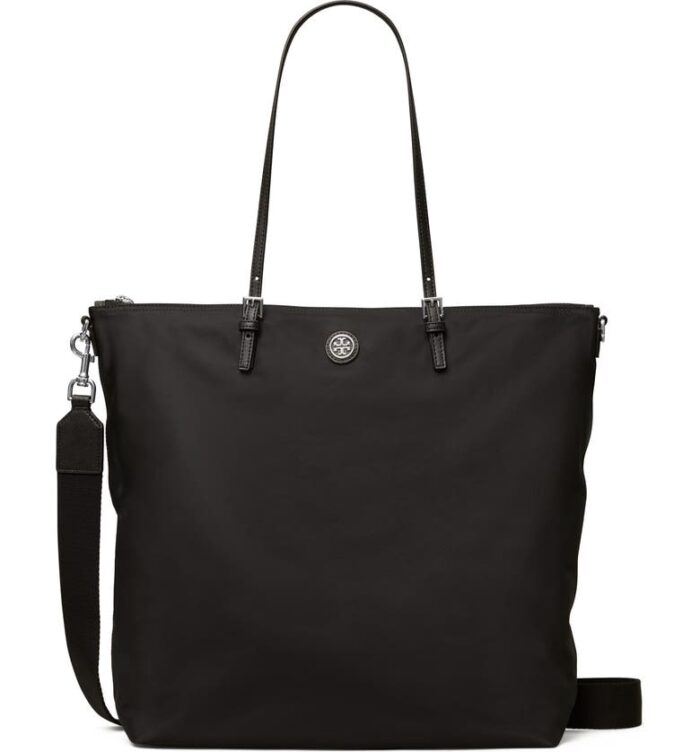 Read our article on the 10 best designer handbags you can definitely afford
Phone purses
Perhaps you really only need to take your smartphone and credit card with you. Or maybe you prefer to carry your phone separately. In this case, one of the travel phone purses below may suit your needs.
1. myfriday
The MyFriday bag (below) is just the right size for your phone, and comes in a huge choice of colors. Reviewers say their phone fits in well, even with a chunky phone case.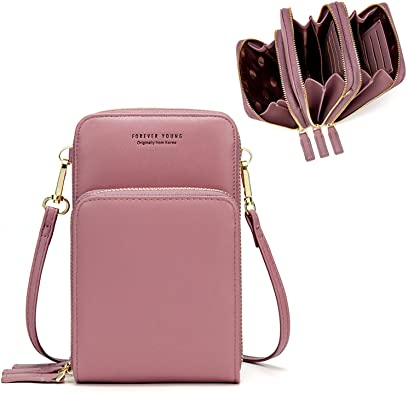 2. Kipling
The Kipling travel bag (below) is also the ideal size for your phone. It comes in a choice of playful prints or block colors. Reviewers say it is the right size for a smartphone, credit card and lip balm.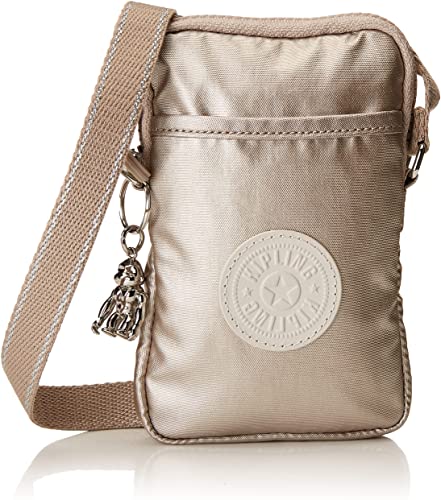 Travel pouch
Of course, a handy travel handbag won't be all you will want for your vacation when you are looking at the best travel purses for you. To pop in your travel bag, you're likely to want a travel pouch too.
This way, you can keep all your important documents to hand for when you need to hand over your passport at the airport check-in desk, or your driving license for car hire.
The neck wallet (below) is designed to securely hold all of your valuable documents and/or cash in a way that pickpockets can't get at. If you are traveling somewhere where you think this could be a concern, such as busy market areas, then this could be a great option.
It also comes with RFID blocking technology, which is a preventative measure to keep your electronic data safe.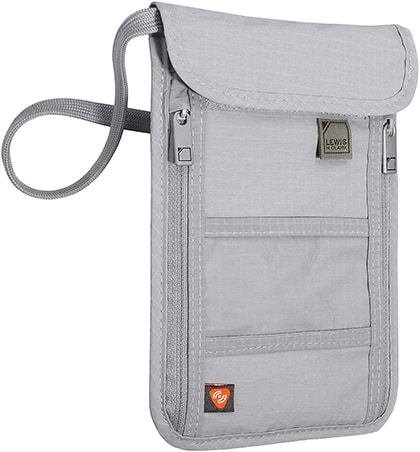 Lewis N. Clark RFID blocking stash neck wallet
Best travel purses: Belt bags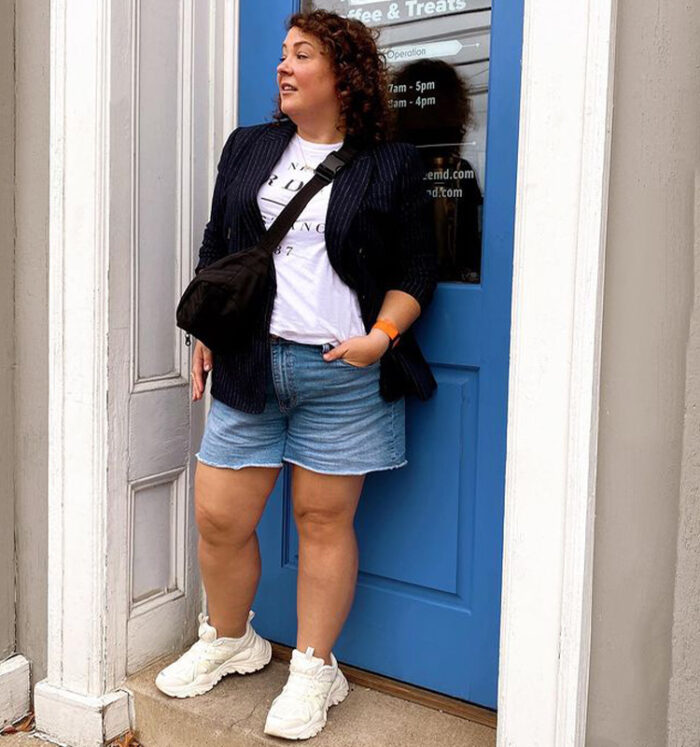 A particularly on-trend bag right now is the bum bag or fanny pack – worn over your shoulder rather than your waist.
Alison @wardrobe_oxygen above (read her style interview here) wears her bum bag over her blazer and shorts.
Recreate her outfit with this similar tee, blazer, shorts, sneakers and belt bag.
Below are two more fanny pack options for you. One designed to wear over your clothes and one designed to wear underneath.
You could opt for the Amazon Basics fanny pack (below), which has security blocking as well as two pockets to keep you organized. Reviewers say it is comfortable, invisible and minimal.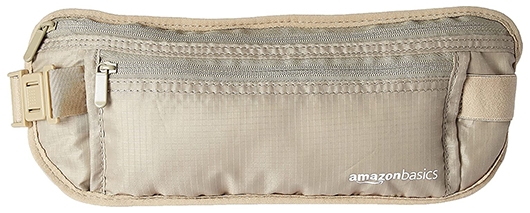 Amazon Basics RFID travel waist belt fanny pack
Should you carry your passport in your travel bag?
Now that you've chosen your favorite travel bag, what should you carry in it? Should you, for example, carry your passport with you?
As a general rule, I would say no. Provided that you have somewhere secure to leave your passport, such as a safe, I would leave it behind at your hotel rather than risk it being lost or stolen.
You can instead take a copy of the passport page with your photo in it and carry this instead.
If you really do need to bring your passport with you, you could consider a different place to carry it – somewhere it wouldn't be stolen if you are unlucky enough to fall victim to a handbag thief.
You could try, for example, a specially designed travel scarf with a hidden pocket.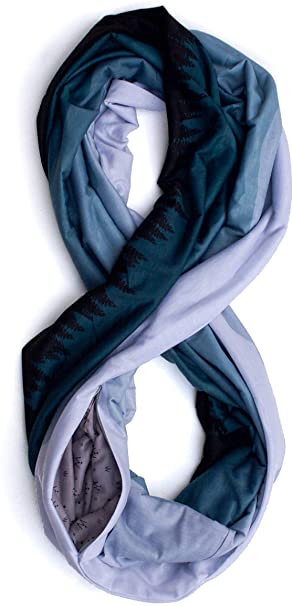 WAYPOINT GOODS travel scarf with zipper pocket
Travel bag styles to avoid
This will depend on where you are going and how safe your destination is, but if you are looking to ensure your belongings are secure, there are a few styles you should steer away from:
Drawstring bags
A drawstring bag is easy for a thief to open. All a thief needs to do is to gently pull down on the draw string to gain access.
Flap bag styles
Another bag easy to get into is the flap style with a magnet closure, as it can be easily lifted up without you noticing.
Clutch bag
You may carry a clutch in the evening and, if you have it in your hand, it could be pretty secure unless you're unlucky to fall victim to thieves who snatch it from you. However, where the real risk lies is if you place it down beside you on a table.
What to pack in your travel bag
Everyone's travel essentials are different, but you'll usually need a bag that is big enough to carry your wallet, phone, sunscreen, lip balm and perhaps a water bottle, foldable hat or thin waterproof, a portable umbrella, your keys and sunglasses. It could also be good to carry some wet wipes and hand sanitizer for hygiene.
Best travel purse brands
Which of these travel bags for women is your favorite? Do you have a special travel purse for vacations? What are your own recommendations for the best travel purses?
Continue reading:
Like this article on the best travel purses for women? Share it on Pinterest!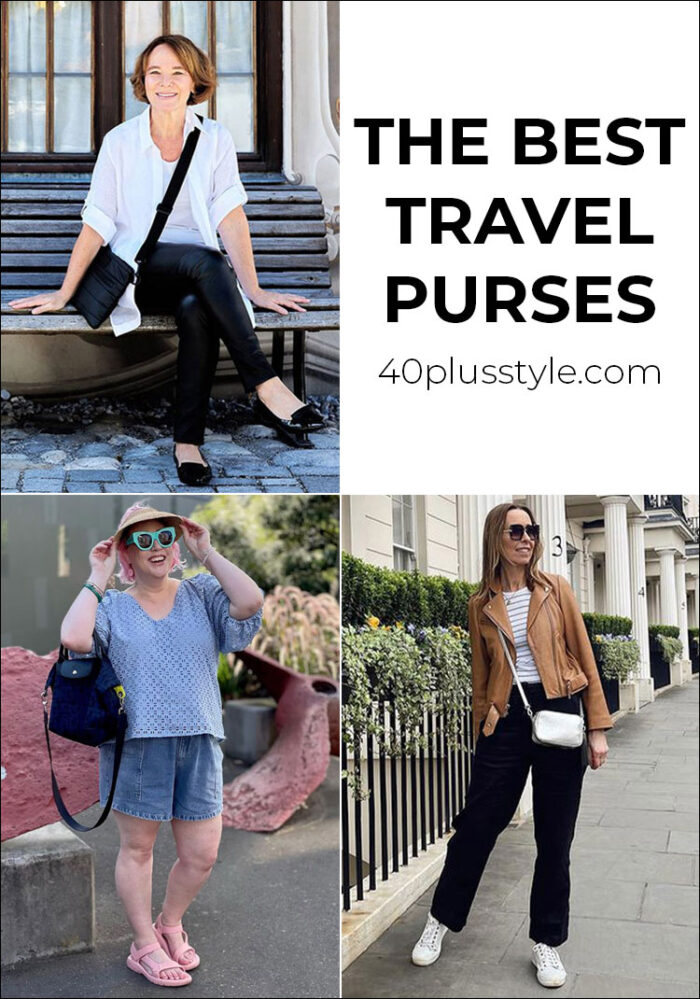 Feature image by Marie-Louise @mrsmlmode
Want to get more articles from 40+style in your inbox, subscribe here.
You can also connect with 40+style on Facebook, Instagram or Pinterest.
Support 40+style by using the links in our articles to shop. As an associate for Amazon and many other brands, we receive a small commission (at no cost to you) on qualifying purchases which enables us to keep creating amazing free content for you. Thanks!