I only recently got introduced to Annette, which is not surprising since her blog "Lady of Style' has only been around for 3 months. Since that time though, she has uploaded many inspiring outfits which stand out because of their sophistication and elegance, yet also have a young and hip vibe. Perfect for many women over 40.
Add to that that she mainly shops in mainstream stores, which highlights that you do not need a big budget to look corporate and chic, yet modern and hip. All good reasons to have a chat with her so we can find out about all her style secrets!

Hi Annette. Thanks for taking the time out to answer a few questions for 40PlusStyle.com. Can you tell us a little bit more about yourself?
My two grown up children mean everything to me! My son Lucas, 20, is studying Business Management at university here in Germany. Sport and fitness are his life. Alena, my 18 year old daughter, will finish school early summer and is currently applying for universities in London to study Fashion Styling or Fashion Journalism. Mr C, the man in my life and I live a long distance relationship between Portugal and Germany. Our relationship is stronger than the distance! I am a Personal Assistant and Travel Manager, working for NATO. Besides my passion for fashion, I love interior design and decoration, my garden, wine and good food, summer and sunshine. I get very excited about European football, love the thrilling atmosphere in the stadium and strongly support my teams FC Bayern München, Liverpool FC and Real Madrid. And of course Mr C made me a fan of Benfica Lisboa!
As a point of reference which age group do you belong to or perhaps you are willing to share your age?
My blog "Lady of Style" is a personal fashion blog for mature women, I'd say 45 and above. I turned 50 last October.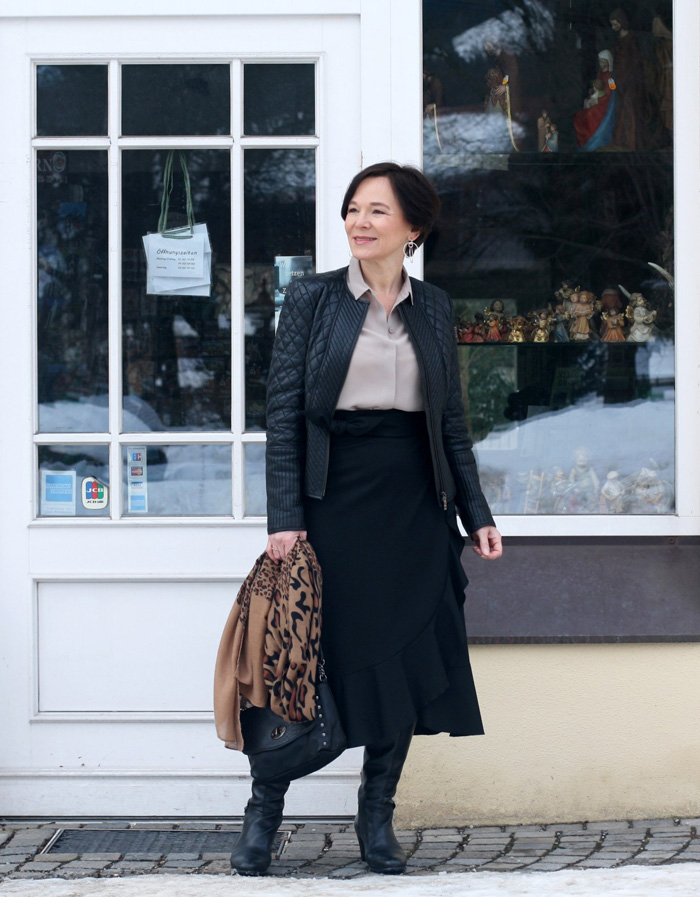 Can you tell us a bit more about your blog Lady of Style?
My 18yr old daughter Alena started her blog FashionFlirt 2 years ago and since we share this passion for fashion, I was pretty much involved in getting her started. To have my own blog targeted at women of my age group was in the back of my mind for quite a while but actually I wasn't brave enough to have photos of me taken and present them online! Alena encouraged me to start my own blog at the beginning of this year and she takes most of my photos. I soon realised that blogging in our age group is more than showing a new pair of shoes or a nice dress! I feel there is a strong community and a great support amongst more mature bloggers.
How would you describe your style?
People around me always comment on my style as "sophisticated" or "elegant". I was never a casual girl, not even when I was younger.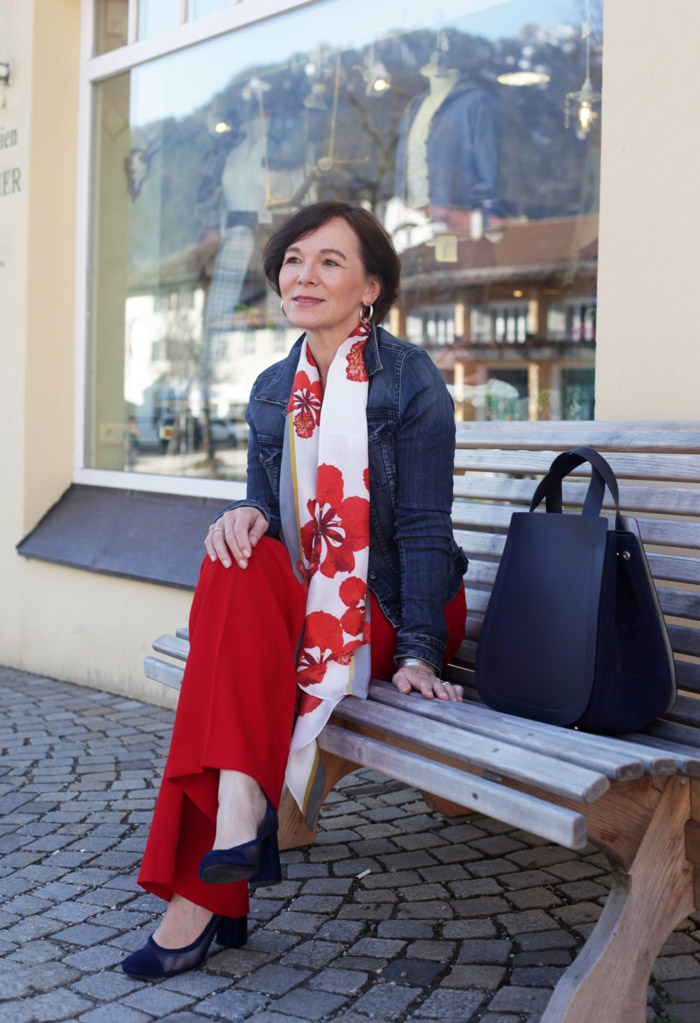 I love how you look very sophisticated and elegant in all your outfits, yet they also have a modern edge to it and often an element of fun. What is your secret?
Over the years you know what works for you, your age and your body. I love watching trends but I will always keep my own style. For example floral printed trousers are a big trend for this season and I couldn't resist 😉 However, I pair them with a blazer, pumps and maybe a silk shirt – that will make them appropriate, even for work.
I also love how many of your looks look expensive and corporate, yet you mainly shop at mainstream brands like H&M and Zara? Is there a secret to doing it the right way?
I am always amazed about the designer brands some bloggers, even a lot younger ones, can afford. I know that some of them might be sponsored but personally I have a limited budget. My favourite brand is MANGO and I am also a bargain hunter and keep an eye on special offers and sales. Besides the right accessories and styling, the perfect fit is key to any outfit! I couldn't do without my seamstress. Since I live in a smaller town I shop a lot online and when in doubt, I rather go for one size bigger and have her fit my clothes perfectly.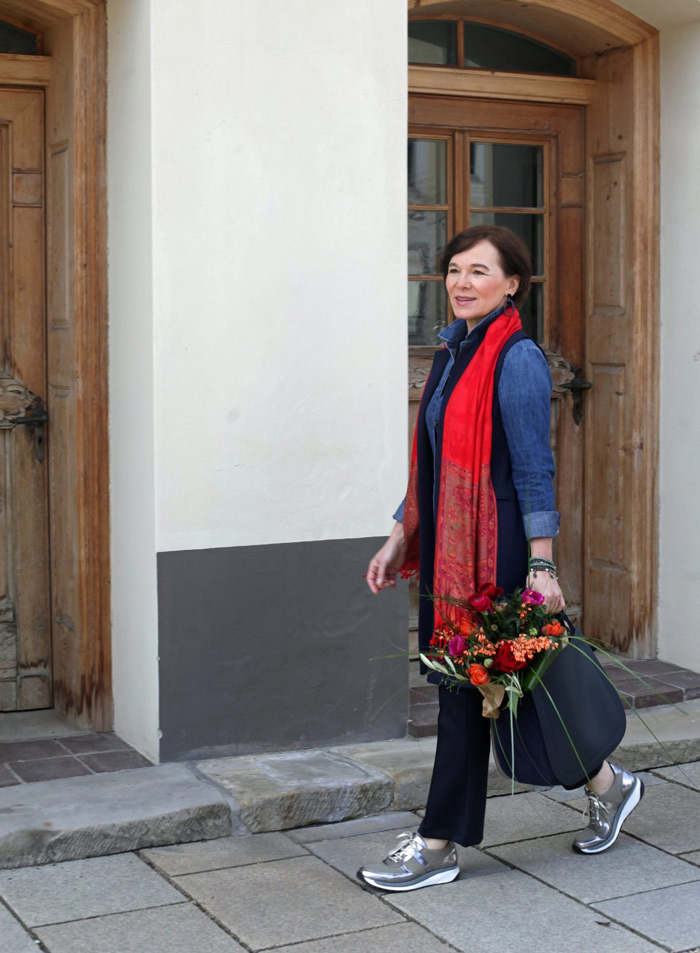 You work in a very corporate environment so a certain standard of dressing is expected of you. Yet your outfits are not conventionally corporate. How do you go about finding the right balance?
That is true, Sylvia. I work for NATO in a multinational and multicultural environment which indeed requires a certain standard. My military colleagues wear uniform but there isn't a fixed dress code for civilians. I am dealing with a lot of high ranking officers and civilian guests on a daily basis which requires a presentable and professional outfit.
What do you think are the elements of a good work outfit?
A professional dress code is very important for me. But that doesn't mean I have to wear black or grey conservative suits and a white blouse. Military organisations are male dominated and about 80% of my colleagues are men. My style remains the same whether I am at work, at home or go out. Also in the office I wear feminine clothes but I pay attention to the right length, fit and cleavage. And I always add accessories like a statement necklace, earrings or a nice belt to jazz up a more modest work outfit.
Since you live in Germany, what would you say distinguishes German fashion and style to that of the rest of the world?
This is a very good question! I have to distinguish between German fashion design and the typical outfit the average German woman wears. I don't think that is necessary in France or Italy.
There are several great German designers, however, I often feel German women think practical first and foremost… we are not always blessed with perfect warm and sunny weather but have to dress weather appropriate. When I go shopping in my town I see a lot of local women dressed in casual trousers, T-Shirts and flat brown leather sandals when I prefer a summer dress and wedges… I miss the feminine and elegant touch of French and Southern European women.
What inspires your outfit choices the most?
I work and live internationally and travel a lot and get a lot of inspirations from my shopping trips to London or to Italy. I love spending time on Pinterest and admire the classy style of Olivia Palermo.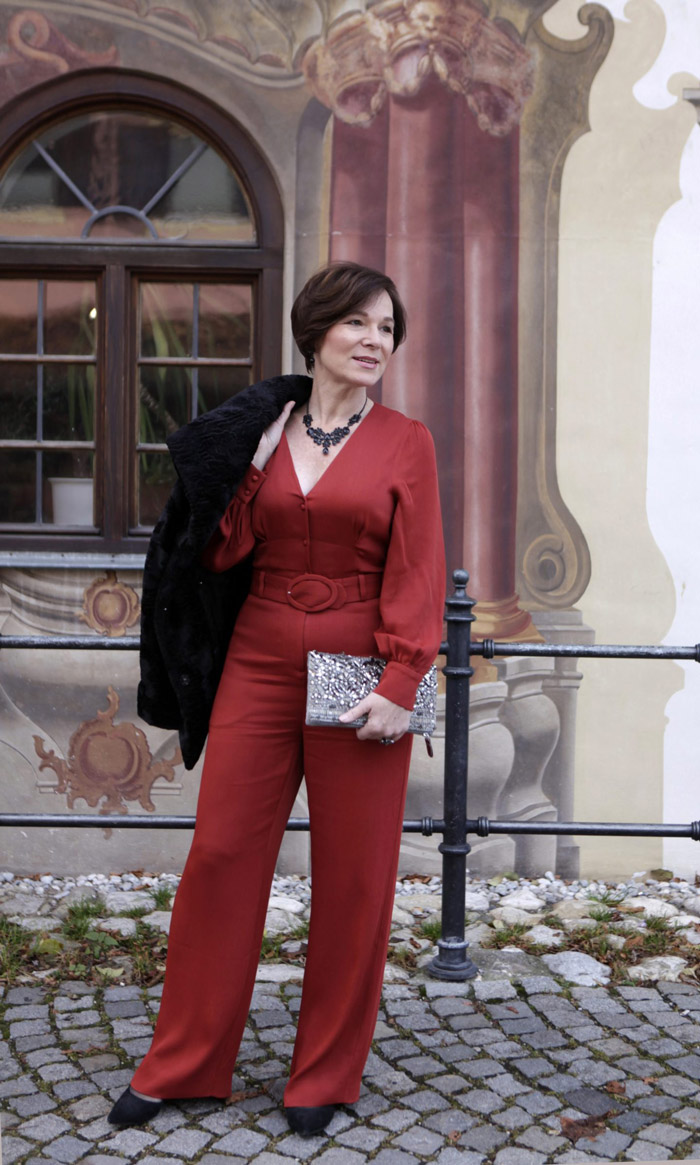 Do you take things like colour profiling or body type into account when you dress?
I have never done a professional colour profiling but think it would be nice. Black is a great colour and I love it but learned it is much better for me in summer when my skin is tanned or in the evening when I am wearing more make-up. I am pursuing my personal "colour challenge" and bought a lot more colourful clothes than ever before. And I really like them! I can't wait to wear my new bright spring and summer dresses and show them to my readers. I have an hourglass figure and emphasizing my waist is certainly a lot better than wearing low raise jeans which accentuate my hips.
Would you say you have a signature style? And if yes, what are the main elements?
Certainly a feminine style – elegant but not stiff. I love dresses, especially shift dresses and wrap dresses. Whenever the weather allows, you will see me wearing dresses. Wrap dresses are perfect for every figure, no matter if you are skinny or more a Rubens type figure.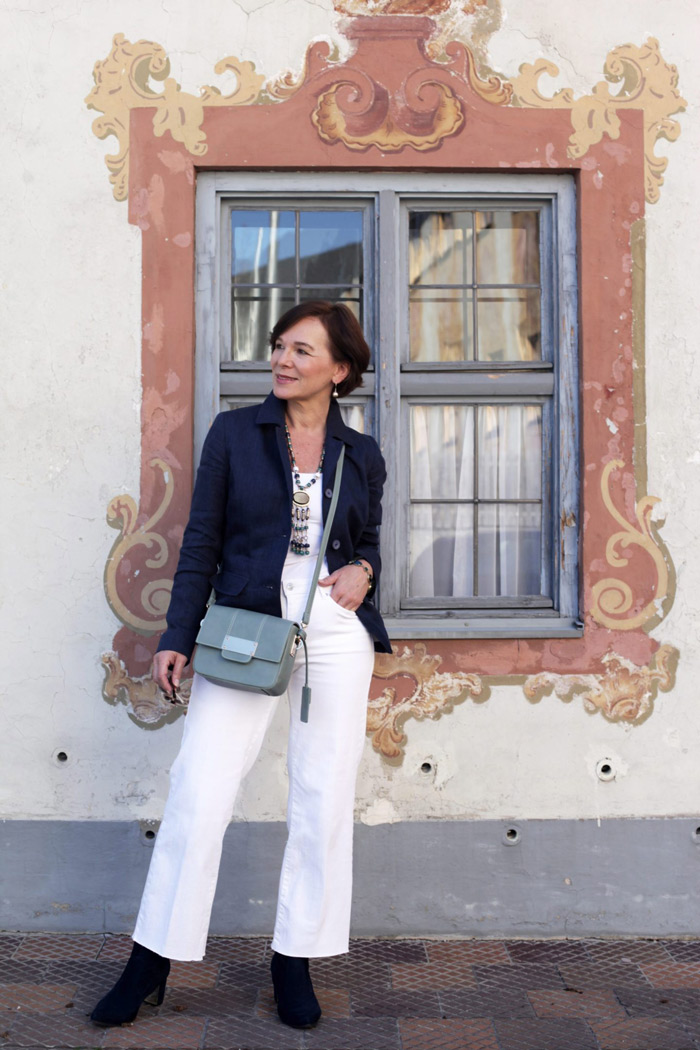 Has your style changed at all after turning 40?
I found my style relatively early and I can see that my daughter is very similar even though she is a lot more fashion conscious than I was at her age. My style hasn't really changed but in fact I am more aware of it now and got more confident on what to wear.
Do you believe in dressing 'age appropriately' and what does it mean to you?
Yes, I incorporated age appropriate dressing when I was in my late 40ies. I was a German 34/36 (US 4/6) and turned more into a 38 (US 8). I know I shouldn't complain but my body has changed and I am more careful with bodycon dresses, my skirt length or skinny and low raise jeans. For me age appropriate dressing is twofold: Not desperately trying to look younger but also not to look old and frumpy!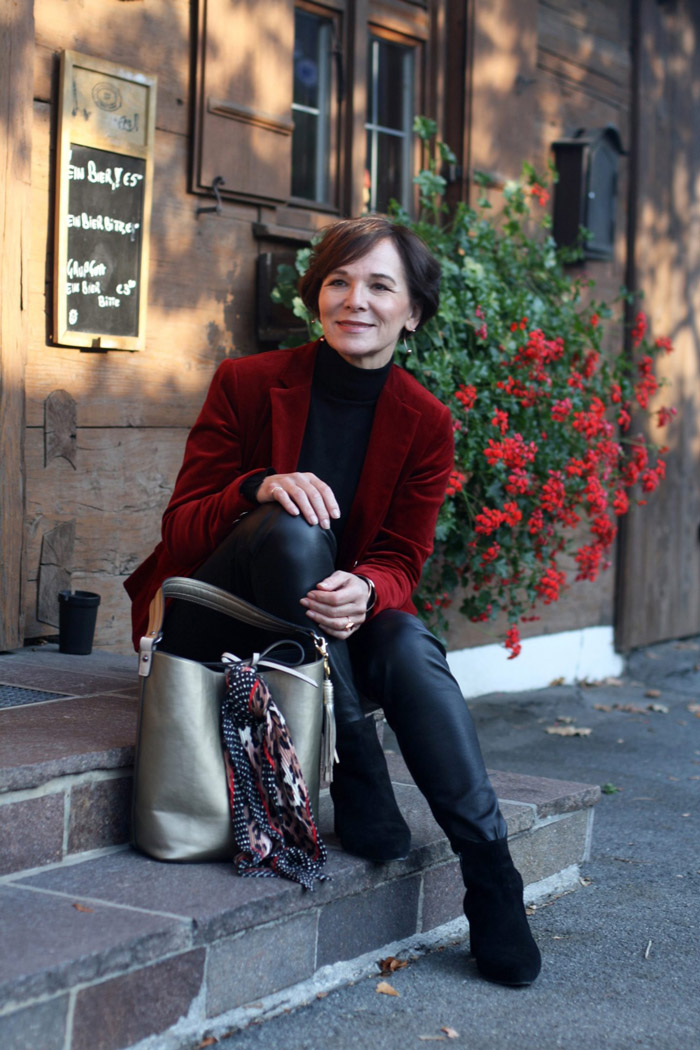 Would you say that at this stage of your life you are now more, or less interested in fashion, style and the way you look?
Well, with age I have to spend more time in front of my wardrobe and my mirror to get a decent result and to feel confident 😉 Style is the keyword!
Why is the way you look important to you?
The motto on my blog is "Style is a reflection of your attitude and your personality."
It is not only about a new pair of heels or a red blouse but more how you feel in it. If you feel uncomfortable in what you wear, then it is exactly the impression you give.
Which outfit from your site is your favorite outfit and why?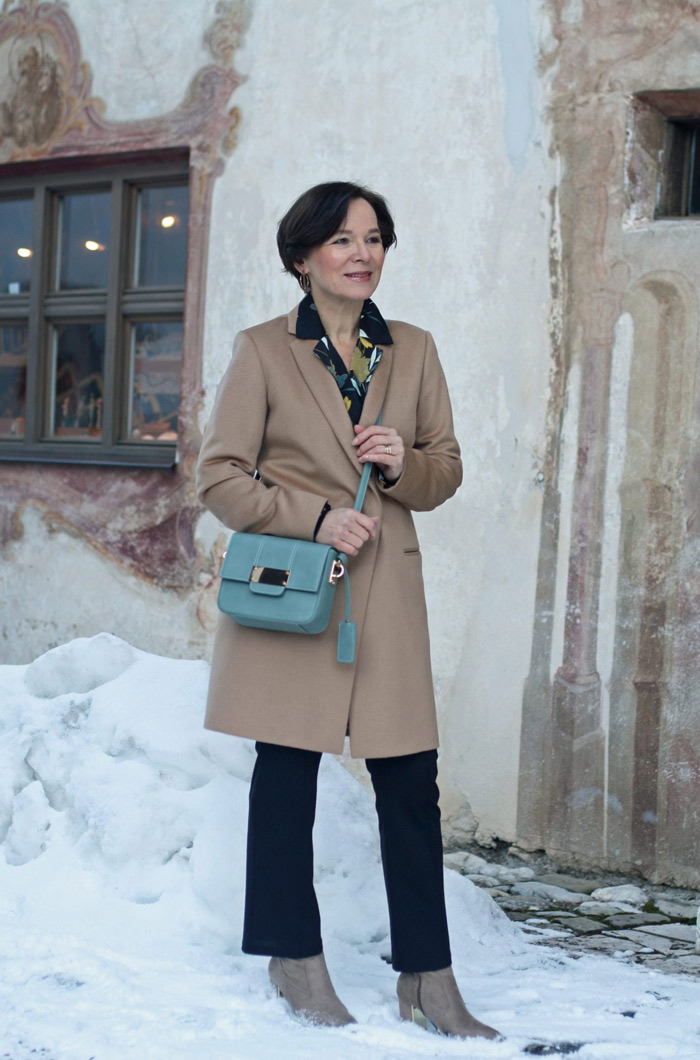 I only started my blog 3 months ago and because of the long winter season I only presented a very small selection of outfits. In my last post "In Love with Leopard… again" I am wearing a shift dress – this is kind of my favourite look. Watch out for my new more colourful spring and summer outfits!
Do you follow trends? And if yes, which trends excite you at the moment?
I follow a lot of international blogs, love reading fashion magazines and watch live stream fashion shows. I am interested in trends and when I like them I add them to my personal style. But I am happy to skip trends if I don't connect and feel they are not appropriate.
There is a clear No to platform heels, distressed jeans or striped trousers. But last weekend I bought one of the new slip-in clutches and I love floral prints. So it depends…
Do you have any fashion and style tips for women over 40?
Wear something that really flatters you. As mentioned before, a wrap dress is a great start as it fits every woman. Try a bit of colour and add a necklace or a scarf, a colourful bag.
And most important: pay attention to your shoes! Stunning heels can enhance a casual, basic jeans outfit but on the other hand boring shows can kill a lovely dress!
Do you plan to continue with blogging and how do you see your blog develop over the coming years?
I only started my blog 3 months ago and there is something new every single day. Here in Germany I only found a few fashion blogs for my age group and on "Lady of Style" I would like to show that women over 40 love fashion and are an important and influential target group.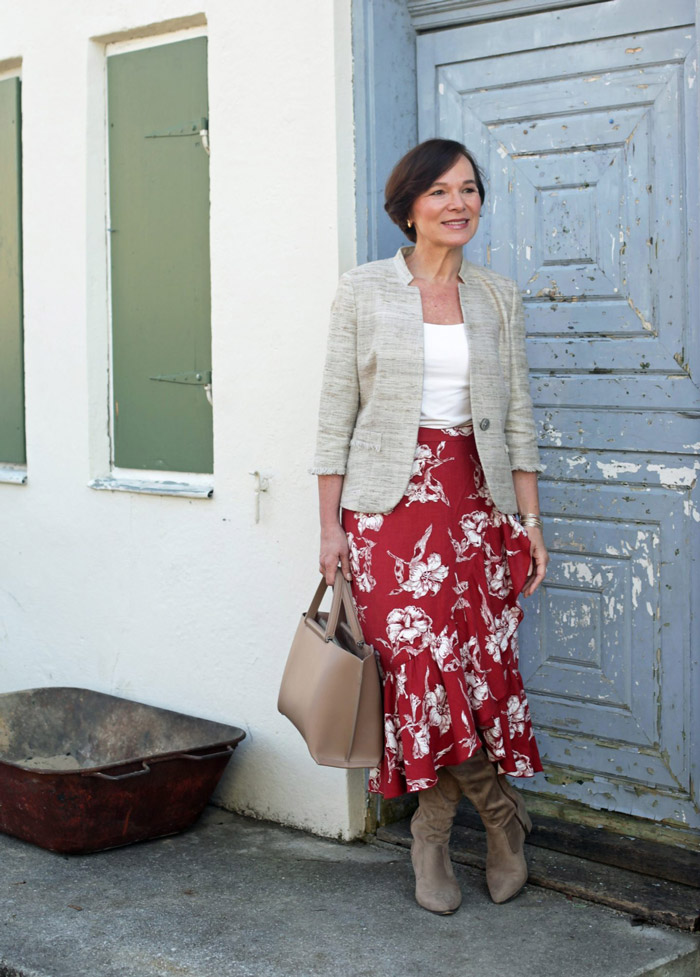 Anything further you would like to add?
Thank you so much, Sylvia, for giving me space on your fabulous blog! It is a great honour for me to talk about my blog and my style.
Note from Sylvia: Thank you Annette for your generous and thoughtful answers! Now rush over to Annette's fabulous blog Lady of Style!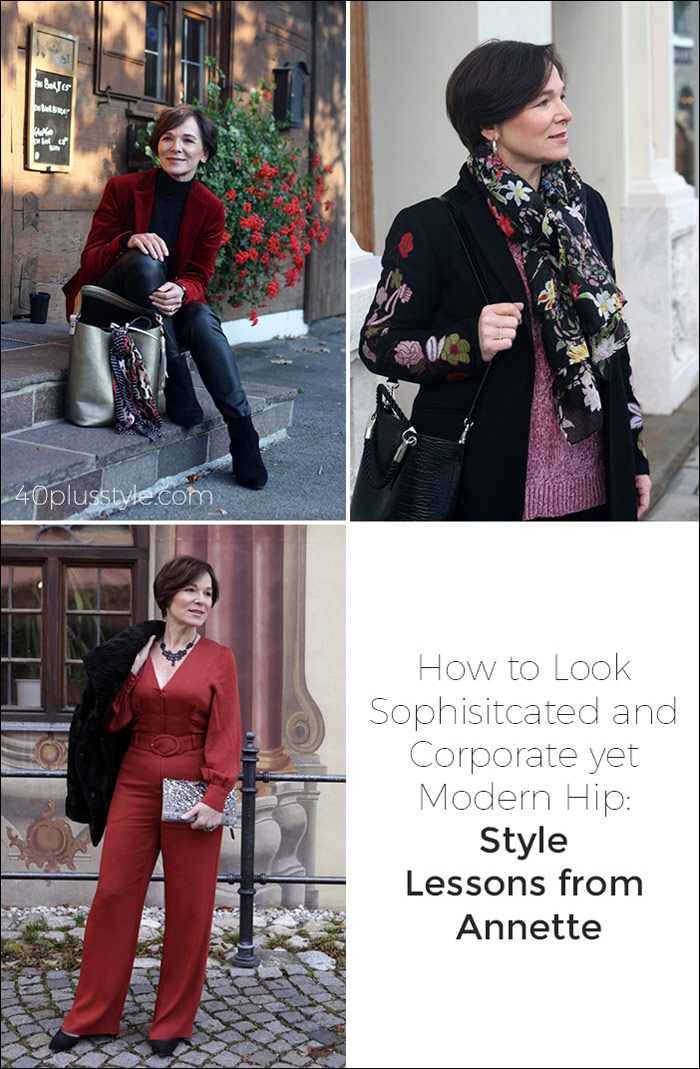 Want to get more articles from 40+style in your inbox, subscribe here.
You can also connect with 40+style on Facebook, Instagram or Pinterest.
Support 40+style by using the links in our articles to shop. As an associate for Amazon and many other brands, we receive a small commission (at no cost to you) on qualifying purchases which enables us to keep creating amazing free content for you. Thanks!