The DVF brand from Diane von Furstenberg has never been on my radar. I always found her styles too colorful and bohemian for my style.
That all changed last August when I was shopping in New York.
I stumbled upon a sale and found this fabulous blue graphical top. I love the asymmetric hem and the silk fabric.
DVF uses a lot of silk in their garments which is a big plus for me. Nothing delights me more than wearing silk.
My style has also gravitated towards more prints. Since I often wear only one layer, I find that a beautiful print makes the outfit more interesting and adds a lot more color to my look and rather pale face.
SILK TOPS I LOVE IN STORES NOW

I also bought this colorful dress in New York, which I have worn a LOT. You can't beat the location below: the Maldives.
This is a silk dress which is perfect for a summer day. The dress has open slits at the bottom which means I can be creative and tie knots with them and use the dress as a top. I got a lot of great feedback on my look with jeans here, with many of you thinking this was actually a top!
MY FAVORITE DVF DRESSES IN STORE NOW

I also bought this short dress which I mainly wear as a tunic top. This is a combination of viscose and silk and it has some fabulous asymmetrical elements that I like.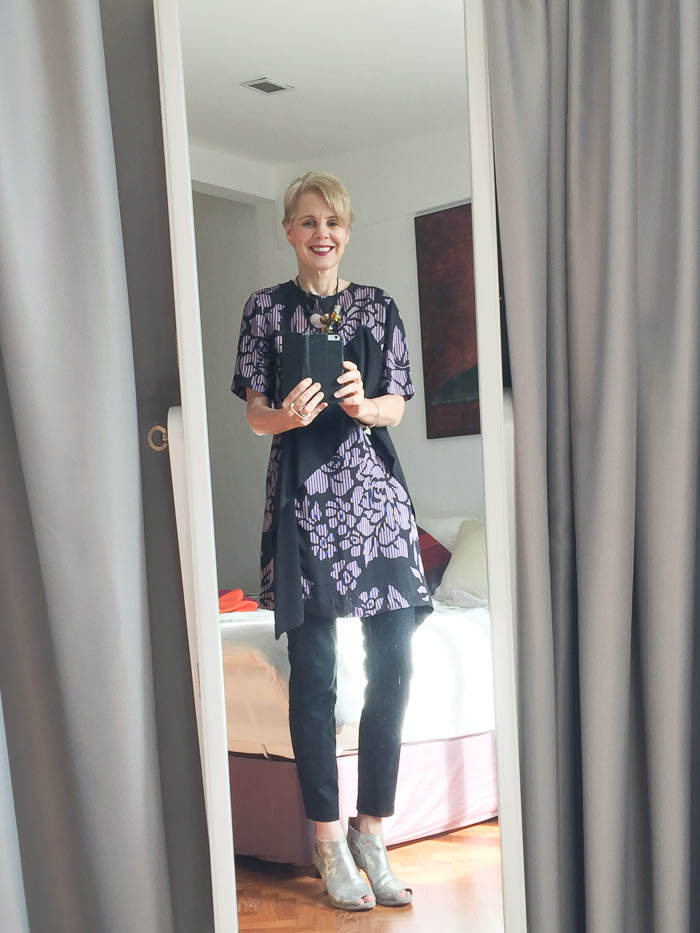 JUMPSUITS I LOVE

My most recent purchase is this silk top that I can wear two ways. It's intended to wear with the the black at the front, but it also looks really good with the blue worn at the front.
I love versatility in garments I buy as it means I tire of them less quickly and it's fun to be creative with my clothes.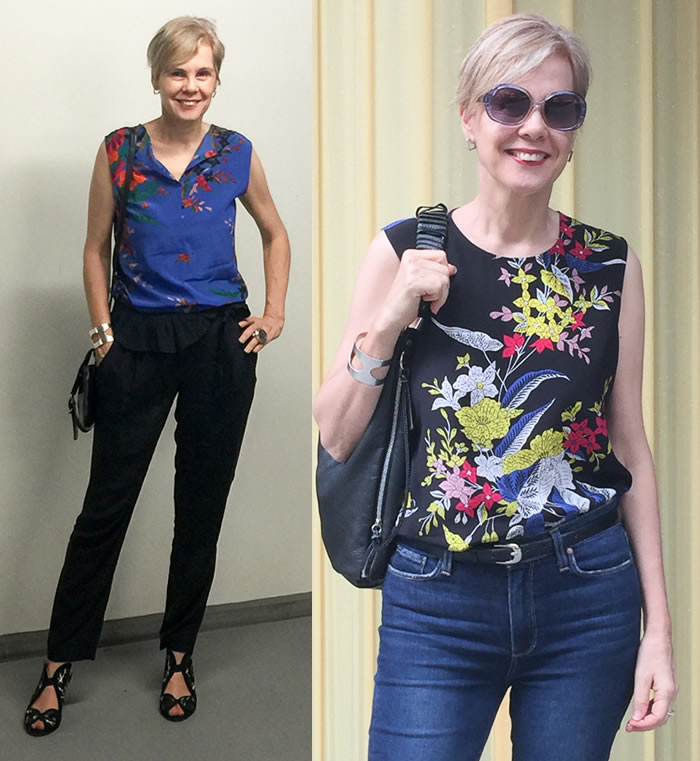 As you can see my kick-flare jeans are a favorite at the moment. You can wear your silk tops casually with jeans or make them more dressy (top left) wearing them over silk pants.
I recently also bought a shirt dress from DVF which I have worn as a tunic top a few times already but I will save photos from that for another day.
WHAT I LOVE FROM DVF – CURRENTLY ON SALE

Is there a brand that you have recently discovered or recently started really liking? 

Photography by myself and Denton Taylor
Want to get more articles from 40+style in your inbox, subscribe here.
You can also connect with 40+style on Facebook, Instagram or Pinterest.
Support 40+style by using the links in our articles to shop. As an associate for Amazon and many other brands, we receive a small commission (at no cost to you) on qualifying purchases which enables us to keep creating amazing free content for you. Thanks!