From faux fur to florals, bucket bags to backpacks, bright colors to muted neutrals, you'll find them all among the handbag trends 2022 for fall. Just changing your handbag can make a huge difference to the look of your existing outfits, so you might want to discover if you have a favorite style among the handbags below.
handbag trends 2022
Let's take a look at all the handbag trends spotted on the catwalks for fall, whether you prefer a designer option or you want a more purse-friendly alternative.
Fold over
Bottega Veneta – Jil Sander – Coach
First, the fold over, or envelope style, worn as a shoulder, or hand-held, bag. For a particularly on-trend look, choose a style where the front flat comes down almost to the base of your bag. Look at this Fall's reds or burgunday shades, or opt for a neutral that will go with all of your outfits.

patent
Valentino – Dolce & Gabbana – Dolce & Gabbana
If you're easily distracted by shiny objects, then this trend is for you. Choose any style of bag in any color to get this season's look – just make sure it's patent.

Faux fur and shearling
While faux fur is often the preserve of coats, you can add texture, and therefore interest, to your look by choosing a faux fur bag. If you find a furry bag isn't practical for day-to-day, you could always look out for an evening clutch bag.

florals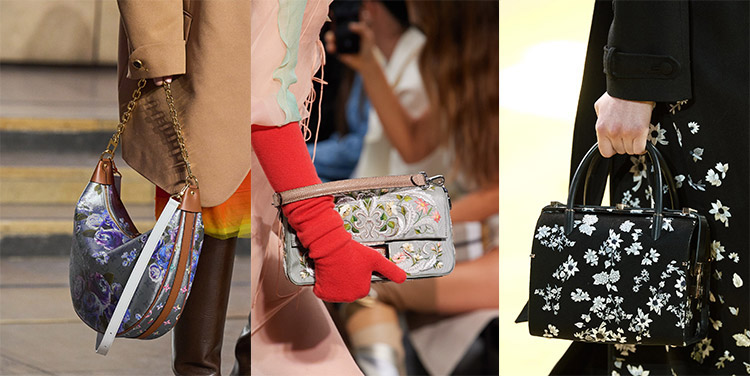 Louis Vuitton – Fendi – Gabriela Hearst
Often used for clothes and accessories during spring and summer, florals can add a little element of nature to your outfits, even when it's cold outside. Choose delicate floral patterns. You can even match your bag to your coat, as seen at Gabriela Hearst, above right.

Saddle bags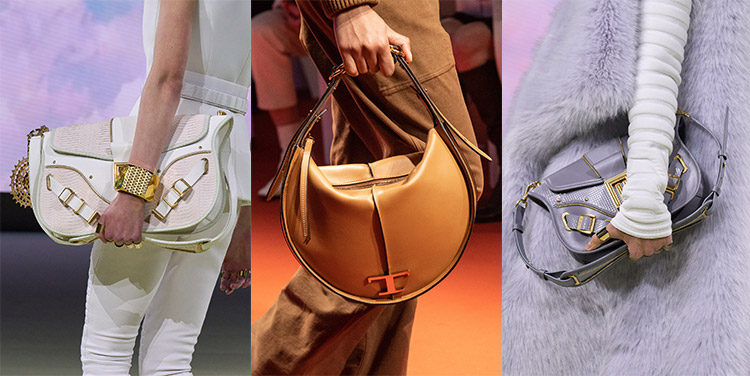 Balmain – Tod's – Balmain
Saddle bags as handbags really became a trend with Dior on the Millennium catwalks. Now, designers, and the high street have been inspired by this classic look.

crocodile
Ralph Lauren – Balmain – Proenza Schouler
You definitely don't need to opt for the real thing to get this trend. Just look out for textures that look like crocodile or snake skin to add interest to your outfits.

matchy
Stella McCartney – Christian Dior – Lanvin
At one point, being overly matchy-matchy wa seen as a little old-fashioned. But, not anyy more. But don't think about matching your shoes to your handbag. Instead, match your handbag to your dress or pants.

hobo
Louis Vuitton – Givenchy – Givenchy
The hobo bag is another style that definitely won't date. Because it is slouchy in nature, this style is ideally suited to your casual, weekend looks.

classic tote
Louis Vuitton – Salvatore Ferragamo – Michael Kors Collection
If you're a fan of classic style, or maybe you need to fit your laptop in your bag for work, then the tote style is for you. You can be sure that a tote is a sound investment, as you can use it for years to come without ever worrying about not being in-style.

ruched
Givenchy – Jil Sander – Givenchy
To give your handbag a slightly casual, yet definitely still chic style, you could choose a ruched option that gathers at the top. This style is particularly on trend for clutch bags. Perfect to carry with you for dinner.

braids
Chloé – Bottega Veneta – Bottega Veneta
Woven and braided bags were another key trend on the designer runways. These are ideal to add texture to your outfit. you can see that even if you choose an all neutral outfit, like the Chloe look, above left, the braiding makes it more interesting.

tiny bags
Balmain – Chanel – Stella McCartney
Not very practical, but could add an extra element to your look. They will only fit a credit card and your keys in, if that, so you really have to think about these bags as an accessory like jewelry rather than being overly functional.

buckets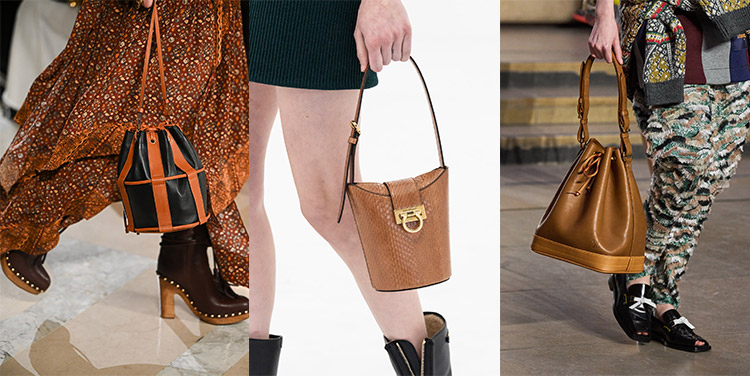 Ulla Johnson – Salvatore Ferragamo – Chanel
Moving onto another classic for you, the bucket bag works particularly well with more casual outfits, and with a boho style.

backpacks
Chanel – Ulla Johnson – Altuzarra
Do you ever carry a backpack? Maybe for your commute or for travelling? Well, not only are they practical, but they are also very much on trend at the moment, as showcased by the likes of Chanel and Ulla Johnson.

Wrist bags
Stella McCartney – Fendi – Jil Sander
In some cases, the bags above were designed to be worn on the wrist. But, if you look at the Stella McCartney and Fendi options, you can see that you could hold by the handle or loop your wrist through. In some cases, new trends don't need a new bag at all, just a new way to carry it.

Chain straps
Versace – Stella McCartney – Loewe
Okay, so chain straps are a style staple. But, if you want to be particularly on trend this season, look out for chains that are chunky, and in a matching color to your handbag.

multibags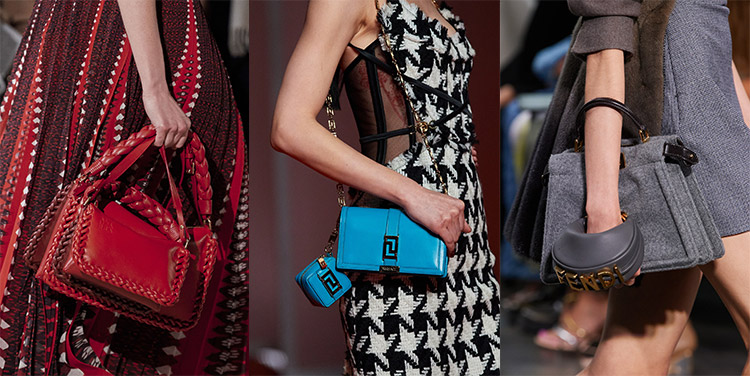 Altuzarra – Versace – Fendi
You can add a new trend to your outfits by carrying multiple handbags. This could be a good way to keep your keys to hand, in the smaller handbag.

Party bags
Do you have events coming up for Fall and Winter? Just adding a new, statement bag could update your little black dress.

hand held
Louis Vuitton – Givenchy – Lanvin
With a nod to 1950s glamour, the handheld bag is the ideal alternative to carrying a clutch. You could look out for a decorative handle like the one shown at Lanvin (above, right).

quilted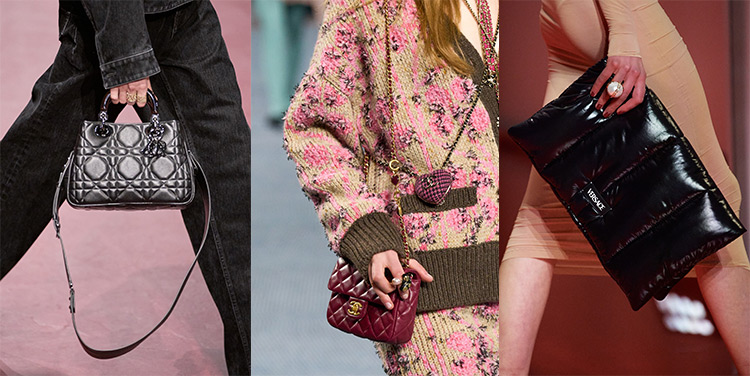 Christian Dior – Chanel – Versace
You've seen texture added with faux faur or reptile textures. Another way is to look out for a quilted bag. Chanel chose a very classic, instantly-recognizable choice while Versace was more fashion-forward.

Geometric shapes
Prada – Fendi – Gabriela Hearst
Your bag doesn't have to be a traditional shape. If you have a party to atted, look out for a bag with asymmetry or in an unusual shape. It's bound to be a conversation starter.

clutch
Louis Vuitton – Versace – Michael Kors Collection
A classic clutch is always a good choice for a special event or a dinner date. You could choose to add a pop of color to your outfits, or go for a neutral that will go with everything in your closet.

studs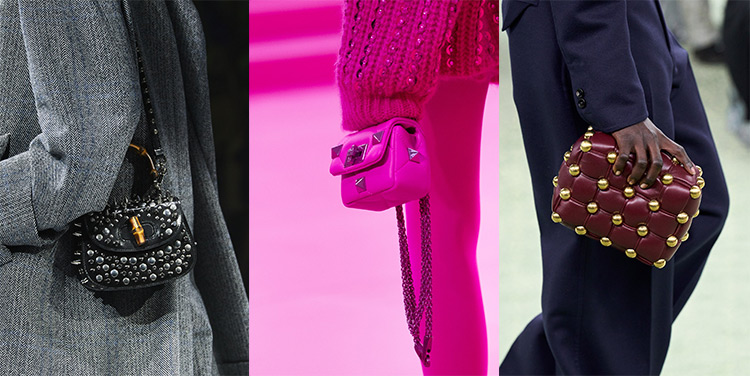 Gucci – Valentino – Bottega Veneta
To add a little bit of an edge, or some rock chick style to your outfits, you could choose a studded bag.

brights
Proenza Schouler – Loewe – Valentino
There were plenty of bright shades on the designer catwalks for fall. You could match your bright bag to your dress or coat. Or, choose to add a pop of color against a neutral shade.

Stripes
Ralph Lauren – Fendi – Chloé
Stripes are definitely a pattern that won't date. Choose a subtle option like that of Ralph Lauren (above, left). Or you could choose a bolder bag like those on the catwalks of Fendi and Chloe.

Do you have a favorite handbag style among these handbag trends 2022?
Continue reading:
Like this article on handbag trends 2022? Share it on Pinterest
Images from Vogue
Want to get more articles from 40+style in your inbox, subscribe here.
You can also connect with 40+style on Facebook, Instagram or Pinterest.
Support 40+style by using the links in our articles to shop. As an associate for Amazon and many other brands, we receive a small commission (at no cost to you) on qualifying purchases which enables us to keep creating amazing free content for you. Thanks!