Grown-up, minimalist and modern, the COS store has pioneered a pared back aesthetic since its launch in 2007. Plus, COS shop online delivers across the world, making it easy to achieve a minimal, chic style no matter where you are.
Short for collection of style, the COS ethos of creating fashion designed to last well beyond one season, inspired by architecture, graphics and design, mirrors my own style and way of dressing, and many of my own favorite closet essentials are from the COS brand.
While it may be H&M's sister store, having been launched more than half a century after its older sibling, when it comes to its designs, COS is the one with the more grown-up look. Below, you will find some of my favorite pieces of clothing and accessories from the latest season COS collection:
Reasons COS is one of my favorite brands
But first, why do I love COS so much? Below are just some of the reasons why my own closet features the COS label:
focus on minimal and architectural designs
I like clothes that are just a little bit different. COS designs are just a little bit more arty and different with a strong focus on minimal and architectural designs.
COS designs last you season upon season
COS is built on the ethos of creating timeless designs that will last for many years. You'll even find clothing care advice on its website as COS wants you to be wearing its clothing for season after season.
Take a look at my own thoughts on how to do more with less.
You have to wear it to see the attraction
A- Line Short Sleeve Shirt – Skirt (similar) – Rollie Shoes (similar here) – Earrings (similar) – Sunglasses (similar) –
COS is one of those brands where you will sometimes find the clothes don't look incredible on the hanger. They need to be worn so you can see the architectural shapes and how they are meant to hang on the female form. Making that discovery is part of the charm.
It's a great brand for trusted staples like a white blouse. Be sure to check out the options.
Boxy Fit Short Sleeve Shirt – A-Line Short Sleeve Shirt – Slim Fit Cotton Shirt
COS looks more expensive than it is
There are few high street stores which wouldn't look out of place on the runways at the world's high-profile fashion weeks, but COS is definitely one of them. Because of the materials it chooses and the way it cuts its clothes, it looks a lot pricier than it really is.
If that appeals to you, there are more ideas in this article on brands which look more expensive than they really are.
It ploughs its own furrow
Don't you admire those women who know exactly who they are and they aren't afraid to express it? If COS were a person, that is exactly the kind of woman the store would be.
The colors and prints are modern
Oversized Printed Silk Blend Maxi Dress (another option here) – Fly London Bani Sandal – Gold Hoop Earrings (similar) – Sunglasses (similar) – Statement ring (similar)
I recorded a video with this dress on Instagram. You may like to check it out.
There are certain colors and prints which can look a little frumpy. Not so at COS, where you will find a mixture of neutrals, bold shades and graphical prints. See my skirt (above) which is past season COS.
There's plenty of asymmetry
You all know by now how much I love asymmetry in my outfits, and COS has plenty of asymmetrical dresses and tops to choose from. Below are a few of my favorite asymmetric items.
Asymmetric Pleated Top – Oversized Asymmetric Waist Dress – Gathered Midi Dress – Oversized Kaftan Dress
COS will appeal to various style personalities
While it is definitely a store which won't appeal to everyone, if you have a minimalist, architectural or Eurochic style personality, there are plenty of COS items which will perfectly suit your way of dressing.
A capsule closet from COS
You could easily put together a capsule closet from COS for the summer season and beyond. Take a look below at some of the most stylish clothing and accessories you can put together to create countless outfits.
COS tops
Relaxed Fit Printed Shirt – Skirt (similar) – Fly London Bani Sandal – Sunglasses (similar)
You'll find that, with the exception of leggings and some skinny pants, COS is not about tight-fitting clothing. So, you won't find any bandage-style dresses here. What you fill find are flowing, loose-fitting tops which are cleverly structured.
This season, there are neutrals, brights, plenty of stripes and graphic prints.
A-Line Short Sleeve Shirt – Relaxed Fit Printed Shirt – Slim Fit Heavyweight Long Sleeve Shirt – Regular Fit Printed Mohair Jumper – Knitted Half Zip Sweater
COS coats and jackets
Even in the summer, and certainly going into fall, you will need a cover-up. Look out for short cardigans, a good blazer or a sleeveless waistcoat.
Deconstructed Wool Blazer – Relaxed Fit Cropped Cardigan – Regular Fit V-Neck Cardigan – Cropped Single Breasted Waistcoat
COS skirts and pants
If you are looking for timeless classics when it comes to your pants and skirts, COS is a good place to try.
You will find a lot of great basics here that you wear for years to come.
What's good about COS is you can also play around with the architectural styling and shapes of their clothes to flatter your figure. For example, if you want to add a bit of volume on your lower half to balance out broad shoulders if you are an inverted triangle body type, then you can choose pockets or draping to do so. Or choose one of the wed leg pants that are popular now.
Straight Leg Crossover Waist Pants – Wide Leg Pleated Trousers – Straight Leg Denim Trousers – Pleated Maxi Skirt
COS dresses and jumpsuits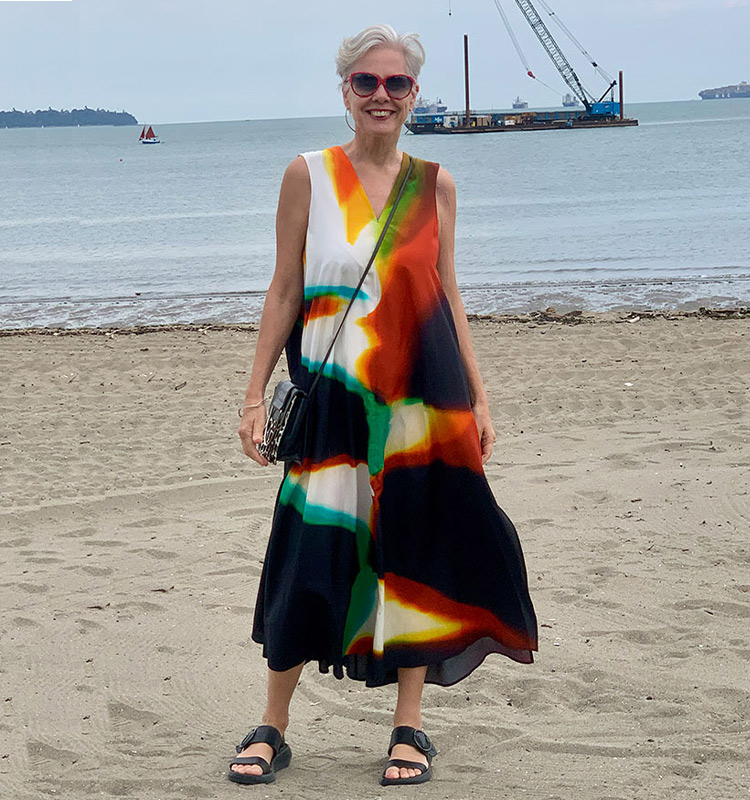 Oversized Printed Silk Blend Maxi Dress (another option here) – Fly London Bani Sandal – Gold Hoop Earrings (similar) – Crossbody bag (similar here and here) – Sunglasses (similar)
Just like COS's tops, you won't find anything which is too form fitting. But there is usually enough structure in the clothes for a flattering look.
Plus, you could always add a belt to a plainer shift style dress to change up your style. This season look out for green which is one of the top colors.
Oversized Poplin Kaftan Dress – Oversized Printed Silk Blend Maxi Dress (another option here) – Off The Shoulder Floral Print Dress – Pleated Wide Leg Jumpsuit
COS shoes
Just as with COS's clothes, you won't find too many embellishments when it comes to the brand's clothes. You'll find neutrals, mostly low heels and styles that look modern, yet on trend.
Slingback Sandals – Wrap Around Suede Heeled Sandals – Knitted Slides – Square Toe Leather Loafers
COS bags and accessories
Like the rest of the COS range, the accessories collection should stand you in good stead for many seasons. Opt for slouchy bags in neutral shades, statement necklaces in bold designs, and over-sized sunhats.
Oversized Bowling Bag – Small Pleated Tote Bag – Ribbed Wool And Cashmere Blend Scarf – Printed Silk Neck Scarf – Oversized Link Satin Ribbon Necklace – Twisted Glass Hoop Earrings – Angular Sterling Silver Hoop Earrings – Layered Hoop Earrings – Set Of Two Coated Rings – Circular Sunglasses
A capsule wardrobe from COS
Now that you've seen what COS has to offer this season, I've put some of the pieces above together in one capsule. There are 9 outfits here, but you could easily mix them up to create many more.
shop the items above here:


Continue reading:
Like this post on the COS store? Share it on Pinterest!
Want to get more articles from 40+style in your inbox, subscribe here.
You can also connect with 40+style on Facebook, Instagram or Pinterest.
Support 40+style by using the links in our articles to shop. As an associate for Amazon and many other brands, we receive a small commission (at no cost to you) on qualifying purchases which enables us to keep creating amazing free content for you. Thanks!