Grown-up, minimalist and modern, the COS store has pioneered a pared back aesthetic since its launch in 2007. Plus, COS shop online delivers across the world, making it easy to achieve a minimal, chic style no matter where you are.
Short for collection of style, the COS ethos of creating fashion designed to last well beyond one season, inspired by architecture, graphics and design, mirrors my own style and way of dressing, and many of my own favorite closet essentials are from the COS brand.
While it may be H&M's sister store, having been launched more than half a century after its older sibling, when it comes to its designs, COS is the one with the more grown-up look. Below, you will find some of my favorite pieces of clothing and accessories from the latest season COS collection:
Reasons COS is one of my favorite brands
But first, why do I love COS so much? Below are just some of the reasons why my own closet features the COS label:
It was ahead of the curve
While a minimalist way of dressing is definitely having something of a moment right now, COS was ahead of the curve in its designs. I like a forward-thinking designer.
COS designs last you season upon season
While you can pick up clothing for cheaper prices from fast fashion stores, COS is built on the ethos of creating timeless designs that will last for many years. You'll even find clothing care advice on its website as COS wants you to be wearing its clothing for season after season.
Take a look at my own thoughts on how to do more with less.
You have to wear it to see the attraction
COS is one of those brands where you will sometimes find the clothes don't look incredible on the hanger. They need to be worn so you can see the architectural shapes and how they are meant to hang on the female form. Making that discovery is part of the charm.
COS looks more expensive than it is
There are few high street stores which wouldn't look out of place on the runways at the world's high-profile fashion weeks, but COS is definitely one of them. Because of the materials it chooses and the way it cuts its clothes, it looks a lot pricier than it really is.
If that appeals to you, there are more ideas in this article on brands which look more expensive than they really are.
The colors and prints are modern
There are certain colors and prints which can look a little frumpy. Not so at COS, where you will find a mixture of neutrals, bold shades and graphical prints. See my skirt (above) which is past season COS.
It ploughs its own furrow
Don't you admire those women who know exactly who they are and they aren't afraid to express it? If COS were a person, that is exactly the kind of woman the store would be.
There's plenty of asymmetry
You all know by now how much I love asymmetry in my outfits, and COS has plenty of asymmetrical dresses and tops to choose from. Below are a few of my favorite asymmetric items.

This article has more of my favorite asymmetrical outfits.
COS will appeal to various style personalities
While it is definitely a store which won't appeal to everyone, if you have a minimalist, architectural or Eurochic style personality, there are plenty of COS items which will perfectly suit your way of dressing.
New COS activewear collection
Now that we've looked at why you might want to consider COS if this is a brand you haven't already added to your closet, let's look at some of the items you will find at COS fight now.
Perhaps unsurprisingly, given that many of us are at home more often, as well as looking to partake in healthy outdoors exercise away from crowds of people, COS has just announced its new activewear range.
Made from sustainable materials including recycled fabrics and organic cotton, COS's new 15-piece collection includes everything from leggings to outerwear. The leggings below have an optical illusion effect because of the darker shade down the legs, helping to "slim" the thighs.
A capsule closet from COS
You could easily put together a capsule closet from COS for the summer season and beyond. Take a look below at some of the most stylish clothing and accessories you can put together to create countless outfits.
COS tops
You'll find that, with the exception of leggings and some skinny pants, COS is not about tight-fitting clothing. So, you won't find any bandage-style dresses here. What you fill find are flowing, loose-fitting tops which are cleverly structured.
This season, there are neutrals, brights, muted pastels and graphic prints.
Printed top with rounded neck – Long top with button-up back – Oversized poplin shirt – Asymmetric gathered cotton top
COS coats and jackets
Even in the summer, and certainly going into fall, you will need a cover-up. Look out for timeless denim jackets, as well as sleeveless numbers, and sheer knits.
Cropped velvet denim jacket – Organic cotton cropped jacket – Sleeveless linen-mix blazer – Sheer cardigan
COS skirts and pants
If you are looking for timeless classics when it comes to your pants and skirts, COS is a good place to try.
You can see below that the pants and skirts wouldn't have looked out of place for the past few seasons and years, and they will still be "on-trend" for seasons to come.
What's good about COS is you can also play around with the architectural styling and shapes of their clothes to flatter your figure. For example, if you want to add a bit of volume on your lower half to balance out broad shoulders if you are an inverted triangle body type, then you can choose pockets or draping to do so.
Skinny legging trousers – High-waisted organic cotton straight jeans – Draped panel skirt – Cotton skirt with patch pockets
COS dresses
Just like COS's tops, you won't find anything which is too form fitting, but you will find flattering drape details. Plus, you could always add a belt to a plainer shift style dress to change up your style. As well as knee-length and midi styles, take a look at shorter dresses that you can wear with leggings.
Cotton jersey wrap dress – Voluminous cotton shirtdress – Cotton-silk kaftan dress – Sleeveless cotton wrap dress
COS shoes
Just as with COS's clothes, you won't find too many embellishments when it comes to the brand's clothes. You'll find neutrals, low heels and styles that look modern, yet on trend. Look out for interesting heel shapes.

Square toe leather ballerina shoes – Slingback leather shoes – Elastic sling sandals – Rubber-detailed leather sneakers
COS bags and accessories
Like the rest of the COS range, the accessories collection should stand you in good stead for many seasons. Opt for slouchy bags in neutral shades, statement necklaces in bold designs, and over-sized sunhats.
Leather bag with large strap – Small gathered leather bag – Soft-leather crossbody bag – Broderie-anglais patterned hat – Wave texture linen mix scarf – Shaped buckle leather belt – Long paper yarn-ring necklace – Leather knotted earrings – DENIMITE hoop earrings – Stone ball sterling silver ring
COS swimwear
I couldn't resist including some of COS's swimwear as I love the timeless styles and graphic prints this season. If you're looking for a new swimsuit, you may also wish to take a look at the best bathing suits for women over 40.
V-neck swimsuit – Pique swimsuit – Printed padded swimsuit – Asymmetric swimsuit
A summer capsule wardrobe from COS
Now that you've seen what COS has to offer this season, I've put some of the pieces above together in one capsule. There are 9 outfits here, but you could easily mix them up to create many more.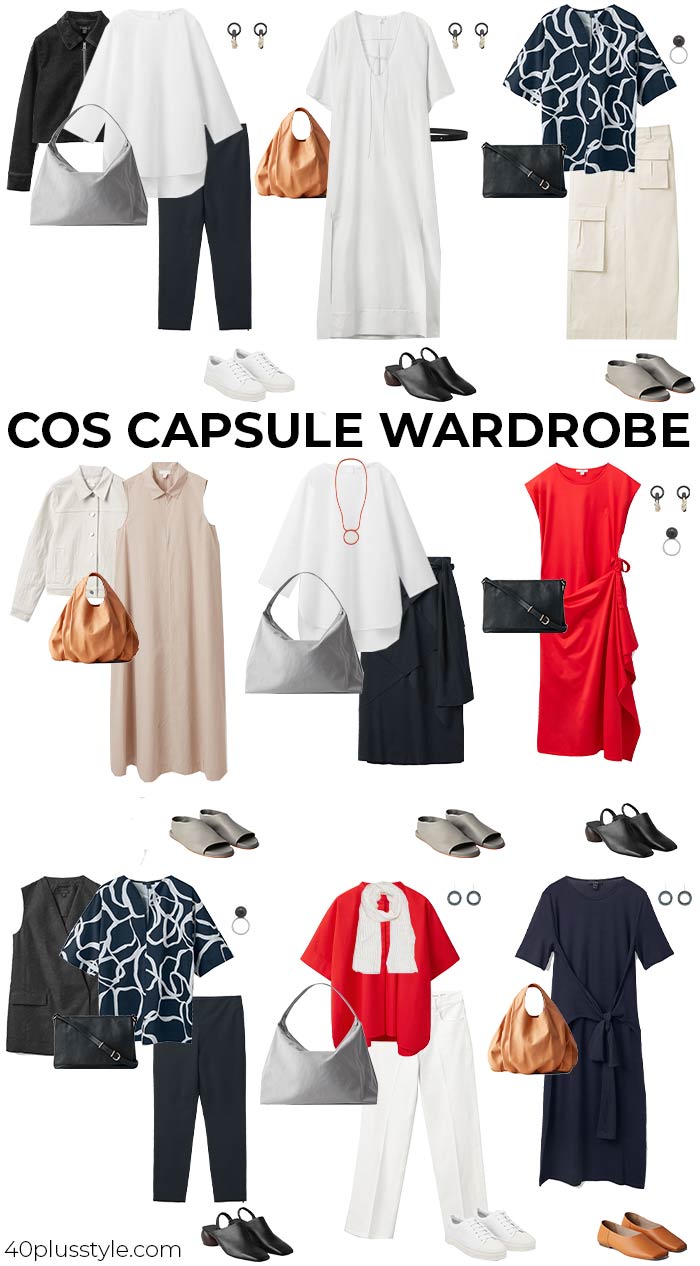 Like this post on the COS store? Share it on Pinterest!
Feature image from COS
Want to get more articles from 40+style in your inbox, subscribe here.
You can also connect with 40+style on Facebook, Instagram or Pinterest.
Support 40+style by using the links in our articles to shop. As an associate for Amazon and many other brands, we receive a small commission (at no cost to you) on qualifying purchases which enables us to keep creating amazing free content for you. Thanks!