Going grey is a popular choice these days whether you have never colored your hair or after many years of coloring, you have decided to embrace your grey.
But what colors look best with gray hair?
Let's have a look at the best colors to complement gray hair.
If you're still wondering if gray hair is for you, you may like to enjoy the article and comments in our article to gray or not to gray.
The best colors to complement gray hair
Once you have chosen to go gray, the question that I often get asked is "what colors look good with grey hair?". Let's explore the best color pallettes for gray hair in today's article.
Gray hair is the lack of pigment that naturally occurs as we age, as does a softening of our skin tones and even eye colour.
50 shades of grey? Not quite, but there are many variations depending how much grey is in your hair and what your natural colour was. Grey ranges from salt & pepper, steel grey, champagne, silver, platinum and all the way to pure white.
And the percentage of hair that is grey compared to that which is still pigmented also changes the look of your grey and will change over time as more pigment is lost.
The color grey is naturally a "cool" color, so depending on the amount of gray in your hair, you may look "cooler" even if you have a warm complexion and eye color.
With all these changes you may not suit some colours that you wore when younger. Let's discuss the best colour pallets to complement your gray hair.
Pastels may wash you out now as there is less contrast between your hair and complexion. Avoid muddy colours as these may dull your complexion.
Dark colors may be too harsh. Mid value colors to bright and jewel tones will be more complementary. Now let's explore that in more detail. I was trained in the color analysis concept and believe that your skin undertone remains the same as you age.
That means if you have a cool undertone, you will always have that, so I will review the colour pallets for warm and cool.
Which colors complement cool Complexions
Those who had naturally dark brunette or black hair would be best in these colors:
Purple,
royal blue,
cobalt,
red,
fuchsia,
emerald green,
all grays from silver to charcoal and
icy colors.
Browns in your pallet may not work as well next to your face but would be fine as neutrals for trousers, skirts and jackets.
You may find black a bit too harsh, so you may want to substitute with navy.
White may be too draining next to your face especially if you have a high percentage of grey in your hair.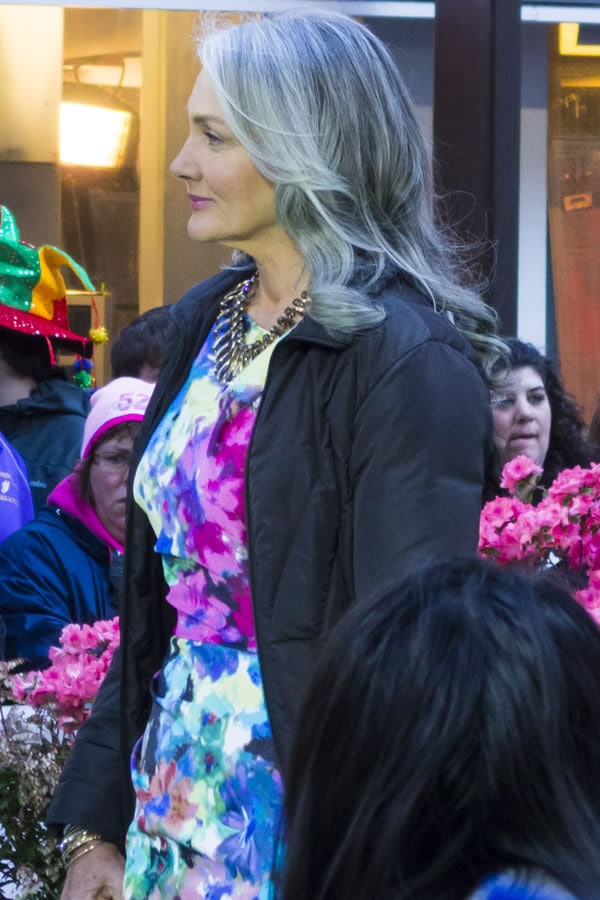 Those who had blonde or lighter brown hair will look best in these:
French blue,
cornflower blue,
periwinkle blue,
denim blue,
jade green,
deep lavender,
rose red,
raspberry,
magenta,
bright pinks,
pale greys and
off-white.
The browns and taupe in your pallet may not work as well next to your face but would be fine as neutrals for trousers, skirts and jackets. You may want to avoid the soft pastels as these may wash you out.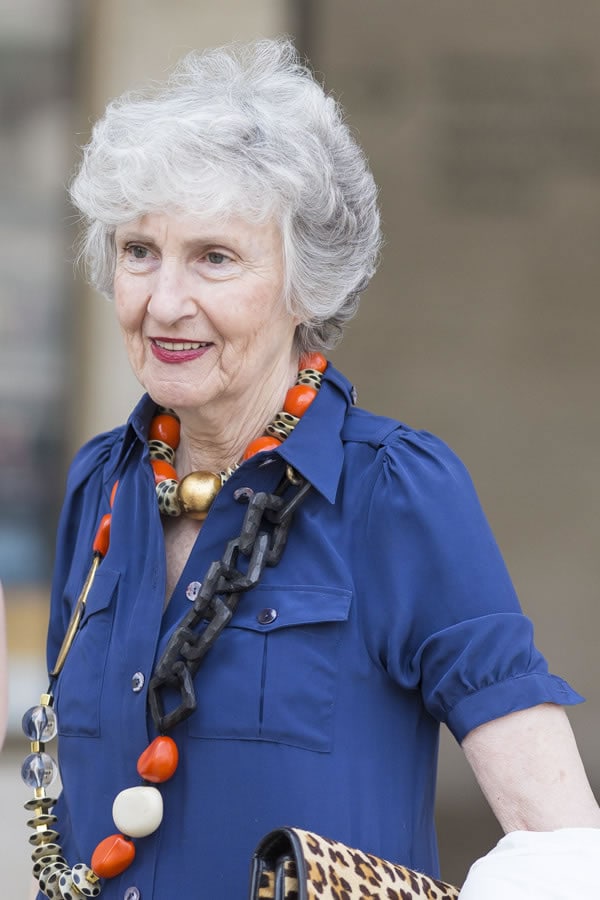 Which colors complement Warm Complexions
Those who had warm brown, strawberry or golden blonde hair will look best in these:
Lilac,
turquoise,
royal blue,
bright aqua,
kelly green,
watermelon,
corals,
warm pinks.
Warm cinnamon browns will be better than a tan or buff colour next to your face. Beiges would be fine as neutrals for trousers, skirts and jackets. Ivory may be too pale for you now, so wear it with an accent colour.
Those who had auburn or red hair will look best in these:
Burnt orange,
terra cotta,
teal,
plums,
aubergine,
deep coral,
tomato red,
forest green and
goldenrod.
Choose the warmer and richer colors in your pallet as the paler colors may wash you out.
Neutrals in the richer warm browns and camel will be better next to your face than olive or khaki.
Make-up to complement gray hair
Wear make-up colours that complement your skin tone.
You may feel you look paler now as your skin and hair color are a lower contrast, so you may want to try a brighter lip color. Lip and blush colors should be clear and slightly bright.
Warm complexions would use corals and warm pinks and cool complexions pinks and berries. Red lipstick is another great option, but perhaps go a bit lighter or with a sheer red.
Quick Tips for wearing color with gray hair
Wear your most flattering colors next to your face.
If you wear mostly neutrals, add color with scarves and accessories.
Play up your eye color with your clothing choices. Blue eyes will really pop with turquoise and cobalt blue and hazel and green eyes with greens and purples.
Try on clothes in colors you may never have worn before.
Try on different lipstick colors. Do a lipstick swap with friends and try new shades.
The Pantone color of the year, Ultra Violet will be gorgeous with grey.
Keep in mind everyone is unique, so now is a perfect time to experiment and try something different. What colours are you loving with your grey hair?
Author bio: Yvonne Grzebien's passion for fashion started at a young age through modelling and then progressed to working in the fashion and cosmetics business for many years. She also has training as a Colours Consultant. Yvonne lives in Canada and when the weather permits you will find her on the golf course.
Like this article? Share it on Pinterest!
Top photo is of Susan
Other photos, photographed by Denton Taylor and submitted by readers
Find them at at our inspiration articles on grey hair: Women with long gray hair, middle long hairstyles, long silver hair
Want to get more articles from 40+style in your inbox, subscribe here.
You can also connect with 40+style on Facebook, Instagram or Pinterest.
Support 40+style by using the links in our articles to shop. As an associate for Amazon and many other brands, we receive a small commission (at no cost to you) on qualifying purchases which enables us to keep creating amazing free content for you. Thanks!