If you find that your hair is thinning now that you're over 40, know that you are not alone. It is extremely common. Over 40% of women over the age of 40 experience thinning hair.
And most of those women are reluctant to discuss it. For some reason, hair loss in men is much more discussed. So we are breaking that taboo right now and sharing tips, strategies and some hairstyling tips for women over 40.
First off when you experience hair loss, head to your doctor. Hair loss can be a symptom of an underlying medical issue. Anything from thyroid issues, hormonal imbalance and stress can affect your hair. So make sure that you check with your doctor firt.
What causes our hair to seem thinner after 40?
There are several reasons. Here are the five most common ones.
1. The diameter of hair follicles diminishes
As we age, the actual size of each strand of our hair actually gets thinner. Even if you have the same amount of strands of hair as you did when you were younger, that hair will be thinner and less full and dense due to this shrinkage in follicle size.
2. Hair texture changes
Our hair gets coarser and more wirey (ever notice all those little hairs sticking up near your crown?) This change in texture also makes our hair appear duller and less able to reflect light, so it looks less lustrous.
3. Menopause
Yet another reason to dislike the changes that menopause brings on is the changes to your hair! Doctors aren't exactly sure how, but they suspect that the rising and dropping levels of male and female hormones affect hair growth cycles.
4. Medications
Some medications can cause hair loss, so again, talk to your doctor if you start to experience this when you begin a new medication.
5. Stress
Stress can cause your hair to fall out, so if you see you are suddenly losing more hair, a stressful time might be to blame.
Products and tips for hair loss
There are products and tips on styling your hair if you are experiencing hair loss.
Rogaine For Women
Rogaine For Women contains 5% minoxidil, which has been proven to regrow hair. It's an easy to use foam you apply after washing your hair, then style as usual.
It's available without a prescription. Start as soon as you see a change in your hair. It's easiest to keep hair from falling out than to regrow it. CAUTION: You have to keep using it, if you stop, you'll lose any hair you've regrown.
Use a Sulfate Free Shampoo and Conditioner
Sulfate is a strong detergent and ingredient found in many shampoos. Try to be as delicate with your hair as you can be, so choose a shampoo that doesn't contain that ingredient.
I like the L'Oreal Everpure line. It's not expensive and is super mild.
Limit your use of heated styling tools
Since your hair is more fragile, limit your use of heated styling tools like blow dryers, hot irons, flat irons or hot curlers.
A solution is to use a microfiber towel like the Aquis Microfiber towel to get the majority of the moisture from your hair and then use the blow dryer for only a few minutes.
Or let it air dry and use a product like Bumble and Bumble Don't Blow It styling creme to create soft waves.
And if you do use a blow dryer or flat iron make sure to use a protective spray made for heated tools first to protect your hair from breakage.
Use hair fibers
There are some wonderful hair texturizing fibers on the market that really help camouflage hair loss by making your hair appear thicker and by cutting down the appearance of your scalp along your part.
Bosly Hair Thickening fibers come in many colors to match almost any hair tone. Lightly sprinkle the product along your part and then gently rub in. (Use just a tiny bit, it goes a long way!)
Hairstyles that are good for thinning hair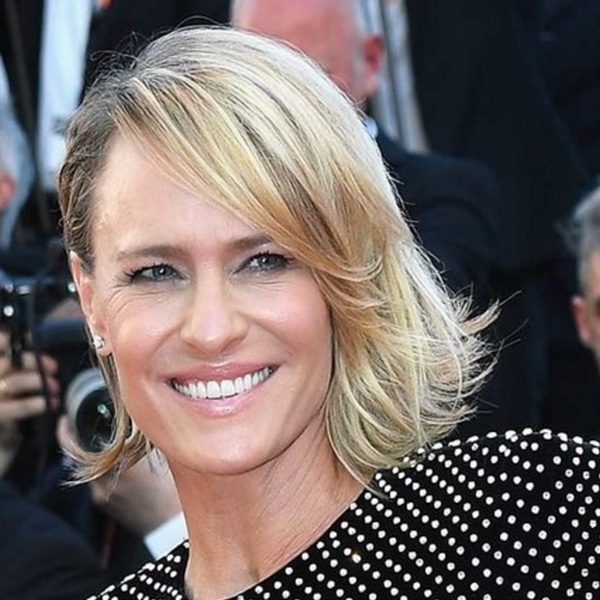 Robin Wright, photo by Vogue
Long side swept bangs
If you have a receding hairline, long side swept bangs that partially cover your forehead can help camouflage loss along your hairline. Make sure they aren't too short or they will only draw more attention to your forehead.
Jessica Chastain, photo by Vogue
Long layers
Avoid a one layer cut which tends to flatten your hair.
A better option is a cut with long layers. Long layers create more texture and movement in your hair, helping to take the focus away from thinning. Whether you wear your hair long or short, you can have long layers cut into your existing hairstyle.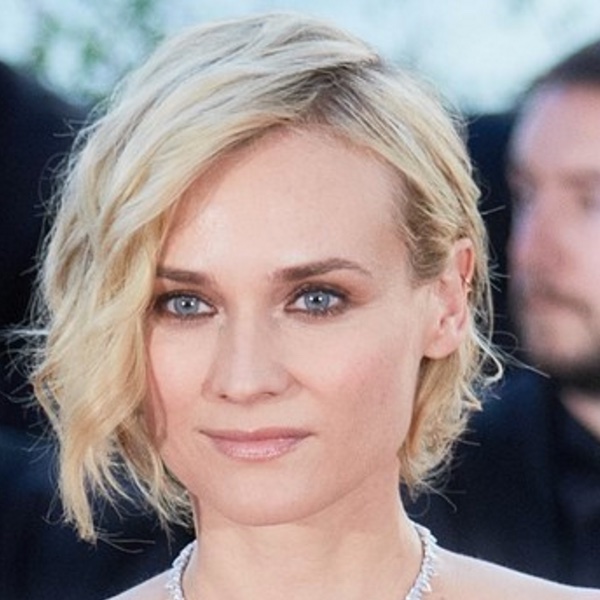 Dianne Kruger, photo by Vogue
Longish, layered bobs
A long layered bob is a classic cut that gives your hair have movement. A stylish option is to have a graduated cut that's shorter in the back and just a bit longer in the front.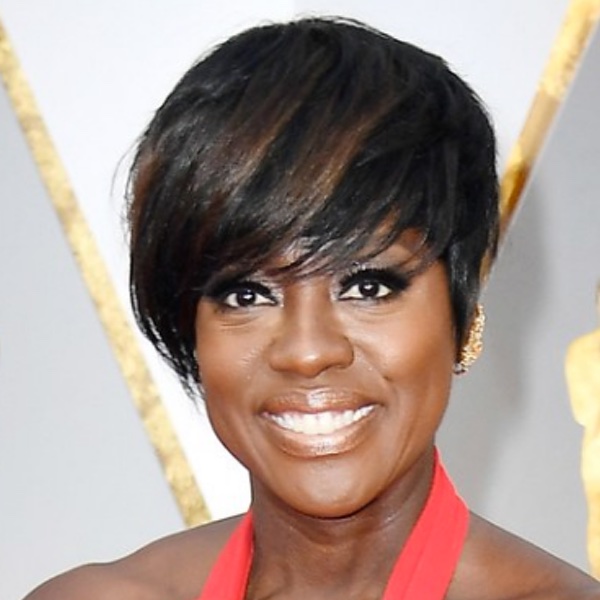 Viola Davis, photo by Vogue
Color
Hair color, used correctly, can be another way to camouflage hair loss.
A variance in color can help make the stark demarcation line between hair and scalp less obvious. Gentle highlights or lowlights that help deflect light will fool the eye, especially near your part.
If you have naturally dark hair and fair skin, opt for a few highlights to deflect light and keep your scalp from being so visible. (If you have lighter hair, use several shades of color to fool the eye.)
Here's a video we created with even more tips on caring for thinning hair
If your hair is thinning, what remedies have worked for you?
Have a stylish week! Rosemond
Want to get more articles from 40+style in your inbox, subscribe here.
You can also connect with 40+style on Facebook, Instagram or Pinterest.
Support 40+style by using the links in our articles to shop. As an associate for Amazon and many other brands, we receive a small commission (at no cost to you) on qualifying purchases which enables us to keep creating amazing free content for you. Thanks!