Claudia is a member of the 40+Style club and resides in the Netherlands. She loves color and accessories and is not planning to become invisible any time soon. You will love discovering all her style secrets!

Can you tell us a little bit more about yourself?
I live in Europe in the Netherlands. During my working days I was a both a dental nurse, biology teacher, public relations officer at a university, and a garden designer.
Since my retirement I am taking care of my large garden, which is visited each year by several hundreds of garden lovers. Recently I wrote a book about the euthanasia of my mother who suffered from dementia.
As a point of reference which age group do you belong to or perhaps you are willing to share your age?
I am 66, so alas, far ahead of most of the the 40+ ladies.
Can you tell us a bit more about why you joined the 40+ style club?
As I aged I saw many fellow aged women turn into a 'gray mice', wearing wind jackets, comfort shoes and always the same tiny necklace around their neck. As a feminist of the 60s I did not want that kind of future for myself.
I looked for shops with colourful clothes for my age, but could not find them. I searched around the globe for magazines for my age group.
I even texted a famous magazine for women in the Netherlands that had started a Girl power magazine: "Can you create a magazine for elderly women?" The answer was: "No, our magazine is for all women".
I was so happy to find the 40+ style through Pinterest. I joined the Accessories Course and learned not only about accessories, but also about style in general. It was exactly what I was looking for!
How would you describe your own personal style?
Colourful!
After a color analysis it was determined that I was a winter type. Therefore bright, vibrant colours suit me. I am far from a classic type and prefer contemporary design, but sometimes just for fun I add a bit of Boho.
​Can you tell us a little bit more about your style journey?
I followed the accessory course from 40+Style because I like necklaces, earrings and rings. I also love to design them myself.
However, to my surprise accessorizing comprises of so much more: shoes, handbags, scarves etc. I learned about combining them in smart ways and how each accessory can make a huge difference. For instance. I discovered that shoes are very important to define your image and that you start a new outfit while starting with one accessory.
As a member of the 40+style club I learned about creating capsule wardrobes.
First I thought that was nonsense, and only practical for travel. But now I see that it helps to combine items, create a cohesive wardrobe so that you have to buy less, and achieve more.
And: very important: I learned to disguise all the body-aspects that I like less. I have learned to hide my belly, fat rolls, flapper arms and so on!
What would you consider the most important components of your style?
Contrast: in winter I wear black and white with a stark colour component.
In summer it is mostly white or a colour combined with a stark opposite colour.
And always accessories to finish the outfit. That is like the drum ending of a song.
Where do you live and how does that influence your style?
I live in the Netherlands. And that influences my style in two ways:
It's a country of tolerance. So people are not 'offended' when you look a little weird. You can allow yourself to be 'different'.
Everybody wears clothes that suit riding a bike, walking in the rain and storm and so on. So we like to wear comfortable shoes, especially sneakers. We always carry coats and scarves, and we very seldom wear hats as they would just fly off.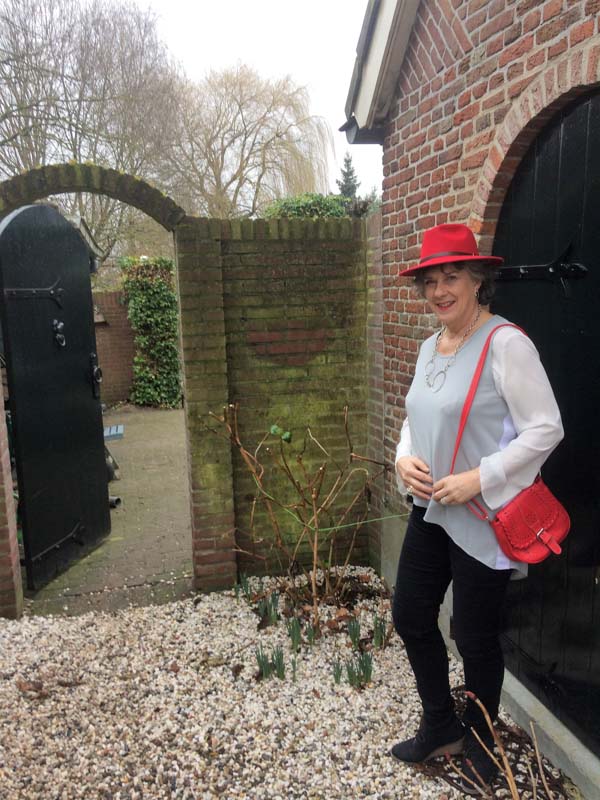 Do you feel you have a signature style?
Not exactly. Besides the colours and the interesting design details. I am still experimenting.
I am not wealthy, so very expensive fabrics or brands are not within my reach. I have to make do with sales items, second hand items and inexpensive brands.
What inspires your outfit choices the most?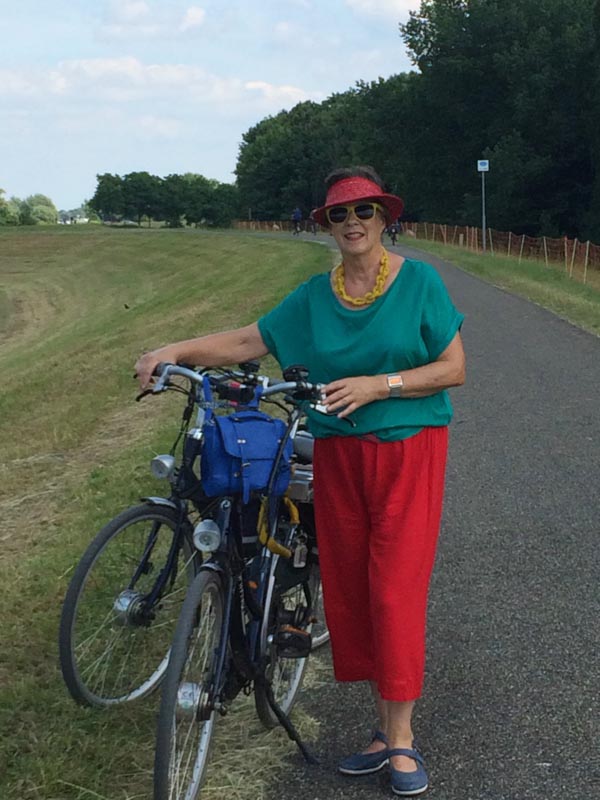 Colours, always colours and colour mixing.
Also contrast. That's influenced by the fact that I am a garden designer: in a border I always create a mix of colours which match and create shapes that are contrasting.
Do you take things like color profiling or body type into account when you dress?
I believe getting your colors done is an excellent investment. It will help you understand which colours are good for your skin tone and which colours are not. Within that range you can experiment a lot.
I also feel it's very helpful to understand your body type. When you understand that, you can emphasize your best parts and downplay the parts you don't want to showcase to the world.
So yes I take those 2 things into consideration. But, I have to admit: sometimes I just wear something because I love it and don't really care about any of this!
What is your current body type and height and what are your best tips for dressing for these?
I am rectangular, my shoulders are as broad as my hips and I hardly have any waist. More or less a block! I am 1.69 cm long. And: 75 kg. Exact measurements: 42/44 or 14/16. And I am fine with that!
Best tips for this kind of body type:
Wear asymmetric tops
Create an A-line
Have fun layering
Emphasise neck and head
Wear bright necklaces
Have a few wonderful earrings
And top if off with a good haircut!
Do you have any favorite brands?
I like Zara, H&M, River Island, Topshop, Heine, Wenz, Lesara from which I buy mainly online.
Has your style changed at all after turning 40?
Influenced by 40+style I definitely dare to wear more of what I like. If I don't do it now, I will never do it!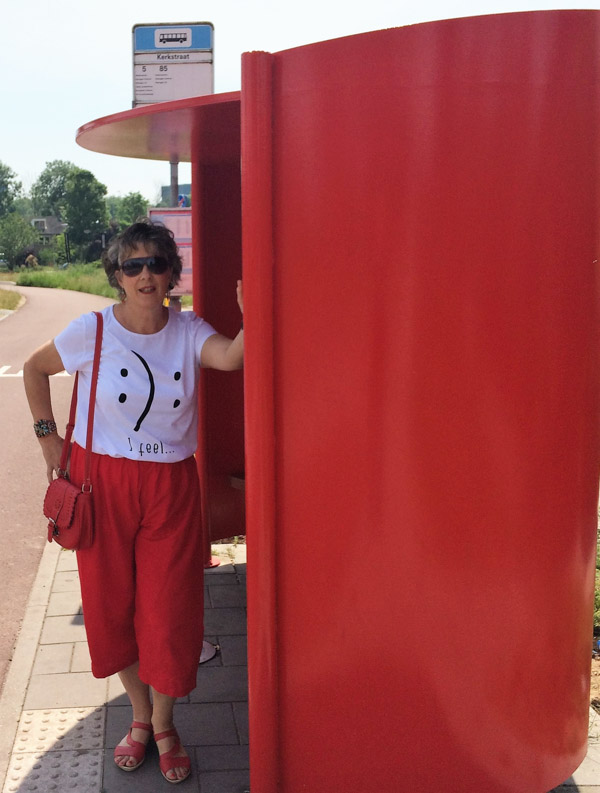 Do you believe in dressing 'age appropriately' and what does it mean to you?
No, I believe in 'dressing body-appropriate". That means: know your body shape and which parts you wish to highlight and downplay.  The 40+ style club provides a lot of guidance to do both.
Why is the way you look important to you?
I work each day in my garden where I'm rather filthy and not dressed properly.
I really want to dress nicely during those hours that I am not in my garden. Just to feel like the nice, and dare I say it, beautiful, middle age woman that I am.
What is your beauty routine and what are your favorite beauty products?
I do not use expensive beauty products. I clean my skin with an ordinary cleansing milk and lotion. I use an exfoliant and a Vitamin A product from a Dutch skin researcher. I moisturise my skin with a cream I made myself.
I take Hyaluron in a daily pill.
I work in the garden every day with a sunblock of 50+. My makeup consists of BB cream, concealer, a lot of mascara and I darken my eyebrows, add highlighter on my eyelids and use Superstay liquid lipstick.
Do you follow trends? And if yes, which trends excite you at the moment?
One of he things I like about 40+style is hat the new trends are highlighted every half year. It's given me a great understanding of what's available in stores each season.
From that, I've gotten more and more exited about new trends. Not that I follow them always, but, let's say, I am more eager to learn about those trends.
Currently, for instance, I'm trying wide pants again!
Do you have any fashion and style tips for women over 40?
Try to avoid showcasing fat rolls and flabby arms and big bellies. 40+ style helps you with many tricks.
Do a colour analysis.
Experiment in a safe environment like the 40+Style Club so you can find out what you like and what suits you.
Use accessories to brighten up your overall look.
Follow your hart.
How has the style club helped you ignite your style?
I have had lots of fun experimenting, creating capsules and have tried combinations I never would have attempted on my own.
What are some of the main things you learned?
How to effectively hide your belly.
I now know and understand the rules of proportion.
I'm now addicted to asymmetric tops.
I have a much better understanding of what's on trend and available in stores.
Who would you recommend the style club to?
Everyone that is wondering: Is this all there is? What can I do to feel glamorous again? From 40 to 90!
Anything further you would like to add?
Thanks Sylvia and the other 40+Style mentors for sharing your knowledge!
If you like to see more of Claudia and get to know her better, be sure to join the 40+Style Club. You can admire her garden or book her bed and breakfast on her website.
Which of Claudia's outfits is your favorite?

Like this post? Share it on Pinterest!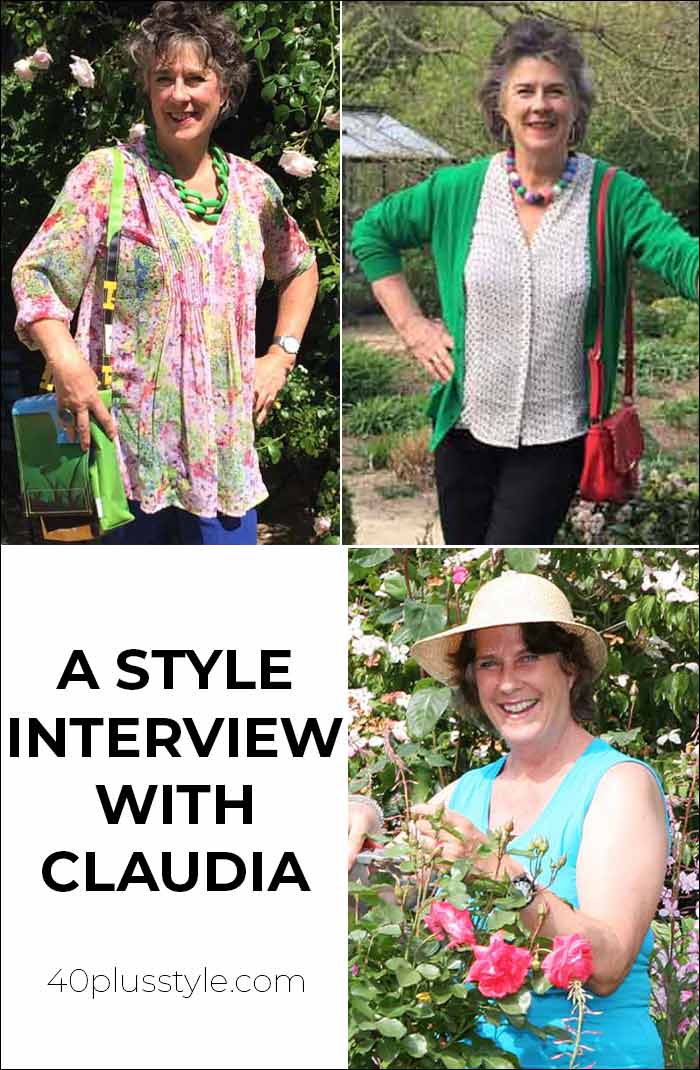 Want to get more articles from 40+style in your inbox, subscribe here.
You can also connect with 40+style on Facebook, Instagram or Pinterest.
Support 40+style by using the links in our articles to shop. As an associate for Amazon and many other brands, we receive a small commission (at no cost to you) on qualifying purchases which enables us to keep creating amazing free content for you. Thanks!