If you have gray, or blonde, hair then using a special toning shampoo can make all the difference between your hair looking brassy or dull and having shiny, gorgeous locks. In this article, you will find the best purple shampoo and recommended shampoos for gray hair.
Why should I use a purple shampoo?
Hair color is always a personal preference. You may have just started to go gray, or perhaps you have been embracing your gray for years now.
Either way, gray hair can start to develop unwanted brassy tones in the same way that blonde hair can.
By using a special purple shampoo, you can neutralize those tones to ensure that your gray hair retains its vibrancy. When you see women with stunning shades of gray, they may just be genetically blessed, or their secret could be a great toning shampoo.
Using a shampoo especially designed for gray hair can be a godsend while transitioning from colored to gray as it can help to blend your different hair tones together as well as removing brassy shades.
How often should I use a purple shampoo?
This depends on the shampoo you choose and the effect that you are trying to achieve. The great thing about a purple shampoo is its pretty impossible to make a mistake.
If you find you are developing too many obvious purple or blue tones rather than simply enhancing your gray, you can always alternative using your purple shampoo with a regular shampoo until you find the right routine to achieve the color you would like.
Blue shampoo vs purple shampoo: Is there a difference?
If you think about mixing paint colors, the opposite to purple is yellow, while the opposite on the color wheel to blue is orange.
Brunettes who lighten hair may find it develops an orange tone while those with naturally lighter hair may develop more yellow tones.
So, if you have gray hair, it's likely that your hair will react better to a purple shampoo rather than blue. However, if you were naturally a brunette or redhead before going gray, you may get better results with a blue shampoo.
It's really about playing around with what works for you. The effects of your toning shampoo will gradually wash out, so you can always try a different option if your first choice isn't quite right.
Best for transitioning to gray
If you have decided to stop coloring your hair and are busy making the transition from colored to gray, Jhirmack's silver shampoo and conditioner come highly-recommended from women who have made the same journey.
The shampoo reduces yellow and brightens, while the conditioner leaves hair silky soft.
Jhirmack Silver Brightening Ageless Purple Shampoo Set
Best drugstore purple shampoo
If you're looking for a budget option which works, then L'Oreal's Brass Toning Purple Shampoo is definitely worth a try.
It comes highly-rated from women with white, blonde and gray hair whose locks had developed unwanted yellow tones. Many reviewers noticed a difference in just one wash.
L'Oréal Paris Hair Care EverPure Sulfate Free Brass Toning Purple Shampoo
Best silver shampoo
The minimalists among you are sure to appreciate the sleek design of Matrix's So Silver. Thankfully, what is inside also works brilliantly.
For a more intense effect, you can always leave it on for longer. Lather as usual and then leave for 30 minutes or so. You could think about one of these 14 self pampering suggestions while you wait.
MATRIX Total Results So Silver Color Depositing Purple Shampoo
Best big bottle
The Fanola No Yellow shampoo comes with more than 20,000 ratings on Amazon; the majority of them giving 5-stars.
It also comes in a huge bottle, so you definitely won't run out of it anytime soon! Good for toning down unwanted yellow tones on gray, light blonde and highlighted hair.
Reviewers say this works so well it is more like a professional toner than a shampoo, so you don't need to leave it on for very long.
Best to use once a week
If you want a purple shampoo which gives you results without having to use every day, you may also want to try TIGI's Dumb Blonde Purple toning shampoo.
It also works well for silvery gray hair. And, you definitely don't have to be dumb to use it.
TIGI Bed Head Dumb Blonde Purple Toning Shampoo
Best to embrace your gray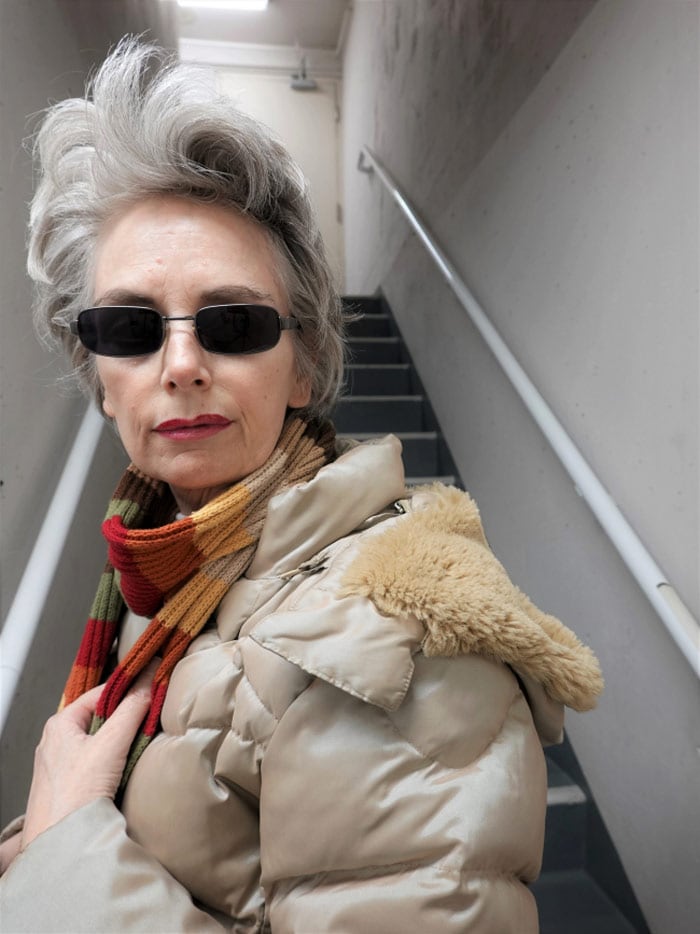 L'Oreal's Magnesium Silver Neutralizing shampoo is another one with a great bottle design, so it should look good on your bathroom shelf.
It also has fantastic reviews from women with white hair as well as those who have gone from brunette to blonde.
L'Oréal Serie Expert Magnesium Silver Neutralising Shampoo
Best combo
If you have very dry hair, you may want to look at using both a purple shampoo and conditioner, like this set from Clairol. That way, you get the color-improving benefits as well as nourishment for your hair.
One reviewer said she had discovered this after spotting a bottle in her Grandma's shower and giving it a try for her own highlights.
Clairol Shimmer Lights Shampoo & Conditioner
Best for removing yellow
While most anti-yellowing shampoos are purple, Klorane's product doesn't have a purple or blue hue at all.
Instead, it uses a natural ingredient called Centaury extract, which has a blue coloring, making it great for toning down the yellow shades found in white, gray and silver hair.
A good option to use every day, particularly if you are worried about giving your hair too much of purple or blue tone with other options.
Klorane Anti-Yellowing Shampoo
Best for brightening
A particularly good option for lightening and brightening blonde hair or highlights, Drybar's Blonde Ale shampoo has lovely scents of ginger, mint and sandalwood while you are creating a lather.
If you have particularly dry hair, it's best to mix this with your regular shampoo rather than using on its own.
Drybar Blonde Ale Brightening Shampoo
Best a-little-goes-a-long-way option
Oribe's Bright Blonde shampoo is one of the pricier options, but it lathers really well so a little does go a long way.
A good choice to keep brassiness at bay for both gray hair and blondes, it is a great option if you are busy transitioning to gray and you have a mixture of highlights and natural gray. It also smells lovely, which is an added bonus!
Best paraben free
If you have silver or white hair and you want an option which is paraben-free, then Luseta's color-brightening shampoo and conditioner could be the set for you. Reviewers say using both shampoo and conditioner together leaves hair soft and shiny.
Luseta Color Brightening Purple Shampoo and Conditioner Set
Best natural option
If you love the Aveda skincare range, have you also tried its haircare options? Aveda's Blue Malva adds a silvery brightness to gray hair and neutralizes yellow tones.
Reviewers recommend this one for transitioning from colored to natural hair.
AVEDA by Aveda: Blue Malva Color Shampoo
Best for UV protection
Just as your skin can suffer sun damage, sunshine can also damage your hair, leaving it dry and adding an unwanted yellow shade.
SACHAJUAN's Silver Shampoo offers UV protection as well as adding violet-colored pigments to your hair to counteract warm tones.
Best plant based
Rather than synthetic violent pigments, L'anza uses purple tones naturally found in flower extracts, such as viola and lavender
Intended for use if you have any shade of white, silver or gray hair, as well as for blondes. If you have a sensitive scalp, it could be worth trying this one to see if the natural ingredients are kinder for your skin.
L'ANZA Healing Colorcare Silver Brightening Shampoo
Shampoo for gray hair
Bear in mind that purple shampoos can take away the yellow tones you aren't so keen on. However, they can also be drying for your hair, in comparison to other shampoos.
You may wish to alternate using your purple shampoo with a shampoo especially for dry hair, such as Aveda's Nutriplenish shampoo
Aveda Nutriplenish Deep Moisture Shampoo
What to remember when using purple shampoo
Everyone is different and we all have different hair colors and textures, so what works for one woman won't work so well for someone else.
It's really about trying until you find a shampoo you love. Don't give up after one wash if you don't see immediate results.
Unless you find that you have some irritation, as least try for a few weeks until you see whether it could work for you. You can vary the amount of times you use your shampoo in a week until you get your desired results.
Continue reading:
Like this post on the best purple shampoo and shampoos for gray hair? Share it on Pinterest!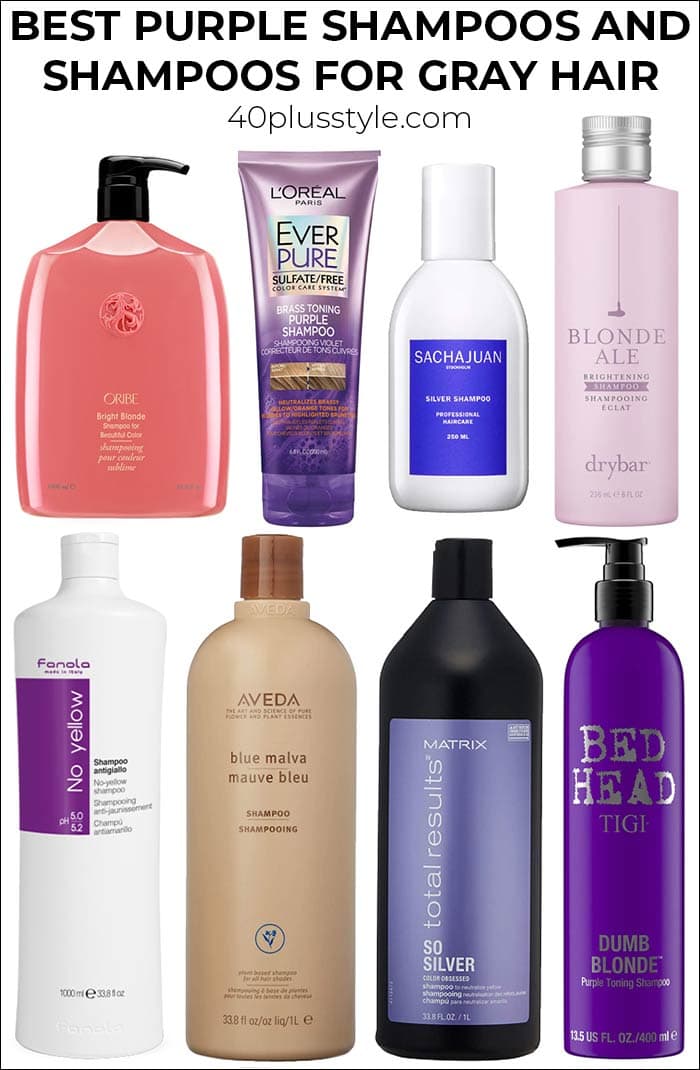 Want to get more articles from 40+style in your inbox, subscribe here.
You can also connect with 40+style on Facebook, Instagram or Pinterest.
Support 40+style by using the links in our articles to shop. As an associate for Amazon and many other brands, we receive a small commission (at no cost to you) on qualifying purchases which enables us to keep creating amazing free content for you. Thanks!