By day, Patrica Africa Iglesias Martinez is an office manager. But, after work, she becomes Madame Chic BCN (the BCN is short for her home city of Barcelona). She aims to inspire women over 40 who want to get noticed. Let's find out more about her style!
Can you tell us a little bit more about yourself?
Hello! I'm Patricia the author of Madame Chic Bcn blog. I'm a full-time office manager and PA during the day. However, when work is over I become a fashionista who's constantly taking pictures and creating content for my blog and IG. And guess what? I love it!
As a point of reference which age group do you belong to or perhaps you are willing to share your age?
Sure! I'm 43 years old.
Can you tell us a bit more about your blog . Why did you start a personal style blog?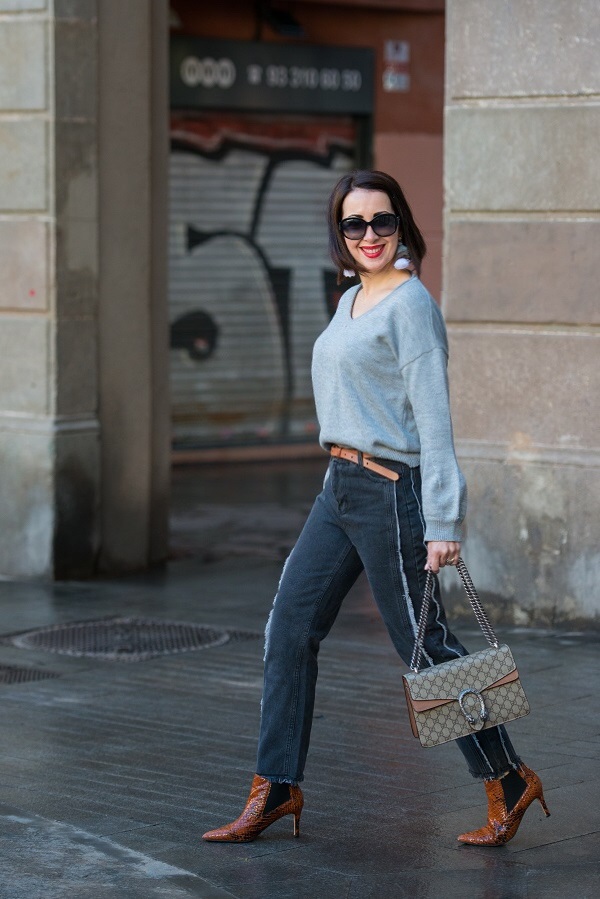 I started my blog back in 2011 and to be honest, I don't remember the main reason why. I suppose I just wanted to share my passion for fashion and thought this would be a great way to do it. As time went by, I realized that people were really interested in my opinions. They started asking me what to wear to weddings or how to dress accordingly to a specific body type. This is when I decided to study a Master in Image Consultancy and Communication, one of the most rewarding experiences of my life.
The name of the blog came naturally to me. I've been mistaken quite often for a French woman, because of my look and style I suppose. And truthfully, I've always thought French women are super chic and classy. Given the fact that I'm not a girl anymore, I opted to go for "Madame Chic".
BCN is the acronym of Barcelona the wonderful city I live in (Madame Chic itself was already taken!)
How would you describe your own personal style?
Classic with a chic twist. That means lots of classic cuts and clothes, midi skirts, berets, hats, gloves and red lips!
What would you consider the most important components of your style?
Color, of course. You would rarely see me all dressed in black. Instead, I love color and always try to infuse my daily look with a pop of red, green, yellow or pink whether it's on my skirt, jeans, lips, bag or earrings.
Where do you live and how does that influence your style?
I live in the beautiful city of Barcelona but to be honest this does not influence my style. Barcelona people have a very casual-relaxed-comfy style and mine is quite the opposite!
Do you feel you have a signature style?
Yes I do; midi skirts. I'm the queen of midi skirts (and I was before they became so trendy! – lol).
I love them so much because they're elegant, comfy, feminine, chic and can be worn in endless ways (with sneakers, killer heels, denim jackets, coats, sandals in summer, boots in winter…)
Fun fact: I've created a hashtag called #queenofmidiskirts which I publish on IG every time I post a picture wearing a midi skirt!
What inspires your outfit choices the most?
Comfort for day to day wear. I'm lucky to work in an office where jeans and sneakers are allowed!
Do you take things like color profiling or body type into account when you dress?
Yes absolutely. It´s not like I´m obsessed with it but there are colors and clothes I would NEVER wear because I know they don't flatter my skin nor my body type. For instance some tones of pale yellow and also loose cuts on dresses and coats.
What is your current body type and height and what are your best tips for dressing for these?
I'm an hourglass and my height is 5' 5". As I'm not super tall, there are two things that always try to keep in mind when dressing: wearing heels and tight-fitting.
Do you have any favorite brands?
Yes, I do love Asos (their midi skirts are amazing), Shein (my latest discovery for great dresses at super reasonable prices) and Zara (great for latest trends at affordable prices)
When I look for more quality or need special pieces I tend to shop at Üterque, Self Portrait, and Temperley London.
Has your style changed at all after turning 40?
Sure! It has become more feminine, elegant and chic.
Do you believe in dressing 'age appropriately' and what does it mean to you?
Absolutely. I know many women who are reading this would not agree with me, but I strongly believe that at a certain age women shouldn't wear certain types of clothes.
For instance, after 35 a woman should never wear a mini skirt. (Sorry not sorry)
Would you say that at this stage of your life you are now more, or less interested in fashion, style and the way you look?
I'm definitely more interested in everything. Firstly, because I'm more aware of how I look and how that can influence someone else's perception of me and, secondly, because I find fashion a super fun and very creative way of self-expression in the same way as art, music or literature.
Why is the way you look important to you?
I strongly believe in fashion as a way of self-expression. When you look good, you feel good and if you feel good you feel empowered and capable of achieving anything. Like the words we chose to speak, the clothes we put on affect us and the more we care about them, the more likely we are to fall into a path of personal exploration.
I might be getting a bit deep here but caring about how you look is a life-affirming expression of your character and soul – just like painting or writing. My mum taught me that. She has been my style icon since I was a child and the way she dressed is a truly reflection of her spirit. She always smelled good and dressed flawlessly because she is a woman who takes care of every single detail in life. I am sure that being raised by her had an impact on my current perception of fashion.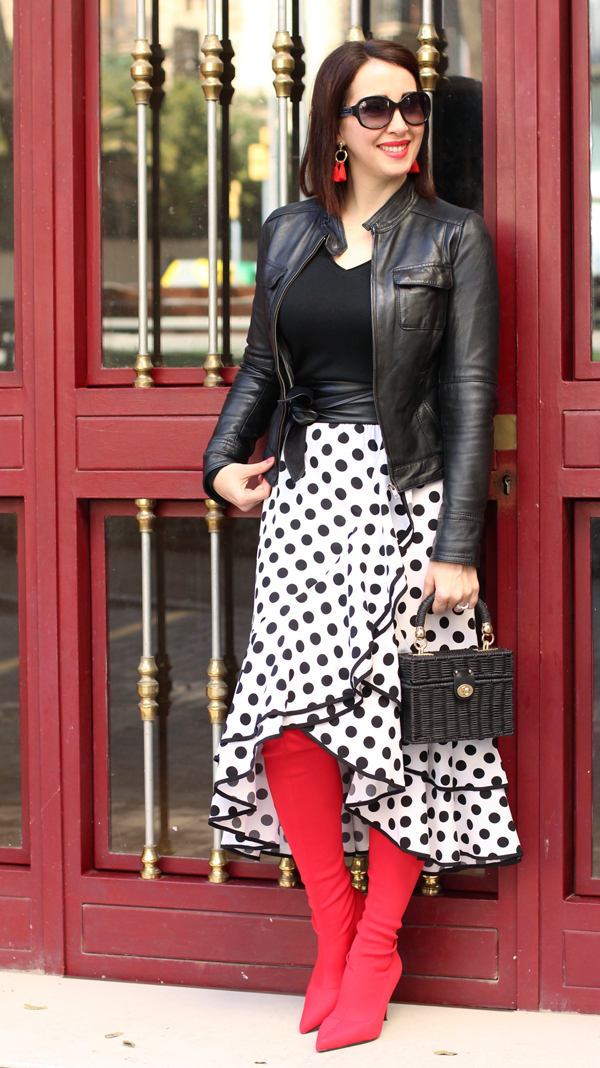 What is your beauty routine and what are your favorite beauty products?
I'm very, very strict when it comes to my beauty routine. I've got rules like never leaving home without sun protection or I never going to bed with my make up on. And I mean it. I NEVER do! Again, my mum has been my major influence on this as I used to watch her washing her face every night with natural soap when I was a kid.
Since I was 18, I've been taking care of my skin with 3 basics products: cleanser, lotion and moisturizer. Now that I am in my 40´s, I have started introducing some other must-have like serums and masks.
Some of my favorite beauty brands that have been in my bathroom for years are: Kiehl's, Avène, La Roche Posay, Nuxe and Carita Paris. A post with my complete beauty routine will be published soon on the blog, so keep an eye on it!
Do you follow trends? And if yes, which trends excite you at the moment?
I only follow trends that flatter me. Right now, I'm obviously the happiest woman in the world because midi and pencil skirts are one of the biggest trends of the season!
Do you have any fashion and style tips for women over 40?
Be yourself above any trend or piece of fashion advice some else could give you. Never lose your essence, that "je ne sais quoi" that makes you unique.
Do you plan to continue with blogging and how do you see your blog developing over the coming years?
It's important to say that I currently have a full-time job, which I don't intend to quit in the coming months.
However, my idea is to carry on writing the blog because this is something that fills me up and pushes me to be more creative, to connect with other people (I'm very shy) and of course… be happier! I'm constantly working on creating new content and intend to add new sections on my blog before the end of the year (like beauty videos and how to style one item in many different ways).
So I'm sure that only good things will come in the near future!
You may see more of Patricia's chic outfits at Madame Chic Bcn and @MadameChicBCN for Instagram!
Like this article? Save it on Pinterest!
Want to get more articles from 40+style in your inbox, subscribe here.
You can also connect with 40+style on Facebook, Instagram or Pinterest.
Support 40+style by using the links in our articles to shop. As an associate for Amazon and many other brands, we receive a small commission (at no cost to you) on qualifying purchases which enables us to keep creating amazing free content for you. Thanks!