Black is still a favorite color for many women. Here in Asia it seems to be the color of choice for both day and  evening.
However women over 40 need to be careful with wearing all black as it can potentially age them. In today's article let's have a look at how to wear black in ways that are flattering and beautiful!
Why black is popular
Why are we so drawn to black? Here are a few reasons:
Black is perceived as flattering
Black minimises and downplays which is why it is a popular option to downplay certain parts of your body.
While this is certainly true, it does not work when you wear all over black without paying attention to color, print or texture. Instead it can look aging and dowdy.
Black goes with everything
Yes, black is an easy color to wear and combine. It can also be boring and let you look like everybody else and let you disappear into the background.
Black is certainly a great wardrobe essential but you will need to learn how to wear black the right way.
Black is always on trend
No matter which other colors are on trend, black is always super stylish.
After all, who could forget Audrey Hepburn in her black Givenchy dress and long black gloves, or black cigarette pants and turtle neck. But don't forget, she had youth on her side and great design to beat!
Black is edgy
If you are keen on an 'edgy' look then black is often the preferred choice.
Black seems to fit the colder days and temperatures
Black is especially popular when temperatures start to drop and days become shorter.
More and more woman begin to resort to wearing all black and black-dominated looks. While your natural inclination might be to take this route, it's not always the best option for women as they age.
Why do you need to be careful wearing too much black?
As our complexion changes and often becomes paler, black (especially too close to the face) can be jarring, harsh, and wash out your complexion. In other words, the most comfortable option for winter might not be the most flattering.
Although I like wearing black, I seldom wear all-over black any more.
If I do wear all black, I also prefer an all black look when I can keep my legs bare. Bare legs provide a nice contrast for the black and make the look a bit softer.
Often I wear black I prefer to mix black with white or a brighter color.
Let's have a look at how to wear black in stylish and flattering ways
These tips will help you to wear black  in style!
Wear it in classic cuts and styles
To keep an all black look or piece from appearing too frumpy, select classic cuts and styles that are perfectly tailored.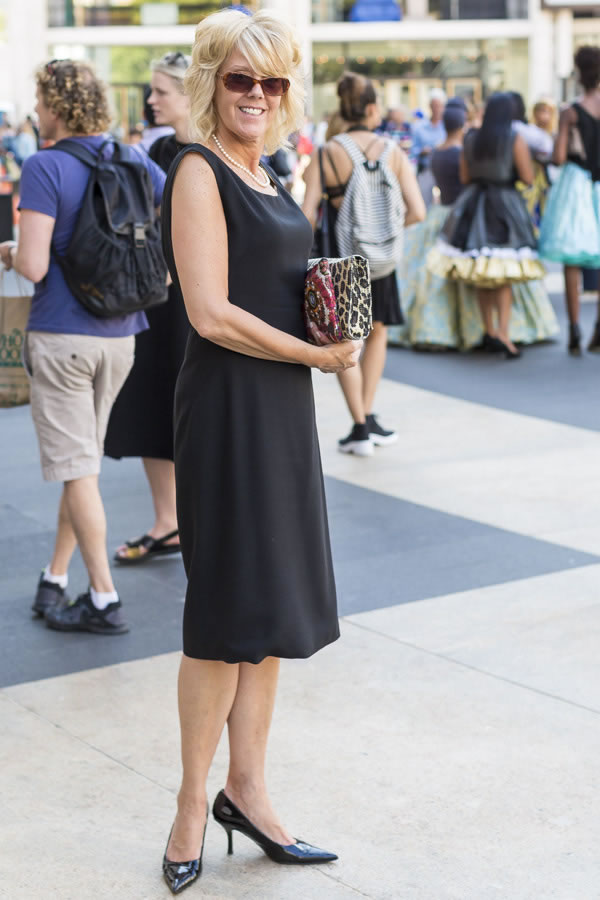 The perfectly tailored aspect of the piece is key, as anything that is ill fitting will become eve more pronounced if you select a black piece. A common misconception is that black is always sliming. This is not always the case and any piece that is ill fitting can actually become more pronounced in black.
Don't wear black too near to your face…
If you have a piece with very little texture or embellishments, wearing black too close to your face can actually make you look washed out and do very little to brighten your tone.
A way to get past this challenge is by wearing a piece that has a contrasting color close to your face (such as the dress below), or selecting a piece such as a bright scarf or necklace to warm the look closer to your face.
One great trick to prevent black from being too close to your face is to add a necklace to break the severity and have a kinder color close to your face.
Accessories can give a simple black dress a real wow factor. A matching statement necklace and earrings provide oomph to a summer outfit.

Go with print and patterns
Another way to wear black without giving in to an all black look is by selecting pieces with a black hue dominated pattern.
You still get the edge of a black tone, however, the monotonous black is broken up with a visually engaging print or pattern. You can go with a subtle pinstripe look (like the vest below), or select a piece such as the blouse below that features bright colors and prints against a black backdrop.
Here, this black dress has an asymmetric white panel, which is styled with matching drop earrings.
Play with texture
Texture is another way to add more definition to black pieces.
Whether you opt for an all black look or select a one piece, texture is known for adding a color like dimension to your look. Pleats are an easy way to achieve this look, as is jacquard. Feathers are also another great option.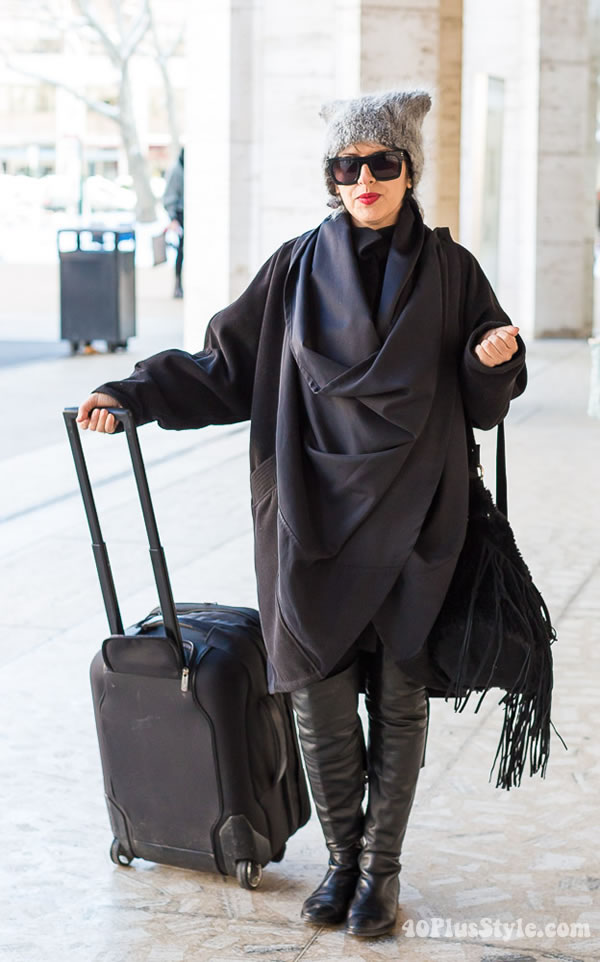 I enjoy a statement all black outfit like this one.
The unusual coat adds movement and interest to this outfit with the different textures from coat, boots and bag adding extra dynamic.
It's a great idea to then add a bright red lip to add some color and I also enjoy the statement hat. This lady combines being comfortable and warm with a funky, fashion forward statement outfit and I think she looks great!
Pair it with denim
One of the most timeless pairings for a very effortless and chic look is the pairing of black and denim.
While many tend to shy away from too much of a black and blue pairing, the composition of black or blue denim with black or blue pieces creates very clean and almost minimalist looks.
Pearls are always a great partner for black. Here, they are worn with wide-legged jeans and catseye sunglasses. And, a very stylish vintage car!

Embellish it
Much like texture, selecting an embellished black piece gives you the permission to go with all black pieces if your heart desires.
Whether you opt for colorful embellishments (like the sleeveless top or sequined jumpsuit below) or aim for metallic additions (like the buckled skirt below), embellishments break apart the monotony of a black piece or look.

Go Sheer
When you add a sheer element to a black piece, it transforms even the most basic pieces into a highly valued wardrobe piece.
The key to wearing this look is to follow the philosophy of keeping it simple and not adding too many other embellishments to your look. You can also add pops of color to come through the sheer fabric for a multi-dimensional look that can also warm the complexion.
Leggings can still be a super stylish option for women over 40. Here, striped leggings are worn with a long handkerchief-hem black top with sheer sleeves.
There's more inspiration here on in this extensive guide on how to wear leggings over 40.

Colorblock
The quickest way to achieve a chic look with very minimal effort is to colorblock with black.
Also check our article on how to color block.
It gives the look an editorial like tone without looking to over designed. For a long and elongating look you, can play with a column of color. We used tan as the base here, combined with a pin striped vest, but even more slimming results you can also use black as the base.
Another monochrome look lifted through the use of colorful accessories. Polka dot pants and a black blazer are teamed with red shoes and a matching bag, along with over-sized sunglasses.

More black outfits
Want more ideas? Take inspiration from these (mostly) black outfits!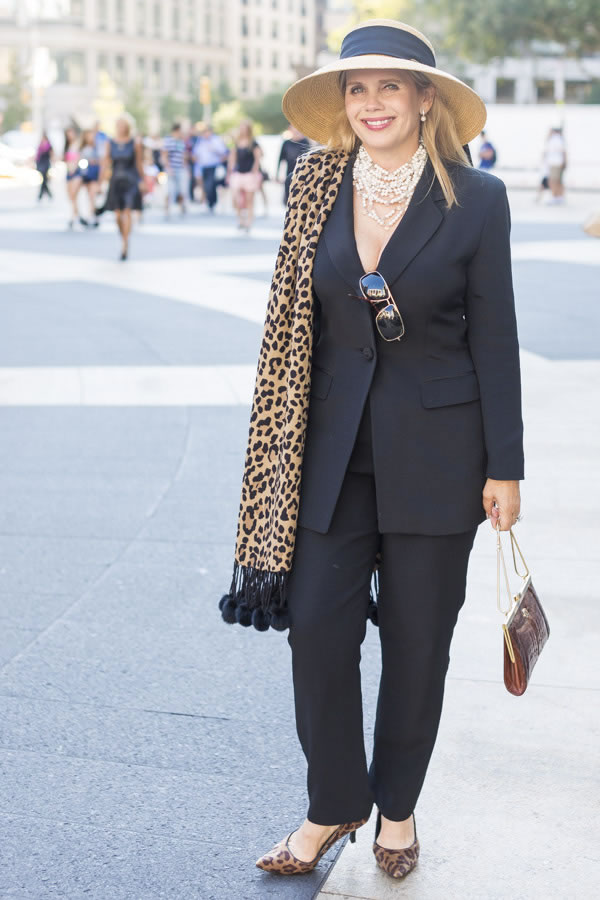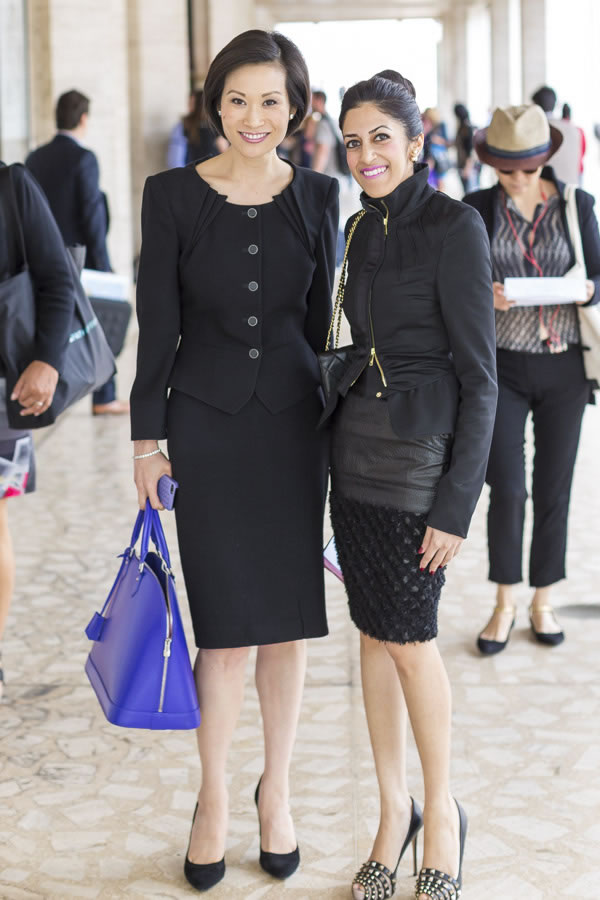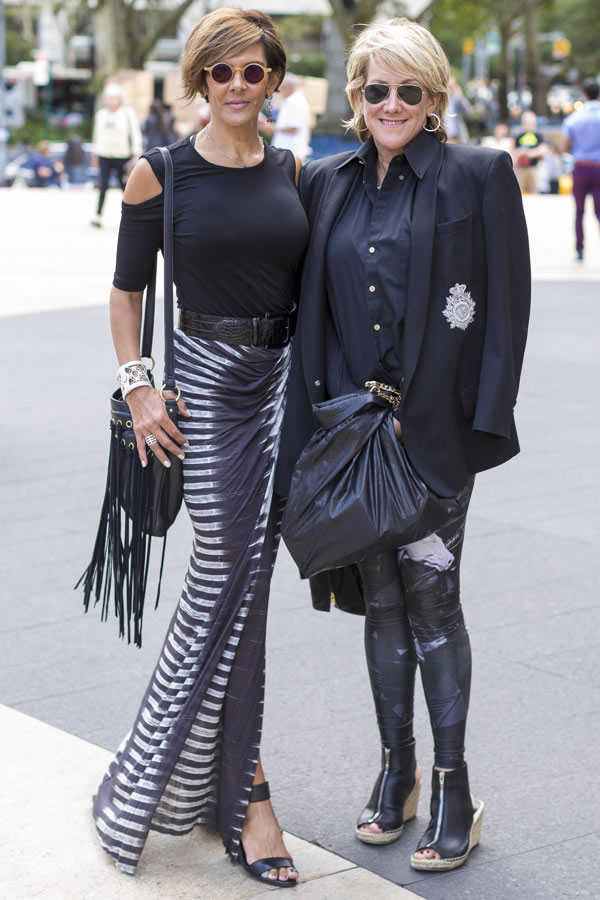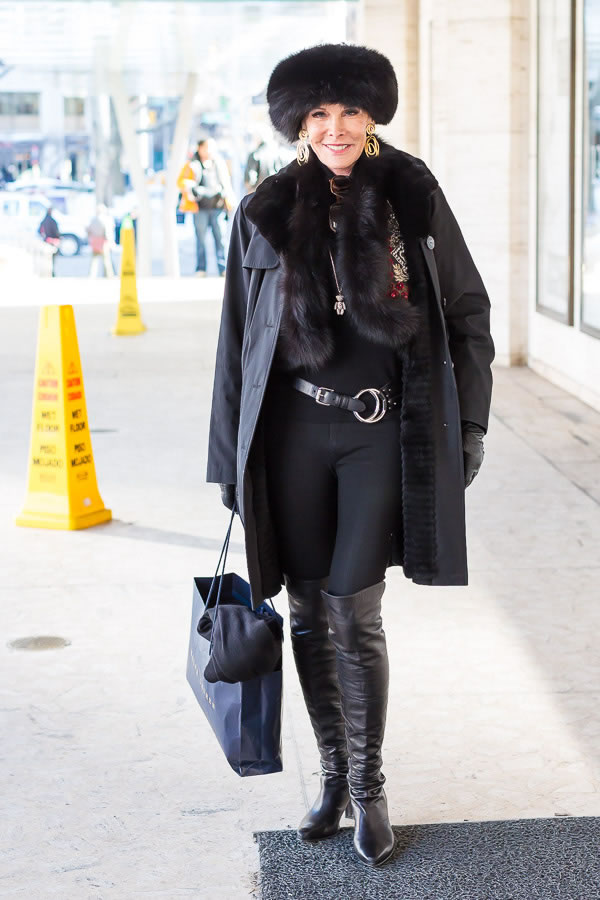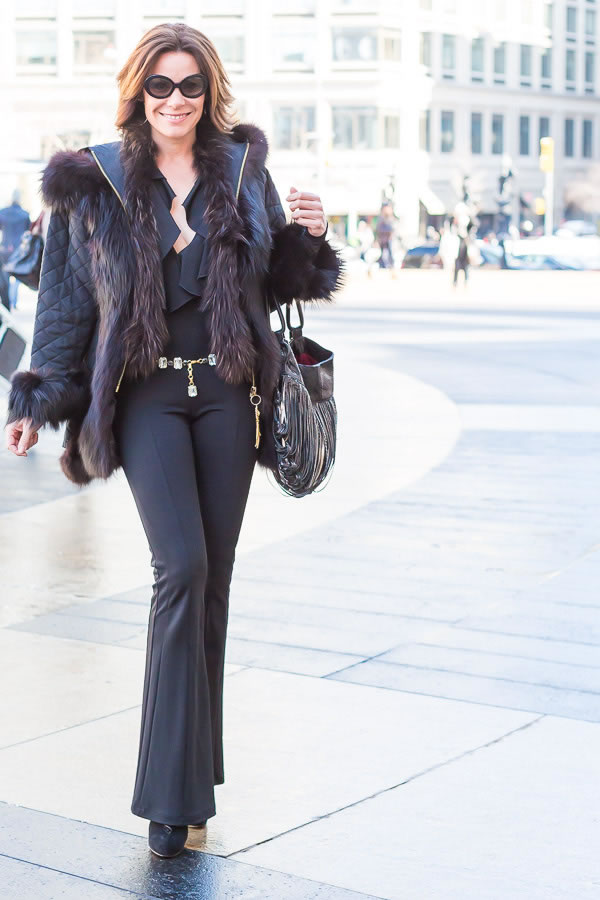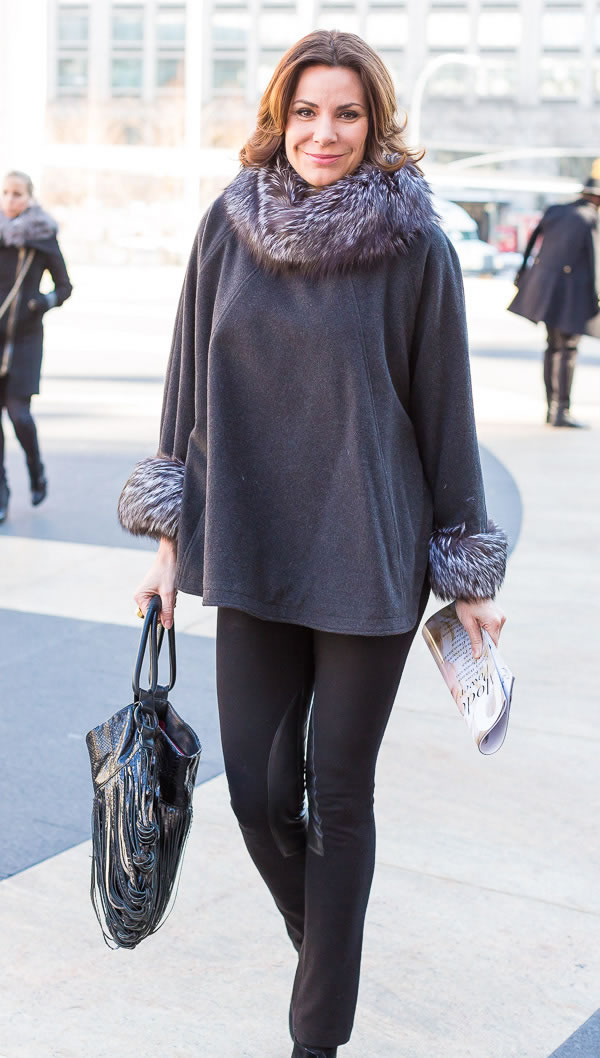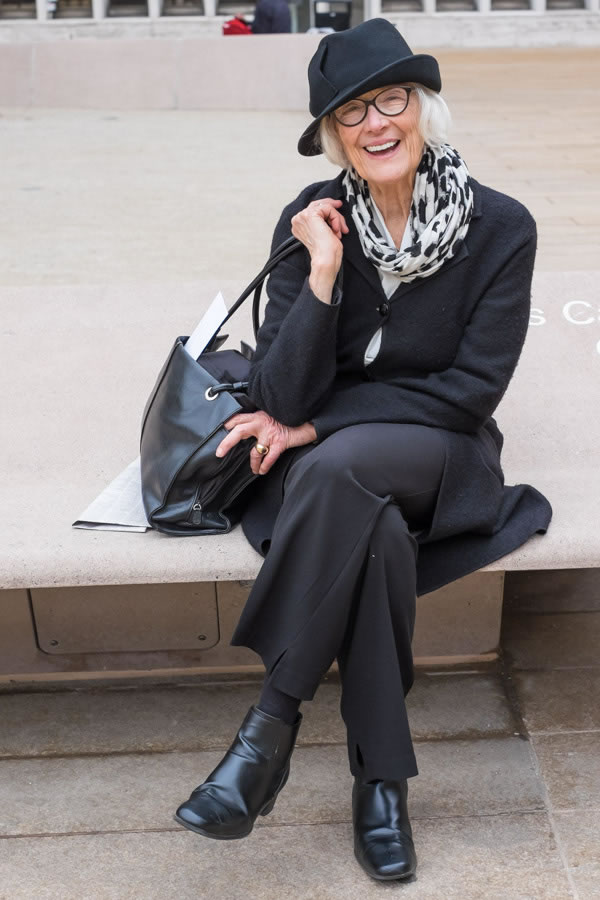 All-black looks featured heavily on the runways for Fall 2018. Here, a top-to-toe black look is given interest with an oversized belt and big hoop earrings.
We also had an interview with Sharryn which you can read here.
Layering can make all the difference to your overall look! Here, a striped turtleneck is layered under a black sweater.
The Bardot-style neckline on this midi dress provides a stylish look, cinched with a Gucci belt and given a pop of color with a bright bamboo-handle bag.

Layers of black can work really well! Here, a shirt dress is left casually unbuttoned and worn with a chunky chain-link necklace. Chain-link jewelry was another key look for Fall 2018 accessories.

All all-black outfit provides the perfect base for some hero accessories. Here, bang-on-trend white boots are teamed with a leopard print scarf, featuring pops of turquoise.

An all-black outfit is given extra style with polka dot detailing and mismatched earrings, along with a pear-print handbag.
You may read Dayle's personal tips on how to make your style more arty here.

Another all-black look for summer, the tassels on this tiered maxi dress add texture. It is styled with mules and a striped handbag.
Learn more about Suzanne's boho chic style in her style interview here.

A classic belted black jumpsuit is a versatile piece that could be dressed up or down, for work or for a night out!

A great monochrome look which shows how your white skirt can still be worn as a transitional piece for fall, teamed with a belted black coat and black ankle booties. Oh, and of course, a matching motorcycle!

Another great black maxi dress look for summer. Here, it is worn with a round bag and statement tassel earrings.

A fabulous way to wear a colorful skirt for fall. Here, this colorful maxi skirt is paired with a black moto jacket and matching scarf. But, it would look equally beautiful paired with a white shirt and silver shoes like Sylvia's skirt here from Cos.

Want to learn how to wear other colors? Check our guides on:
How do you like to wear black? Which of these black outfits is your favorite?
Like this article? Save it on Pinterest!
My personal favorites are the top and bottom looks, which are superb examples of wearing all black in a super chic way!
Do you wear all-black outfits? Which of these is your favorite look?

Most photos by Denton Taylor
Want to get more articles from 40+style in your inbox, subscribe here.
You can also connect with 40+style on Facebook, Instagram or Pinterest.
Support 40+style by using the links in our articles to shop. As an associate for Amazon and many other brands, we receive a small commission (at no cost to you) on qualifying purchases which enables us to keep creating amazing free content for you. Thanks!