Since lipstick is usually the only serious makeup I use, I decided I should get a bit more serious and adventurous with it. So I decided to add a few more colours to my lipstick repertoire!  I decided to stick with a brand that I have been using for a long time: Bobbi Brown. I like this lipstick for its reliability, pleasant feel on the lips and hydration attributes. So this review is not so much about how good Bobbi Brown lipsticks are, but more about the colours and which ones are good for me and other women over 40.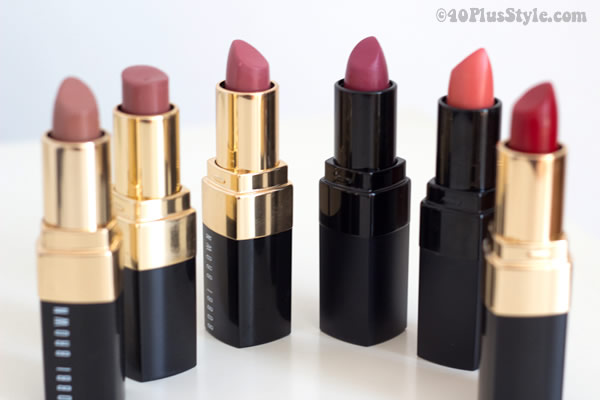 The lipstick I always wear the most is the most natural one. It's the one totally on the left and I pop it one whenever I go outside. It suits every outfit and I actually quite like my natural look.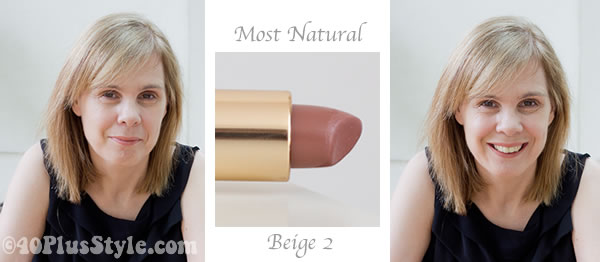 The second lipstick was another lipstick I already owned. It's a bit darker than my natural one and although the colour on the lipstick says brown, I feel it actually has a more reddish tone when put on the lips. This was my go-to colour if I felt that my lips needed a bit more colour. However, as I get more daring with wearing colour and enjoy wearing reds and oranges, this colour was no longer sufficient. I needed some more colours….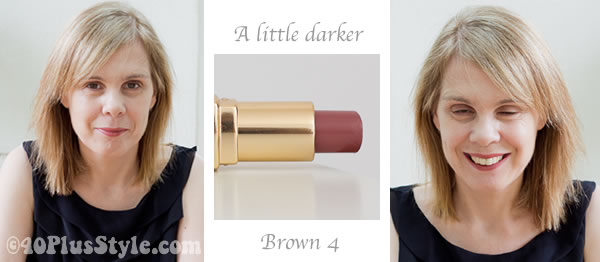 Sometimes my outfits are more pink than brown or red, so I decided it was well worth investing in a pinkish colour as well. It just gives my face a little more colour and will look good with my favoured old pink outfits. I feel from the pictures that this colour looks pretty good.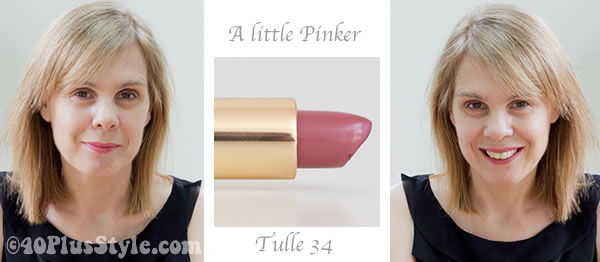 Ok, here we are getting into more untested waters. The lipstick below is a darker and more covering pink. Great for that extra pop of colour or doing a bit of colour blocking with bright outfits. But it ads more maintenance to my look (not a big fan of having to readjust the lipstick all the time…) and is getting on the dark side. I think it will look great with a brighter pink outfit though or other colours that are quite bright.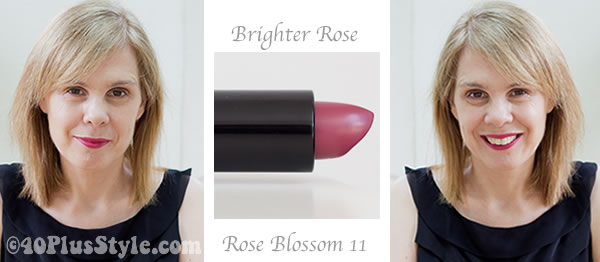 Since coral and orange are the IT colours this year and I purchased a few items in that colour, I thought it would be fun to add an orange to my new arsenal of lipsticks as well. This colour was quite strong on the lips although it looks good on the images below. Definitely great with outfits that include orange or coral.
Full on red is definitely a challenge and a look I find very difficult to pull off. This is definitely an 'evening only' lipstick as I find this colour quite bright. I have actually softened the red a bit but putting a little of my natural lipstick on top of this, which makes it a bit more wearable. As I described in my 10 beauty secrets for women over 40 a darker colour lipstick is more aging and I feel you can see that in the pictures below. Still, for a fancy evening out, when my outfit needs an extra splash of colour or when I want to complement the red of my outfit with my lips, I think I will use it (occasionally).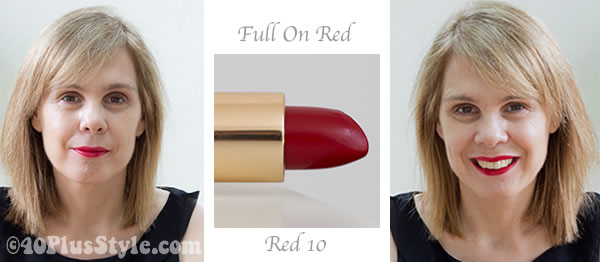 I think I'm going to have fun with my new lipsticks. It gives me yet another item in my toolbox to look hip, add more colour, have fun with fashion and beauty and look and feel great!
Bobbi Brown cosmetics can be bought online at Bloomingdales and StrawberyNet
How about you? Do you change your lipstick color a lot?
Want to get more articles from 40+style in your inbox, subscribe here.
You can also connect with 40+style on Facebook, Instagram or Pinterest.
Support 40+style by using the links in our articles to shop. As an associate for Amazon and many other brands, we receive a small commission (at no cost to you) on qualifying purchases which enables us to keep creating amazing free content for you. Thanks!