Some surprise pictures today from wonderful Siem Reap in Cambodia. Facebook fans and twitter followers may have picked up that I went away for a few days last week during the Chinese New year public holidays. Siem Reap in Cambodia had been on our list of places to see for quite a while and this short break seemed like a perfect opportunity.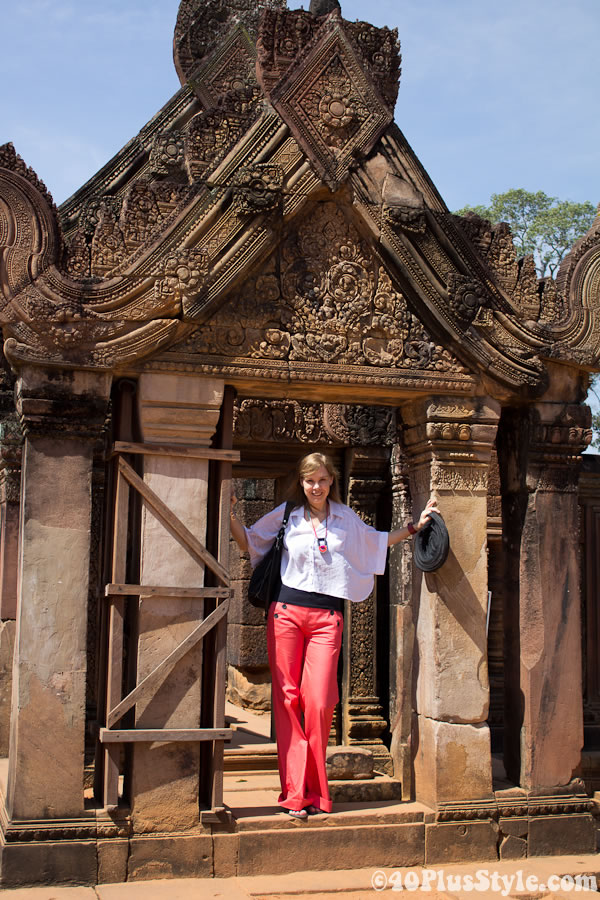 The main attraction in Siem Reap are, of course, the many ancient temples like Angkor Wat, Angkor Thom and many others. I have actually posted some images of temples of Siem Reap and the village I visited on my personal site, as well as on the 40+ style facebook page, so if you're interested in seeing more or learn more about Siem Reap, you can check those out.
What I wore
But now let's concentrate on what I wore. As faithful readers of this blog will know, I'm quite a fan of wide legged (sailor) pants. You have all seen my favorite white sailor pants a few times already, so when I went to the Alldressedup sale last week and saw these sailor pants at a massive discount in my size, I snapped them up in 2 colors.
To be honest, I wouldn't normally have bought orange pants, but as you all may know, orange is the IT color of the year 2012. Although this particular orange isn't quite the color tangerine that is the particular flavor of orange this year, it still comes close. Since the trousers were cheap and I knew that I like this particular kind of trousers, I decided to have a little fun with orange and join the trend!
Orange is not an easy color to wear, I find, although you can always mix it with white (I gave some color combination recently in this article on how to wear orange). On this particular day, I needed to stay comfortable (it was very hot) which is why I wore the very flowy and thin cotton shirt and I wanted to add an extra flavor to give the whole look a bit more of a graphical and playful feel, hence the black top underneath.
The blue version
On the second day I kept it even simpler, opting for the blue version with my white Zara top with black lines. The necklace works here as well and adds a bit of extra color and fun to the outfit. The blue version is definitely a lot easier to wear and I can see myself pairing these pants with many items in my closet.
The hat is not my most stylish one, but in this hot weather where you need constant protection from the sun, it is certainly a very practical one!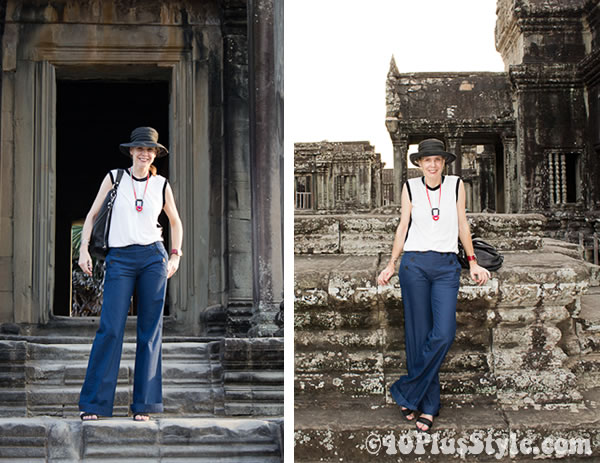 I had a wonderful trip to Siem Reap. The temples are spectacular, the people incredibly friendly and we had a lovely hotel just outside Siem Reap, right on the country side. Taking photos for this blog was a challenge but fun at the same time, so hopefully you enjoyed them. If you like them and want to pin them to your Pinterest board, you can now easily do that with the pin button at the top of this post. If you want to see more images than head on over to the 40+ style Facebook page.
Sailor pants: Alldressedup (still available here)
White shirt: Haji Lane
Black and white top: Zara
Necklace: Alldressedup
Are you going to wear orange this coming season? 

Want to get more articles from 40+style in your inbox, subscribe here.
You can also connect with 40+style on Facebook, Instagram or Pinterest.
Support 40+style by using the links in our articles to shop. As an associate for Amazon and many other brands, we receive a small commission (at no cost to you) on qualifying purchases which enables us to keep creating amazing free content for you. Thanks!