I have often talked about adding more color to your wardrobe. Many women over 40 (including me!) benefit from a bit more color to their outfits, as it brightens our complexion and gives us just that extra little pizazzz. I usually add color in subtle ways: some red in my marine style outfit, a bit more color with my orange pants. So I was delighted that new local online shop Dresstronomy offered me this bright blue cobalt dress to try and take me a little bit out of my comfort zone!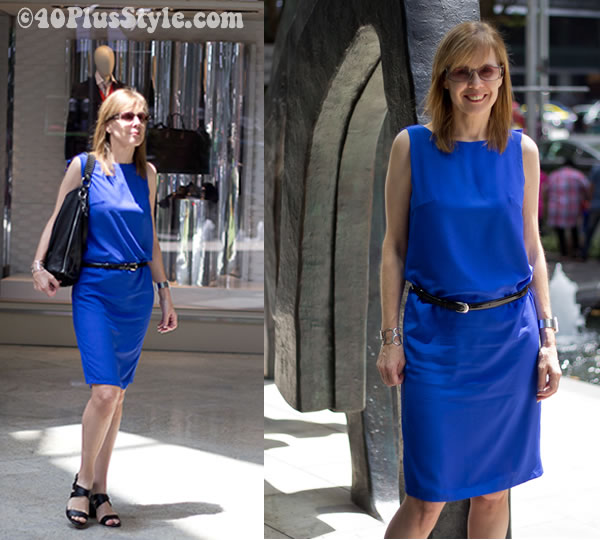 Dresstomony was just recently established in Singapore and they have gone off to a good start. Their shop looks great and is easy to use and what's more, their dresses cater towards my often minimalist style. Prices are affordable and I can only imagine that customer service will be great, since founders Patricia Teo and Tylda Tan are such delightful women. All dresses are designed by Pat and the girls' goals for the store are big; I love young entrepreneurs with big dreams! My only wish for the shop is for some more high quality fabrics, like silk, as well, which is something that they may consider for the future.
To be honest, I hadn't noticed this dress the first time when I browsed the Dresstronomy shop and was more drawn to their Lil Riding Hood design. It wasn't until Pat and Tylda recommended this bright blue cobalt dress to me as the kind of dress I would like, that I saw the potential of it. They had read how I loved the dropped waist dress design and my need for more color. That effect can easily be achieved with this dress by wearing a belt with it. I saw it as a great opportunity to step out of my comfort zone and wear a bright color. And I must say, I felt great in it. The great thing about an affordable dress is that you can experiment with new colors and designs and discover new sides of yourself.
When wearing a bright dress, I feel it's important to tone it down though. Of course you can go all out and go for extreme color by combining this dress with a bright red cardigan and pumps, but you will need to be careful that it doesn't become color overload and you will look like a clown. Instead I like to stay true to myself by toning down the color with combining it with basic black. Although I could have opted for a black watch as well, I thought it would be more fun to pair it with my white watch band (very easy to do with my collection of versatile design watches). That makes the look a little bit more graphical (one of my current favorite Spring 2012 trends) and not so matchy-matchy.
For now visit Dresstronomy and have a look at the dresses and jewelery for yourself. They ship worldwide! And tell me, which one is your favorite?

Disclosure: this dress was gifted to me by Dresstonomy
Related posts: