Lizzi Richardson is a fashion blogger and personal stylist from the Home Counties in the UK, who has loved dressing up since she was a child.
Even then, she was clearly happy to experiment with her style – as she remembers parading around in her dad's trousers and her granddad's cardigan. Now, she describes her style as edgy and romantic…
Can you tell us a little bit more about yourself?
I'm Lizzi, I'm in my forties and I am a UK fashion blogger and qualified stylist with over 25 years Product Marketing experience.
My blog Loved By Lizzi is an online destination for fashion trends with style management.
I also love posting my daily #ootd posts on Instagram @lovedbylizzi and I share my styling tips over on IGTV!
Lizzi wears a denim jumpsuit from Topshop. Get this similar pair of heels, crossbody bag and neck scarf to get her look.
Can you tell us a bit more about your blog and why you created it?
My blog started back in 2011. At the time, it was just a place I could share all items I shopped for, not just clothes but gifts too – it was also at this time I decided to learn about styling woman and I took a course, just because I loved it so much.
I always thought (in my head) that only my Mum read my blog and no one else. In 2016 my father passed away unexpectedly and I stopped blogging for about six months.
I decided to return to it with a focus purely on fashion trends, supported with my knowledge of styling. When I published my first blog post, after this time away, I got so many lovely messages from ladies pleased to hear I was back, that I realized I had built my own community.
And now I feel a great honor to serve them and I enjoy creating the content – it's a fabulous way to spend my time.
How would you describe your own personal style?
The foundations of my style is very much classic, with a vibe of edgy-romantic – if you look at my daily outfits, I like velvet, floral, pearls all quite romantic but I harden this look with my love of leather items, like my boots or biker jacket.
I am very much into the details, so my clothes may appear quite plain, but the buttons or ties will have a premium finish.
Check out these floral dresses from Chelsea 28 and Gal Meets Glam Collection. Complete the look above with this similar velvet blazer (in black), booties and handbag.
What would you consider the most important components of your style?
I like plain items that have thought-through details.
A black polo neck may have interesting buttons on the cuffs. Or my camel coat, I will look at the details of the belt and the inner lining.
I like my clothes to be relatable but have something different about them to make them unique.
Steal her look above with this similar rib dress, coat, belt, high boots and handbag.
Where do you live and how does that influence your style?
I live in the Home Counties of England, but I frequently visit London.
I would say my style is urban and not casual-country weekend.
I am also half-Italian, and I know the details of my choices on jewelry, floral patterns or metal finishes on my boots and bags are heavily influenced by the Italian essence of style.
You may also like to read how to style yourself like Italian women.
Check out this similar shirt, leather pants, sneakers and tote bag.
Do you feel you have a signature style?
Yes I think I finally do. I will typically be in a floral midi dress with heeled boots and a statement handbag.
I rarely leave home without a heavy dose of jewelry, more is more to me.
Get her look with this similar floral dress, handbag, booties and belt.
What inspires your outfit choices the most?
I am a mood dresser – so I cannot plan to far in advance. I take time out and have try-on sessions, especially when I am incorporating new items I've purchased.
I will pretty much go through all my favorite pieces to see what works with what.
I frequently look back at my own #ootd posts, I have a terrible memory on how I have styled it before (as it would have reflected my mood that day).
I make every effort to try not to wear it again exactly the same way; I always like to do it just a little bit different, even if it's as little as a change of shoes.
If I am buying into a new trend and I've never styled the item before, I will use Pinterest and create a moodboard to get into the vibes of that item.
Do you take things like color profiling or body type into account when you dress?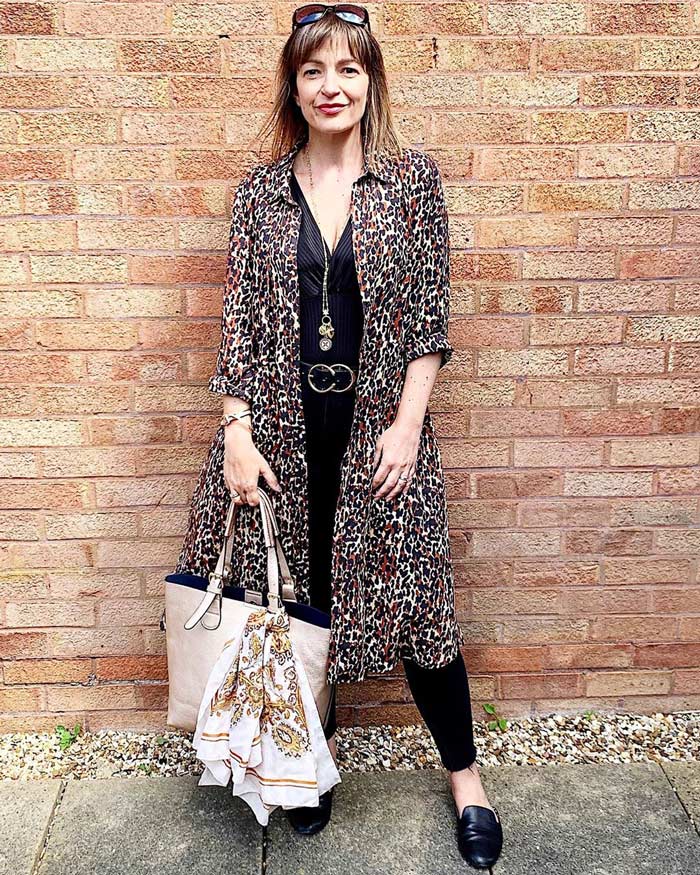 As a quailed stylist, yes I do, however I do not believe for fabulous styling you should follow a rule book to the letter.
I am an Autumn that wears black (this is a big no-no) but I soften the black with leopard print.
I tend to stick to key rules on my hourglass shape, so unless it is casual styling I will definitely accentuate my waistline.
My motto is get it 80% right and the other 20% do what you like!
Check out this similar leopard kimono, pleated top, jeans, loafers, tote bag, belt and necklace to get her look above.
What is your current body type and height and what are your best tips for dressing for these?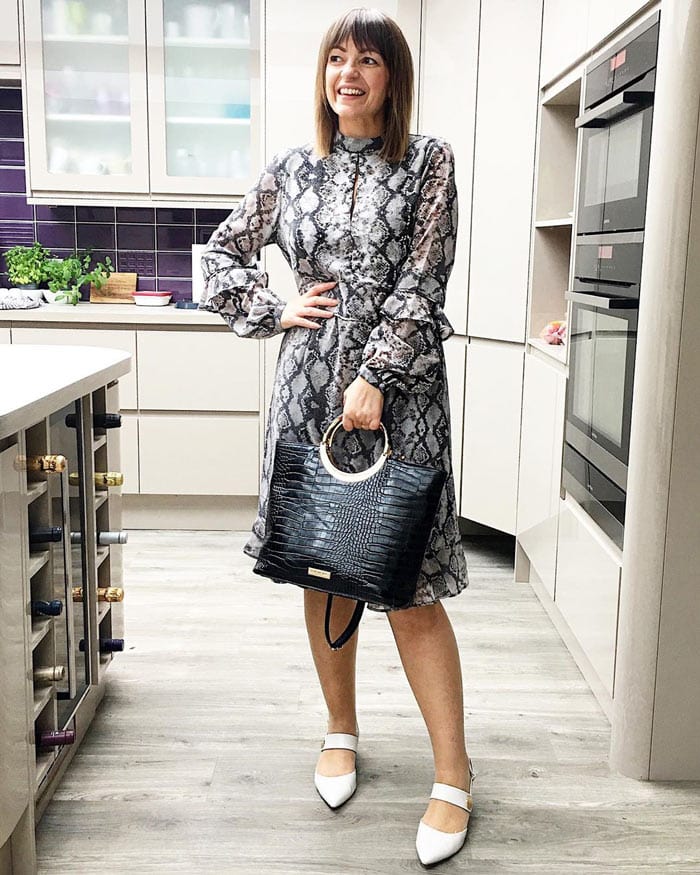 You can try out these snake printed dresses from WAYF and Halogen to pair with this similar handbag and shoes.
I am 5ft 6 inches and hourglass, and my three tips would be:
Make sure everything fits properly (who cares what the size label says – cut it out) and if needs be get a seamstress to help you get a good fit.
Always show off your waistline, it's your best asset.
Make sure your items stop at the most flattering places; so your jacket length and sleeves, trouser length and dress length should sit where it make you look good – and if it doesn't don't buy or get it altered (as in shorten them).
Do you have any favorite brands?
Yes. I love & Other Stories, I like H&M, River Island and I love shopping on ASOS. For trend shopping I usually opt for Zara or Mango.
Has your style changed at all after turning 40?
I am more confident. I dress for me. And I dress for my mood, something I used to ignore and now I embrace it because I know I will have a happier day wearing what I love.
Steal Lizzie's look above with this similar jacket, crop pants, shoes, handbag and pearl necklace.
Do you believe in dressing 'age appropriately' and what does it mean to you?
There are some age appropriate items, but the world of style and fashion has moved on from the more opinionated days of putting ladies in specific boxes.
I urge every woman to find her own personal style and stick with it, knowing that it will evolve over time as we all fall in and out of love with things.
I would also say that covering up can be the most sexiest look, so use fabrics like sheer, lace and textured fabrics to create a more dynamic look than perhaps showing off flesh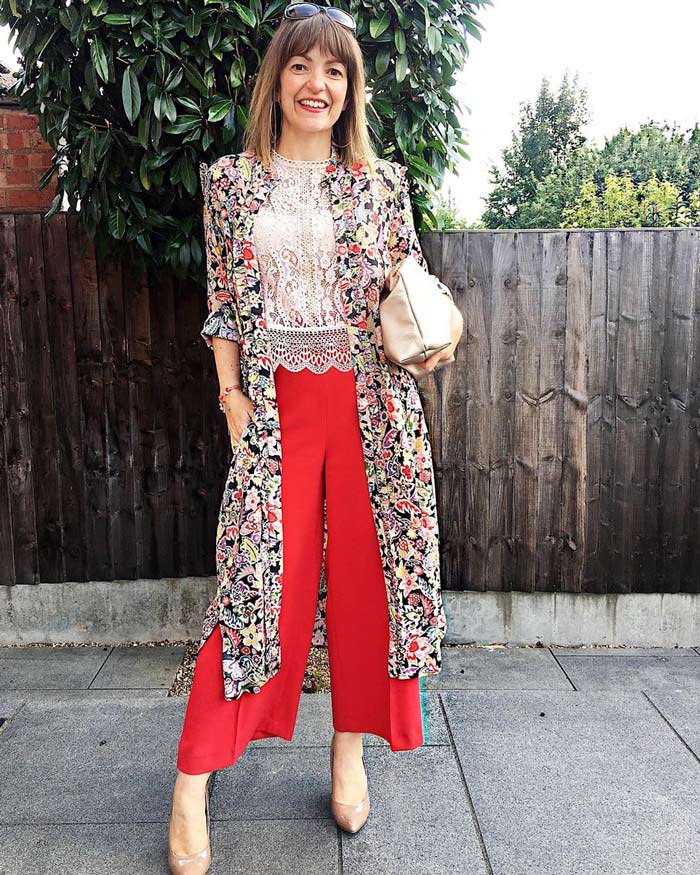 Check out this similar lace top, floral kimono, wide leg pants, nude pumps, hoop earrings and handbag.
Would you say that at this stage of your life you are now more, or less interested in fashion, style and the way you look?
I have always been in love with fashion and styling, and will be to my very last breath!
Some of the ladies I admire and look to for inspiration are well into their 70s – that's what I particularly love about Instagram. It has opened the door to all ladies of style at any age, and I just love that.
I was once in Monaco and this super stylish lady well into her 90s stepped out of the hotel, and I said to my husband 'look at her' that's what I want to look like at her age – and, if I could, I would have stood there and clapped at her; she was inspirational.
You may want to check out this red printed dress and handkerchief hem dress from Sam Edelman. Here is a similar pair of lace-up espadrilles, hoop earrings and handbag to recreate her look.
Why is the way you look important to you?
Whether we like it or not, people judge us on how we look and have made a decision on us before we even open our mouths.
I've always been quite ambitious and I know that to be different you need to have something that makes you stand out from the crowd.
I use my style to do this. I love it when someone has the confidence to come over and simply say 'I love what you are wearing'; this is an indication they would like to talk – it's an ice breaker! One I have used many times myself when I have to go to events, places or travel on my own.
Check out this similar jacket, jeans, high boots, plaid scarf and quilted handbag.
What is your beauty routine and what are your favorite beauty products?
I am not big on beauty – I have a very basic routine of cleanse, wash, moisturizer and then primer before my foundation. My foundation will always have SPF in it.
The vast majority of my skincare comes from Boots No7 plus whatever has been given to me, or I happen to stumble on and want to try. That said, I am partial to products from Chanel, especially the make up.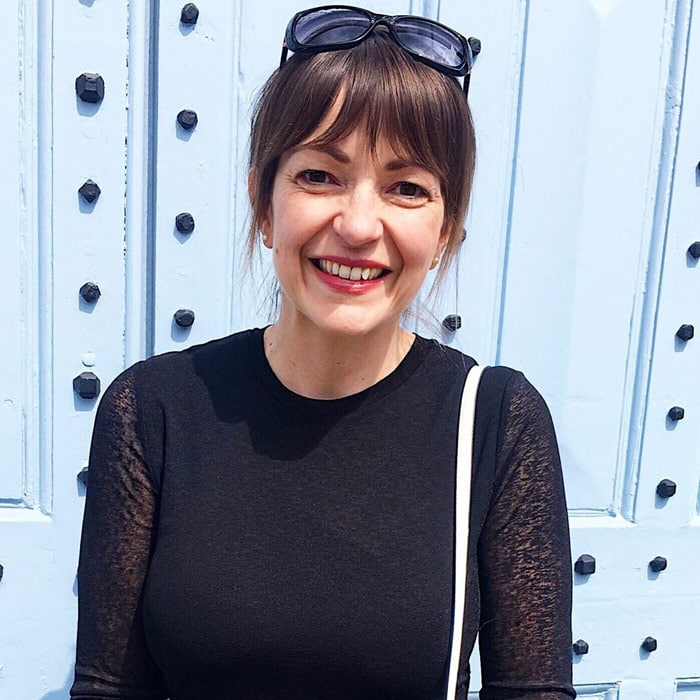 Do you follow trends? And if yes, which trends excite you at the moment?
Trends are what keep classics modern. I love all the animal print, I am particularly loving velvet this AW19 and I have just purchased another teddy coat as I love the coziness it offers and yet keeps me looking stylish.
Do you have any fashion and style tips for women over 40?
If you are feeling very low and not confident – just wear head to toe black – this will make you uber stylish without doing any work.
If you are going to a stylish event that will have lots of stylish women, I recommend to wear color, try to wear old clothes/preloved/vintage (as in don't buy anything current as you may duplicate with another lady in the room) and always wear high heels when you are out-out; far less frumpy.
Take pride in your details, like jewelry, shoes, bags and belts – all of these small items say a lot about a woman.
And my final tip, always be YOU, because no one else can be that woman!
Get her look with this similar dress, ankle strap heels, shoulder bag, bracelets.
Want to see more of Lizzi Richardson's chic style? Be sure to follow her on Instagram.
Which of Lizzi's outfits is your favorite look?

Continue reading:
Like this style interview? Save it on Pinterest!
Photos from Lizzi (@lovedbylizzi)
Want to get more articles from 40+style in your inbox, subscribe here.
You can also connect with 40+style on Facebook, Instagram or Pinterest.
Support 40+style by using the links in our articles to shop. As an associate for Amazon and many other brands, we receive a small commission (at no cost to you) on qualifying purchases which enables us to keep creating amazing free content for you. Thanks!