If you love to look feminine and pretty, and you wouldn't go out without looking groomed, you may well have a romantic style personality.
We're all individuals though, so you'll find that while you have one dominant style personality that you are most drawn to, you are also attracted to elements from other style personalities.
You may, for example find that you have a natural style but like to add a touch of romance with some floral prints.
If you aren't sure what your style personality is you can take this fun quiz to find out.
So what are the elements of the romantic style personality?
1. You dress to express your femininity.
Being practical or comfortable is not always your top priority. Even when you are dressing casually, you are likely to add a romantic element such as a touch of lace or a pretty print.
2. You are attracted to beautiful pieces.
As a romantic style personality, your eye is drawn to pretty pieces and patterns, including tactile fabrics.
3. You like embellishments on your clothes.
Your clothes may feature frills, ruffles, bows and lace.
4. You like soft colors.
You are drawn to pastel shades and other soft colors.
5. You Like To Be Well-Groomed.
Even if you are just running errands, you like to have some make-up on, even if it's just a slick of pink lipstick.
Style Personalities
Like other style personalities, you are likely to find you have one main style personality, but that you are drawn to a secondary or even a third personality.
As a romantic style personality, you may also be drawn to elements of the glamorous style personality and be attracted to glamorous, figure-hugging outfits as well as deeper jewel colors.
In general though, your style tends to be softer and more romantic rather than overtly glamorous.
Catherine @notlamb above (read her style interview here) adds an element of romantic style with her pearl handbag.
Recreate her outfit with this similar jumpsuit, sandals, bag and earrings.
Easy ways to add some romantic style to any outfit
Maybe a romantic style already resonates with you or maybe you want to dabble a little with a more romantic look, although you feel that you have a different style personality, such as classic or glamorous, for example.
Below are 5 simple and stylish ways you could add a touch of romanticism to your existing closet.
If you aren't sure about color, always go for pastel!
Simply adding a pastel-colored top to your jeans is a great way to get a romantic look which is still casual.
Every detail counts
It's really all about the little, and the not-so-little, details when it comes to romantic style. Look out for florals and swirling prints as well as embroidery and crochet.
While you might not notice at first glance, the NYDJ jeans feature a lace-detail hem.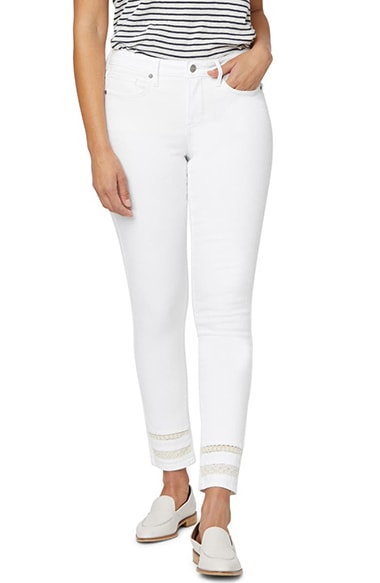 NYDJ high waist lace inset skinny jeans
Look for feminine shapes
Lizzy @whatlizzyloves above (read her style interview here) chooses a very feminine dress with lace, puff sleeves and a scalloped hem.
If you have a romantic style, you may wish to emphasize your waist and your feminine figure. Look out for styles that nip in at the waist, such as peplums, fit and flares and belted styles.
Check out these dresses from MSLG, MISSMAY and MEROKEETY that you can wear with this similar pair of sandals and handbag.
Loveappella scoop neck peplum top
Choose lace
Lace is often associated with weddings, so it's no wonder than opting for lace can immediately give you a more romantic look.
However, you don't have to save lace for special occasions. You could add a touch of lace to more casual outfits.
Rejolly kiss lock lace handbag
Add some flowers
Another easy way to add romance is to choose floral prints and patterns, or opt for accessories in floral shapes or styles.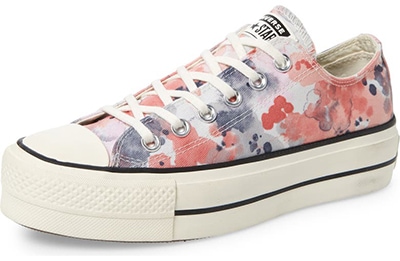 Chuck Taylor® All Star® washed floral platform sneaker
A romantic style capsule for you
Now you're thinking about whether a romantic style sums up your own style and how to add some romance to your looks, let's put together a full romantic capsule wardrobe for you.
Below, you'll find all the tops, bottoms, dresses, shoes and accessories you need to evoke a romantic style this spring and summer.
At the end of the article, you'll see all of the clothes and accessories put together in one capsule wardrobe.
Romantic style tops
As a romantic style personality, you will naturally be drawn to tops that feature some ruffle detail or draping. Your print of choice will be a beautiful floral rather than anything too graphic such as stripes or geometric shapes.
Just make sure that you include some plain tops in your closet too. Otherwise, you may find that while you have a lot of clothes, you don't have a lot of outfit choices as there are many pieces which won't go well with each other.
Cathy @themiddlepageblog above (read her style interview here) opts for a top featuring ruffles at the neck and shoulders.
Get her look with this similar blouse, jeans, sandals, bag, belt and sunglasses.
Gibsonlook ruched sleeve top – Zadig & Voltaire floral camisole – Halogen lace & crepe top – Halogen lace inset top
Romantic style jackets and coats
While it often feels natural to look for a coat in a darker hue such as black, you will instead find that your style personality is better suited to softer shades.
You could look for pinks to add interest to your closet as well as soft taupes or grays to ensure that you have enough neutrals in your wardrobe to balance out your outfits. You can look for jackets and coats which have draping, large collars and belted waists.
You will also like to feature texture in your coat selection. A Chanel-style jacket with a soft pattern and texture will be great to pair with jeans, for example, or choosing suede rather than leather will appeal to your desire for tactile textures.
Emms @beautifuleveryday_uk above wears a pink moto over her floral midi dress.
Steal her look with this similar dress, moto jacket, flats and bag.
Cole Jaan leather zip front jacket – Romwe waterfall collar wrap cardigan – Belle Poque lace cardigan – Nordstrom Signature collar double face coat
Romantic style pants and jeans
You may wish to concentrate on your tops if you have a romantic style personality. For summer, you can then add white pants. For your jeans, you will probably prefer a soft shade such as a pale gray rather than the traditional blue denim.
You can also pair your plain tees with floral pants or jeans, which are bang-on-trend this season.
Jess @elegantlydressedandstylish above (read her style interview here) wears a floral top with her white jeans.
Frame crop straight leg jeans – Seven floral metallic skinny jeans – Ted Baker London belted paperbag waist tapered jeans – Socialite satin wide leg pants
Romantic dresses and skirts
As a romantic style personality, you are likely to have more dresses and skirts in your closet than you do pants and jeans.
Again, you will be attracted to floral patterns in your dresses. For more formal occasions, you could look at textures such as lace.
The shape of your skirts will vary. You aren't necessarily attracted to one shape over another. But, you will find that both pencil skirts and flared, or pleated, skirts suit your style personality.
You can wear a sweater with any of these skirts for spring and fall to ensure you can continue to wear them when summer is over.
You could also toughen up your romantic style a little by wearing a biker jacket and ankle booties. Adding the unexpected to your style is what makes it uniquely yours.
Souri @abfemme_australia above (read her style interview here) combines a romantic look with minimalism with her all-neutral outfit.
Connected Apparel floral ruched dress – BOSS fit & flare sweater dress – Amy Lynn bias cut satin slip skirt – Ted Baker London print skirt
Romantic style shoes
You can also express your personality through the shoes you wear. Even if you are just wearing jeans and a simple tee, adding some ruffles and choosing a soft pastel, taupe or metallic shade will allow you to show your romantic style credentials.
Eileen @eileenternullo above chooses loafers with her pink shorts.
Recreate her outfit with this similar crop blazer, shorts and ballet flats.
Trotters pointed toe loafer – Marc Fisher LTD suede pump – Sperry slip-on sneaker – Bella Vita suede bootie
Romantic style accessories
Your accessories are likely to include a mix of pieces with plain colors and patterns. You could opt for a beautiful floral scarf or statement necklace.
For summer, a straw bag can add texture to your outfits, while you could add some ruffles to your clutch bag for evening.
You will still want a practical tote bag for day, but you are likely to be drawn to a slouchier shape rather than a structured bag. Or, you could mix elements of the glam style personality and choose a retro-style tote.
Patricia @madamechicbcn above (read her style interview here) combines romance and glamour with her lace skirt, feminine headband and deep red coat.
Get her look with this similar long sleeve top, skirt, blazer, heels, clutch, earrings, sunglasses and headband.
Thacker leather crossbody bag – Milisente floral evening bag – Jubileens lace clutch – Nordstrom print scarf – Lavish by Tricia Milaneze beaded flower drop earrings – Sterling Forever engraved floral hoop earrings
9 outfits using the romantic style clothing pieces from above
Below are 9 outfits that are put together for you using the pieces from the romantic style capsule above.
There are obviously many more ways you could mix and match.
Read our ultimate guide to creating a capsule wardrobe that works best for you.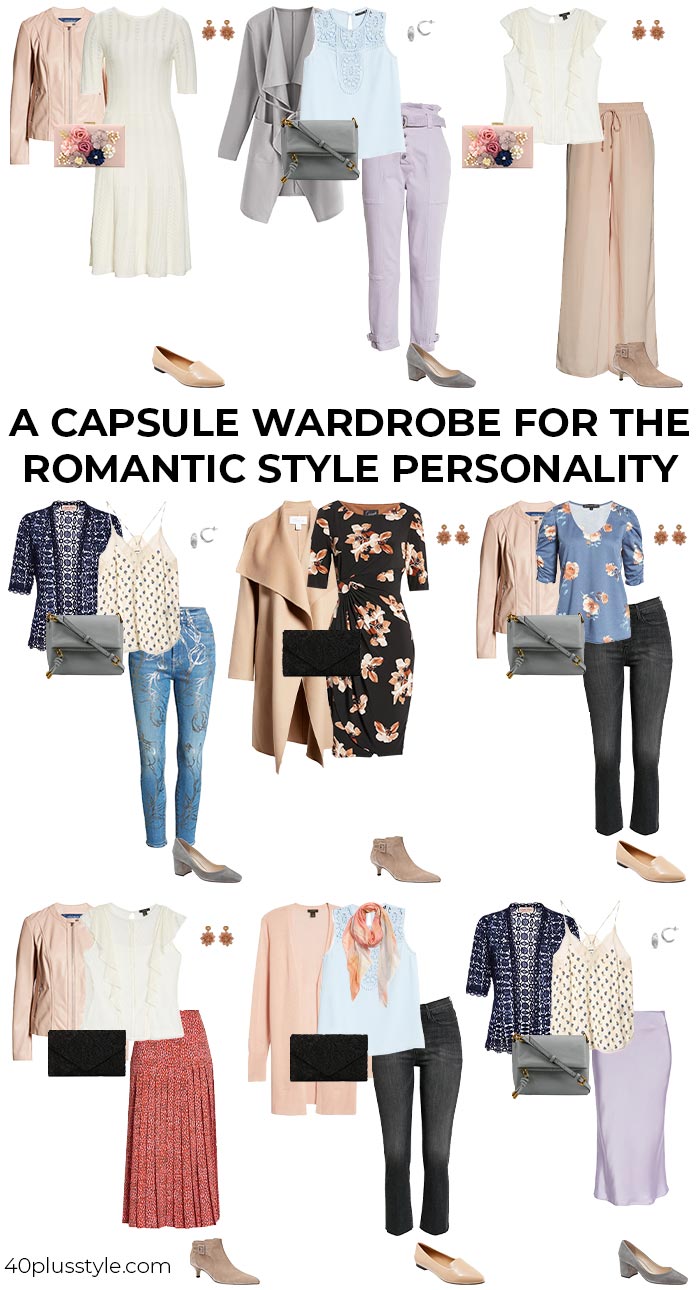 shop all items above here:

More romantic style inspiration for you
The capsule (below) is ast season, but should still give you plenty of inspiration whether you are shopping your own closet or shopping the stores.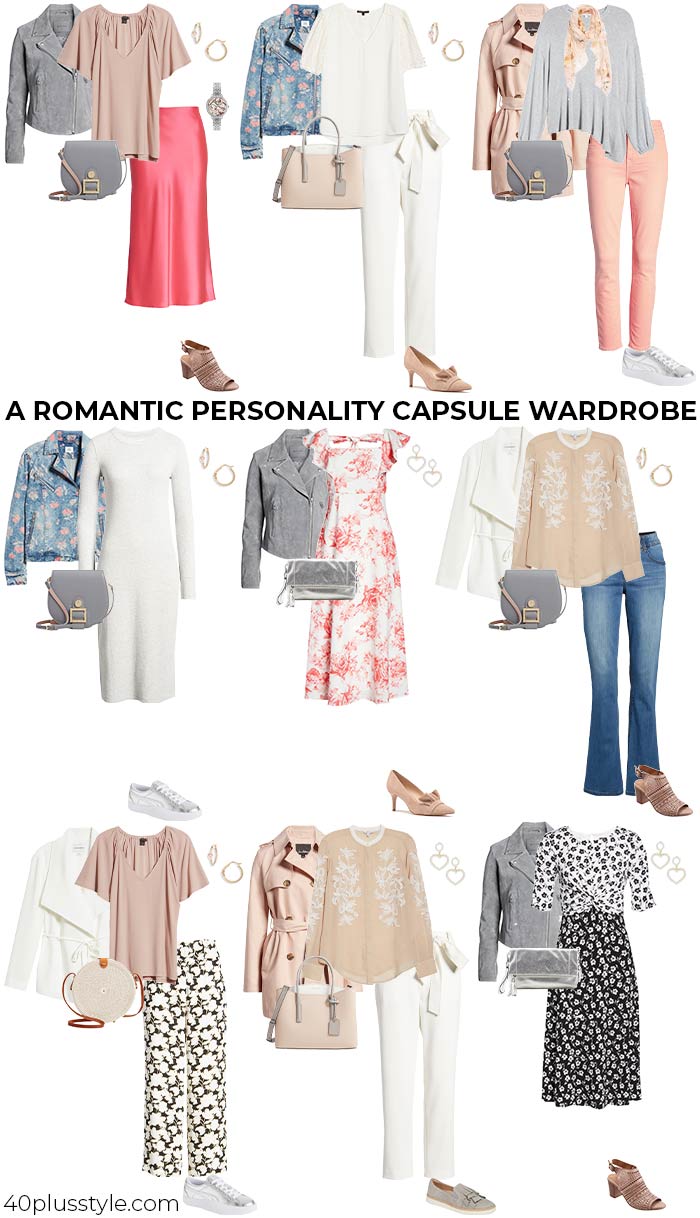 Does this style personality resonate with you? If not, why don't you check out:
Do you have a romantic style personality? How would you describe the elements of your style?
Like this article on the romantic style personality? Share it on Pinterest
Feature image by Lizzy @whatlizzyloves
Want to get more articles from 40+style in your inbox, subscribe here.
You can also connect with 40+style on Facebook, Instagram or Pinterest.
Support 40+style by using the links in our articles to shop. As an associate for Amazon and many other brands, we receive a small commission (at no cost to you) on qualifying purchases which enables us to keep creating amazing free content for you. Thanks!