It's no secret that many women admire French style.
But, just what is the secret to dressing like a stylish French woman? The likes of Audrey Tatou, Charlotte Gainsbourg, Marion Cotillard and Vanessa Paradis always look so effortlessly stylish!
Well, while there is clearly a certain je ne se quoi to their style, there's no mystery.
If you break down the closets of stylish Frenchwomen you admire, you can see there are a few general rules that they follow…
1. Don't worry about trends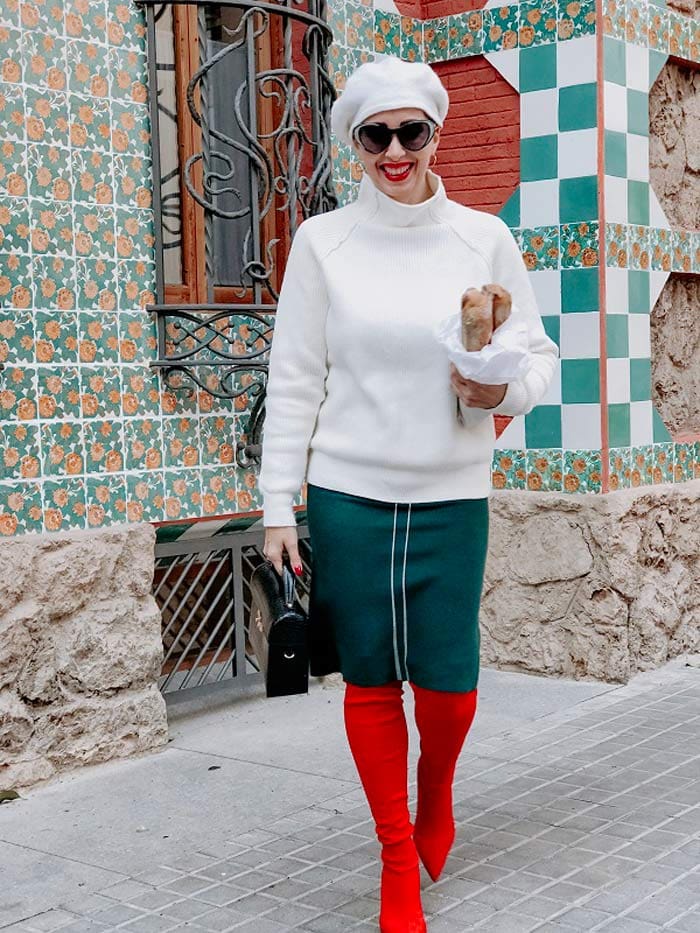 Paris may be one of the fashion capitals of the world, but that doesn't mean French women are obsessed with the latest trends.
That's why you won't find quite so many fast fashion stores in the City of Love.
But, you will find lots of designer outlets where you can pick up last season's clothing. French women are more concerned about their own style than following seasonal trends.
Patricia (above) has her own style, combining trends with clothes she knows are flattering and which suit her style personality.
Get her look with this similar sweater, skirt, tall boots, beret, sunglasses, hoop earrings and handbag.
2. Invest in classic pieces
While it may be a cliché to think about a French woman in a Breton top or a trench coat, clichés are clichés for a reason, and that's generally because they work!
Nothing looks more effortless than a striped top, worn with skinny jeans and ballet pumps and topped with a trench.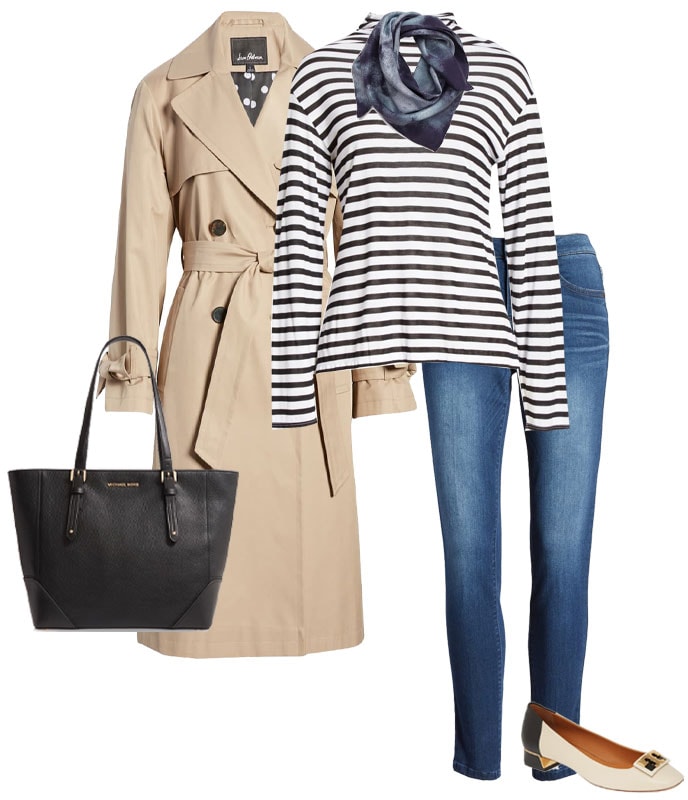 Sam Edelman trench coat – ATM Anthony Thomas Melillo stripe top – Wit & Wisdom jeggings – Tory Burch flat – Michael Kors tote – Treasure & Bond square scarf
For more outfit ideas, read our article on how to wear a trench coat.
3. Build a wardrobe of reliable French style classics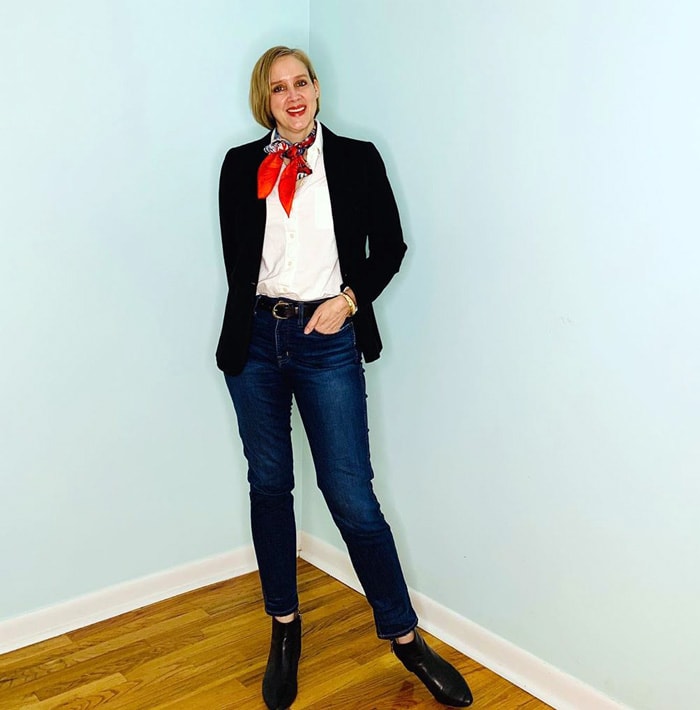 Talking about classic and timeless brings us neatly to my next point.
Reliable is often associated with boring. But why is that? What's wrong with reliable.
Wouldn't you rather your partner was reliable rather than never knowing where you are from one moment to the other? Or that your friend reliably turned up on time?
Ashley (above) wears a stylish combination which could also be worn with so many items in your closet.
Check out this similar blazer, shirt, jeans, booties, belt and scarf.
Build up a wardrobe of reliable classics that you can turn to time and time again and you'll never worry about what to wear. French women classics include:
Little black dress
Is there anything that exudes more elegance than a little black dress?
It's a go-to for any events you have coming up, dinner or a date.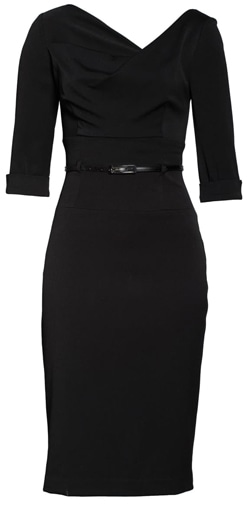 Trench coat
One of the most versatile outerwear choices you can make. A trench can be worn for day or evening.
Sam Edelman double breasted trench coat
Blazer
There's no easier way to add a little something extra to your outfit, than simply popping a blazer over the top.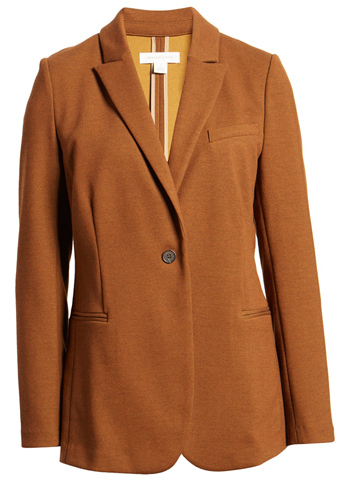 Check out our extensive guide on how to fit a blazer.
White shirt
You can pretty much wear a white shirt with anything.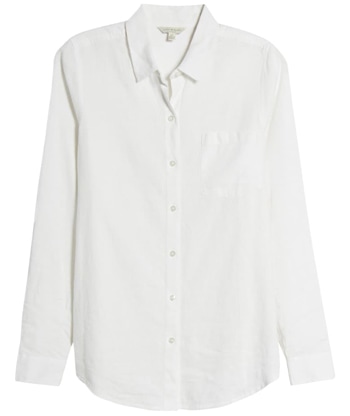 Slim leg black pants
Wear your slim leg black pants with a shirt like the one above, and a pair of flats.

Polo Ralph Lauren straight leg pants
Ballet pumps
French women don't like to be uncomfortable. Invest in a stylish pair of ballet pumps.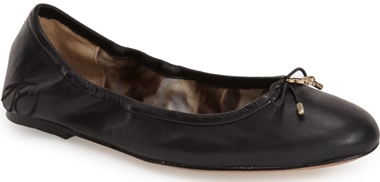 Also take a look at how to build a capsule wardrobe.
4. Keep it neutral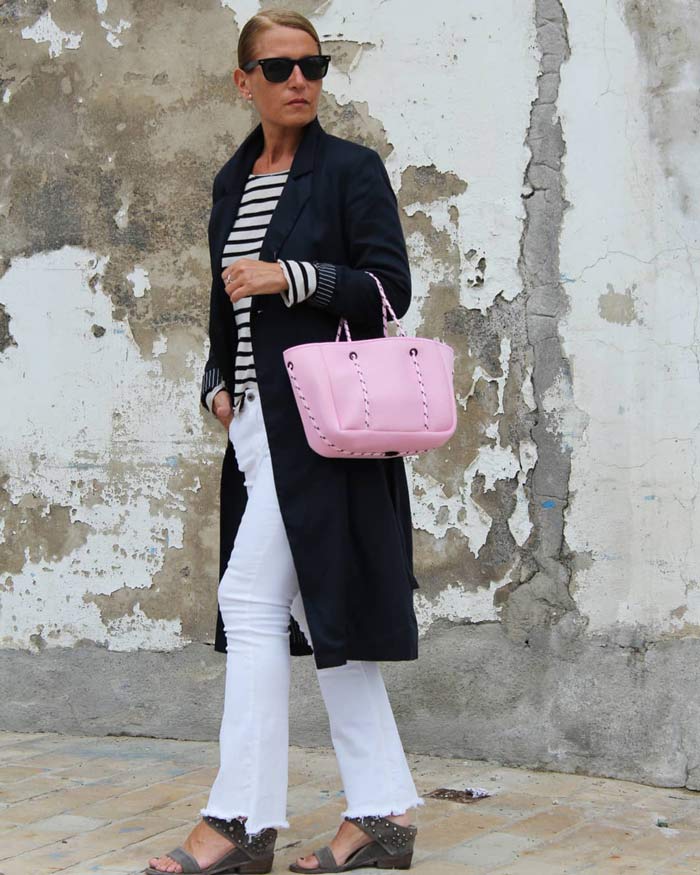 Obviously, I'm generalizing here! But, French women tend to prefer neutral palettes rather than brights.
They look sexy and stylish in a muted, subtle way. Look at navy, black, white, taupe and gray.
Of course, if you want to add a pop of color, you can always do so with your accessories.
Nagore (above) wears neutrals with a dash of pink.
Get her look with this similar coat, stripe tee, jeans, sandals, sunglasses and handbag.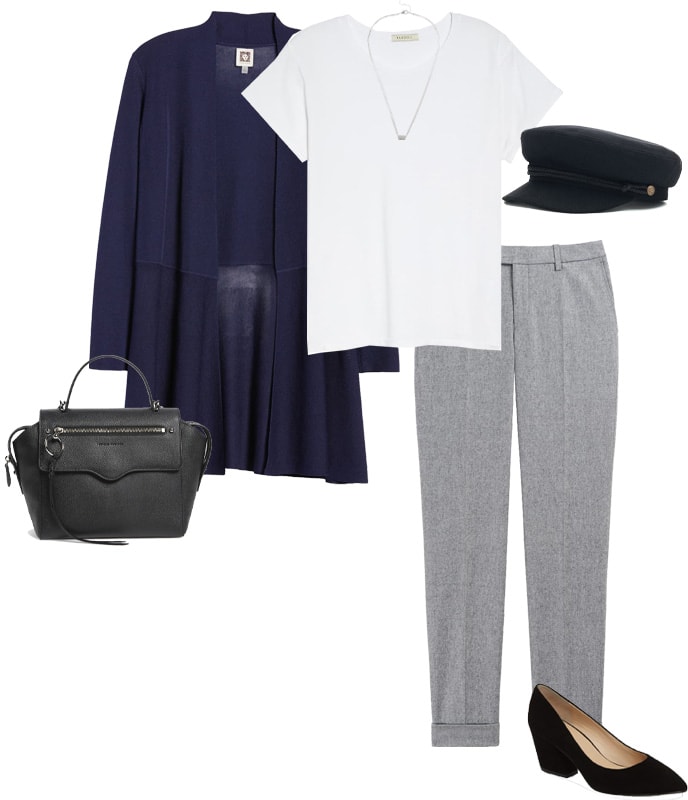 Anne Klein cardigan – Ragdoll tee – SUISTUDIO trousers – Botkier pump – Rebecca Minkoff satchel – ALLSAINTS pendant necklace – Brixton fisherman cap
You may enjoy this article on how to complete your outfits with accessories.
5. Buy a comfy pair of flats
Coco Chanel once said that a "woman with good shoes is never ugly".
But that doesn't mean you have to suffer for fashion. French women love to invest in one or two really good pairs of flats which they wear time and time again.
Think ballet pumps, brogues and loafers. There's no need to totter around in four-inch stilettos!
Oxana (above) looks incredibly stylish in her loafers.
Check out this similar pair of loafers, coat, burgundy top, jeans, sunglasses and Louis Vuitton bag.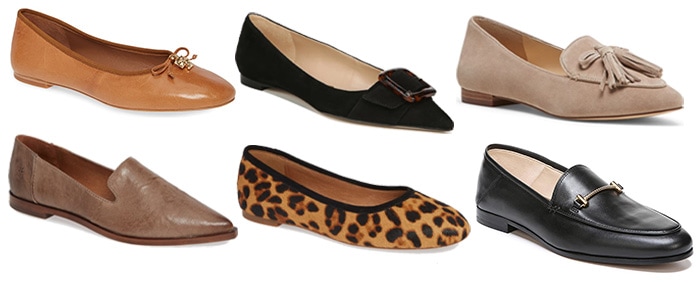 Tory Burch ballet flats – Sam Edelman flat – Sole Society loafer – Frye flat – Madewell ballet flat – Sam Edelman loafer
6. Dress to feel good
While it's hard not to take the opinions of others into account when you dress, French women tend to dress for themselves rather than anyone else.
That's probably why they always look so effortless. It's because they feel comfortable.
7. Less is more
Another famous quote from Coco Chanel is about accessories. She advised removing the last accessory you put on.
French style is really about less is more, and keeping accessories low key, yet quality.
The French way of dressing is all about finding what works for you.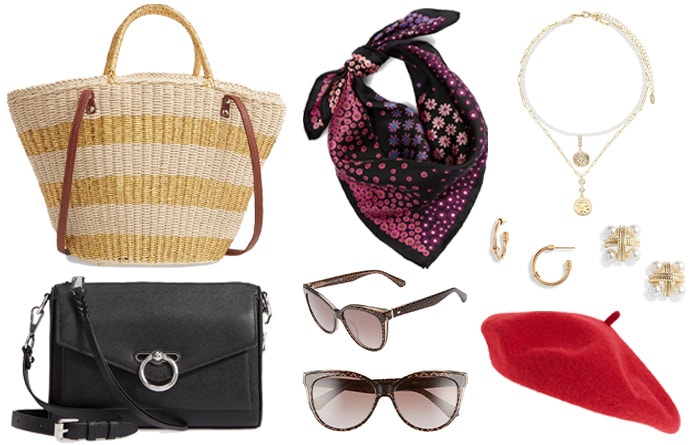 Mali + Lili straw tote – Rebecca Minkoff crossbody bag – Kate Spade New York silk bandana – Kate Spade New York sunglasses – Ettika layered necklace – Gas Bijoux hoop earrings – Sterling Forever stud earrings – Halogen wool blend beret
8. Keep your hair undone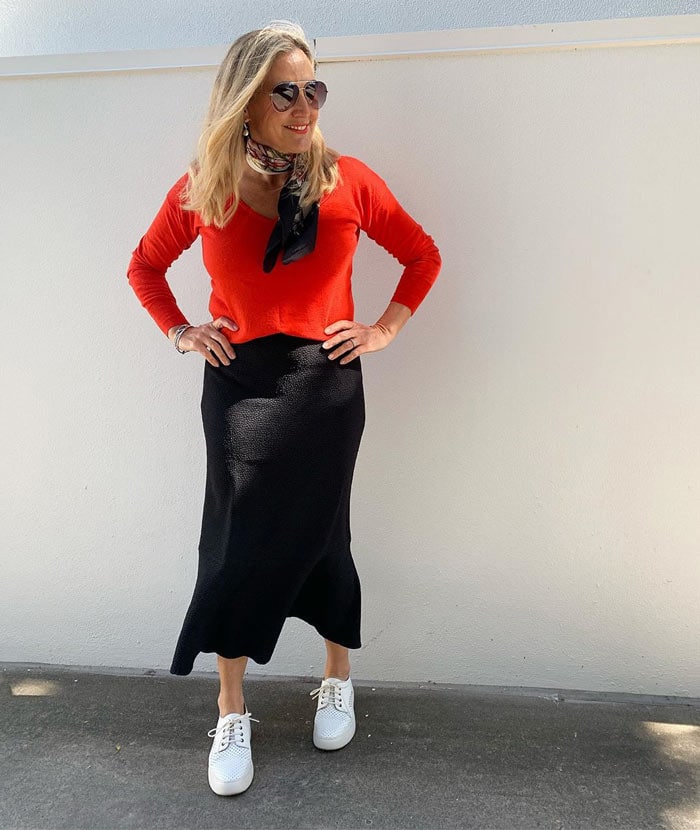 French style is not about perfectly coiffed 'dos, but rather leaves the hair a little undone.
You may find a stylish French woman wearing a long gown on the red carpet, but her hair will be deliberately left au natural.
According to celebrity hairdresser David Mallet, French women will put their hair up in a bun, create texture, use dry shampoo and volume powder, and only wash their hair around once every five days, so their color lasts longer.
Melinda (above) keeps her hair natural yet stylish.
Steal her look with this similar long sleeve top, midi skirt, shoes, sunglasses and scarf.
9. Let menswear inspire you
Is there anything more nonchalantly elegant than a French woman wearing a menswear-inspired tux as evening wear rather than a slinky evening dress?
Think about pantsuits for evening events, or add a menswear-inspired double-breasted blazer to your daytime wardrobe and wear over jeans.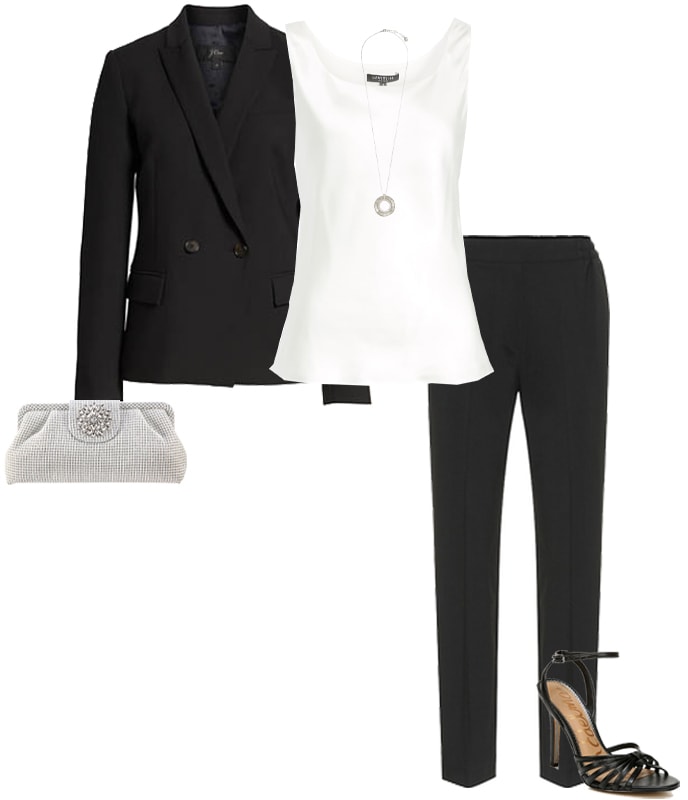 After Six tuxedo jacket – Lafayette 148 New York silk tank – After Six tuxedo pants – Nina silver clutch – Sam Edelman ankle strap sandal – Vince Camuto pendant necklace
10. Fit is everything!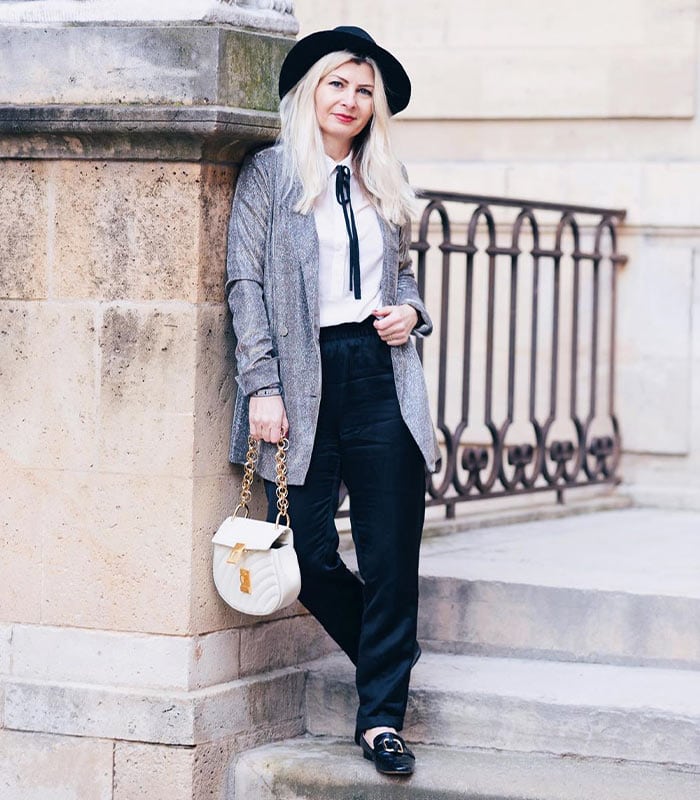 For French women, fit is everything. They would rather have fewer pieces which fit perfectly rather than an overflowing wardrobe, and they're on first-name terms with their tailor.
Martina (above) wears her blazer slightly over-sized but still keeps her look streamlined.
Check out this similar tie neck blouse, blazer, pants, flats, handbag and fedora hat to get her look.
For more outfit ideas, read our article on how to wear blazers with jeans.
11. Buy a Chanel-style jacket
If in doubt, think about what your favorite French icon would wear, or indeed what Coco Chanel herself would have chosen.
You don't need to have a Chanel budget, but you can look out for Chanel-esque jackets which look great worn over jeans with flat pumps and slim jeans.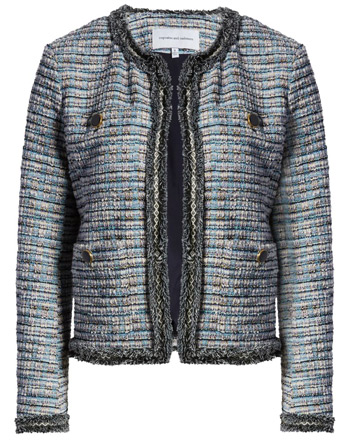 Cupcakes and Cashmere bouclé jacket
12. Avoid flashy logos
You'll find that while French women love quality and will invest in clothes and accessories they can wear for many years, they don't like overtly flashing their designer labels.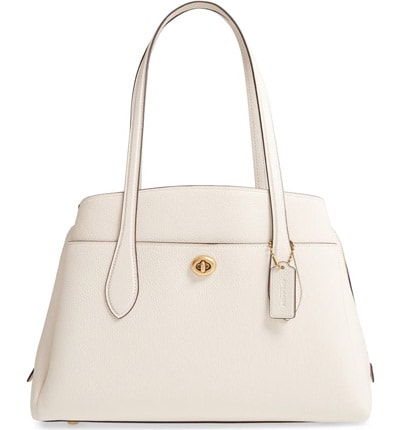 13. Think about cost per wear
When buying something new, don't necessarily think about what the initial cost but about how long you will keep it for and how many times you will wear it.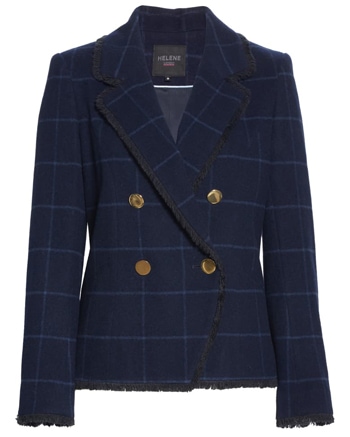 Helene Berman fringe detail double breasted jacket
14. Wear with confidence
Last, but most definitely not least, wear your outfit with the utmost of confidence. If you like to work on your confidence from the inside out, you may like to check my articles on how to build confidence in yourself and how to feel confident in your clothes.
Vianei (above) exudes confidence in her neutral outfit.
Recreate her look with this similar sweater dress, coat, tall boots, belt, beret and sunglasses.
What tends to make French women stand out more so than what they are wearing is that certain hard-to-put-your-finger-on swagger that exudes quiet confidence and a sense of self belief.
It's a take-it-or-leave-it kind of attitude which says I'm not going to wear heels and make myself comfortable just because someone else things they look good, or I'm not going to wear a dress to the party when I'd rather wear a tux.
Find your own inner French woman confidence and you'll have the best accessory possible.
Do you admire French style? What elements do you already have in your closet?
Continue reading:
Like this article on French style? Save it on Pinterest!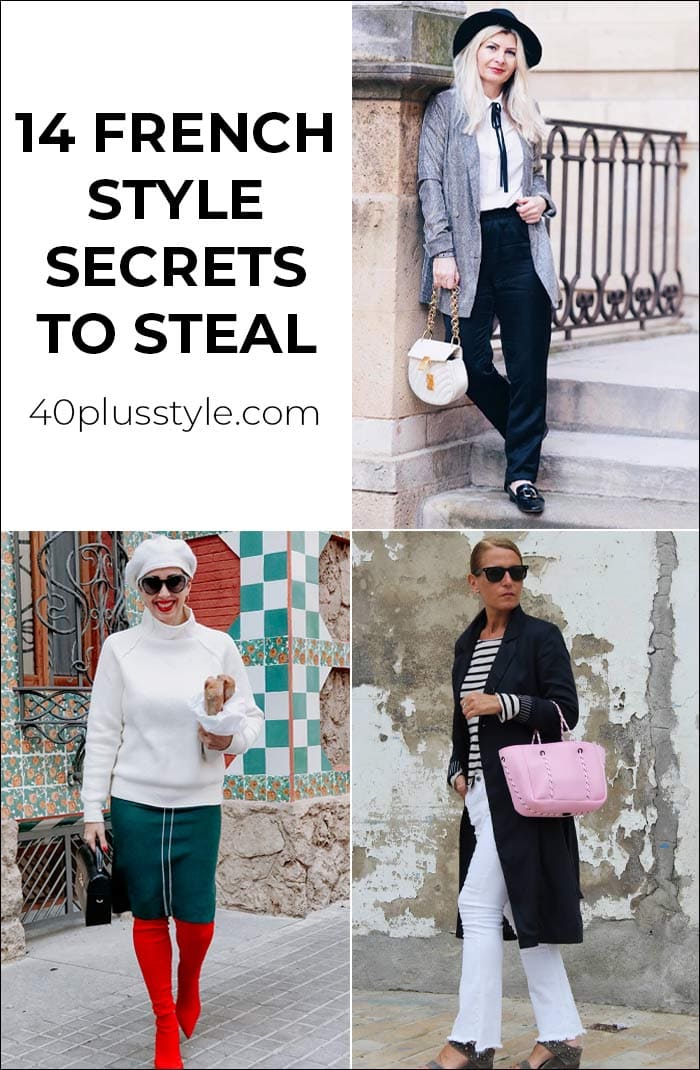 Feature image by Martina
Want to get more articles from 40+style in your inbox, subscribe here.
You can also connect with 40+style on Facebook, Instagram or Pinterest.
Support 40+style by using the links in our articles to shop. As an associate for Amazon and many other brands, we receive a small commission (at no cost to you) on qualifying purchases which enables us to keep creating amazing free content for you. Thanks!