I really wanted to get some pointy pumps into my wardrobe. However, my feet  did not agree as they simply did not fit into any of the pumps that took my fancy.
When I talked about this on my Facebook page recently, Shari came back to me saying that she recently found some really good and very comfortable pumps at Clarks. That got my attention. Who would have thought Clarks had pointy pumps?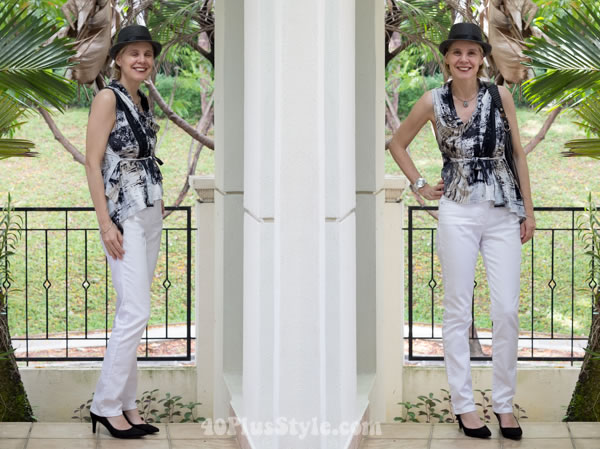 So when I went shopping again and noticed Clarks shoes I decided to have a look. Indeed they had pointy pumps! (or so I thought) and I decided to try them on. It was such a difference from all the other shoes I had tried. These actually fit and did not hurt. The shoes are cushioned all the way through and they were actually wide enough to fit my feet. I did not even have to go up a size.
(
It turned out though that the shoes were not from Clarks but new-to-me brand Rockport, a brand that creates comfortable footwear. They were standing next to the Clarks shoes which is why I got confused. They are actually created in collaboration with Adidas.
I tried on the Hecia pump which was the most comfortable before I spotted the suede Lendra pump which was slightly higher and has a bit of a pattern. They looked slighty more hip & elegant on my feet so I decided to buy those. Perhaps a mistake as suede shoes do age quicker and higher shoes are less comfortable in the end.
I would have bought a pair of nude pumps as well, but unfortunately they did not have those in my size.
You may not believe this, but this is the first real pair of (pointy) closed pumps that I have ever owned. Pumps were never really my thing. I found them too classic, couldn't keep them on my feet or they were never wide enough to be comfortable for my fussy feet.
But lately I have really started to like the look of pointy pumps especially when worn with jeans and cigarette pants. They have been on their first outing and sofar so good.
Mind you they will never be long-distance walking shoes for me, but these shoes are comfortable enough for an evening out or a hip lunch.
When I told my friend Anja about them (who has very fussy feet) she went to the same shop (Robinson's) and bought these lovely python pumps. She is very happy with them as well!
So there you go. Never dismiss certain shops or any of the comfortable shoe brands. They may just have something that looks nice and hip and is very comfortable. Here are a few of their comfortable pumps below.

For more comfortable shoe options, you can check out my list of arch support shoes.
Are you still wearing pumps? What are your favorite brands?

Want to get more articles from 40+style in your inbox, subscribe here.
You can also connect with 40+style on Facebook, Instagram or Pinterest.
Support 40+style by using the links in our articles to shop. As an associate for Amazon and many other brands, we receive a small commission (at no cost to you) on qualifying purchases which enables us to keep creating amazing free content for you. Thanks!