Finding walking shoes that offer comfort AND style was once an almost-impossible task.
But, thankfully comfort shoe brands have definitely upped their style game so there are now plenty to choose from.
Good shoes for walking all day
I'm sure you love to get out and explore when on a trip or vacation.
You may be heading out for a short sightseeing or shopping trip. Or you may be heading out for a longer hike which means you will be walking for hours.
But, when you walk too long, you may end up with blisters and sore legs and feet if you aren't wearing the right footwear.
Lightweight shoes with good sole support and padding are a lifesaver, or at least, a foot saver.
Best walking shoes for women
Here are the most comfortable walking shoes I've found. They are also fashionable, pack well and are versatile enough to dress up or dress down.
Before I share, I wanted you to know that I mainly chose shoes that are also cool for spring and summer walking weather so you can wear them with shorts or a dress for evening.
But there are also a few more heavy-duty walking shoes and sneakers here in case you are thinking about some serious walking or hiking.
Charlotte (above) seems to have found the perfect sneakers for a walk in the woods.
Best walking sandals
If you're heading off on vacation this summer or you live in sunny climes, you will want a comfy pair of walking sandals that are good for both sightseeing and running errands.
The Yucatan Sandal by Ecco have a more casual style than some other sandals you could choose, so these ones would be best as a tourist sandal if you are planning on doing a lot of hiking or sightseeing.
Best walking sandals for women
If you want a hard-working pair of sandals that you can wear during the day with shorts or cropped pants as well as with a dress or skirt for evening, you will want to choose a pair which are more versatile in their style.
These Gentle Souls by Kenneth Cole Lark strappy flat sandal would be a hard-working addition to your vacation wardrobe as they will go with everything you want to wear. They come in black or tan.
Gentle Souls by Kenneth Cole Lark strappy flat sandal
Comfortable walking sandals
There are so many good options now when it comes to walking sandals which are comfortable and on-trend.
While it may previously have been easy to spot which sandals were "normal" and which were comfort brands, that is not the case any more.
It has partly been helped for the trend for platform soles seen on the runways in recent years, meaning that comfort sandals which have a bit of a platform heel are actually bang-on-trend.
Naot Kayla sandal
Naot makes wonderfully comfortable walking shoes in a variety of fashion-forward styles.
This style is especially great because of the colors, adjustable ankle strap and the slight wedge that gives you a little bit of extra height without sacrificing comfort.
The Summer Mama blogger has found a comfortable pair of flat leather sandals, which are styled beautifully for traveling.
Most comfortable sandals
If you are on the hunt for the most comfortable sandals to wear this summer, another good brand choice could be Earth.
If you have a day where you will be doing some sightseeing, but you still want to look fashionable, then the Olea Sandal could be a could option.
It has a contoured footbed and is designed for everyday comfort, but it also has fashion-forward detailing with its laser-cut styling.
A good brand option that is often recommended for walking shoes is Softwalk. You'll find a wide range of styles including sandals, flats, pumps, boots and slip-on sneakers.
My favorites this season are the Del Rey sandals. I like the twist detailing in the bronze color, but they also come in navy if you want a more classic shade.
They could be dressed down with shorts or cropped pants during the day, then you could wear with a dress in the evening when on vacation.
Stylish walking shoes for Europe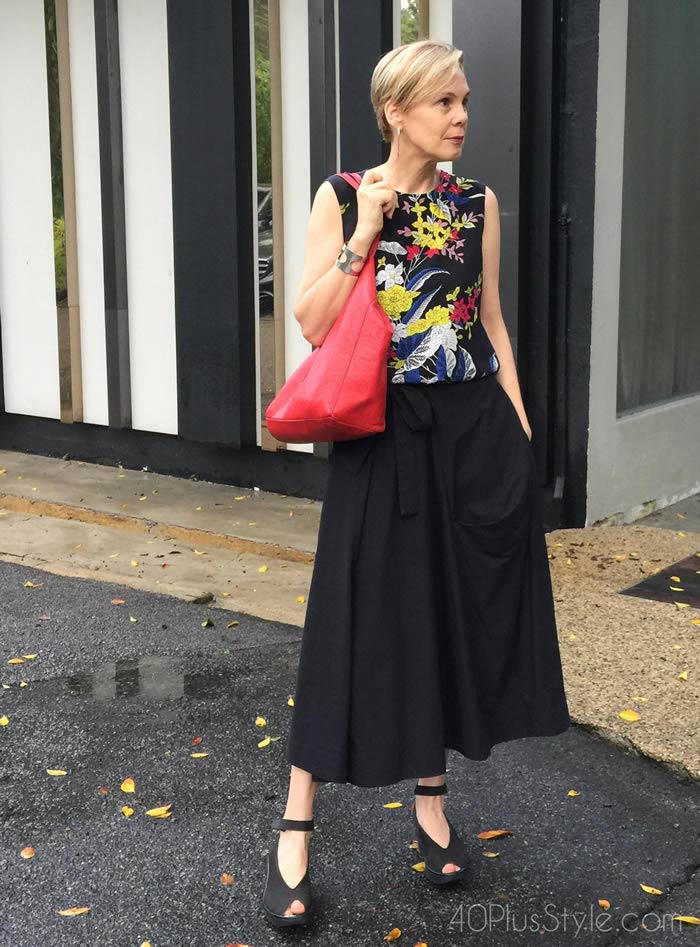 Many of you search for a stylish pair of walking shoes that you can wear on a European vacation.
You want a pair of shoes which is comfortable for seeing the sights, but which is also versatile enough to take you to a bar or restaurant.
I would think about what will go with the rest of your vacation capsule.
Opt for a color which will go with everything you are packing. Think about metallics, black, white or blush as these will match pretty much anything, meaning you won't have to pack too many shoes.
If you've been following me for a while, you will know I'm a huge fan of Fly London (see my Fly London sandals above, which are the Yala wedge).
They offer fantastic support, but they also have great styling. They stand out from the crowd, in a good way.
The Yanca style has a leather interior and upper. The heel height is 3-inches, but because there's a platform it's really more like walking in a 1.5-inch heel, making them comfortable for sightseeing, retail therapy and lunching.
Good walking shoes that are stylish for vacations
Another brand to look at when looking for stylish vacation shoes is Pikolinos. You'll find a range of open and closed toe sandal styles as well as boots and pumps.
I love that all of the styles are named after destinations across the world.
This one is the Pikolinos Mykonos platform sandal. You don't necessarily have to be heading the Majorca to wear it, although that would be nice!
Pikolinos Mykonos platform sandal
Ladies walking shoes with an edge
If you are heading off on a city break, you may not necessarily want to wear a pair of sandals.
For a style that is a little edgier, you could choose an Oxford brogue. These would look great worn with pants and dresses.
I love my Rollie silver Oxfords. They also come in a beautiful rose gold (below).
Most comfortable walking shoes for women – espadrilles
Another good option if you are on vacation and prefer a closed toe rather than open-toe sandals is an espadrille.
I often find espadrilles only look 'right' when worn in sunny climes or close to the beach, but these ones by Cole Haan have a more structured style because of the leather upper. You could opt for blush leather for a softer, more romantic look or black or navy for a city break.
The have a cushioned footbed and a grippy sole.
Cole Haan Cloudfeel espadrille
Waterproof walking shoes
If you live somewhere where the weather is changeable or you are visiting a vacation spot which has a rainy season, you will want to make sure that the shoes you choose can withstand wet weather.
Keen is always a good brand option when looking for comfort shoes. If you need a shoe which can keep out the rain, you may want to take a look at the Terradora waterproof hiking shoes.
Slip on walking shoes womens
Of course, you don't necessarily want a sandal. Depending on where you are walking, you may prefer a closed-toe slip on.
A ballet flat could work well for a city break, so long as you make sure it does offer some arch support. Or you could choose a slip-on which is a comfortable, sneaker style.
Skechers Perfomance Go Walk slip-ons have a huge amount of good reviews on Amazon.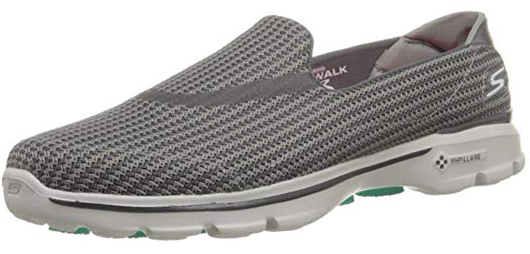 Skechers Perfomance Go Walk slip-ons
Lightweight walking shoes
One of the most important considerations when looking for walking shoes, particularly if you want a good pair for a vacation, it how much they weigh.
Not only do you not want to weigh your feet down too much when sightseeing, you also won't want your shoes to weigh too much in your luggage.
Keen Sienna MJ canvas slip-ons
When you want a closed-toe flat for a little extra foot protection, you'll like these Mary Janes.
Or maybe you're pedicure needs a refresh and showing off your toes is not ideal. These MJs are made with heavy-duty canvas that still manages to be lightweight and don't get too hot.
The footbed is made with shock-absorbing cork. They come in a rainbow of colors, too. I chose this mint, but there are color choices for every style personality.
Most comfortable walking shoe that is lightweight
Another great lightweight option if you prefer a lace-up style are Cole Haan Grandpro tennis shoes. Don't worry, you don't have to play tennis, unless you want to.
These will go with pants, jeans, skirts and dresses so are a very versatile option for your closet. They have great reviews on Nordstrom.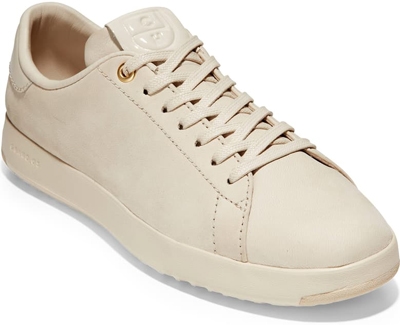 Cole Haan Grandpro tennis shoes
Black walking shoes
Many of you will be searching for a good pair of black walking shoes because of the versatility black offers.
Not only does black go with pretty much everything in your closet, but you don't have to worry about cleaning black in the same way you would as if you were wearing white canvas sneakers.
I can see the Softinos by Fly London Kiva sandal being an easy-to-wear, stylish option. They come in black, but also navy, pink, burgundy and mustard if you fancy a different color.
Softinos by Fly London Kiva sandal
Most comfortable women's boots for walking
The Rocklin bootie by Softwalk  has a well-cushioned footbed if you need a bootie with arch support.
These are a great option if you are on a city break rather than heading somewhere warm and sunny.
They come in four colors, including tan and gray which would be nice for spring and fall, but my favorite is the burgundy which have contrast detailing on the heel.
Best sneakers for walking
If you are doing some serious walking, or you prefer a more casual option that you can wear socks with, you may like to opt for a pair of sneakers.
Jean wears a pair of comfortable sneakers which are perfect for her all-black outfit. The white soles add interest. As, of course, does the red sports car!
The Naturalizer Morrison style is a versatile option that you could style with many pieces in your summer closet, from shorts to skirts. It has a contoured footbed with arch and heel support for comfort.
Good walking shoes for women – which brands to choose
There are lots of good ideas here for which brands to opt for if you are looking for comfortable walking shoes.
Want more tips on comfortable shoes?
Don't forget to tell me in the comments below what the best walking shoes for women are that you have found, whether for vacation or day-to-day wear.
Like this article on the most comfortable walking shoes for women? Share it on Pinterest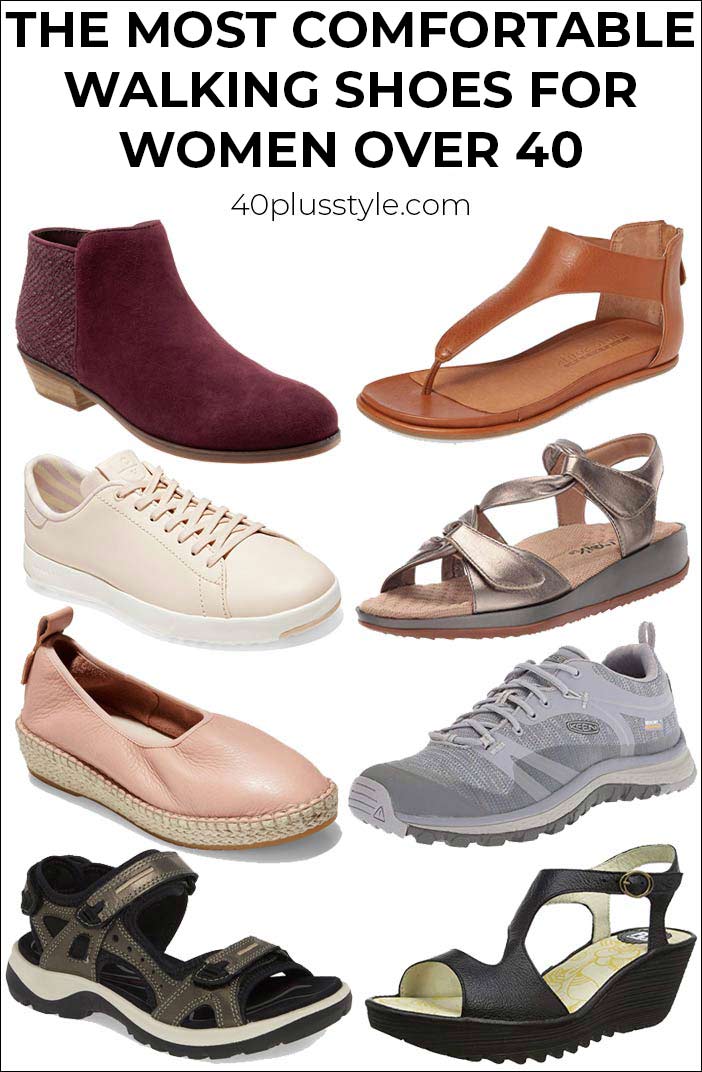 Feature image @allfurcoatnoknickers; photos by @thesummermama and @ idiosyncraticfashionistas 
Want to get more articles from 40+style in your inbox, subscribe here.
You can also connect with 40+style on Facebook, Instagram or Pinterest.
Support 40+style by using the links in our articles to shop. As an associate for Amazon and many other brands, we receive a small commission (at no cost to you) on qualifying purchases which enables us to keep creating amazing free content for you. Thanks!