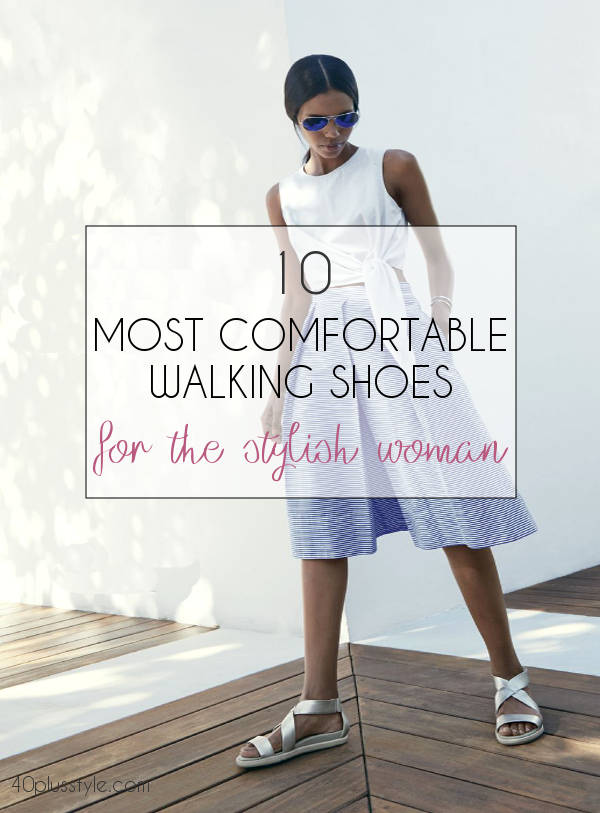 Much like Sylvia in her travel adventures, I love to get out and explore when I'm on a trip. But when I walk too long, I often end up with blisters and a sore back, legs and feet. I finally figured out that lightweight shoes with good sole support and padding are a lifesaver. Here are 10 of the most comfortable walking shoes I've found. They're also fashionable, pack well and versatile enough to dress up or dress down.
Before I share, I wanted you to know that I chose shoes that are also cool for spring and summer walking weather. I avoided choosing gym shoes or track/workout sneakers as the obvious choice so you can wear  them with shorts or a lovely dress.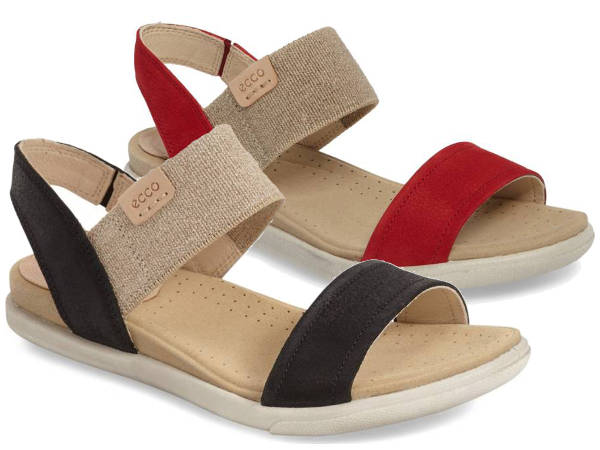 I love the fashionable, two-tone look of these sandals by Ecco and the wide, fabric strap for extra support. They breathe nicely on a hot summer day and have some good contouring at the soles. They also come in single colors, like the silver pair the model wears in the main image.
When you want a closed-toe flat for a little extra foot protection, you'll like these Mary Janes. Or maybe you're pedicure needs a refresh and showing off your toes is not ideal. These MJs are made with heavy-duty canvas that still manages to be lightweight and don't get too hot. The footbed is made with shock-absorbing cork. They come in a rainbow of colors, too. I chose this mint, but there are color choices for every style personality.
If you're part of the 40+ Style Club, you know we focused on learning about color theory and the metallics trend in fashion. These chic and comfortable walking shoes have a metallic touch to them that add just a little fashion and elegance to their style. They're also available in other colors and tones.
Naot makes wonderfully comfortable walking shoes in a variety of fashion-forward styles. This style is especially great because of the colors, adjustable ankle strap and the slight wedge that gives you a little bit of extra height without sacrificing comfort.
This special burgundy color is one of five colors you can find these in. You can also go with a classic black, white, beige or a taupe shade. The insoles of these slip-ons are made with memory foam, which make these one of the most comfortable walking shoes you'll ever try on.
Want to add a little extra style to your look? These gladiator sandals are perfect. They have a 1″ inch heel, a quick zip-up back and laces that tighten to adjust to your feet.
If you want a minimalist sandal with no ankle straps or toe straps, these lovely leather sandals by Chaco are a definite upgrade from a flip flop. These are well padded everywhere, especially inside the contoured soles. There are 5 neutral shades to choose from.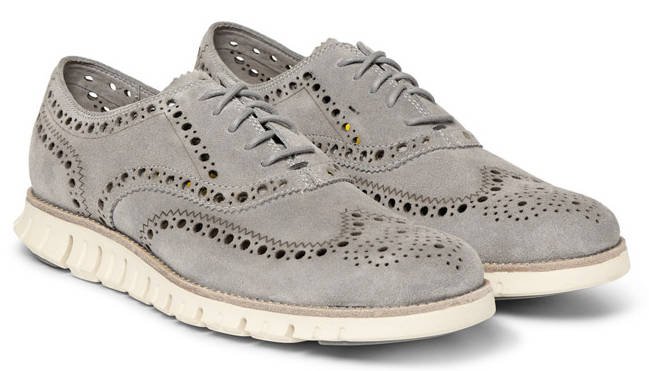 When you want to dress up a little more or prefer to avoid sandals, why not add some whimsy to your feet? You'll be pleasantly surprised to know that this suede is lightweight and weather proof, inside and out. Maybe that's why these are one of Cole Haan's best selling shoes. I've shared the neutral gray pair in the image, but there's even a bright hot pink tone available!
These sandals look great with everything from shorts to jeans to a dress. The indigo tone is especially unique and a fun look when you're out and about.
This hybrid sandal style features a strappy, leather look to keep your feet cool in summer with a closed-toe front that protects you from stubbing your toes on your walking journey. The leather is lined on the inside for extra comfort. The cork insole is soft and comfortable and a rubber sole grips nearly any road surface well.
Which of these ten stylish and comfortable walking shoes would you wear?
Related posts: