One of the biggest myths when it comes to shoes is that the flatter the better. This is not always the case. While in the short-run, the flatter shoe might prove more comfortable, the damage that can be done to your feet and knees due to a lack of arch support is often overlooked.
As I mentioned in my larger article on the best shoes with arch support, wearing shoes with arch support may actually be a good preemptive step, as it is estimated that over 80% of the population will end up with foot problems. Such foot problems are largely due to poor footwear.
If you are looking for comfortable AND healthy shoes, your aim should be to find those that have significant arch support (whether you're looking at flat, low heels, or high heels). Remember that a good support shoe is rigid enough to support the arch, yet offers just enough flexibility to allow the foot to naturally flex.
In today's post, we guide you through the most comfortable shoes for summer, which are also stylish and offer arch support.
Sandals
Sandals, much like the flats we discuss below, can cause just as much harm to your feet as heels can if they are not well fitted. Whether you go with flat sandals or a wedge, make sure you have ample support and are not selecting a pair with straps that are too tight on the foot.

Sissi has a great pair of classic three-strap sandals which are versatile to wear with pants or dresses for summer. You can find a similar pair from Gentle Souls at Nordstrom.
Sneakers
When you think of sneakers, many minds often go to the ones that can't be well styled for a chic look. There are a number of non-athletic sneakers available that offer the same level of comfort as the ones built for athletics. Slip-ons are all the rage right now, yet a nice pair of lace-ups (such as those featured below), offer a very stylish look as well.

Flats
As discussed above, it is a common error to assume that every flat shoe will be a comfortable fit. Just because it is initally comfortable in the store, does not mean it will be suitable for walking in all day. Make sure as you select the right fit that you take the construction of the flat into consideration.
Some critical questions to ask include: Is there suitable padding? Is there enough room for your feet if you experience mild swelling of some sort? Is it made with quality materials? Will the back rub uncomfortably against your heel after an extend amount of wearing time?

Heels
When selecting the right heel, walk around it in the shoe area of the store (both feet in) to get a good feel. A common lie we often tell ourselves is that we will make it stretch and comfortable over time. This is not always the case, and pinched toes might not disappear. Select a heel height you feel most comfortable in and do not rush looking for a suitable heel in a height that fits your needs (the perfect ones, as you can see below) are out there!

What are your go to summer shoes (and brands) that are both comfortable and stylish?

Like this article on the best comfortable shoes for summer? Share it on Pinterest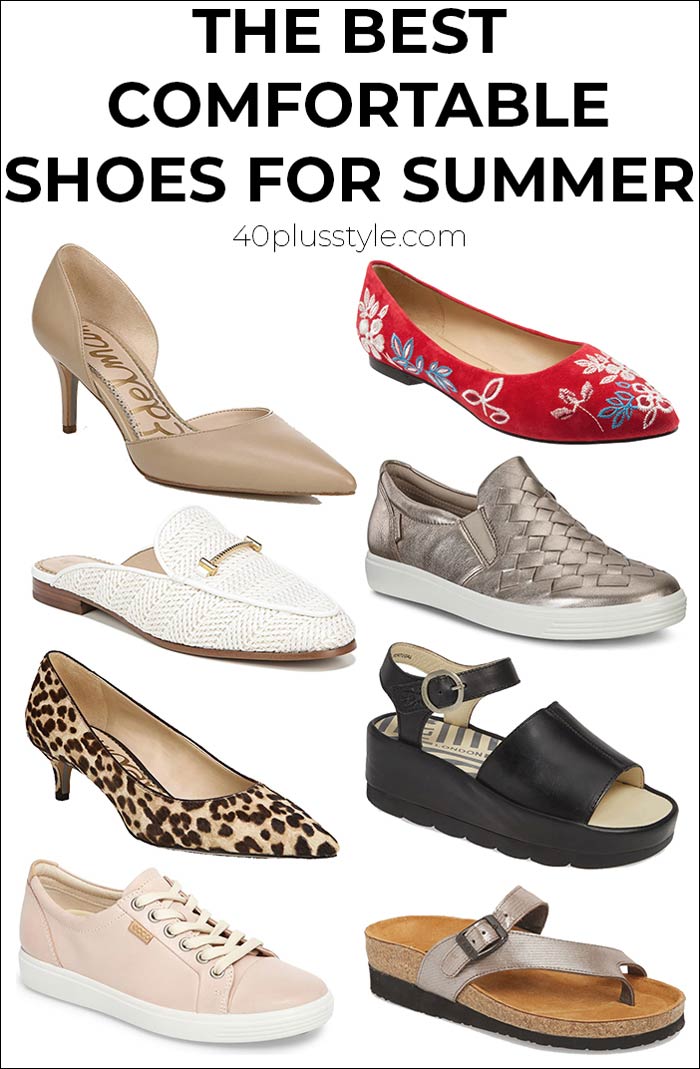 Feature image by @beauty4free2u
Want to get more articles from 40+style in your inbox, subscribe here.
You can also connect with 40+style on Facebook, Instagram or Pinterest.
Support 40+style by using the links in our articles to shop. As an associate for Amazon and many other brands, we receive a small commission (at no cost to you) on qualifying purchases which enables us to keep creating amazing free content for you. Thanks!