No one is immune from bunions. But if you do suffer from them, it can feel next to impossible to find shoes for bunions which are both stylish AND comfortable.
Chances are though, you may well suffer from bunions at some point in your life. Around a quarter of all people are estimated to get bunions, and that rises to more than a third for those over the age of 65.
Plus, women are more likely to suffer from bunions than men.
Celebrities with bunions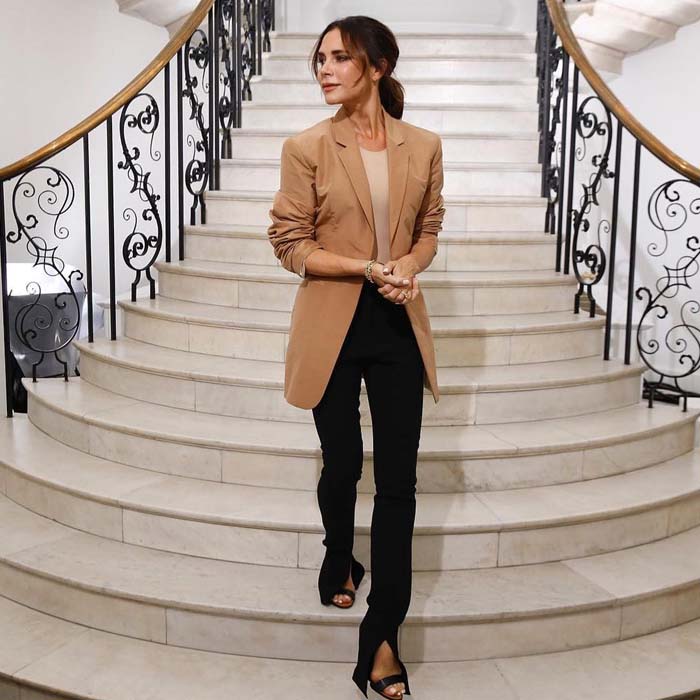 Just as with any health condition, even the rich and famous aren't able to avoid getting bunions.
Celebrities who have famously been photographed with their bunions on display include Victoria Beckham, Meghan Markle, Christina Hendricks, Naomi Campbell and the Duchess of Cambridge.
What are bunions?
So, exactly what are bunions? Well, they're a bony deformity at the base of the big toe.
You may also find that your big toe starts to point inwards towards your other toes, so that the foot bone faces outwards.
The exact cause of bunions is not known, but they are thought to be partly genetic, and partly made worse by wearing uncomfortable footwear. They can also be caused, or made worse, by foot injuries and arthritis.
Shoes which are too tight or which have high heels can increase your chances of getting bunions.
Shoes for bunions
Wearing the right shoes for bunions is vital if you don't want to make the condition worse.
You are likely to have pain and swelling over your big toe joint, which will be made worse from the pressure caused if you wear ill-fitting shoes.
Plus, the shape of your foot could change, which makes it even harder to find shoes which fit and which are comfortable enough to wear all day.
What are the best shoes for bunions?
Just as with finding the right shoes for those who need arch support, finding the right shoes if you have bunions can be a case of trial and error to find out exactly what works for you.
But first, here are a few quick tips…
Look for shoes with a wide toe. As Sue on the 40+ style community points out: "Our toes are supposed to be able to splay rather than be pushed inwards to a point."
You may wish to stay away from synthetics and opt for leather, suede and elasticated materials which have a bit more give.
The widest part of your foot should correspond with the widest part of the shoes you choose.
Recommendations – shoes for bunions
It may seem like you have limited options or that you have to make a choice between comfort and style.
But, there are actually plenty of shoes out there from boots to sandals, wedges to heels (just don't go too high!), which no one would ever know you had chosen because you have bunions and not simply because you love them.
If you haven't found the perfect pair yet for you, here are recommendations that work from the stylish women of the 40+ style community.
Wide toe box shoes
If you do suffer from bunions, or any foot pain towards the front of your foot, opting for wide toe box shoes can give you the room you need to walk in comfort.
You can see that the Whitin sneakers (below) have plenty of room at the toes so should be a good style to try if you find your bunions rub against your shoes. Reviewers describe them as "comfortable beyond belief".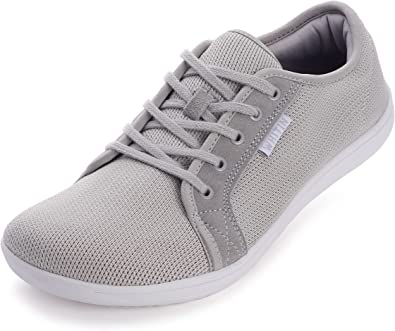 WHITIN Zero Drop Sole Wide Width Barefoot Shoe
Stylish shoes for women with bunions
If you're searching for shoes with plenty of width at the toes, then another good tip is to avoid pointed toe styles altogether and, instead, look for square-toed and round toed options.
That's why a pair of classic ballet flats may work for you.
This pair is the Vionic Spark Caroll ballet flat flat and has a wider toe area to allow your foot to spread out a little, rather than squashing your toes together.
No matter what your foot width, you should find a pair to fit as they come in wide fitting, and a range of colors and patterns.
They have arch support too so could be a good choice if you also have plantar fasciitis.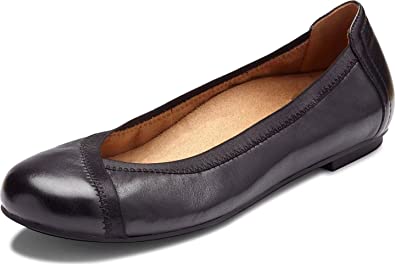 Vionic Spark Caroll Ballet Flat
wide fitting shoes for bunions
Nordstrom was recommended for wide-fitting shoes by women on the 40+ Style Community, because it is so easy to narrow down your options (pardon the pun), by searching for wide fitting shoes.
That way, you don't waste any time looking at options which you realize will be too narrow for your feet only after you have fallen in love with the style.
The Trotters pumps below would look good worn with jeans and a blazer. They have a cushioned footbed for extra support.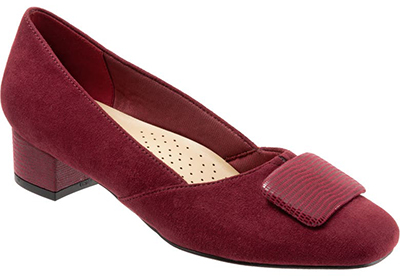 sandals for bunions
Sandals can actually be very comfortable if you have bunions, because you can let your feet "breathe" without having restrictive material rubbing or pressing against the side of your big toe joints.
These ones from Skechers were recommended by 40+ Style readers. They have leather uppers and a footbed which molds to your shape.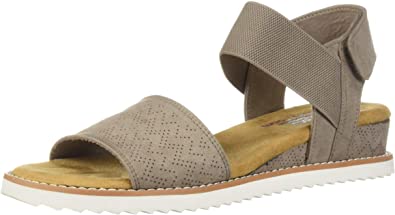 Skechers Desert Kiss-Stretch Quarter Strap Sandal
Birkenstocks are also often recommended as they are open at the toes, so they won't rub. Or you could try the Cushionaire brand on Amazon, which is similar.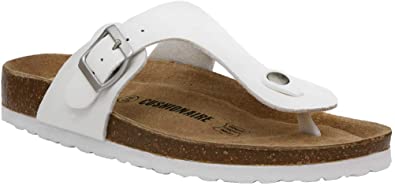 Cushionaire Leah Cork footbed Sandal with +Comfort
best sneakers for bunions
Vionic is often recommended by podiatrists because of the way they cradle your foot.
This pair has a podiatrist-designed footbed for extra comfort.
The Vionic Zinah style a lot of reviews on Amazon with many women saying they offer good support.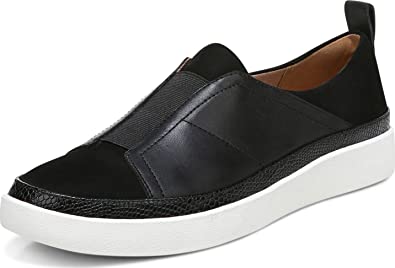 Vionic Essence Zinah Platform Slip-on Sneaker
dress shoes for bunions
Just because you have bunions, it doesn't mean you have to quit wearing heels completely.
If you do want a dressier feel from you shoes, just be sure that they aren't too high or too narrow.
This pair from Naturalizer are available in patent leather or suede. They come in two different widths so you could try both to see what works for you and your feet.
They also have a molded foam footbed for extra comfort.
Naturalizer was one of the brands recommended for bunions in the 40+ Style community.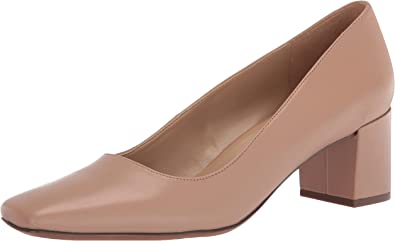 Fashionable shoes for bunion sufferers
Even if you have bunions, you can still wear a range of fashionable styles, including wedges.
Fly London is a brand recommended for anyone who needs comfort shoes for a range of foot issues.
These ones below are one of my own favorite styles and they come in a range of colors.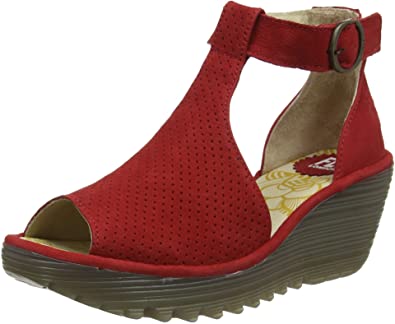 best running shoes for bunions
If you are someone who loves to run, or take part in any kind of aerobic activity, having sore feet can put you off exercising.
But these ASICS running shoes are one of the options regularly recommended by podiatrists.
They are designed to help if your feet tend to roll inwards, which can cause your bunions to rub on the outside of your shoes.
ASICS Gel-Excite 7 Running Shoe
sandals that hide bunions
Dansko is another brand recommended by both women in the 40+ Style Community and podiatrists.
This pair of Rowan sandals have a fair amount of coverage on the top and side of your feet. Many reviews talk about these sandals having a wide toe bed, so they should be roomy enough.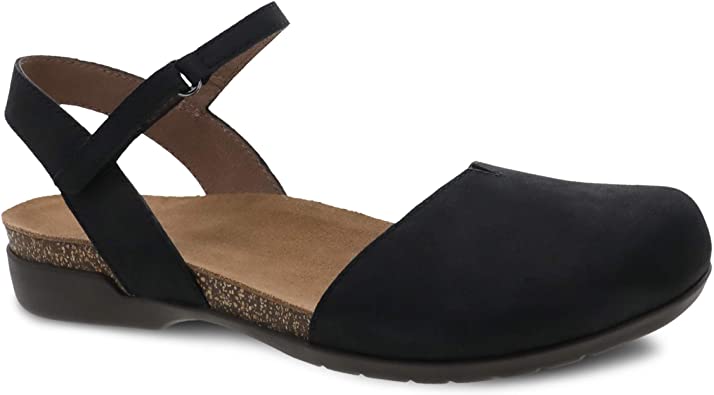 best walking shoes for bunions
If you're searching for a pair of sandals that will both help to disguise your bunions and make sure you can walk or go sightseeing to your heart's content, then how about this pair from Easy Spirit?
They're an outdoor sandal suited to hiking or activity vacations,.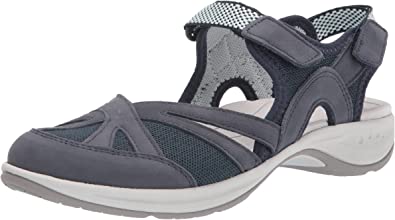 Easy Spirit Esplash Mary Jane Flat
bunion corrector shoes
bunion corrector sandals
As well as shoes that fit and hide your bunions, you could also think about a pair of shoes that is designed to help to correct bunions by realigning your feet. While the jury still seems to be out on whether these help to relieve the look of bunions, reviewers do say they do a good job of hiding them in a stylish way.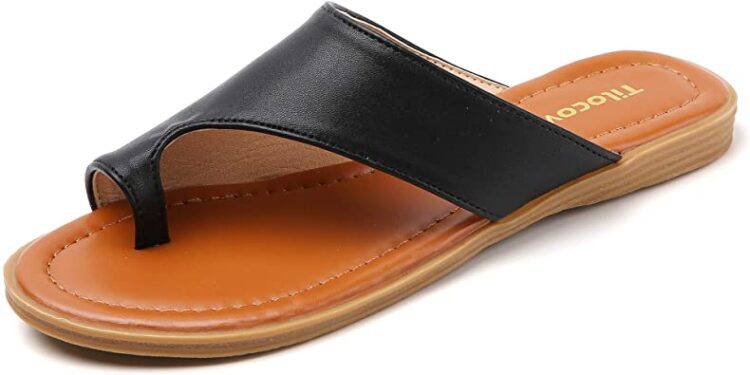 Tilocow Bunion Corrector Sandal
bunion correct boots
For boots, you could try the Dr. Scholl's brand which should help to keep your feet in the right position. The ankle boots (below) cover up your bunions, and are perforated so should keep you cool in summer. You could wear with your summer dresses during transitional weather. Reviewers say they are great looking and incredibly comfortable.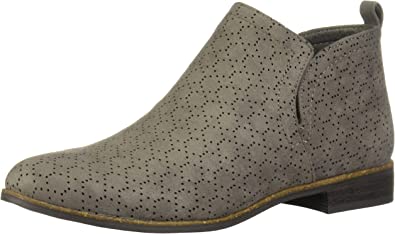 Dr. Scholl's Shoes Rate Ankle Boot
Best bunion corrector
You could also get some relief from the pain associated with bunions by wearing bunion cushions or pads. These will help to cushion sore areas and reduce rubbing from your shoes.
PediDoc™ Bunion Corrector – Bunion Relief Sleeves
Reviewers say the bunion splints (below) did help to realign the big toe to its natural position.
Alayna Bunion Corrector and Bunion Relief Orthopedic Bunion Splint Pads
Another option would be the gel correctors (below) which reviewers say are effective in separating toes and relieving pain.
Alayna Toe Separators for Overlapping Toes Bunion Corrector
The bunion cushions from Dr.Scholl's below have lots of positive reviews from wearers who say they work well, even when walking for miles.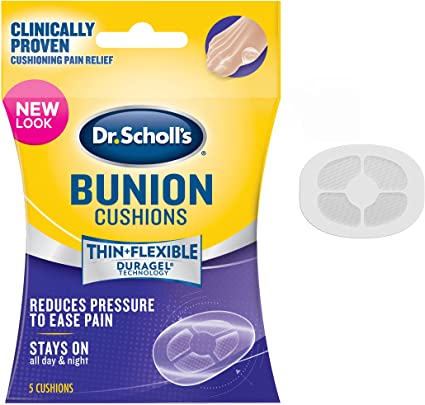 Dr. Scholl's Bunion Cushion with Duragel Technology
MORE brands
If you're searching for comfortable shoes because you have bunions, below are some more well-reviewed brands you could try.
How about you? Do you suffer from bunions? What are the best shoes for bunions that you've ever found?
Let me know in the comments below and let's turn this into the most valuable resource there is for women with bunions!
Continue reading:
Like this article on the best shoes for bunions? Save it on Pinterest!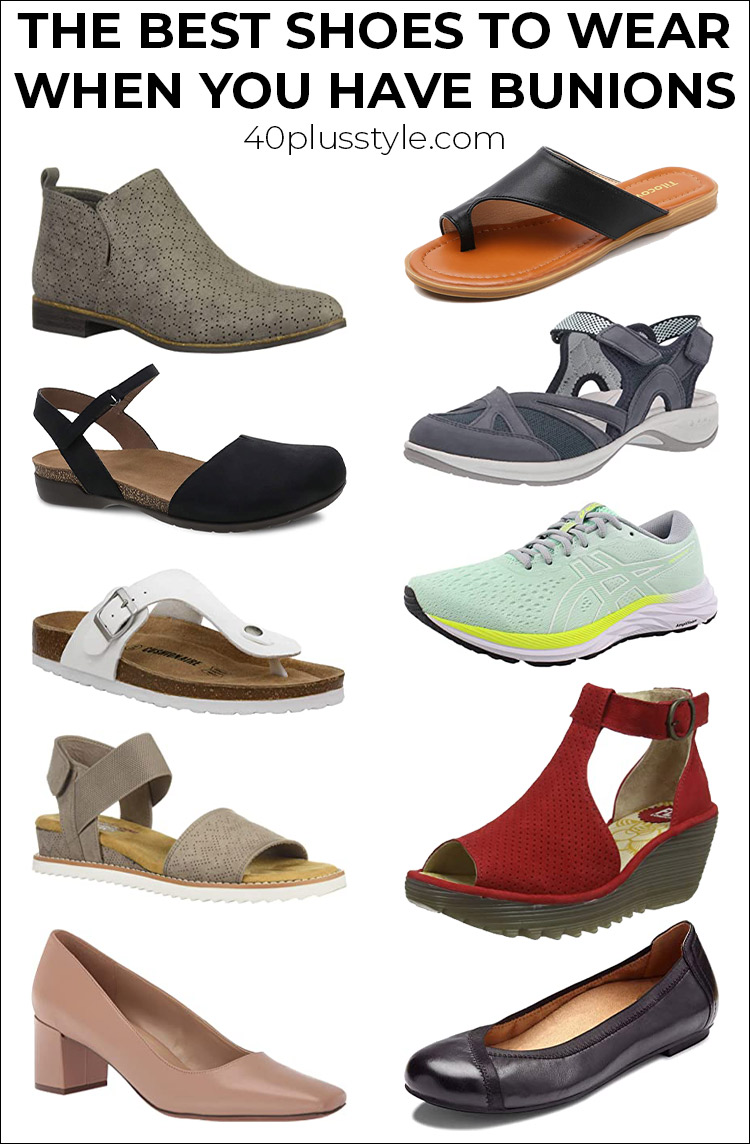 Want to get more articles from 40+style in your inbox, subscribe here.
You can also connect with 40+style on Facebook, Instagram or Pinterest.
Support 40+style by using the links in our articles to shop. As an associate for Amazon and many other brands, we receive a small commission (at no cost to you) on qualifying purchases which enables us to keep creating amazing free content for you. Thanks!