If you have weak ankles, it can be tricky to find the right footwear to help you stay stable, help prevent injury, and still look good. Take a look below at the best ankle support shoes to choose to keep you steady and stylish.
You might also want to take a look at my popular articles on shoes with arch support and shoes if you have plantar fasciitis.
Why might you need ankle support
There are many reasons why you might have weak ankles. Perhaps because of an old injury, arthritis or osteoporosis.
If you've suffered one ankle sprain, it can make you more susceptible to another, so it's important to make sure you look after your feet and ankles with the right footwear.
What to look out for in the best ankle support shoes
stable wide platform
You're much more likely to turn your ankle if you have narrow heels or the soles of your shoes aren't stable. Opt for a stable, wide sole to keep you secure.
Lydia @birabiro above (read her style interview here) shows how you could choose a trendy pair of platforms.
Check out this similar top, puffer jacket, pants, platform sneakers, bag and necklace.
high tops
Many podiatrists recommend high tops for additional structure and support. The extra form around your ankles can help keep them in the right place.
deep heel cup
Deep heel cups in shoes can help to stabilize the foot by lining up your feet correctly with your ankle, knees and hips. If you have shoes you don't feel offer the right support, you could try a pair of heel seats and see if these offer more support.
Many reviewers also say the heel cups (below) help with plantar fasciitis.
Heel That Pain Plantar Fasciitis Insoles | Heel Seats Foot Orthotic Inserts
cushioned mid sole
Looking out for some extra cushioning in your shoes can ensure your feet have support from your insoles and impact from walking or running is absorbed.
Traction
When you have weak ankles, you will naturally be worried about slipping or tripping. Opting for a pair of shoes with good traction will help. Luckily, lug soled, non-slip shoes and boots are particularly on trend now.
Marc Fisher LTD Izzie Genuine Shearling Lace-Up Boot
Should you wear ankle supports?
You may find it helps to wear ankle supports in certain situations, perhaps during long walks or exercising. But many podiatrists warn against wearing them all the time. Instead, advising exercises to help strengthen your ankles so you don't need to rely on braces.
TechWare Pro Ankle Brace Compression Sleeve
Skip high heels
Wearing high heels can make it more likely that you will accidentally roll your ankle. If you do want to wear them, look for heels like block heels where your weight is distributed more evenly.
You'll find more inspiration in this article on comfortable high heels.
But don't wear flats
Opting for completely flat heels isn't a good solution either when searching for ankle support shoes as they don't provide any arch support for stability. The optimum height is usually around an inch to an inch-and-a-half.
The best ankle support shoes
Now let's take a look at some specific, well-recommended shoes you could try to give you extra ankle support
ankle booties
Ankle booties can be a good option as they usually have some structure at the ankle to provide support. Mel @curvycartel above chooses a white pair with her yellow dress.
Recreate her outfit with this similar dress (another option here) and ankle booties.
The Vionic Chukka booties (below) have a supportive midsole and reviewers say they have a good ankle height.
Vionic Magnolia Lois Chukka Bootie
lace-up boots
A pair of lace-up boots can be a good option as you can alter the lacing to provide the ankle support you need.
Vionic Charm Lani Lace Up Ankle Boot
kork-ease booties
The Kork-Ease booties (below) have a small, wide heel and would go with your jeans or dresses.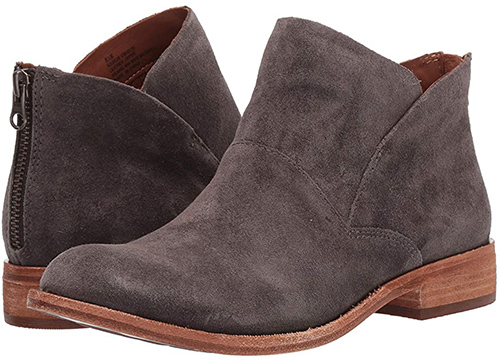 best ankle support shoes – red boots
The Taos Crave boots (below) come in red or neutral shades and you can alter the ankle support by how tight you fasten the laces. They have mainly 5-star reviews from wearers who say they are gorgeous and comfortable.
lug sole boots
There are plenty of lugsole boots in stores now as they are bang-on-trend, as well as helping to ensure you don't slip and turn your ankle. Deborah @deborahgates_ above (read her style interview here).
Get her look with this similar blouse, skirt, lug sole boots and necklace.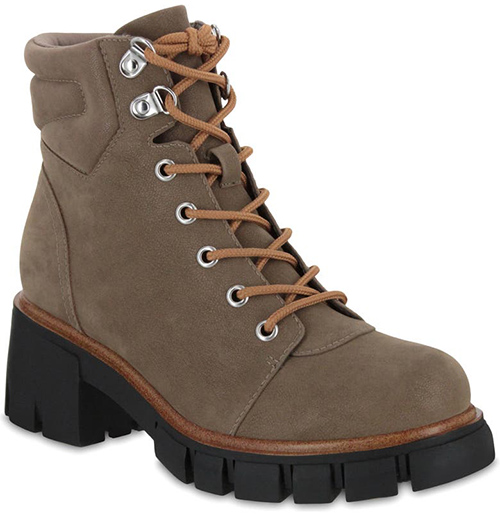 wedge sneaker
If you want to add a bit of height without walking on a narrow heel, you could try a low-heeled wedge like the Cushionaire hidden wedge sneakers (below). They have cushioned memory foam insoles for extra comfort and dual zips so you can easily get them on and off.
CUSHIONAIRE Hart Hidden Wedge Sneaker
brooks sneakers
Sneakers can be a great option for ankle support and, of course, they're a necessity if you're running. The Brooks brand is often recommended for weak ankles. The Adrenaline sneakers (below) have a support system designed to cushion your joints as you run, as well as your feet.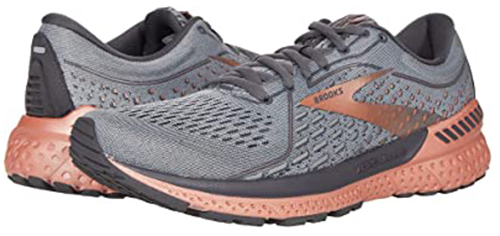 Brooks Adrenaline GTS 21 Sneaker
waterproof ankle boot
When winter arrives, you're likely to be looking for waterproof booties that will keep your feet dry in rain and snow. The Merrell booties (below) have a removable contoured insole for flexible support as well as an air cushion to absorb shock and add stability in the heel.
Merrell Andover Bluff Waterproof Ankle Boot
high top sneakers
If you love the casual look of sneakers but you don't feel they give your ankles the support they need, you could always try a pair of stylish high tops.
Shelley @fcfashionista above (read her style interview here) opts for black high top sneakers with her shorts.
Steal her look with this similar top, jacket (another option here), shorts and high top sneakers.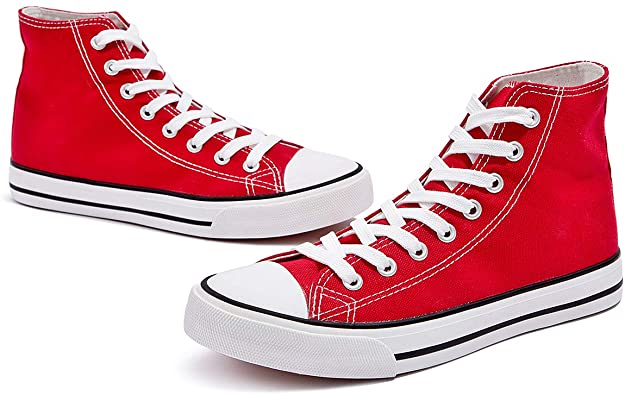 slip on shoes
Even though they are low on the ankle, a pair of slip-ons can work to offer you extra support. The Vionic slip-ons (below) feature a podiatrist-designed footbed to promote stability and natural alignment from the ground up. They are designed to help relieve plantar fasciitis, flat feet, high arches, bunions, heel spurs and lower back pain issues.
Vionic Essence Zinah Platform Slip-on Sneaker
new balance sneakers
When it comes to sneakers, New Balance are often recommended for foot and ankle pain issues. The retro style sneakers (below) are designed to help protect ankles with dual-density collar foam.
running shoes
You could also try the Altra sneakers (below) which are designed to provide energy return to absorb shock.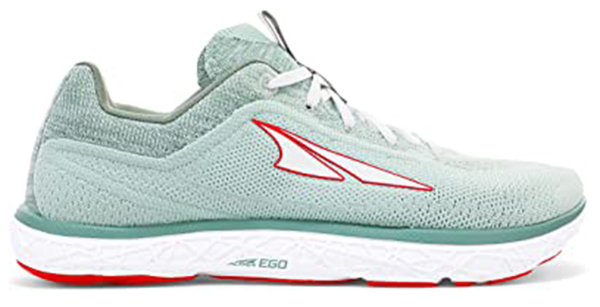 ALTRA AL0A4VR3 Escalante 2.5 Road Running Shoe
trail shoes
Kim @kimbalikes above opts for a pair of comfy sneakers with her jeans.
Check out this similar top, denim jacket, jeans, sneakers, and sunglasses.
Trail shoes are another good style to look out for if you want ankle support as they are designed to keep you stable even on uneven terrain. The ASICS trail shoes (below) have gel cushioning to absorb shock as well as a removable sockliner so you can accommodate a medical orthotic if you need to.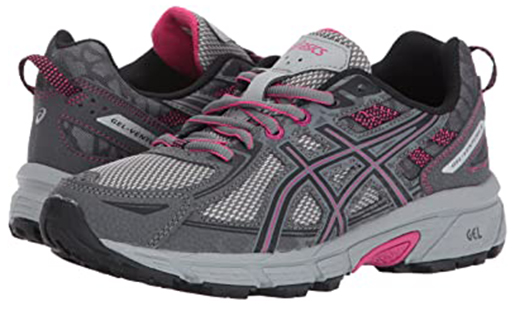 ASICS Gel-Venture 6 Trail Running Shoes
best ankle support shoes – hiking boots
If you're heading off on a longer hike, you'll want a pair of specialist hiking boots that offer you ankle support. The lightweight hiking boots (below) feature a molded ankle support strap.
Manfena Lightweight Waterproof Hiking Boots
ankle support sandals
If you're living or vacationing in warmer climes, you may want to think about a sport-style sandal to offer you support while walking or sightseeing. The ECCO sandals (below) have a molded footbed for stability. Reviewers say they are supportive and cushioned.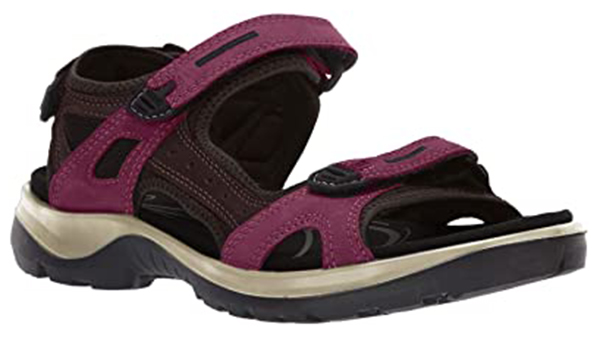 Do you need shoes with ankle support? What are your recommendations? You can let me know in the comments below.
Continue reading:
Like this article on the best ankle support shoes? Share it on Pinterest
Feature image by Deborah @deborahgates_
Want to get more articles from 40+style in your inbox, subscribe here.
You can also connect with 40+style on Facebook, Instagram or Pinterest.
Support 40+style by using the links in our articles to shop. As an associate for Amazon and many other brands, we receive a small commission (at no cost to you) on qualifying purchases which enables us to keep creating amazing free content for you. Thanks!