Big thighs, small thighs, inbetween thighs. They're all beautiful. But when you do have curvy thighs, it can be tricky to find perfectly fitting jeans. In this article, you'll find some of the best jeans for big thighs that you can choose this season.
You might have curvy thighs because of your body shape. If you're a pear shape, you're likely to have larger hips and thighs in proportion to your upper body. Or, perhaps you love to exercise and you are struggling to find jeans as your thighs are muscular. Either way, you may find your new favorite pair of jeans among the denim choices below.
Best jeans for big thighs – what to look out for
Jeans for pear shaped body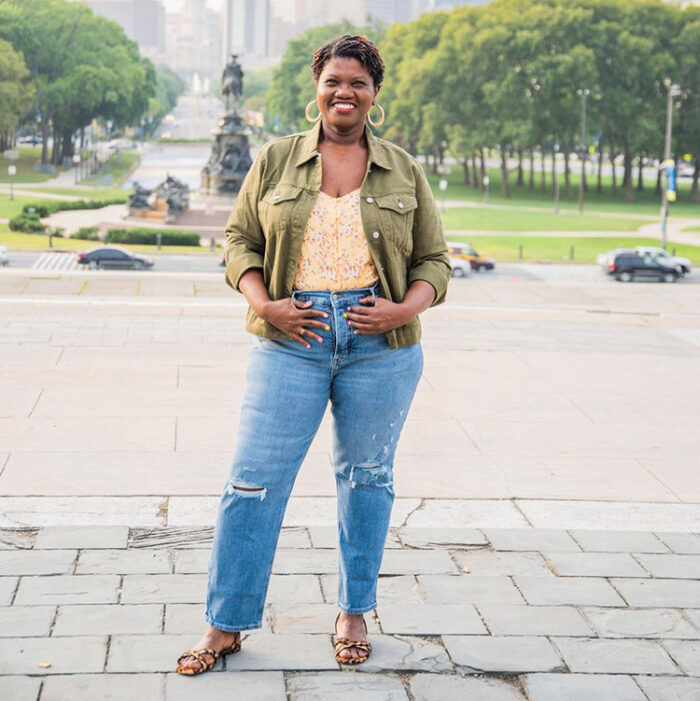 If you're looking for jeans for bigger thighs, you may have a pear shaped body where you hips and thighs are your widest part.
If this is the case, you'll also find inspiration in this article on how to dress the pear shape.
Look out for bootcut jeans to balance your figure, darker colored jeans worn with lighter tops to draw the eye upwards or slim jeans that skim the legs rather than clinging.
Georgette @grownandcurvywoman above (read her style interview here) always shows off her curvy body shape with style and confidence. Here she opts for well-fitting jeans and an olive jacket.
Get her look with this similar top, jacket, jeans, sandals and hoop earrings.
One of my favorite brands is NYDJ. you could try the classic stretch bootcuts (below). They have tummy tuck technology and are designed to lift the rear too.
NYDJ Barbara High Waist Stretch Bootcut Jeans
Choose a darker color
Of course this is entirely up to you as you might want to opt for lighter shades of denim depending on what's on-trend and your own preference.
Personally, I like a darker shade as I think they're more versatile. Plus, if you're self conscious about your thighs, a darker shade will be slimming.
Look for some stretch
Look out for jeans you can pull on and that will have a little give. The addition of spandex, elastane or lycra will help your jeans to fit properly and be comfortable.
Recreate the outfit below with this similar top, denim jacket, jeans and booties.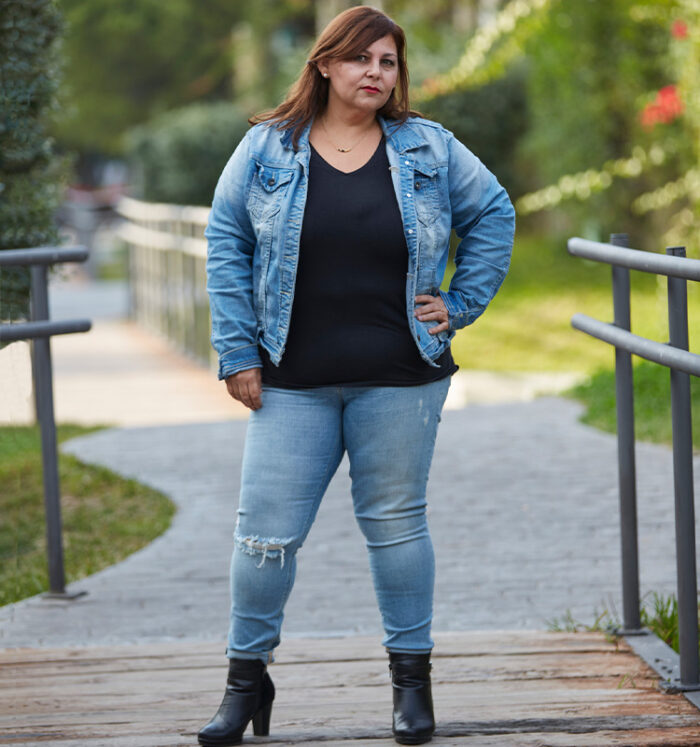 Brands that suit curvy thighs
Some good brands to look out for that are designed for larger thighs are:
jeans for big thighs small waist
You may have larger thighs and a small waist if you have an hourglass figure. In this case, your chest will be around the same width as your jeans. One of the difficulties in finding jeans that fit well is that if you have an hourglass figure, your jeans can gape at the waist if they fit at the thigh.
Joe's The Hi Honey Curvy Exposed Button Ankle Skinny Jeans
Jeans for thick thighs to choose now
Let's take a look now at some of the best choices in stores for curvy thighs.
good american SKINNY JEANS
Good American is a good brand to look out for. In particular, the Good Curve range is especially designed to fit, and enhance, curves.
Good American Good Curve Skinny Jeans
Gloria Vanderbilt jeans
A classic, straight-leg style that sits high on the waist to tuck in any "muffin top," the Gloria Vanderbilt jeans (below) are well reviewed by women who say they have a waist smaller than the hips for curvy figures, they aren't too tight, don't slip down and wear well.
Gloria Vanderbilt Amanda Classic High Rise Tapered Jeans
levi's shaping jeans
The Levi's jeans (below) shape around the hips and thighs. One reviewer described them as her "new favorite jeans" while another said they fit like a glove.
Levi's 311 Shaping Skinny Jeans
Amazon essentials
If you have an hourglass figure, you probably find that if jeans fit you at the waist, they are too baggy elsewhere. The Amazon Essentials jeans (below) are curvier through the hip with a narrower hip.
Amazon Essentials Mid Rise Curvy Skinny Jeans
ab solution jeans
You're unlikely to wear shapewear under your jeans. And you definitely don't need to if you opt for a pair of jeans with built in slimming panels like the Ab Solution jeans (below).
Democracy Ab Solution Straight Leg Jeans
angels forever YOUNG jeans
The bootcut jeans (below) are an absolute classic that won't date. They have whiskered hips that are designed to look a little worn and a tummy tech panel. Reviewers say they fit well through the legs and hug everything in place.
Angels Forever Young Curvy Bootcut Jeans
wide jeans
Wide pants are particularly on trend right now, and can work well for you if you want your jeans to skim down your thighs and legs rather than clinging. Reviewers say the denim pants (below) fit well in the thighs. Although some did say the waist was proportionately narrower, so these may be good if you're an hourglass shape.
HDLTE High Waist Baggy Denim Pants
jeggings
One effortless way to make sure your jeans fit is to opt for a pair of stretchy jeans that pull on like leggings. The Democracy jeggings (below) are made from super stretchy denim and have a tummy panel. One reviewer says she has heavy thighs and these are a confidence booster while another says they fit here wider thighs and don't gape at the waist.
Democracy Ab Solution Jeggings
sculpting jeans
A pull on option that fits you at the thighs while tucking in your tummy can be a flattering choice. The Lee sculpting jeans (below) come well-reviewed. One woman said she is a pear shape and close to 50. She says she wants to swap all of her jeans for these ones.
Lee Sculpting Fit Slim Leg Pull on Jeans
flexible waist jeans
Have you tried the Express brand of jeans? They cleverly fit up to three sizes in one pair of jeans, so you simply order small, medium or large. And, they have a contoured fit to mold to your body.
Express Super High Waisted FlexX Black Straight Jeans
curvy bootcut jeans
Joe's is another good brand to choose as they are designed to fit curvy figures. Reviewers say the bootcut jeans (below) are stretch and fit well at the hips and thighs without pulling at the fabric.
Joe's Honey Curvy Bootcut Jeans
stretchy slim jeans
If you're looking for a classic, slim pair of jeans that will fit your thighs well and don't date, you could try the Lafayette option (below). They're designed to flatter a curvier figure, and reviewers say they fit like a dream and can be dressed up or down.
Lafayette 148 New York Primo Denim Curvy Fit Slim Leg Jeans
tapered jeans
The jeans (below) have a roomier fit at the thigh and then taper down towards the ankles. One reviewer described these as the perfect fit for pear shapes.
LEE Relaxed-Fit Side Elastic Tapered-Leg Jeans
hidden waistband jeans – best jeans for curvy thighs
The body sculpting jeans (below) have slimming mesh panels for tummy control. One reviewer said they fit perfectly through the hips and thighs and the waistband stays in place without riding down.
Vintage America Blues F'ab Body Sculpt Boot Cut Denim Jeans
shop some of the items above here:
Do you have curvier thighs? I'd love to hear your own jeans recommendations in the comments below so we can make this article a great resource.
Continue reading related articles to the best jeans for big thighs:
Like this article on the best jeans for big thighs? Share it on Pinterest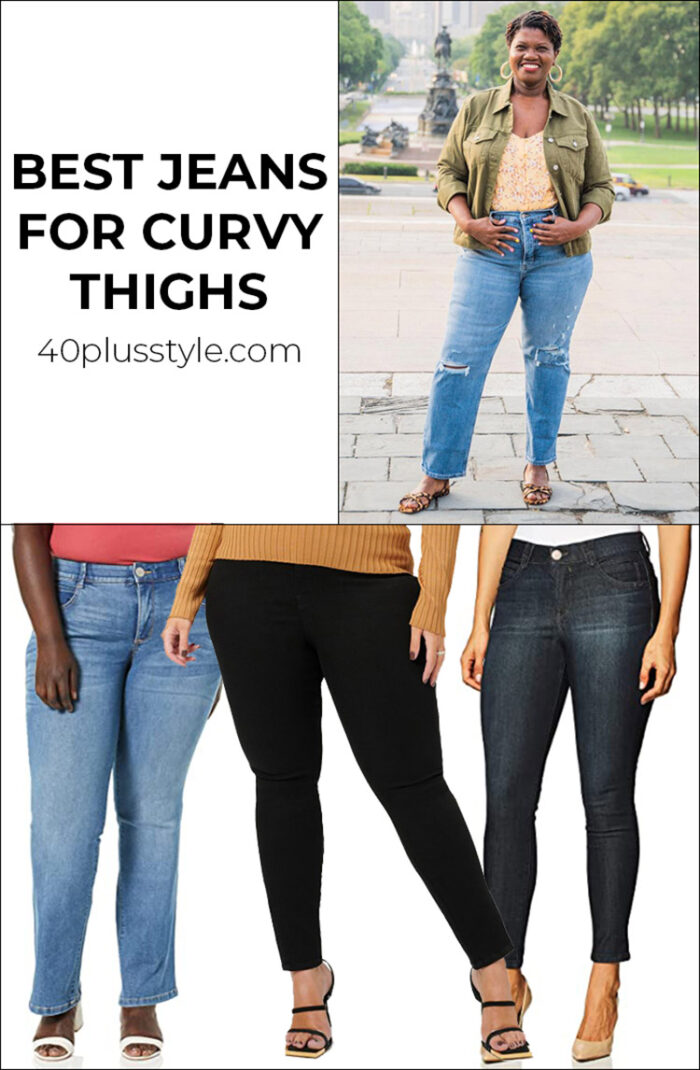 Want to get more articles from 40+style in your inbox, subscribe here.
You can also connect with 40+style on Facebook, Instagram or Pinterest.
Support 40+style by using the links in our articles to shop. As an associate for Amazon and many other brands, we receive a small commission (at no cost to you) on qualifying purchases which enables us to keep creating amazing free content for you. Thanks!