Catherine is one of the most colourful, stylish bloggers I know. There is hardly a day when she does not wear colour, so who better to give us all a style lesson on how to wear colour than the amazing Catherine? I was delighted that she agreed to this interview. You will learn so much from her answers!
Hi Catherine. Thanks for taking the time out to answer a few questions for 40PlusStyle.com. Can you tell us a little bit more about yourself?
Of course: I'm a 40 year old marketing manager from England – I live in the South West now but still call myself a Londoner; although I love living in the country, I'm a city girl at heart. I'm happily married to Mr. Summers who is also my very patient (but very talented) photographer – I find not being behind the camera very frustrating because I have a degree in photography! I have so many loves in life, but to name a few: astronomy, crafts, DIY (the crafty type AND plastering walls type), theatre, travel, fitness – I like a lot of things.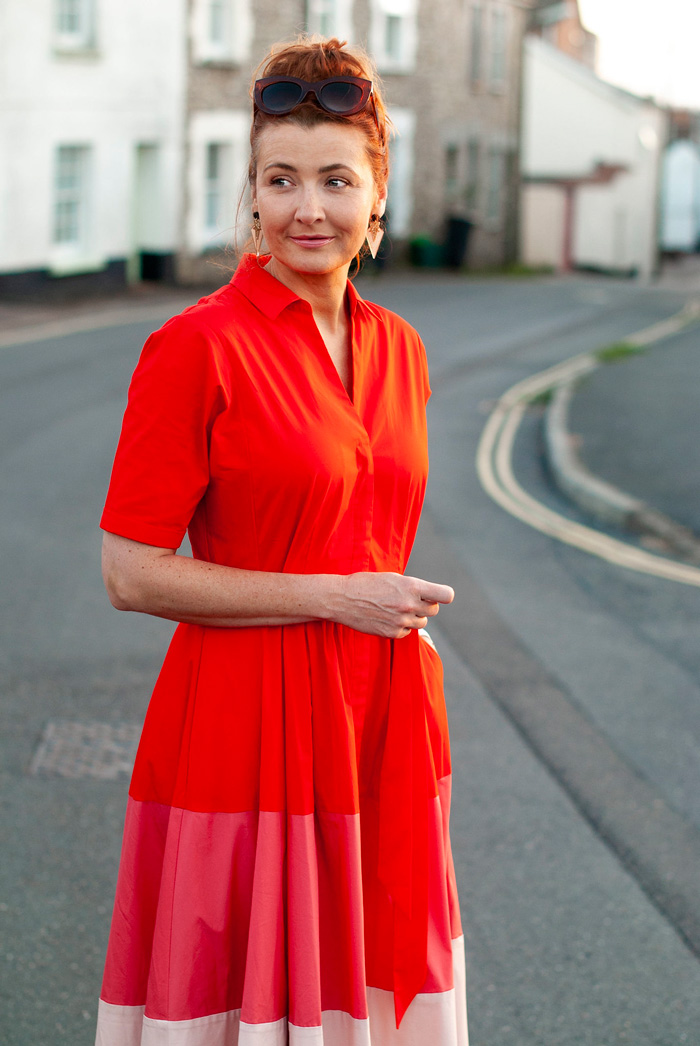 As a point of reference which age group do you belong to or perhaps you are willing to share your age?
I just turned 40 this summer!
Can you tell us a bit more about your blog. Why did you start a personal style blog?
I really started it to combine my two loves – photography and fashion. I wanted to see if I could improve my style as I was approaching 40 (I describe myself as a non-20 something personal style blogger) by documenting what I wore on a regular basis, and I've always been a wannabe graphic designer/makeup artist/stylist/interior decorator! So the combination of fashion, photography and blog design creates the perfect hobby for me.
You call your blog Not Dressed as Lamb. Why did you choose to call it that?
I wanted to make it clear what my blog was about with a good name – I came up with a LOT of duff names when trying to choose! I was thinking about the expression "mutton dressed as lamb" and how I wanted to avoid dressing that way as I got older. I simply thought Not Dressed As Lamb was a more attractive way of saying it, and hopefully explaining that it's a style blog by a slightly more mature woman. I knew it was the right name; it really stood out in the shortlist. I can't imagine it being called anything else now!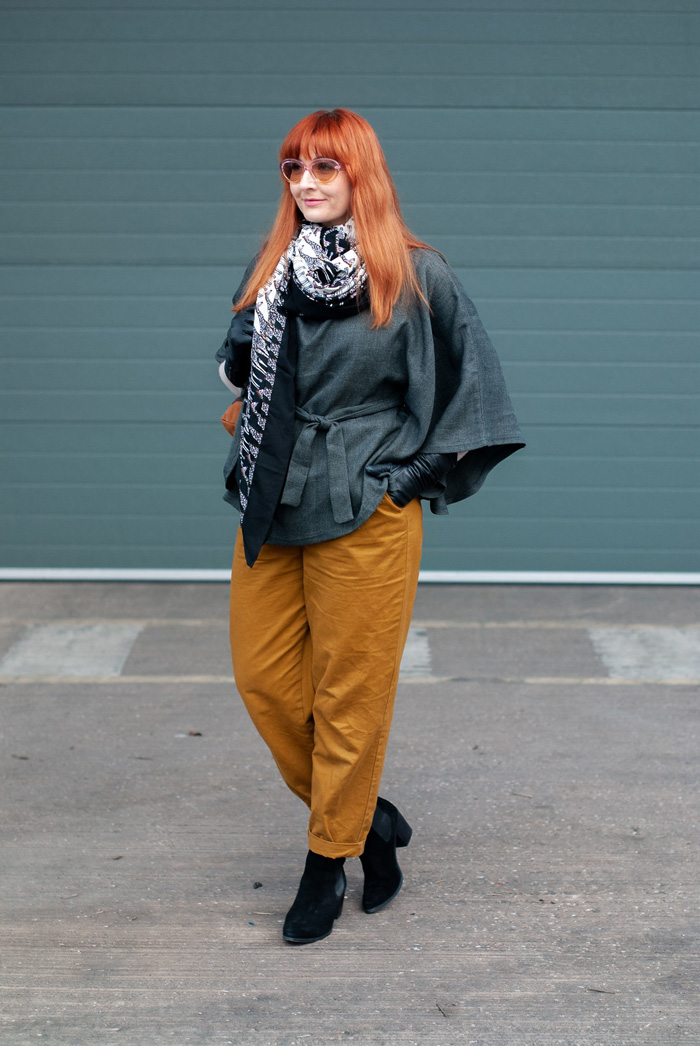 What to you, is age appropriate dressing?
I don't believe in loads of rules for women as they get older where dressing is concerned – I've read too many books which dictate how you should dress "age-appropriately". I love the women featured on the blog Advanced Style; they don't follow any rules and look amazing! I've worked out my own theory – not rules – behind dressing for your age as you get older to get it right:
Dress either classic or edgy, or a mixture of both.
Avoid dressing tarty (meaning cleavage and legs and heels). I want people to notice my fabulous outfit, not that I have too much flesh on show.
I think if you follow these guidelines you can't go wrong – I actually think older women can often get away with more outrageous clothing than a 20 something because as you get older it's less about fashion and more about style and knowing what suits you.

How would you describe your style?
I'd describe my style as eclectic, but veering towards preppy with a twist. I also can't get enough of pattern mixing and bright colour.
I feel that you have a very unique and wonderful style that involves a lot of colour. What tips do you have for 40+Style readers that find it difficult to add more colour to their wardrobes?
Over the last 15 years or so I have wheedled out most of the black that I had in my wardrobe, so much so that I now find black incredibly hard to style and am quite afraid of wearing it (except for in the evening, strangely). I can guarantee that you will receive the most compliments when wearing bright colour – it always cheers people up and the most common thing I hear is "wow you look lovely and bright".
You shouldn't be afraid of wearing more than one bright colour at one time (I'll wear up to three or four!), but if you're a colour virgin I'd say start with a vivid accessory – a bag, pair of shoes or scarf in the brightest red, turquoise, yellow, etc. you can find.
Consider wearing other neutrals in place of black, like white or marl grey, or a lovely rich camel colour. Once these are paired with your bright accessory, you'll look (and feel) lighter and brighter.
When you're used to having bright accessories, move onto a pair of coloured jeans or something bold for your bottom half; if you start only with bright tops there's the danger of never moving on from constantly wearing black trousers and skirts.
Finally, for every bright piece of clothing you buy, donate or recycle one black item… and be ready for those compliments!
How do you go about choosing your clothes and what inspires your outfits?
My number one inspiration is other bloggers' style. I used to physically cut out images from magazines and keep a scrapbook for inspiration, but now of course there's Pinterest to do that virtually for me. Living in the UK means the weather greatly influences what I wear, but I'll usually just either decide on a particular "look" for that day – ladylike, preppy, or masculine chic for example – or I'll choose one item I fancy wearing and base the rest around that. Most of my looks can be traced back to an outfit I've seen on a blog as inspiration, from a whole outfit to just the way a shirt's been tucked in.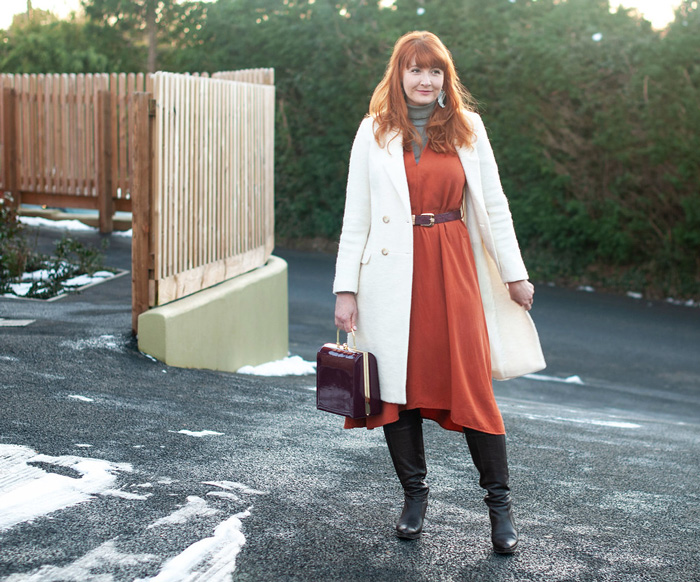 Do you take things like colour profiling or body type into account when you dress?
I've never had a colour consultation in my life (probably shows by the way I randomly throw colours together!), but one colour I never wear next to my face is red. I'm willing to be proved wrong, but I just don't like it next to my skin tone. I've also learnt that there are certain styles that suit my body shape more than others, and I'm all for showing off the bits I do like and disguising the bits I don't. I've never liked skirts or dresses above the knee on me, but I like my arms and shoulders, so sleeveless t-shirts with a maxi skirt for example is a great silhouette for my body shape.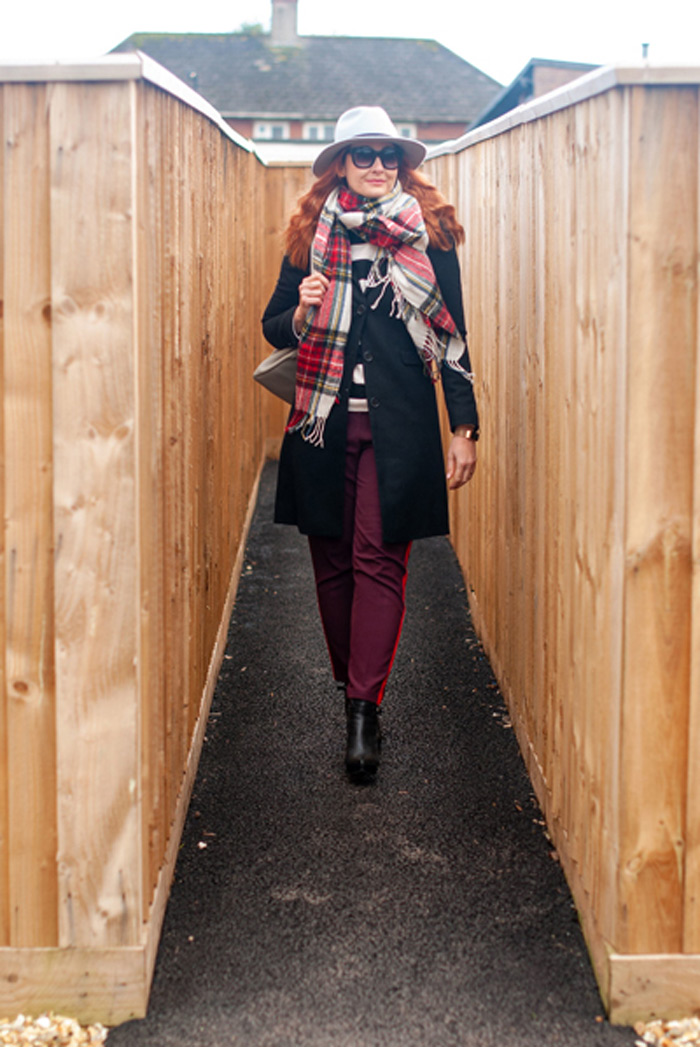 Has your style changed at all after turning 40?
I'm only just 40, but I think my style has become much less safe in the last few years, and even more so since discovering fashion blogs. Ten years ago I very much wore suits to work and jeans and t-shirts at the weekend; now I don't dress much differently between weekdays and weekends (it helps having a super relaxed dress code at work).
Would you say that at this stage of your life you are now more, or less interested in fashion, style and the way you look?
Strangely I would say I'm more interested in fashion than I was 20 years ago, despite at the time being an avid buyer of Vogue and Elle magazines. I think fashion and style – especially street style – are so much more accessible now with the internet. As it makes trends so accessible, there's much more choice of clothes that both suit your body shape/style and are on-trend.

Why is the way you look important to you?
It makes me feel better about myself… simple as that. If I catch a glimpse of myself in the mirror with hair all over the place, a tired face and old pyjamas, I won't feel as positive and radiant (for want of a better word) as I do when I've made an effort when I'm going out. Plus I've always been an artist of sorts (meaning art was my best subject at school and I've always been described as "arty"), so dressing up and doing my hair and make up is second nature, like creating a little mini work of art each day.
Which outfit on your site is your favorite outfit and why?
I love this vintage polkadot dress. It's the perfect fit and shape, it's sheer, it's got polka dots, and no-one else will have one like it as it's vintage. I get so many compliments every time I wear it. Due to the colours it's actually quite hard to style, but it means I don't wear it that often, so it's extra special when I do. I'd not worn it with purple before, so a black dress with mustard polka dots and purple accessories was a winner for me!
Do you follow trends? And if yes, which trends excite you at the moment?
Funnily enough I think I'd be clueless about trends if it wasn't for fashion blogs! However, I think I follow trends more than I realise; for example I was all over pastels in the spring/summer, and I'm warming to oxblood at the moment. I may be a bit late to the studding party, but I've bought a big pile of assorted studs from eBay and will soon get studding lots of items I've recently thrifted.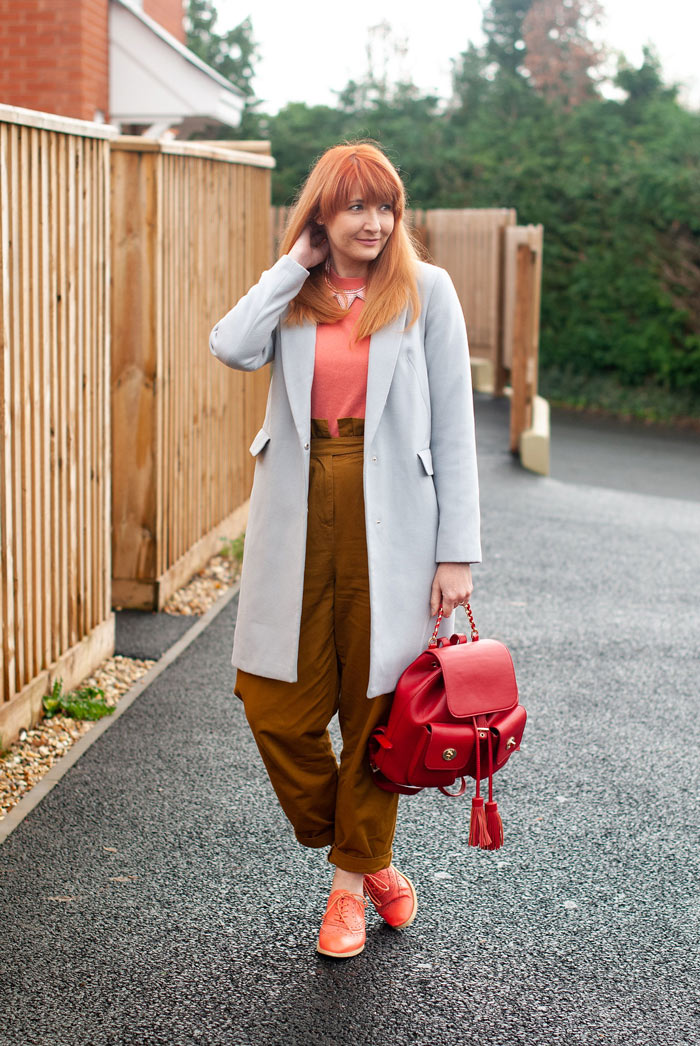 Do you have any other fashion and style tips for women over 40?
Don't be afraid to wear what you like and what will bring a smile to your face when you look in the mirror, it's as simple as that! I'd rather see someone who isn't necessarily regarded as classically "stylish", but is having fun with what she wears, than someone who purposely dresses dowdily and apologetically because she thinks that's what you're meant to do as you get older. I think your age should be directly proportionate to how fun and bright you look – the older you are, the bolder the outfit!
Do you plan to continue with blogging and how do you see your blog develop over the coming years?
I only ever intended to do this for one year to see how it went and if I enjoyed it. It has been so much more than I could ever have imagined – what I didn't expect was the amount of wonderful comments, support and good feeling that's been passed my way! You know the often asked job interview question: Where do you see yourself in five years? In relation to blogging I'd have to say my dream is to write a book one day. I've seen other bloggers do this, and as I loved writing stories when I was a kid (yes, another wannabe profession to add to my list!), it would be so amazing to see that happen. I even came up with a pen name when I was young, though now I think I'd stick with my real one. 'Elizabeth Hartington' just doesn't seem very me, somehow…!
Note from Sylvia: I'm sure you will agree with me that there were many valuable lessons in her answers here. If you don't already follow Catherine, be sure so check out her amazing blog Not Dressed As Lamb and be inspired by her incredible style!

Want to get more articles from 40+style in your inbox, subscribe here.
You can also connect with 40+style on Facebook, Instagram or Pinterest.
Support 40+style by using the links in our articles to shop. As an associate for Amazon and many other brands, we receive a small commission (at no cost to you) on qualifying purchases which enables us to keep creating amazing free content for you. Thanks!