Now that spring is just around the corner (for many of you), let's take a look at the best summer shoes for women this year.
The fantastic thing about these trending shoes is that there really is a style for everyone, whether you prefer heels or flats, colors or neutrals, you like a classic look or you prefer to add a quirky element to your outfit.
I'd love to know if you have a favorite style and if you already have some of these trends in your shoe cupboard. You can let me know in the comments at the end of the article.
All the best summer shoes for women
Below you'll find the major shoe trends for spring and summer rounded up for you.
You should find plenty of inspiration, whether you want to check if you have some of these at home already, or you will be treating yourself to a new pair for the new season.
1. Summer shoes for women with square toes
It's definitely still hip to be square when it comes to the toe shape of your shoes.
Square toes were a big trend for last season too, and this has migrated onto the spring and summer catwalks.
They were also everywhere during the 90s, so if you are someone who holds onto your shoes for many years, it could definitely be worth digging any you have from this decade out of the back of your closet.
Versace – Prada – Proenza Schouler

2. Trending shoes: Souped up loafers
Loafers, I think unfairly, can have a reputation of being boring.
However, the spring/summer catwalk shows demonstrated that they can be anything but dull; holding their own against the other summer shoes for women on the runways.
If you want to make sure your loafers are on trend, opt for a heel – it doesn't matter whether it's 2-inches or 4.
Louis Vuitton – Loewe – Prada

3. New style shoes: Slanted heels
Quirky and with a nod to the 80s, slanted heels definitely add a quirky touch to your existing looks.
These may particularly appeal to you if you have an architectural style personality and you like to add unexpected shapes to your outfits.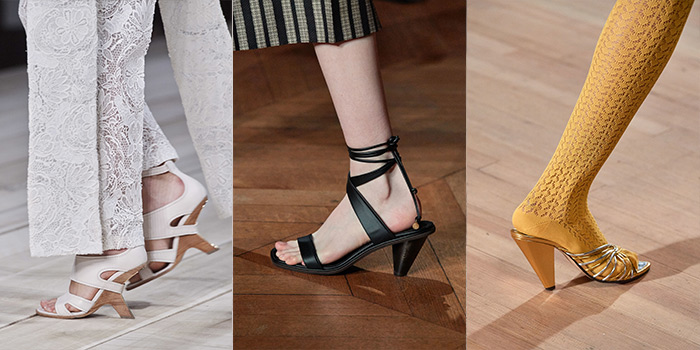 Alexander McQueen – Stella McCartney – Marc Jacobs

4. Trending shoes for women: Thick soles (lug soles)
So-called "ugly shoes" have been a major trend for the past few seasons. And, some can definitely be tricky to wear – I really can't see myself wearing shoes quite as chunky as those of Sacai (below right).
However, a thick-soled sandal or bootie can add a modern touch, and I think can work well if you keep the rest of your outfit relatively streamlined.
Simone Rocha – Sacai – Sacai
5. Best summer shoes: Bright and strappy
Are you a fan of neutrals, or do you like plenty of color in your outfits?
Either way, a bright shoe can be a great way to add interest – either to add a pop of color to your blacks, whites, beiges, taupes and grays. Or, to deliberately clash with the other colors you are wearing.
Any style of shoe works, whether a heeled sandal, flat or a flatform, just as long as it's colorful.
As you can see (below), green is a big trend for spring 2020.
Prabal Gurung – Giambattista Valli – Coach

6. 2020 shoe trends: Tie up shoes
Lace-up shoes don't have to reserved for your sneakers or oxfords.
Shoes featuring lace-ups for summer 2020 included plenty of sandals, which would look lovely for a vacation, but also boot-shoe hybrids, which could be an ideal transitional idea.
Valentino – Stella McCartney – Christian Dior

7. Shoes with jewelry and chains
Who says you have to reserve your jewelry to adorn your ears, neck or wrists?
Once of the micro-trends for spring and summer is to feature jewelry on your shoes.
Again, this trend isn't limited to one particular shoe style. As you can see below, jewelry featured on boots, sandals and flats.
Altuzarra – Peter Pilotto – JW Anderson

8. Colorful boots
If you love wearing boots, rather than shoes, it can be tricky to figure out how to wear them as winter turns to spring and summer.
Even if the weather is still cool, black can look a little "heavy" as the months roll by.
You could, instead, choose a boot either in a bright color, or a soft neutral such as the creamy yellow (middle below).
Altuzarra – Loewe – Marc Jacobs

9. Interesting heels
One way designers use to differentiate each season is to alter heel shapes.
So, there were some very classic shoe styles on display, from sandals and pointed heels to loafers, but what makes these stand out is the shape or the detailing on the heel.
Alexander McQueen – Fendi – Simone Rocha

10. Mary jane pumps
Mary Janes have a strong place in history, having been worn by everyone from Shirley Temple to Twiggy, Carrie Bradshaw to Naomi Cambell.
And, they're definitely still on trend even after so many years.
You could choose a playful style like that of Marc Jacobs (below, center), a flat as showcased by Tod's (below left) or choose a very classic look (below, right).
Tod's – Marc Jacobs – Maison Margiela

11. Stick a bow on it
Pretty and feminine, the trend for bows on shoes is one which can be worn either for an event, or casually.
A pair of bow-detail ballet flats could look stylish with jeans, or you could update your little black dress with a pair of bow heels.
Tory Burch – Dries Van Noten – Salvatore Ferragamo

12. Asymmetric straps
Are you as much of a fan of asymmetry as I am?
An asymmetric top or dress can add interest to an otherwise simple outfit, or can help to hide a belly if this is an area of your body you feel a little self-conscious about.
This season, asymmetrical strap detailing is also a big trend for shoes, in particular for summer sandals and heels.
Proenza Schouler – Salvatore Ferragamo – Prabal Gurung

13. Platforms
If you want to take a little step back in fashion time to the 70s, then you could opt for a pair of platforms.
Wear with flared pants, jeans or under a midi dress.
Gucci – Dries Van Noten – Gucci

14. Or flatforms (you decide)
The other big height-lifting trend was not for a traditional platform style, but for a flatform.
I have to say, I find flatforms tricky to walk in for long periods of time because of the inflexible sole.
However, just as you might wear a pair of heels for dinner but you wouldn't necessarily go for a long walk in them, you might opt to wear flatforms for a lunch date, for example.
Erdem – Prada – Simone Rocha

15. Woven
Shoes which either featured weaving, or which look as if they do, are an easy-to-wear trend.
That's because, as you can see from the styles below, there's no right way to wear this trend.
You could choose flats, mules or oxfords, depending on which suits your lifestyle and your style.
Prada – Bottega Veneta – Prada

16. Comfy sneakers
Sneakers have been majorly on trend for many seasons now, and the great thing about spring and summer 2020 is there are so many styles to choose from.
Below, you can see that there was everything from a traditional casual sneaker style to high-tops and 80s-style sneakers with higher soles.
The beauty of these is you can wear your sneakers with everything from jeans to dresses.
Take a look at how to wear sneakers for more inspiration.
Prabal Gurung – Tory Burch – Coach
17. Kitten heels
Again, a trend which has been prevalent for a number of seasons now.
While the high heels on the catwalks, on the whole, tended to be block heels or platforms, the lower styles also featured kitten heel styles.
If you want to tick two trends in one, you could opt for polka dots like those of Tory Burch (below left).
Tory Burch – Tod's – Coach

18. Simple mules
Simple, stylish, easy to wear and perfect for slipping on if you're on vacation, the humble mule had something of a style makeover for summer.
You could look for a bright color, or a wooden sole with a "clog" feel, or choose to combine two trends in one with a mule-loafer hybrid, as seen on the catwalks of Lanvin (below, right).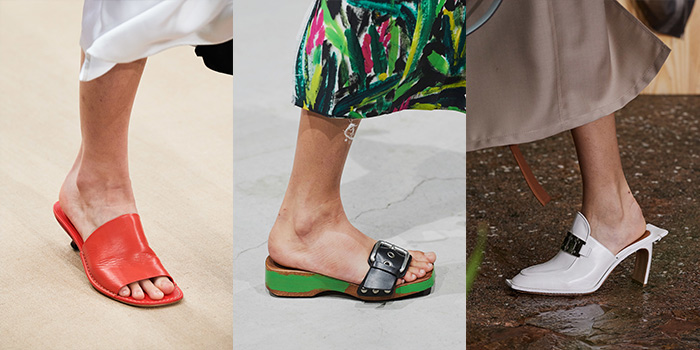 Tod's – Marni – Lanvin

19. Gold
While silver has been on trend for a few years now, it seems that gold could be overtaking its metallic counterpart.
Again, there's no one way to wear this trend. Gold shoes in every style were showcased for spring and summer.
I always think gold looks particularly beautiful for the summer months worn with white.
Tod's – Dries Van Noten – Miu Miu

20. Wooden soles
When you think of wooden shoes, the first thought is probably about traditional wooden clogs.
However, designers opted to add wooden soles to their shoes for the summer months, with Miu Miu's take on the trend being particularly ornate.
Miu Miu – Givenchy – Marni

Which of these are your favorite summer shoes for women? Is there a trend you will be wearing for 2020?
Continue reading:
Like this article on summer shoes for women? Share it on Pinterest
All images from Vogue: Spring 2020 RTW Fashion Shows
Want to get more articles from 40+style in your inbox, subscribe here.
You can also connect with 40+style on Facebook, Instagram or Pinterest.
Support 40+style by using the links in our articles to shop. As an associate for Amazon and many other brands, we receive a small commission (at no cost to you) on qualifying purchases which enables us to keep creating amazing free content for you. Thanks!