Natalie is one of the members of the 40+Style Club and resides northwest of Boston in Massachusetts. She has a penchant for classic outfits with a twist of modern and unique pieces. Let's discover her style secrets!

Can you tell us more about yourself? As a point of reference which age group do you belong to, or perhaps you are willing to share your age?
I am 63, married and have 2 twenty-something sons. Currently I work as an academic coach in a middle school. Along with style and design, I enjoy spending time with my family, creating art, thrifting, gardening, kayaking, live music and a good red wine. I consider myself a "multipotentialite", or someone without one true calling. (Emilie Wapnick, TEDtalk 2015).
Where do you live and how does that influence your style?
I live 40 minutes northwest of Boston in Massachusetts, US. The beauty of living here is that we experience all 4 seasons which means 2 distinct wardrobes for the extremes and lots of crossover clothing. I am always cold so I live in scarves, sweaters and my black lace-up army boots from November through March.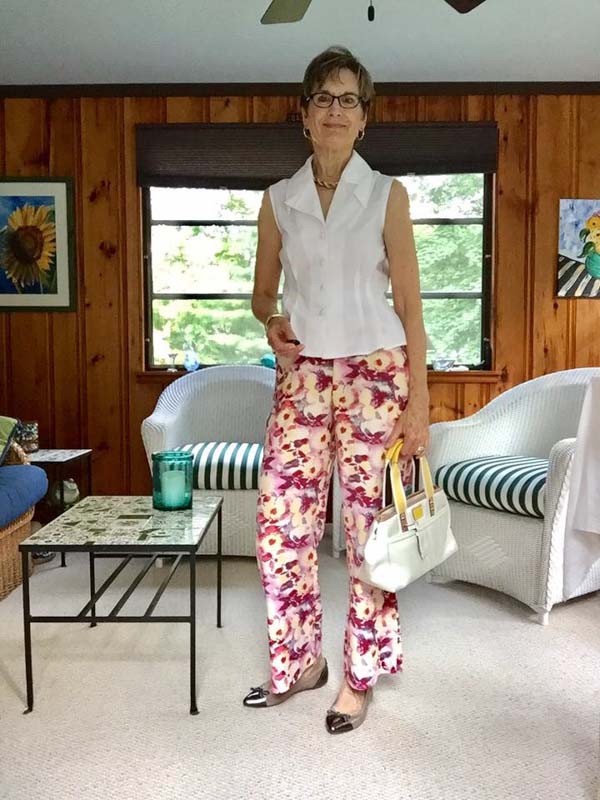 How would you describe your own personal style?
Creative Classic, Tailored with a Twist, Modern Classic are all ways I describe my style. I like the creative or twist element to be something unexpected. A statement jacket, fun shoes, mixing patterns and textures, or vintage accessories.
My favorites include a floral bomber jacket, patent and "pony fur" Sam Edelman shoes, fuschia floral scarf, and vintage caramel and pale pink polka dot sweater.
While I came of age following groundbreaking models Twiggy, Jean Shrimpton and the avant garde Peggy Moffett in the 60's, the menswear styling of Katherine Hepburn and later Diane Keaton, really spoke to me. Wide leg pants, tailored shirt, vests and jackets was my go to style.
I have not always followed trends over the decades, but have trusted my instincts and have developed a basic wardrobe (which now includes skinnies, leggings, and a frilly item or two).
My style is evolving as I learn more through the 40+Style Club about silhouette, proportion, fit, and color while experimenting with new ways to style old favorites to get more from my wardrobe.

Can you tell us a little bit more about your style journey?
I have always been interested in style, fashion and accessories. As a young girl, I loved playing dress up.
Early on, I received a hand me down black patent leather handbag from a friend's aunt. She was 21 and drove a Corvette. I was 8, wide eyed and hooked.
Being lanky with a primarily rectangle body shape and flat chest, I was always drawn to menswear styling over the flirty, flouncy, frilly, feminine styles.
In warmer months, my closet is filled with color and fun graphic prints. Winter is quite the opposite and the challenge is adding brights into my wardrobe as store racks are filled with dark colors.
Do you believe in dressing "age appropriately" and what does it mean to you?
Age appropriate dressing for me means looking confident, stylish and relevant without appearing frumpy or, worse yet, desperate.
This is much easier to do now than in my mother/grandmothers generation. Designers realize that 40, 50 or 60+ women need to be catered to due to our buying power.
This is evident with styles that take into account the menopausal body changes (hide the belly tops, better cut jeans, etc), the use of fabrics with stretch to add comfort for active lifestyles and the introduction of oldermodels to represent brands.
 Why is the way you look important to you?
Well, life is short and I'm not finished playing dress up yet. To quote venerable style icon Iris Apfel, "When the fun goes out of getting dressed, you might as well be dead".  I love that!
Making an effort just feels good. I am treated better and taken more seriously which is important to me as an aging woman. Ruth Essex, a 40+style club mentor once quoted someone who said "choose to show up in your life everyday".
Taking the time to present myself authentically through style and engage with the world around me is my way of showing up.
How has the style club helped you ignite your style?
The style club has taught me how to look at style, fashion, and trends with a more critical eye.
I have stopped impulse buying and am editing my wardrobe while expanding how I use my clothes to create new stylish looks. It wasn't easy to start posting selfies but it has become a fun and valuable tool to put what I've learned into action.
The feedback from the 40+style team and my new international style conscious friends is always thoughtful and encouraging. We are all on this journey together.
Thanks so much Natalie for participating in my style interview series. This is going to be a tough one, but which of  Natalie's outfits is your favorite?

Like this article? Share it on Pinterest!
P.S. Today I released the fabulous new Fall Capsule in the 40+Style Club! Create more than 84 outfits from just 15 pieces!
You will get style training on the trends, a complete shopping list (all items are currently available online), a 10 outfit challenge that will start on 16 September where you can (optionally) share your outfits with the community and a complete list of all 84 outfits that you can create from the capsule. As a bonus you will get access to all other style training in the club too!
You will also get to interact with Natalie and the many other women of the club in the private member community. You can join the style club here.
Want to get more articles from 40+style in your inbox, subscribe here.
You can also connect with 40+style on Facebook, Instagram or Pinterest.
Support 40+style by using the links in our articles to shop. As an associate for Amazon and many other brands, we receive a small commission (at no cost to you) on qualifying purchases which enables us to keep creating amazing free content for you. Thanks!