I've featured Annette a few times before on 40+Style. She is a gorgeous blogger residing in Germany and you can read her style interview here.
Today Annette reveals her beauty secrets to us and shares how she accomplishes to get her radiant and beautiful skin. Enjoy!

Has your beauty routine changed much from when you were younger?
I have never been a beauty junkie – not in the past and certainly not now. When I was younger I suffered from blemished skin and spots. It was really bad when I was a teenager but also up to my late thirties I wasn't happy with my skin at all and spent a lot of time on covering my irritated skin.
My skin is so much better now! Of course at almost 55 I naturally have wrinkles around my eyes and my forehead but overall I cannot complain about my mature skin. It isn't dry or sensitive, I can use almost any product and that is why my beauty regime is very basic and I don't spend much money on it. My beauty products usually are from the drugstore.
I cannot see much difference between cheaper and more expensive products and no luxury ant-ageing product will make me look 20 years younger.
How much time do you spend on average on your grooming / beauty routine?
Does that include hair or face only? From getting into the bathroom until leaving the house it takes an hour but that includes everything from shower to makeup, hair drying and styling and getting dressed (on a typical Monday morning). And a cup of tea in between 😉
Face /makeup approx. 10 min
Hair styling approx. 10 min
What is your current beauty routine?
Morning:
I wash my face with clear water (we have an excellent water quality here in the mountains) before I apply the 3 steps as described in the next question.
Evening:
I always remove makeup before I go to bed.
Twice a month:
I do a peeling with AOK Seesand Peeling
Once or twice a month:
A face mask depending on the season and the occasion (moisture / lifting / calming)
No particular brand.
How do you look after your skin and what is your favorite product?
1. Hyaluronic gel from the pharmacy. It is their own recipe at a high concentration but very cheap in comparison to much lower concentrates by big brands. "No name product"
2. Vitamin E Day Lotion SPF30 by the Body Shop
3. Moisturising creme – currently I am very happy with Vital Anti-Age Soja Day Cream SPF15 by Nivea (in winter I will change to a richer cream here, probably also from Nivea or the Body Shop)
How do you look after your hair and what are your favorite products?
I change my shampoo and conditioner from time to time as I feel my hair gets adjusted to specific products after a while.
Currently (and often) I use Schwarzkopf Liquid Silk Shampoo and conditioner.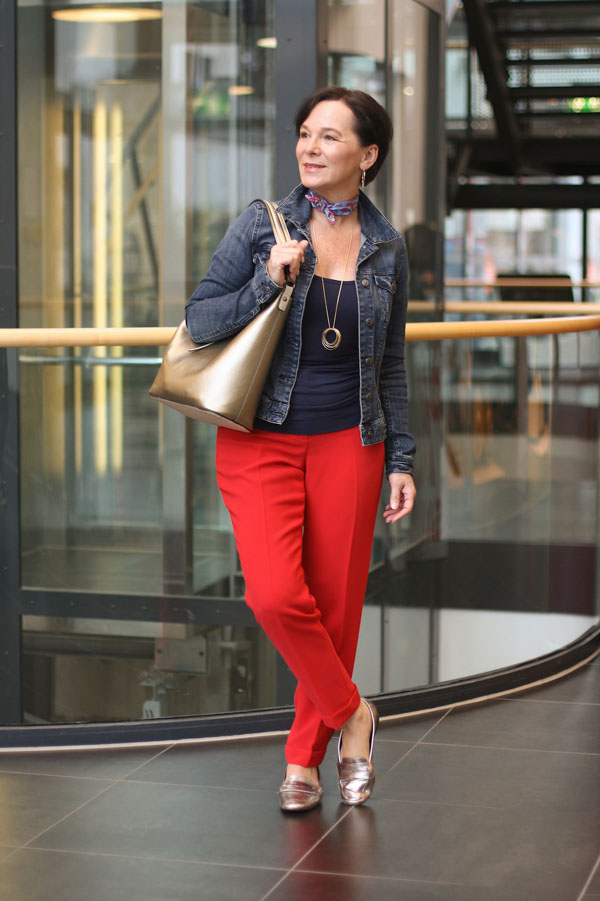 Once or twice a month I use a deep conditioner and from time to time I apply olive oil and let it soak in for several hours. Of course I need to wash my hair a couple of times afterwards but my hairdresser really recommended this natural treatment for dry hair.
How important is makeup to you? Is it part of your daily routine?
Yes it is important. After all I am not 25 any longer 😉
My makeup routine is very natural and basic but I think it makes a real difference – my eyes are small and eye shadow (natural shades of brown), black mascara and the use of an eye brow pencil are important.A bit of rouge and lipstick preferably in soft shades of pink to a light brown-red are my favourite colours. I never wear red lipstick (nor red nail varnish).
Which make-up products do you use and which are currently your favorite?
1. For my makeup I use the very light L'Oréal Nude Magic Cushion which can easily be applied with the unique tap-tap applicator (as they call it!). It is really only a hint of makeup!
2. On top I add a little bit of compressed powder (own organic brand "Terra Naturi" by German drugstore chain – "no name product")
3. I love a hint of a "sun kissed glow" on my cheeks and use the Shimmer Waves by The Body Shop on top of a soft blush-brown rouge.
Which products do you use for the night? (if any)
I only clean my face but never use any night care and love the gentle makeup cleanser by Avène and the gentle toner by Avène
If you could just give 3 beauty and grooming tips to women over 40, what would they be?
Sorry but I don't have any tips here as I never paid much attention to beauty products.
Probably living in the countryside in the middle of an unspoilt nature and clean air does help at any age!
Thanks Annette for sharing your beauty secrets with us! If you like to see more of Annette be sure to visit her blog The Lady Of Style.
What are your favorite beauty products?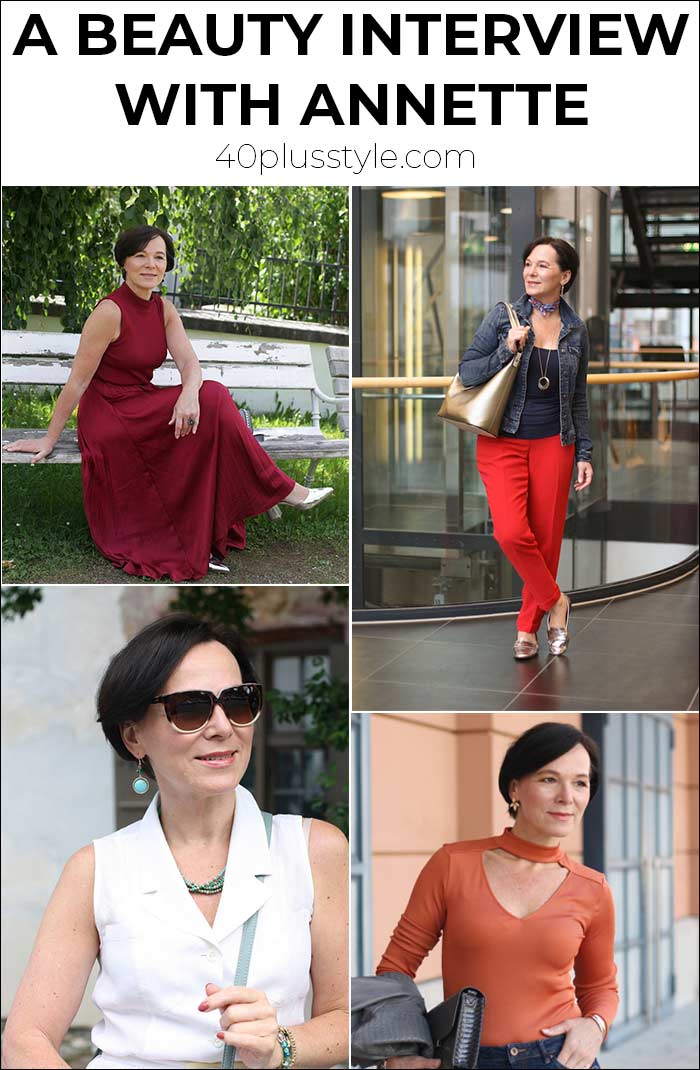 Feature image by www.ladyofstyle.com
Want to get more articles from 40+style in your inbox, subscribe here.
You can also connect with 40+style on Facebook, Instagram or Pinterest.
Support 40+style by using the links in our articles to shop. As an associate for Amazon and many other brands, we receive a small commission (at no cost to you) on qualifying purchases which enables us to keep creating amazing free content for you. Thanks!