I recently discovered The Directrice through previous style interviewee Deborah and was immediately taken with her unique style as well as her fabulous hairstyle. Wow!
Victoria calls her style Classic with a Twist and it's that twist that makes it so special in my opinion. Of course I wanted to discover more about this fabulous woman. Enjoy!
Hi Victoria. Thanks for taking the time out to answer a few questions for 40PlusStyle.com.
Can you tell us a little bit more about yourself?
I moved to Washington D.C. right after finishing college — for the adventure of city living and something totally new — and stayed. Almost 25 years later I still love the energy and intimacy of city living. I am a lawyer (a litigator actually), but think that I would have made a good high school history teacher. I am keenly interested in design — interior, industrial, and fashion — and am amazed at the number of people blogging on these topics.
As a point of reference which age group do you belong to or perhaps you are willing to share your age?
I am forty-five, which I think may be the age I was always intended to be. It's a very comfortable age.
Can you tell us a bit more about your blog The Directrice and why you created it?
For a couple of years, I have followed a half-dozen style blogs, which I found through a couple of interior design blogs. I find blogs that reflect a personal point of view to be very entertaining – even when their style is nothing like my own.
My husband observed me reading my favorite blogs and told me that I should create my own ("You could do that!"), which I thought was outlandish – but he caused me to wonder if I really could. So, to some extent, you could almost say that I started this on a dare.
How would you describe your own style?
Classic with a twist? A little bit interesting?
What would you consider the most important components of your style?
Tangible things: Smart jackets, white blouses, ballet flats and penny loafers, colorful handbags. Concepts: Asymmetry, layering, and tactile luxury.
Where do you live and how does that influence your style?
I grew up in New England (the northeastern part of the United States) and have lived in Washington D.C. for 25 years. The East Coast of the United States is considered more formal than the West Coast; I think that cultural tendency (towards formality) has influenced my style. Washington D.C. gets lots of visitors – from all over the country and the world — so I am always scanning my environment, looking for good ideas on other people.
What inspires your outfit choices the most?
Material and construction influence my purchases — I love beautiful fabrics and knits and I take a lot of delight in the way well-made garments are constructed and finished. I have a very good visual memory; if I see something I like in a magazine, a movie or on the street, I will remember it and find a way to recreate or reimagine it with my own clothes. My chief inspiration is trying to keep things interesting and fresh – to wear things in new ways and combinations.
Do you take things like color profiling or body type into account when you dress?
I think I do so, but in an intuitive rather than educated way. I am sure that a good colorist would know exactly what colors look best on me, but I just react to what I see in the mirror. I couldn't tell you what necklines and silhouettes someone with my body type is supposed to wear – but I know that certain styles flatter my figure and I stick with those. I'm only 5'3", so I try to avoid stiff fabrics and boxy cuts.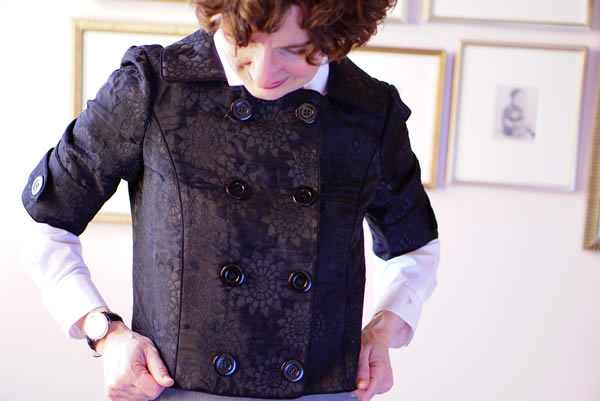 Has your style changed at all after turning 40?
My style has been evolving since I was in my 20s and continues to evolve; turning 40 was not a watershed.
Do you believe in dressing "age appropriately" and what does it mean to you?
This is a tough question. I think the term is loaded and generally reflects a somewhat mindless (and totally pointless) obsession with youth. With that said, however, I do believe that certain looks are (or should be) the province of the young. When I was in my 20s and in law school, I wore the cutest miniskirts and tights, but I wouldn't dream of wearing them today. My legs are no longer cute like they were. To me, dressing "age appropriately" really amounts to "dressing to advantage" with the confidence, poise and maturity that grow as you age.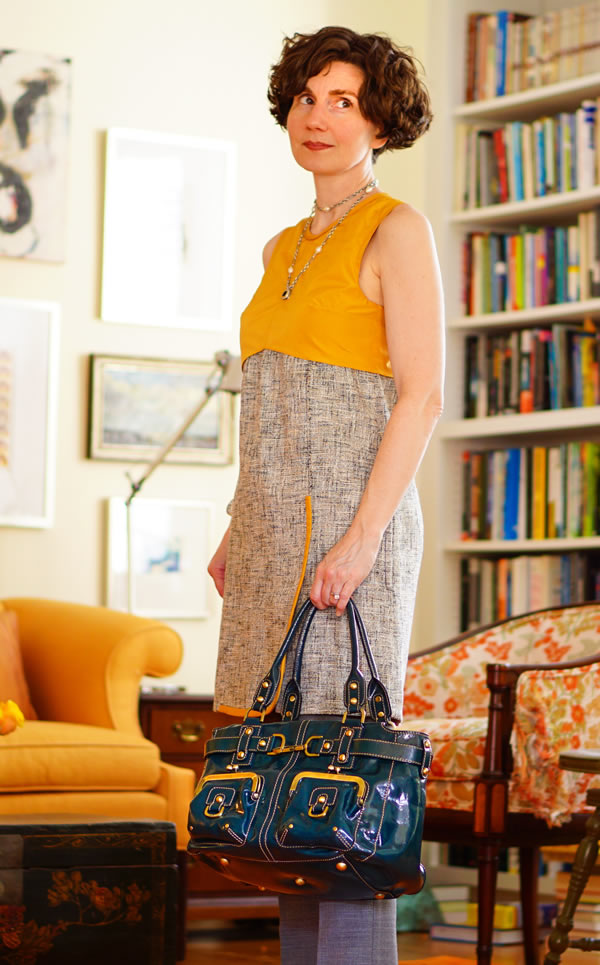 Would you say that at this stage of your life you are now more, or less interested in fashion, style and the way you look?
My level of interest is roughly the same as it was when I was a teenager. But I have more discretionary income to indulge that interest now. My college roommate and I often ask ourselves, "When are we going to stop caring about clothes? Surely one day we will cease to care. . ."
Why is the way you look important to you?
Oddly enough, my interest in clothes is not really about my appearance. It's really about the clothes. I'm just the mannequin. I do, however, like to look nice for my husband. The first time he sees me dressed (i.e., not in pajamas) each day he says, "You look great!" And he's being sincere. It's very sweet.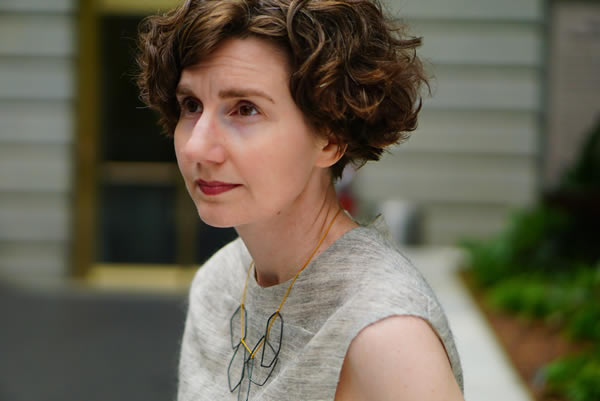 Do you follow trends? And if yes, which trends excite you at the moment?
I take note of trends, but novelty doesn't motivate me. If I think something new is beautiful, I'll buy it because it's beautiful, not because it's new. And I am very patient when it comes to riding out a trend that I don't like. I was a teenager during the 80s and wore pegged jeans. Shudder shudder. I have been contentedly ignoring the recent revival of skinny/tapered pants. Right now, I like big glasses, big sunglasses, flat shoes, and pants that end just above the ankle (but are not tapered).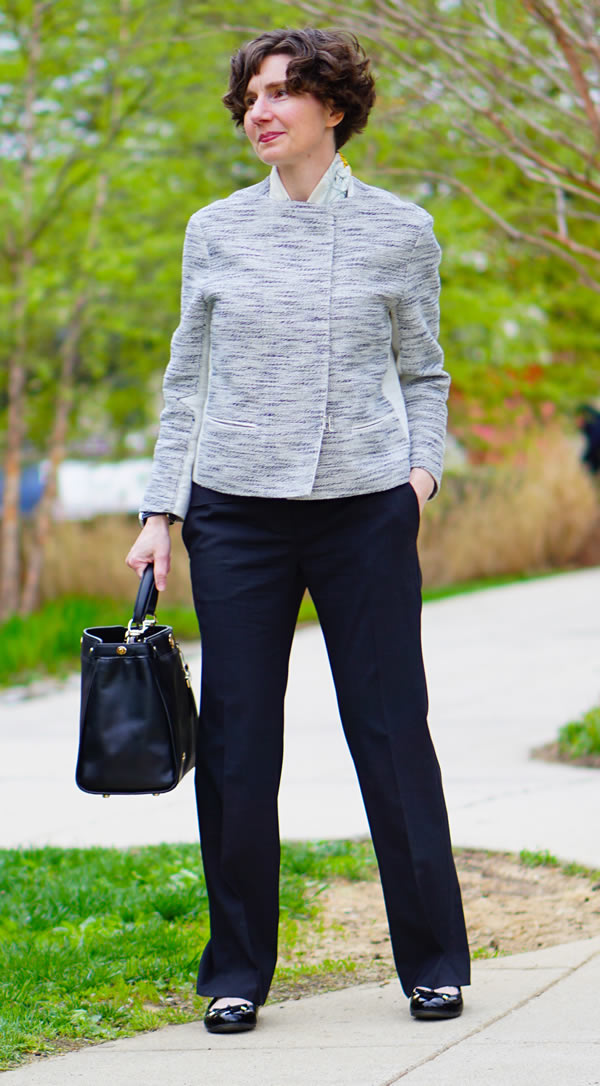 Do you have any fashion and style tips for women over 40?
Do as Michelle Obama does. Whether she is wearing a ball-gown, a day dress or athletic gear, she always looks just right – right for her age, her role, and the occasion. And while she is very candid about her enthusiasm for fashion, she is clearly a woman of substance.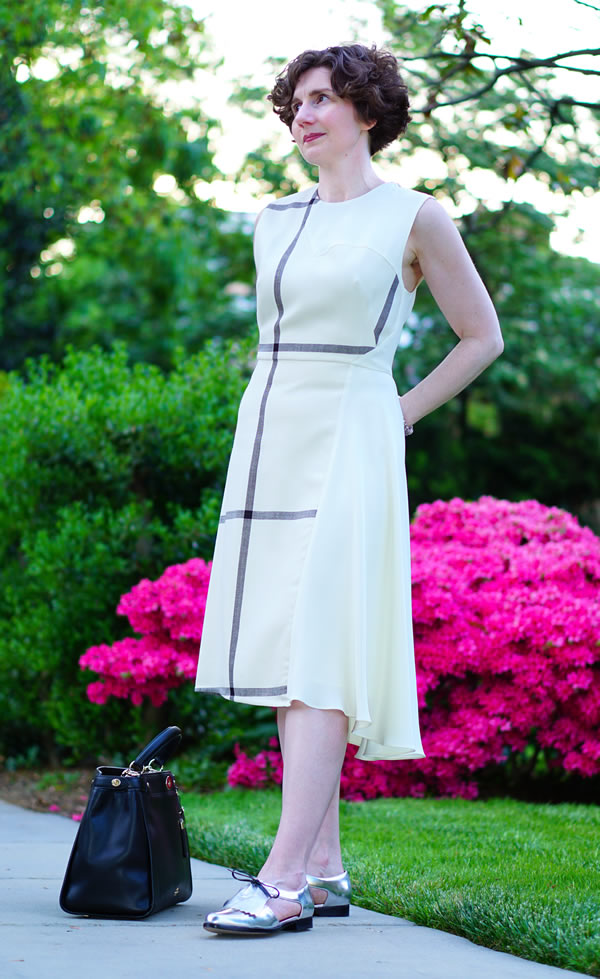 What are your plans for your blog and how do you see it developing over the coming years?
Before I launched the blog, I envisioned creating a complete reference source for professional dressing – that would provide step-by-step guidance and examples of how to dress for work, as well as advice on building, maintaining and revitalizing a wardrobe.
My plans to roll this out in a coherent sequence have already been dashed – I have a demanding job and the blog is just an outlet, so outlining and calendaring hundreds of posts in advance wasn't realistic. But hopefully over the next two years I can present all of the ideas floating around my head in a non-linear fashion. Perhaps a non-linear presentation is better suited to the blog/hyper-link medium anyway.

For many more looks and her musings on style be sure to visit her blog The Directrice!
Which of Victoria's looks is your favorite?

Like this post? Share it on Pinterest!
Want to get more articles from 40+style in your inbox, subscribe here.
You can also connect with 40+style on Facebook, Instagram or Pinterest.
Support 40+style by using the links in our articles to shop. As an associate for Amazon and many other brands, we receive a small commission (at no cost to you) on qualifying purchases which enables us to keep creating amazing free content for you. Thanks!