Heather is one of my favorite 40+ bloggers. Her collaborations with her husband result in creative images and her fabulous clothes always shine. Recently she blew me away with a series of bikini posts. She posed with confidence and showed of her fabulous body in full glory. I wanted to find out the secrets to her amazing style and superb body confidence so I was very pleased that Heather granted me this interview.
Hi Heather. Thanks for taking the time to answer a few questions for 40PlusStyle. Can you tell us a little bit more about yourself?
Fashion and clothing have been a passion of mine since I was very small. I honestly don't remember a time when I wasn't drawing clothes and dreaming up outfits. Currently I work as a freelance doll designer in sunny Los Angeles where I live with my husband and two children.
As a point of reference which age group do you belong to or perhaps you are willing to share your age?
I'm 42 years old.
Can you tell us a bit more about your blog. Why did you start a personal style blog?
I started a blog because I was looking for work. For a long time I had a fair amount of freelance projects based on word of mouth recommendations. Then the recession hit and it all dried up. Needing to find a way to advertise my services I created an online portfolio and in hopes of driving traffic to the website I created a design blog. For inspiration I read fashion and personal style blogs. It didn't take long before I realized I wanted a place to post photos of my outfits and The Style Confessions was born.
You call your blog The Style Confessions. Why did you choose to call it that?
I wanted a name for my blog that conveyed personal style more than fashion, and having a place for personal style confessions felt like what I wanted to do with the blog at the time. Plus I'm Catholic, so I've been immersed in the concept of confession since I was small. In the end I wish I had chosen something more lighthearted though. It's a heavy title for a blog of outfit photos and makeup reviews.
How would you describe your style?
Casual and glamorous.
What would you define as the main components of your style? What makes an outfit truly Heather?
In all my outfits there is always some sexy element: a short skirt, a low cut top, or super high heels. I don't do this on purpose really. It just works out that way. It's almost as if nothing looks quite right unless there's a sexy something involved.
How do you go about choosing your clothes and what inspires your outfits?
I choose my outfits based on the season, the weather, and what I'm going to do in the clothes.
At the moment I'm very inspired by my fellow fashion bloggers. I like the fact that they wear their own clothes and mix them around in new and different ways. I'm also very inspired by street style, both by outfits I see in my neighborhood and what I see on the web. Finally I find magazines a good source of inspiration, but usually what is presented within the glossy pages are beyond my means financially.
Do you take things like colour profiling or body type into account when you dress?
I find color profiling too restricting, but I definitely keep body type in mind when I'm shopping. I have an hourglass shape with a long body and short legs. Although I like my figure I have difficulty with trousers and almost everything I wear needs to have some sort of definition at the waist. Fashion is being good to me right now, but there are times when it seems like there's nothing out there that looks good on my body type.
Would you say you have a signature style? And if yes, what are the main elements?
I wear a lot of denim. It just works for the climate and culture in Los Angeles, but I don't think I really have a signature style. I like too many looks!
Has your style changed at all after turning 40?
Yes, I'm more confident now, and I care less and less about the "age appropriateness" of my clothing. (I was very concerned about that in my 30's for some reason.) I'm definitely taking more risks and enjoying clothing more now than I have since my early 20's. It's a personal renaissance. I love it.
Do you believe in dressing 'age appropriately' and what does it mean to you?
No, I don't believe in dressing for my age. I think women should choose clothes we love that make us feel great, period. There are some trends I avoid now, like school girl looks, head-to-toe neon colors and baby doll dresses, but I'm sure there's a forty year old woman out there somewhere who can wear them with aplomb.
Would you say that at this stage of your life you are now more, or less interested in fashion, style and the way you look?
I loved fashion as a child, and always knew I wanted to design clothing "when I grew up". In my early twenties I was a fashion design student who lived and breathed clothing and accessories, though I didn't have the money to purchase the designer items I loved. In my late twenties and thirties my outfits became more conservative as I moved into a career in a large corporation, and then made a U-turn to stay at home and take care of my babies. My children are older now, and as I move through my 40's I've rediscovered that early love for fashion. I'm as interested in clothing now as I was in my teens.
Why is the way you look important to you?
As a designer I need to portray my abilities and interest in fashion in what I wear, but I love it too, so I would probably focus on my appearance no matter what my profession. I'm also missing the radiance of my youth. This might sound rather pathetic, but I'm sure my obsession with my appearance now has a lot to do with the nostalgia and sadness of losing that youthful bloom.
Which outfit on your site is your favorite outfit and why?
I love the outfit I wore in "The Denim Jacket at Night". It was inspired by one of my favorite designers, Coco Chanel, although there isn't a real Chanel piece on my body or in my wardrobe for that matter. It sums up everything I like in an outfit. It's simple but interesting. It includes denim and is simultaneously glamorous and casual.
I have been amazed by your wonderful images of yourself in bikini. It's so refreshing to see a normal 40+ year old women pose with confidence and panache in such a revealing outfit. How did you find the courage to do that and be so confident with your body?
I lost over 20 pounds last year and now weigh around 150 pounds. That's what I weighted in my twenties before I had children. The bikini is a celebration of the joy I feel having found my youthful body again. That, and my husband really encouraged me to pose in a bikini. He seems to feel I'm really sexy and beautiful, and that makes me feel happy and confident.
Was it easy for you to pose in bikini and post these images on your blog?
It's always pretty easy for me to pose for the camera. I started when I was a kid and I've always liked it. The bikini was a little harder because I really had to focus on sucking in my stomach and pulling myself up as much as my spine would allow. But you know I only chose photos that I felt were flattering, there were plenty that weren't! Being able to choose the photos that go on my blog gives me the confidence to at least try some new things. I can always decide not to post the photos.
Have you always been so confident about your body and if not, how did you achieve it?
I was a thin child with a lot of body confidence, but as I got older I started comparing myself to the models in magazines, easy to do as a fashion design student. Although I was as tall as a model I wasn't nearly as thin. Now that I'm older I don't compare myself to other women the way I used to. I realize that models are thin because that's their body type. Experience has taught me a lot. I'm not nearly as hard on myself as I used to be.
I know that you once discovered some unflattering comments about your body on a forum. Yet, I feel that may have made you even more confident and determined to be happy with your own body and show others that they can do that too. How were you able to ignore these comments and continue to post even more revealing images on your site?
When I started the blog I knew eventually someone would say something unpleasant about my style, face or figure. It's the nature of being visible online. We're socialized not to be rude to others, but the net creates a screen where we can be honest without anyone knowing who we are. Of course it hurt, but I have to be honest with myself. It's going to happen. If I can't handle it I shouldn't have a personal style blog!
The experience has made me more confident because I want to fight back. I want women to feel like they can wear what they want, and have fun with clothing, even though others might not like it. If the worst that happens, is that some strangers say something unpleasant behind your back, well, that's not the worst thing in the world is it?
What advice would you give to other women who suffer from poor body image or don't feel so confident about their bodies?
Over the years I've learned to stop looking at my body as a list of likes and dislikes. Instead, I focus on the amazing organism my body is and the incredible things it has done, like nurture two tiny embryos into healthy babies. So if you suffer from poor body image and you want to change that, start by taking good care of yourself. Eat good quality, healthy, nutritious food. Walk or do some other form of exercise daily. Pamper your hair and skin. Have your nails done. I believe it's only when we respect our body that we can appreciate and love ourselves.
Do you have any other style or body image tips for women over 40 that you like to share?
Focus on the details. When I was younger I didn't care about my nails or putting on makeup unless it was a special occasion, but now I really enjoy looking my best. I feel like I need more TLC (tender love and care) now that I'm older. I take time picking out accessories and jewelry. It's the sum off all the little things that make an outfit great. Not that I'm saying I get it right all the time! I don't. But looking and feeling good is worth the effort.
Do you plan to continue with blogging and how do you see your blog develop over the coming years?
Yes I plan on continuing my blog for many years. I don't know how it will evolve. Right now I'm just enjoying the process.
Anything further you would like to add?
Thank you Sylvia! It's so exciting to be profiled on 40 plus style. I've learned a lot from your blog and find your articles and posts both informative and inspirational. It's so great to meet other mature women who don't want to throw in the towel just because we're ignored by the fashion media.
Bonus: an interview with Heather on how she got body confident
The weather is heating up and sooner or later you will want to go to the beach or jump into a pool and wear your bathing suit. For many women this is not a pleasant thought at all!
Today I'm chatting to a woman who not only is comfortable wearing a bathing suit but did do so publicly on her blog The Style Confessions. She is not a size 0, but is proud of her fabulous body and had no qualms about showing it off in all its glory for the world to see.
I wanted to ask her in person this time how she got to be so confident about her body and what the secret is to feeling confident in your bathing suit.
We talk about finding the perfect bathing suit, how to be less self-conscious on the beach and where to shop.
As I mentioned in a previous video, I believe that women who can wear their bathing suits confidently on the beach (no matter their size or how toned their body is) look beautiful.
The beach is all about having fun and enjoying yourself. Worrying about your body and how you look should not be a part of it.
I'm hoping that this little chat can help you in wearing your bathing suit with confidence this summer. My apologies for the lack mediocre quality and the bad lighting (which makes me look very old and tired) on the video, but I'm hoping you can see beyond that.
Some of the links mentioned in the video include
Recommended bathing suit brands Athleta, Lands' End, Miracle Suit and Target (for affordable swimwear). I have many great examples on my shopping page for the best bathing suits for women over 40.
I told you Heather is a true gem! Be sure to check out her amazing blog The Style Confessions and her amazing work at Heather Fonseca! Make sure you never miss anything at 40PlusStyle by subscribing to our newsletter.

P.S. Do you want to have more confidence around your body or in other areas in your life? Come join us in the style club for our training on confidence in May 2019!
Like this post? Share it on Pinterest!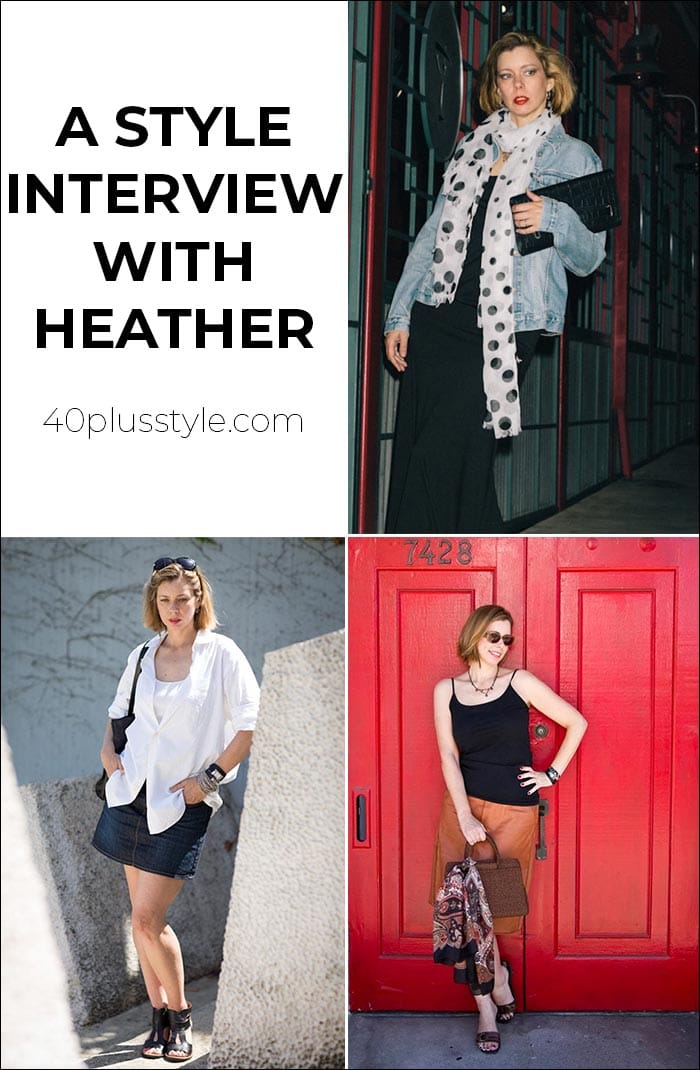 Want to get more articles from 40+style in your inbox, subscribe here.
You can also connect with 40+style on Facebook, Instagram or Pinterest.
Support 40+style by using the links in our articles to shop. As an associate for Amazon and many other brands, we receive a small commission (at no cost to you) on qualifying purchases which enables us to keep creating amazing free content for you. Thanks!