What defines a fragrance that women aged 40+ feel comfortable wearing? Well, read on for the 10 best summer perfumes as chosen by perfume enthusiast and blogger Claire Vukcevic, as well as some of the newest summer fragrances you may want to try this year.
While it's true that women can (and should) feel free to wear any perfume they want at any age, perhaps it is fair to say that, at my age, I am looking for something a little bit more sophisticated and complex than the perfumes I wore in my twenties.
My 10 favorite summer perfumes
The perfumes I like to wear all have something to say about the woman I have become – sophisticated, complex, mature, and confident in my own taste. I am not afraid to wear bold, abstract florals such as Joy de Patou or Chanel No. 5 – I feel I inhabit their skin as comfortably as my own.
But for summer, lighter, fresher fragrances. Citruses, herbs, figs, green leaves, and gentle musks work really well to cut through the heat and leave me feeling elegant and clean.
Here are my recommendations for the all-time best summer perfumes for 40+ women. They provide the summer freshness we are craving, but not at the cost of the sophistication I think we've earned.
I've divided these summer fragrances up into classics, florals, citruses, and some newer options for you.
1. Chanel No. 5 Eau Premiere
A beautifully sheer, crisp take on the enduring classic that is CHANEL N°5 Eeu Première Spray is perfect for anyone who adores the original but who finds it too rich and too bombastic for use in the summer heat. Actually, to be perfectly honest, I love Eau Premiere even more than the original. To me, it smells like a glass of lemony champagne poured over powdered rose, jasmine, and sandalwood.
If the original N°5 is a luxurious cashmere, Eau Premiere is a gossamer-thin silk. Just the ticket for a lunch out with girlfriends on a hot day.
2. Dolce & Gabbana Light Blue
Light Blue by Dolce & Gabbana consistently comes in at the top of the bestseller lists in the United States – and with very good reason: it is hard to beat in the summer refresher stakes. Featuring a sparkling green apple note and a translucent amber base, Light Blue is a pleasure to wear in the heat. Its fruit notes are sheer rather than syrupy, so the overall effect is crisp and bright – like biting into an ice-cold Granny Smith.
Best of all, Light Blue never overpowers with its sillage, but gently wafts a cloud of scent wherever you walk.
Dolce & Gabbana Light Blue Eau de Toilette
3. Chanel No. 19 Poudré
N°19 Poudré is a phenomenally successful update on that most classic of green florals, N°19. Although women have adored N°19 for generations, it can be rather harsh and strong in the heat. N°19 Poudré is entirely a softer, more delicate affair and a popular choice for women who want that ethereal green crispness of N°19 without the bitter galbanum and leather of the original.
I love the cold, powdery softness of N°19 Poudré at any time of the year, but I admit that it comes into its own in the summer when I need a shot of talc-like freshness after my night-time shower. It knocks even Prada's Infusion d'Iris off its perch, it's that good.
CHANEL N°19 Poudré Eau de Parfum Spray
4. Acqua Universalis Forte by Maison Francis Kurkdijan
A pricey but beautiful citrus-white floral cologne that lasts all day long and feels as elegant on the skin as a Hermes silk scarf. Acqua Universalis Forte pairs sparkling citrus top notes with a heart of creamy white florals and a base of powdery white musk.
This is the more concentrated version of the original Acqua Universalis, so it lasts a respectable six hours rather than just three. I love this fragrance because it smells like your-skin-but-better and people close to you will think you just smell amazing without even realizing that you're wearing perfume. Uplifting, clean, and radiant – it's everything I want in a summer perfume and then some.
Maison Francis Kurkdjian Aqua Universalis forte Eau de Parfum
5. Dior Diorella
Reformulation has lightened Diorella, so it is no longer the original creation of its famous creator, Edmond Roudnitska. But having said that, it's still pretty fantastic, and comes into its own on a hot day out with the family.
Diorella is essentially a light, green floral chypre with a touch of overripe peach or melon to provide sensuality, and an interesting note of basil leaf (which smells almost like mint) to supply that bitter, herbaceous element that makes it a chypre. A famous perfume critic, Chandler Burr, described Diorella as smelling like "fur rubbed with toothpaste", which strikes me as an apt description – there is something flesh-like and alive underneath the freshness.
It's in the same citrus-fruit-moss family as Eau Sauvage (which is more strictly masculine) and Chanel's Cristalle (which is colder), so if you like those, do give Diorella a try. It has that certain French je-ne-sais-quoi about it that would make it an excellent choice for the chic, but Bohemian woman.
6. Chanel Misia
Released in May 2015, this is the newest addition to Chanel's ultra exclusive line only available in Chanel stores ("Les Exclusifs de Chanel"), and it has been a roaring success with women into slightly retro florals. With its soft, sugary violets, powdery iris, and subtle rose, Misia smells exactly like a very expensive Chanel lipstick. I never guessed that that would be my thing, but I've fallen for it, and hard.
If you love florals and don't want to stop wearing them in summer, then this is a great choice because it is soft, but not insubstantial. It has a luxurious texture halfway between powder and creamy wax. One or two spritzes in the heat will have you smelling amazing without suffocating others.
Misia Les Exclusifs de CHANEL – Eau de Parfum
7. Annick Goutal Ninfeo Mio
Wearing Annick Goutal's Ninfeo Mio is like taking a walk through an Italian garden when everything is in bloom. First, your nose is hit by an explosion of lemons and green leaves, which feel like a hundred different shades of green have been shoe-horned into the opening notes. Tomato leaf is in there somewhere too, reminding me of snapping ripe tomatoes off the vine at my grandmother's place, and later smelling the poisonous, dark green stems on my hands – an utterly thrilling and evocative smell.
Later, it relaxes into a green, woody fig, with that warm milk aspect that fig sap is known for. But it never loses that green, woody freshness of a snapped tomato stem. If natural green, lemony figs sound good to you, then run, don't walk to get yourself a bottle. You won't regret it.
Annick Goutal Ninfeo Mio Women
9. Diptyque Philosykos
Philosykos was my first serious fragrance ever, bought in a tiny perfume shop in Rome, and I think my hands trembled a bit when I handed over my credit card (that was back in the days when I wouldn't have dreamed of spending more than $40 on a single bottle of perfume).
But from first sniff, Philosykos was the joy of summer in a bottle for me – the vivid, green fig leaf, paired with the milky sap of the fruit itself just made me feel instantly happy. It still does. In fact, I sometimes spray it on in winter, to bring a little bit of summer back into my cold, dark house. But Philosykos truly comes alive under the heat of a summer sun, because the heat of the sun, combined with the heat of your skin, bring out all the warm, coconutty, milky, figgy, sappy, green, salty, and woody aspects of this wonderful scent.
I always think of Philosykos as being a casual sort of scent – the kind of laid-back, feel-good fragrance you wear with jeans and sneakers you could happily wear on a day out to the beach with your family, or to a cook-out with your closest friends. It has that sort of affability about it.

Diptyque Philosykos Eau de Parfum Spray
8. Creed Jardin d'Amalfi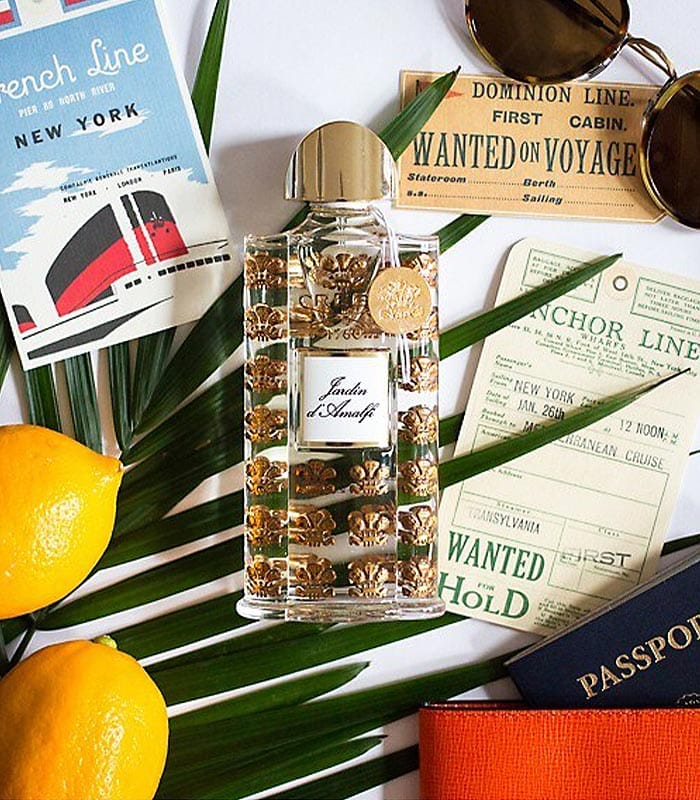 Eye-wateringly expensive, but if you can afford it, one of the best summer fragrances ever made. The top notes of mandarin oranges and lemons are so juicy and natural that they make your mouth water. But here you smell the whole citrus grove, not just the fruit, meaning you smell the woodiness of the tree, the bitter rind of the fruit, the pulp inside the fruit, and the green neroli. Enchanting!
With Jardin d'Amalfi, the perfumer was trying to create the feeling of a morning walk through a citrus grove on the Amalfi coast, but this perfume is actually far more refined and complex than that would suggest. A shy, watery pink rose soon peeps out from behind the citrus, and it is a beautiful note that is closer to green apple peel than to the lush, winey roses of dark rose scents. The vivid top and heart notes are supported by a salty, fresh white musk in the dry down. It's truly a pleasure from top to bottom.
10. L'Eau d'Hiver by Les Editions de Parfums Frederic Malle
Pay no attention to the name – L'Eau d'Hiver may mean Winter Water, but it's a scent that is actually perfect for summer. Designed by the great Jean-Claude Ellena, who is known for his transparent, naturalistic style, L'Eau d'Hiver is a delicate white musk wrapped around the baby-breath floral note of heliotrope, neroli, and a dry, powdery iris. The heliotrope, in particular, is beautiful, adding as it does a soft note of blanched almonds. There is a drop of honey later on to sweeten things, but the perfume never loses its translucence.
Some say it's an homage to the great Apres L'Ondee by Guerlain, and I'd agree there's a similarity in feel – both perfumes give you a feeling of walking through a field at dawn, surrounded by the smell of chilly morning air, the dew on the grass, and the just-opening flowers. Personally, I prefer L'Eau d'Hiver because it feels slightly more stream-lined and modern. Soft, dreamy, ethereal….wear L'Eau d'Hiver and fancy yourself a modern-day Ophelia.
Frédéric Malle L'eau D'Hiver Parfum
more summer perfumes to choose from
You've taken a look at Claire's top 10 picks. Now, here are a few bonus summer fragrances for you, which have all been released fairly recently…
1. YSL blouse
The word "blouse" can be thought of as a bit of an old fashioned way to refer to your top or shirt. However, the scent of YSL's blouse is definitely modern. It's fresh and floral, but with a bit of pepperiness to give it depth. Plus, it is really long-lasting, so you only need to use a small amount.
Yves Saint Laurent Blouse Eau de Parfum
2. chloé Atelier des Fleurs Lavanda
You can use this one on it's own, or with some of the other Chloe Atelier des Fleurs scents to create your own unique fragrance. Lavanda was inspired by perfumer Quentin Bisch's memories of his mother walking from the heat of the garden into the shade of the house with a spray of lavender in her arms.
The lavender isn't overpowering in this fragrance. Instead, you get a fresh, green, soapy kind of smell which is perfect for summer.
Chloé Atelier des Fleurs Lavanda Eau de Parfum
3. Replica beach walk
Who doesn't love a walk on the beach? Even if you're not able to get there in person, you can still evoke memories of days at the seaside with Maison Margiela's Replica Beach Walk.
It has top notes of bergamot, pink pepper and neroli oil, with a middle note of coconut mile (providing a nod to the scent of sunscreen) and base notes of musk, cedarwood and benzoin for depty. This definitely seems to be one that is a bit like Marmite however. Reviewers either absolutely love it or say it didn't word with their body chemistry at all.
Maison Margiela Replica Beach Walk Eau de Toilette Fragrance
4. Queens and Monsters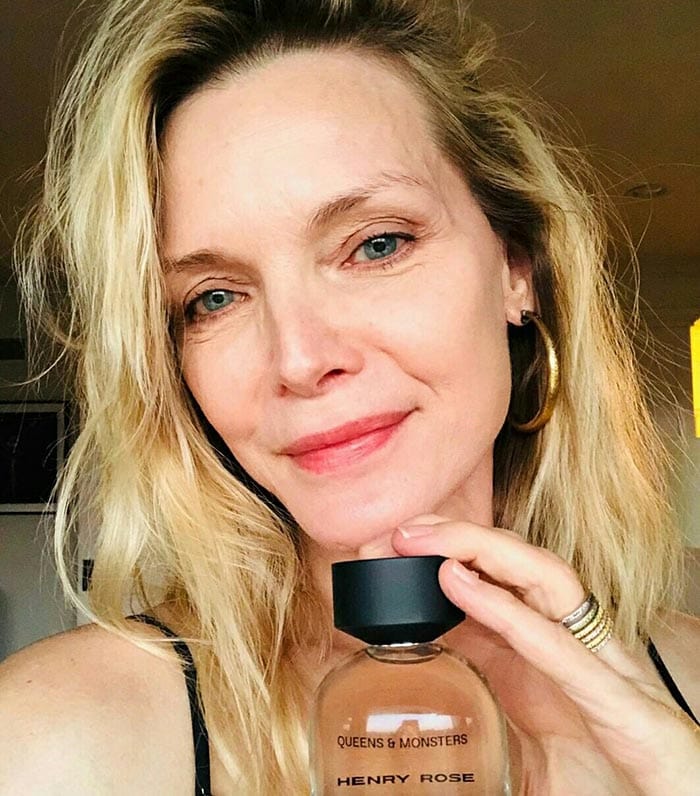 I love the fact that actress Michelle Pfeiffer, who is now into her seventh decade, has released her own fragrance line. She has previously spoken about wearing different fragrances to get into the mindset of her characters. But her perfume line Henry Rose is definitely very personal to her.
Queens & Monsters features floral tones but also sandalwood and vanilla. It's a sensual scent that reviewers say they always get complimented on when they wear it.
Henry Rose Queens & Monsters Eau de Parfum
5. Philosophy Pure Grace Summer Moments
I couldn't resist adding a fragrance called Summer Moments into this list of summer fragrances! It's a little fruity and citrusy but also with notes of fig. Perfect for a warm, summer night.
Philosophy Pure Grace Summer Moments Spray Fragrance Eau de Toilette
So, that's my top ten summer perfumes for 40+women (and a few extras for you)– but what do you think? Have I left your favorite summer fragrances off the list? I'd be interested in knowing which perfumes you turn to in summer, and which, if any, of the perfumes on my list you're not familiar with but are intrigued enough about to get a sample.
Or maybe you're the kind of woman who wears the same scents all year around – I also want to hear from you! I'd love to know which perfumes you're faithful to year-round, and what exactly it is about them that makes them so versatile in different types of weather.
We also made a list of our top picks for the best winter perfumes for winter. You may want to check them out!
Shop all summer fragrances here:
Continue reading:
like this post on the best summer fragrances for women? share it on pinterest!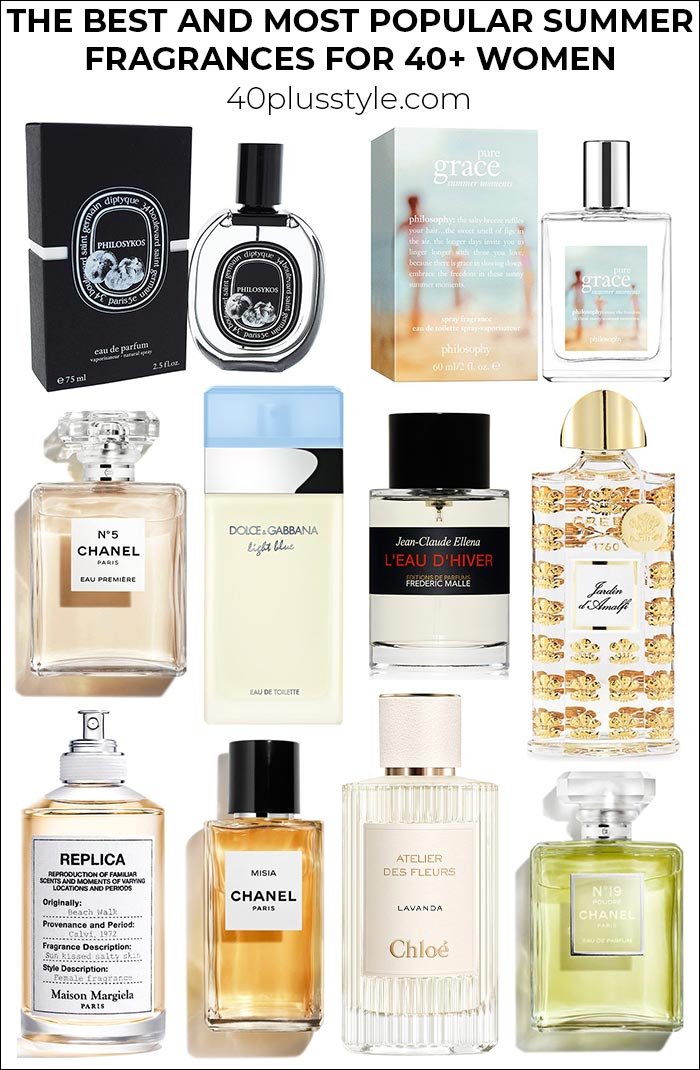 Feature image from Creed

Claire Vukcevic is a mother of 2 who is passionate about fragrances and how it relates to style. She contributes articles on fragrance to 40+Style. She currently lives in Ireland.
Want to get more articles from 40+style in your inbox, subscribe here.
You can also connect with 40+style on Facebook, Instagram or Pinterest.
Support 40+style by using the links in our articles to shop. As an associate for Amazon and many other brands, we receive a small commission (at no cost to you) on qualifying purchases which enables us to keep creating amazing free content for you. Thanks!