I'm sure you've got lots of jeans in your closet. But how about cargo pants outfits? They can be just as versatile as your favorite denims. Jennifer Aniston certainly loves hers!
In this article you'll find the best cargo pants to choose as well as cargo pants outfits inspiration. Cargo pants can be great whether you want to dress yours up or down.
What exactly are cargo pants?
It may seem a silly question. But I bet if you went out and asked 10 different people what cargo pants are, you'd get 10 different answers. So what exactly sets cargo pants apart from the other pants in your closet?
Well, they started off in military use, but soon became popular for casual wear too. Generally, they are a pair of loose fitting pants with pockets on the side of the legs.
Usually made from hardwearing material, cargo pants have evolved over the years and you'll find plenty of different styles whether you're dressing for a walk or you want to wear your cargo pants for a night out. Let's take a look.
The best cargo pants in stores now
Before exploring how to wear them in different ways with some cargo pants outfits, let's look at some stylish cargo pants you could choose now if you don't already own a pair (or you fancy another style).
When choosing your cargo pants think about the parts of your body you like and those you like to down play. For instance, cargo pants can actually create curves if you choose the pockets up on the hips. Or they can create bulk on the thighs if the pockets are sited there. Think about how they will sit on your body and whether that will flatter your body shape.
1. paige cargo pants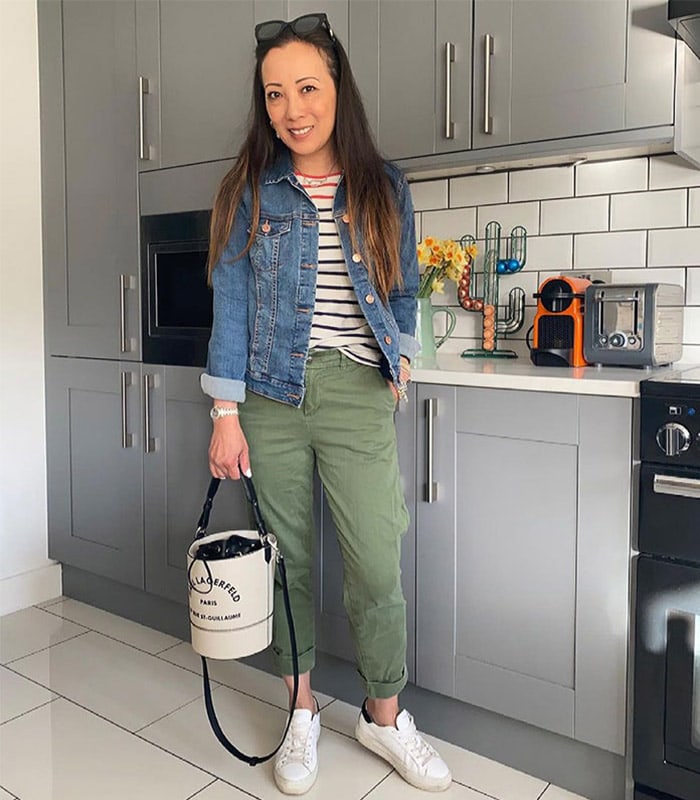 Abi (@stealmystyle40) (above) opts for a very classic, timeless look by teaming her cargo pants with a striped top.
Check out this bucket bag from Karl Largerfeld that you can use with this similar striped top, jacket, pants, sneakers and sunglasses.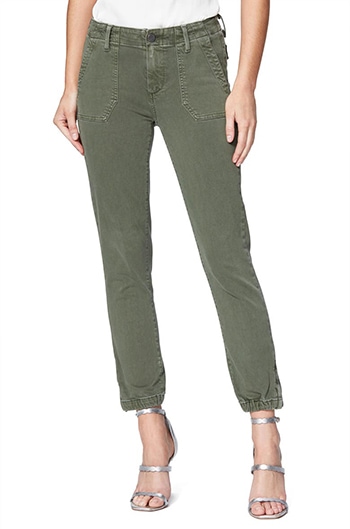 2. designer cargo pants
Depending on how much you want to spend on your cargo pants, opting for a pair of designer cargo pants in a luxurious fabric could elevate even the most casual of looks.
3. wide cargo pants
Wide leg pants are particularly on-trend right now, and you could choose a pair of wide legged cargo pants. A white pair like the option from BP could be the perfect choice for summer.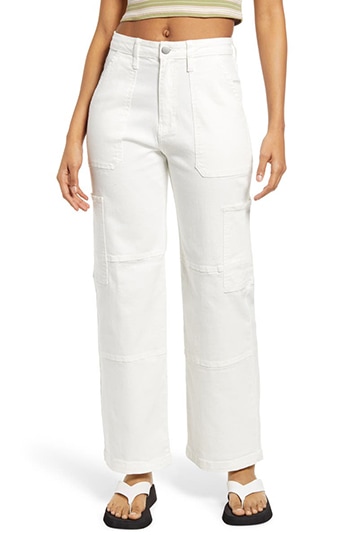 4. slim cargo pants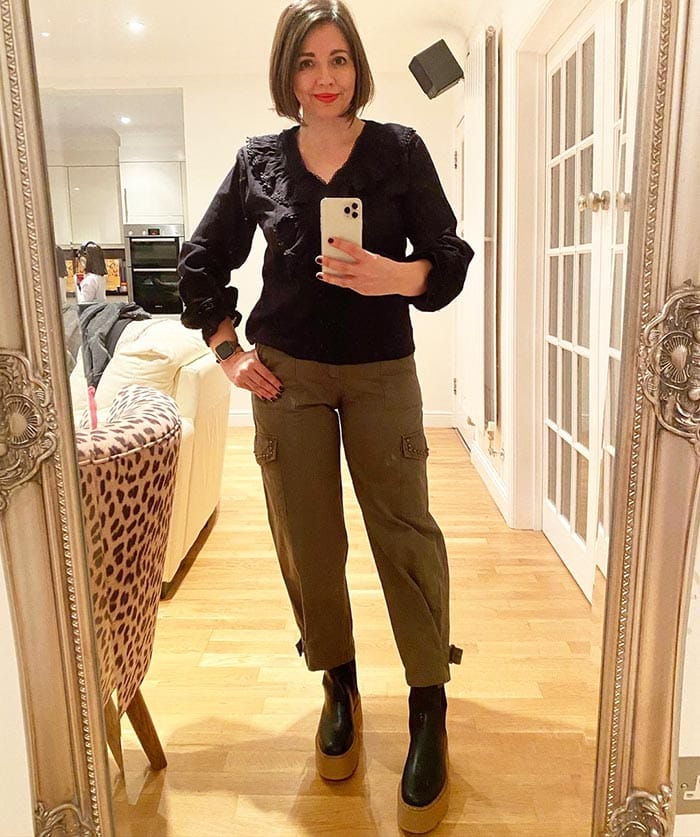 Just as with the other pants styles in your closet, you can choose slim-fitting, or wider cargo pants.
Nikki @40notfrumpy (above) opts for a straight-leg style with studded pockets.
Recreate her outfit with this similar blouse, cargo pants and boots.
Below is another slimline option you could choose from Boden. They come in the brown shade you see below or a soft gray.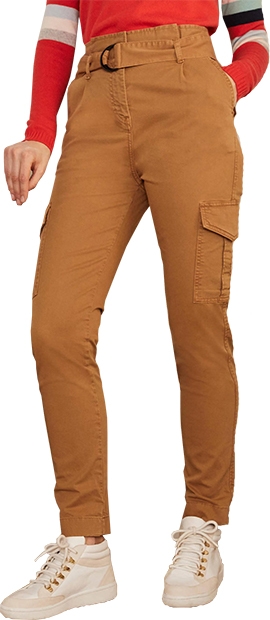 5. denim cargo pants
If you love your jeans, you could choose a pair of cargos which feel very much like your favorite pair of denims.
BDG Urban Outfitters cargo jeans
6. cargo sweatpants
For lazy days, how about a pair of cargo-style sweatpants? The sweatpants from Alo (below) would be perfect for lounging at home or running errands.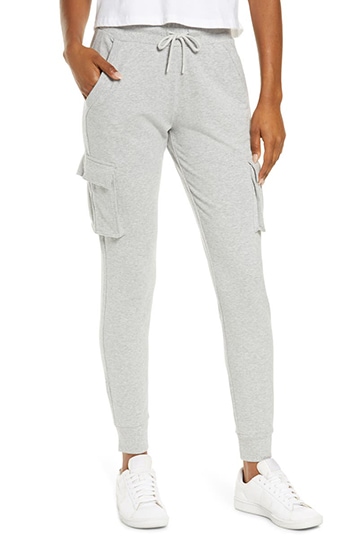 7. capri cargo pants
For warmer months, a pair of cargo pants that show off a little ankle could be perfect. Cropped cargos, as worn by Susan @susanjakovina (above) are also perfect to wear with heels.
Recreate her outfit with this similar jacket, pants and sandals.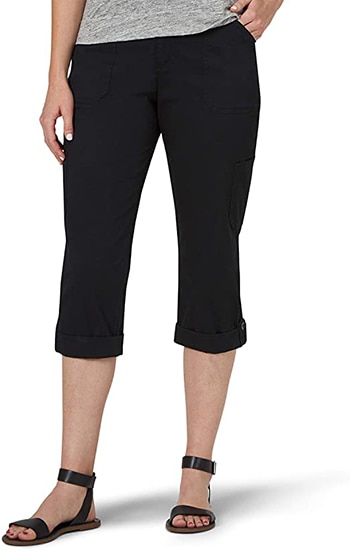 8. coated sweatpants
Below is something totally different for you, a pair of coated cargo pants from Seven that look like leather. These would look great worn with a simple white shirt.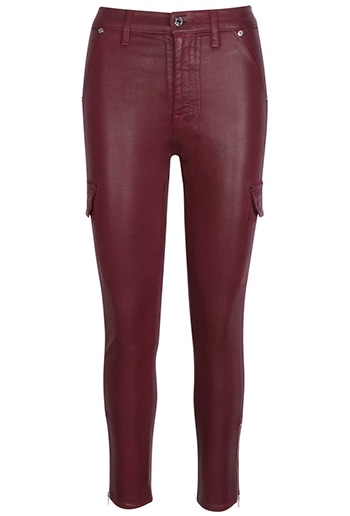 Seven coated skinny cargo pants
9. silky joggers
If you want to give your cargo pants outfit a feeling of luxury, a silk or satin pair could be the answer.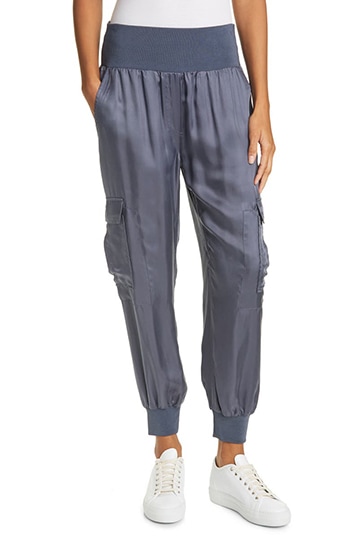 10. hiking cargo pants
If you are heading out for walks, or for a hike, a pair of cargo pants can be a good option as they are comfortable and have plenty of pockets.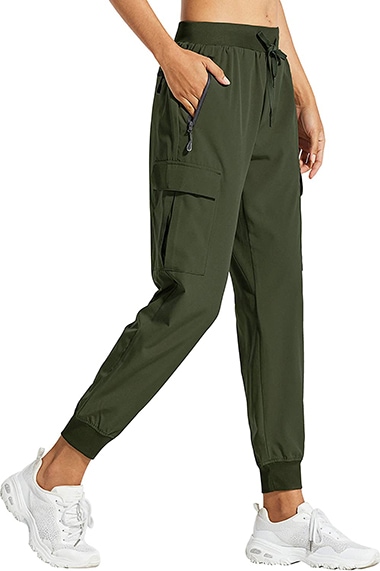 There are more stylish cargo pants in this outfit.
11. black cargo pants
A pair of black pants is always a classic, flattering option.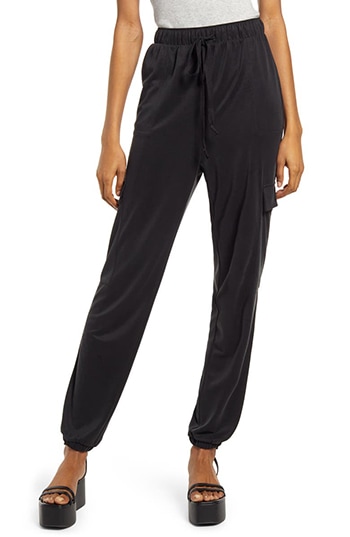 12. gray cargo pants
Cargo pants tend to come in muted shades like gray and khaki. Kim (@kimair) (above) shows how you could add color with your shoes and accessories.
Check out this similar sweater, pants, heels, handbag and necklace.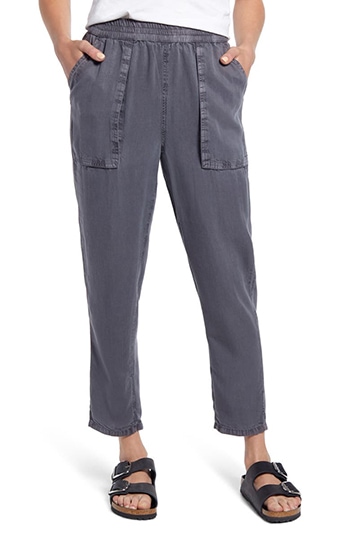 Treasure & Bond pigment wash cargo pants
13. NAVY CARGO PANTS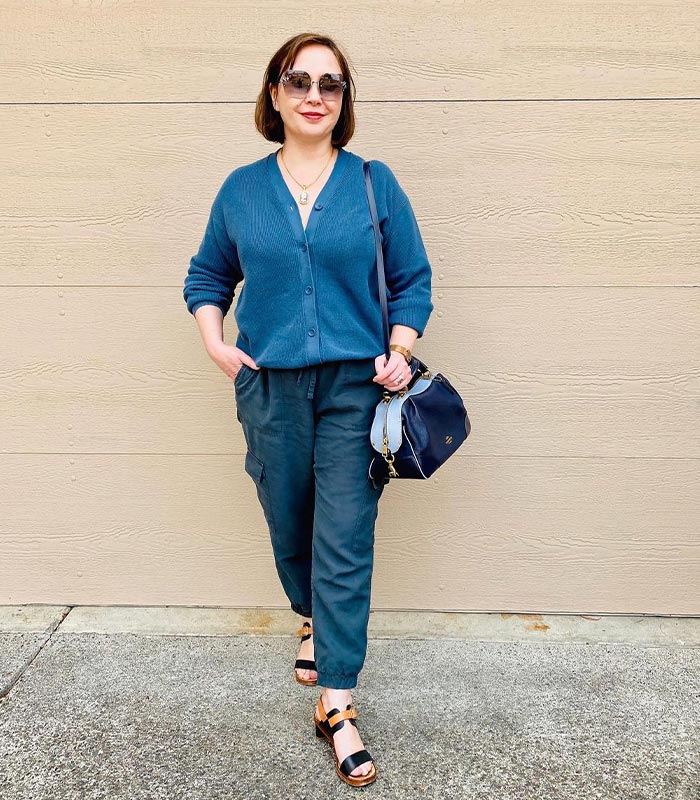 Navy is another good choice, and is a softer option to black.
Oxana (@oxanasfashionjournal) (above) chooses a pair of lyocell linen blend cargos.
Steal her look with this similar cardigan, pants, sandals, bag and sunglasses.
14. pink cargo pants
Or, you could add a touch of romance to your look with a pair of pastel cargo or utility pants like the Daily Ritual pants below.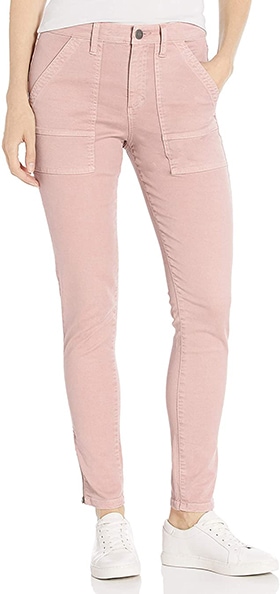 Daily Ritual zip-pocket utility pants
15. A different take on cargo styling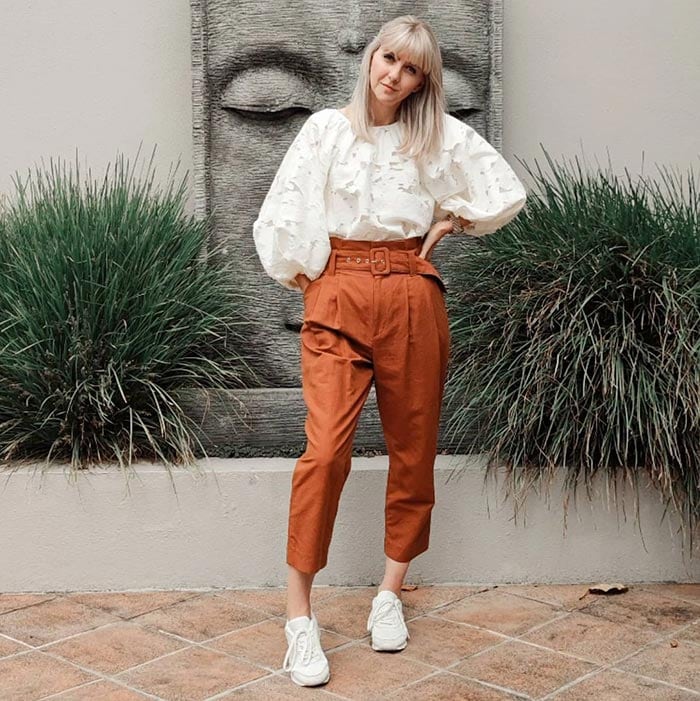 If you want a little bit of a different take on cargo pants, you could choose a paperbag style.
Melissa (@melissabultburns) (above) opts for a high-waisted style with an on-trend voluminous top.
Recreate her outfit with this similar blouse, pants and sneakers.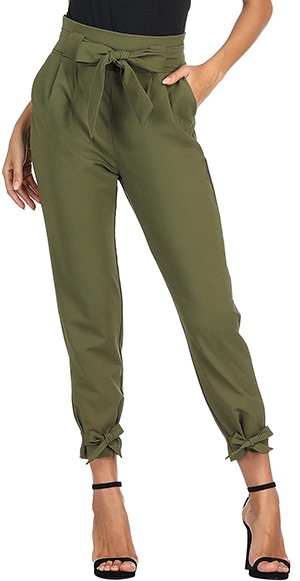 GRACE KARIN high wist pencil pants
Do you already have a pair of cargo pants in your closet? I'd love to hear about your favorite cargo pants outfits.
shop all items above here:

Continue reading:
like this post on cargo pants outfits? share it on pinterest!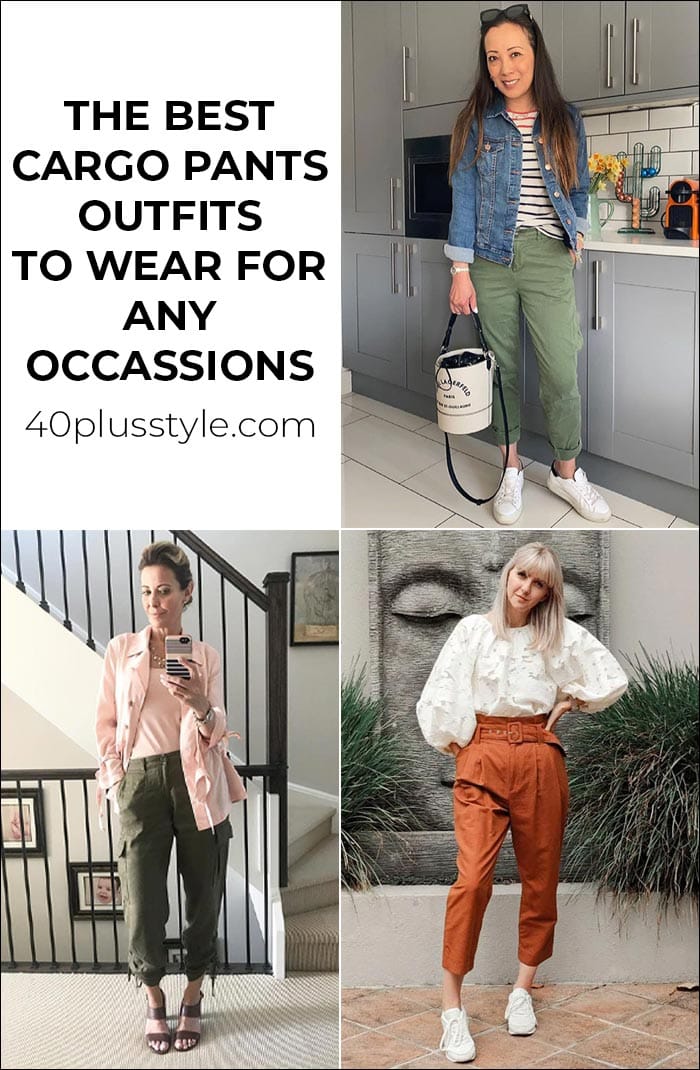 Feature image by Abi (@stealmystyle40)
Want to get more articles from 40+style in your inbox, subscribe here.
You can also connect with 40+style on Facebook, Instagram or Pinterest.
Support 40+style by using the links in our articles to shop. As an associate for Amazon and many other brands, we receive a small commission (at no cost to you) on qualifying purchases which enables us to keep creating amazing free content for you. Thanks!