Casual wear has become much more common over the years even to the point that I would wish we dressed up a bit more often. However, there are many situations where it is just more appropriate and fun to dress in a casual way.
Dressing casually does not have to mean that you look sloppy or 'too young' over 40. There are many ways to do casual in a very stylish way. Let's have a look at  some of the ways you can look great in casual clothing.
Casual outfit formula 1: jeans plus a special T-shirt or a button down shirt
As I discussed before I don't much like the plain boring t-shirt worn as an outer top. It makes the outfit too boring and simple and often shows lumps and bumps that are unflattering.
What is very effective though is to get a special t-shirt. Something that has a special design, a nice print, a draping element or an embellishment.
Another great option for jeans is the button down shirt. This can either be plain or have a print.
See the challenge results of casual outfit formula #1!
Casual outfit formula 2: jeans with top + jacket or cardigan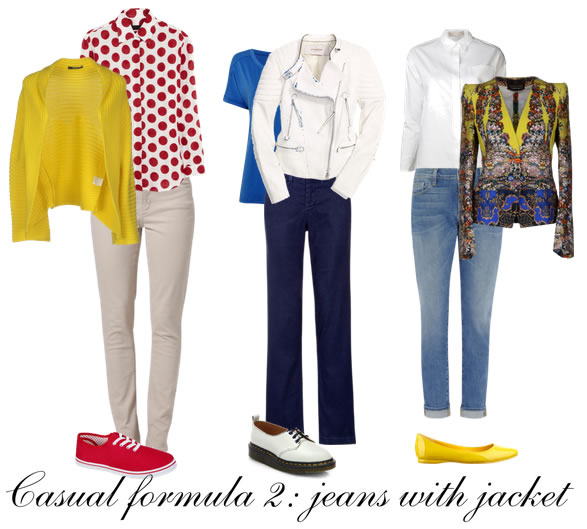 One of my favorite ways to wear casual is to combine it with a slightly dressier garment. You can adjust that dressier garment to your taste. It can be a high qaulity blazer but can also be a more casual jean jacket or cardigan. For more rock chic appeal,you can choose leather.
Here is where those plain t-shirts come in handy as they are ideal to layer under your jacket.
See the challenge results of casual outfit formula 2!
Casual outfit formula 3: Printed pants with a plain or printed top
Printed pants and jeans are still very popular and they are perfect for casual wear. Many of them are easy to combine with a button down shirt or a casual sweater.
If you like you can make these outfits less casual by adding more dressy shoes, but you can also go  the other way and make it more casual by adding sneakers.
See the challenge results of casual outfit formula 3!
Casual outfit formula 4: Skinnies or leggings with a tunic
Another favorite way to wear casual clothes for me is to wear skinnies with a fabulous short dress or tunic on top. You can make this look as casual or as chic as you like, depending on the tunic you choose underneath.
You can also vary your skinnies or leggings. You can opt for leather, coated ones, prints or use a simple jersey style. Always look for the right balance between your skinnies and your top. Both in terms of color and combination of prints, but also in terms of silhouette and height of your top. Try to create a flattering 1/3 – 2/3 silhouette for best results.
See the challenge results for casual outfit formula 5!
Casual outfit formula 5: a skirt with a loose top
Skirts don't have to be dressy. you can wear them in casual ways too by combining them with lose tops or sweaters. Casual footwear helps to make this look casual too.
Although a casual skirt look is easier to achieve with a-line skirts, it can work with straight skirts too.
See the challenge results for casual outfit formula 5!
Casual outfit formula 6: a long cotton / linen dress or skirt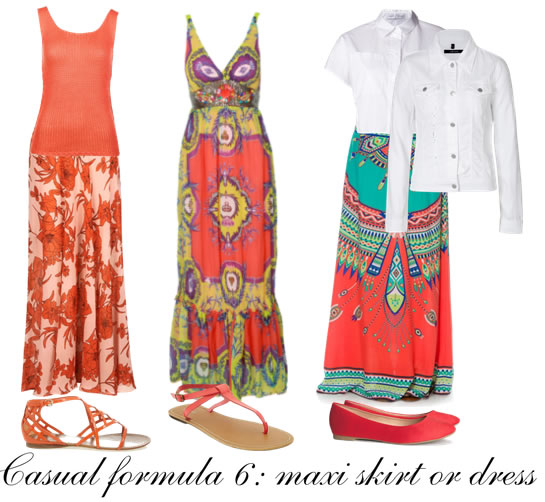 The long dress is one of the easiest ways to create a polished casual look. Just wear the dress, add some flat sandals and you are done!
The same can be achieved with a long skirt although you will have the additional task of finding the perfect top with it.
See the challenge results for casual outfit formula 6!
Casual outfit formula 7: knee high pants with jacket
Coming back in style this season, knee high pants (sometimes referred to as clamdiggers or pedal pushers) can be worn in a casual chic way. They are often flattering as they don't shorten your legs and you can dress them up or down.
See the challenge results for casual out outfit #7!
Show me your best casual looks!
I'm sure there are many more formulas to wear your casual clothes but let's stick with these 7 for now. Of course if you feel I have left out an important one you can always let me know in the comments.
Even though I have provided examples of each formula in this article, I'm going to devote separate articles to each formula in the following 7 weeks with many more examples and buying options. (For these collages I did not look a pricing of clothes or availability but your can check them all in my Polyvore account if you wish.)
Each week I'm going to show you a casual look of mine but would really love to see yours too!
Yes, that means there will be a mini challenge every week from now on! Will you join me and give us all lots of inspiration?
We will start with formula 1: jeans plus a special T-shirt or a button down shirt.
Here is how you can join
There are a 2 ways you can join in:
Photograph yourself in a look that follows formula 1 and send the photo(s) to me at sylvia [at] 40plusstyle.com. Make sure your photo is of a good quality. You can send as many photos as you like, but they all need to follow the casual outfit formula 1, which is basically any kind of jeans with any kind of top (but no jackets or cardigans) and / or
Create a collage just like I did above in Polyvore. It's free to sign up and create collages and you can post the link to your collage in the comments or send it to me through email.
Please make sure your entry is in by Saturday 2 May.
I hope many of you will join in this fun dressing challenge and exercize your creative muscles with your dressing!
For now, let me know in the comments. What is your favorite formula for wearing casual clothes?

Feature image by Jona
Want to get more articles from 40+style in your inbox, subscribe here.
You can also connect with 40+style on Facebook, Instagram or Pinterest.
Support 40+style by using the links in our articles to shop. As an associate for Amazon and many other brands, we receive a small commission (at no cost to you) on qualifying purchases which enables us to keep creating amazing free content for you. Thanks!