Getting older is a gift but there are some things that are unwelcome.. And one of those, unfortunately, is swollen feet. So, it's super important to have shoes that are comfortable for you that won't squeeze. But don't worry, if this is something you tend to suffer from, there are plenty of stylish shoes you can choose from that won't look "old ladyish". This article has our picks if you're searching for the best shoes for swollen feet.
Why might you get swollen feet?
Anyone can experience swollen feet from time to time. Perhaps because you've been standing for a long time, maybe during traveling, or you can get swollen feet due to the effects of medication.
Swollen feet tend to be more common as you get older. If you're on your feet for a long time, then the effects of gravity mean your blood flows into the veins of your legs and feet, and some of the water in your blood will enter tissues in your feet, causing swelling.
If you do find you're suffering from swollen feet, then obviously make sure you check what could be the cause with your doctor, as there are certain medical conditions that can cause swollen feet.
To keep yourself as comfy as possible, it's vital to choose the right footwear.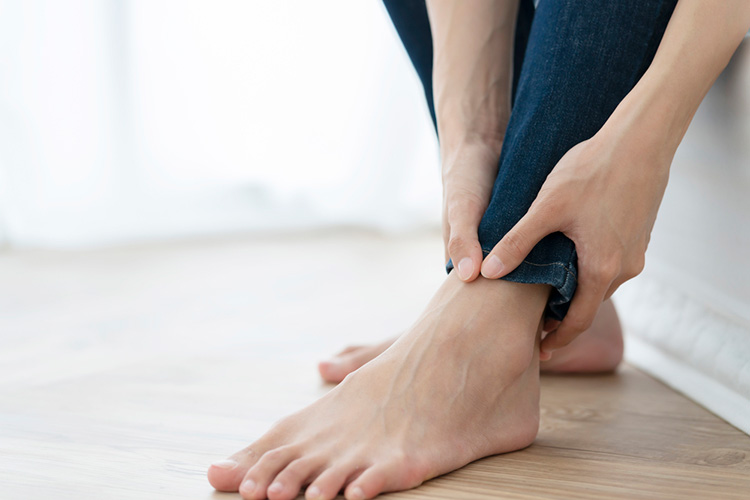 What to look out for in your shoes if you have swollen feet
We'll get onto our recommendations in a minute. But first, what are some of the features should you look out for when thinking about the best shoes to wear for swollen feet?
1. look for a Wide toe box
If you have swollen feet, you'll know they get better and worse during the day. Make sure you give your toes plenty of room at the front.
2. adjustable fastening
Shoes you can adjust are fantastic for swollen feet as you can change the fit depending on how severely swollen they are.
3. natural materials
Natural materials have more give than synthetics, and they tend to rub less.
4. stretch
Shoes that stretch will be easier to get on and will be more forgiving for swollen feet.
Best shoes for swollen feet
If you're asking what I should wear if my feet are swollen, let's move on to some recommendations. Don't forget to tell us your own in the comments at the bottom so we can make this article an even better resource.
Skechers
Skechers are often recommended if you need extra arch support or you have plantar fasciitis, and they're a great choice for swollen feet, too. The Skechers slip-ons (below) are easy to get on, super light, and feature memory foam cushioning. Wearers say they love how comfy these shoes are.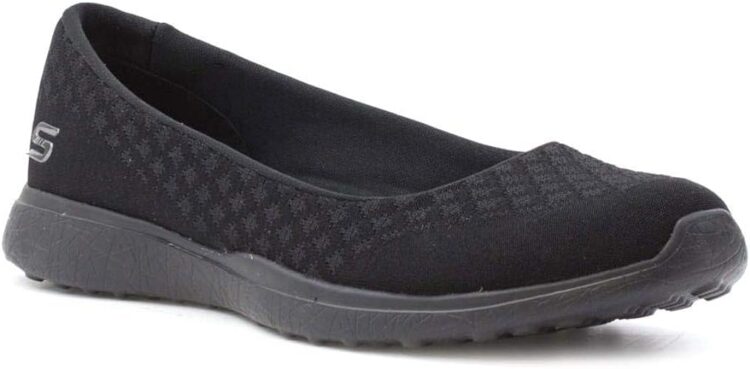 Skechers Microburst One up Sneaker
JBU
Mary Jane styles are on trend at the moment, and the style below has the American Podiatric Medical Association seal of approval. They come in four colors, and reviewers say they like the ease of the strap fastening and the wide-toe box.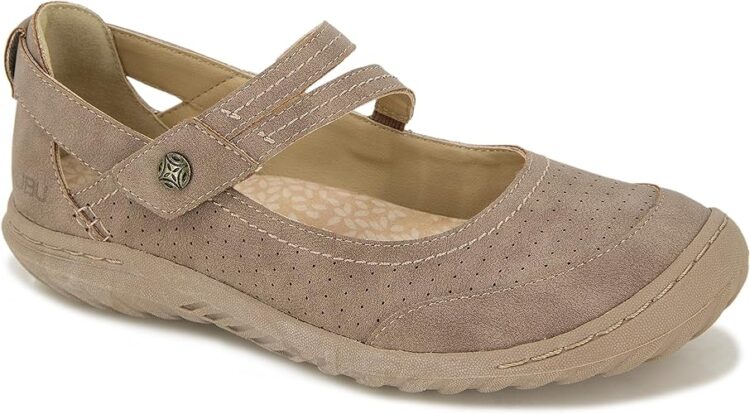 JBU by Jambu Fawn Mary Jane Flat
(Amazon / Zappos)
clarks
The Clarks sneakers (below) have easy velcro fastening and come in burgundy or black. Reviewers say they are well-constructed and comfortable.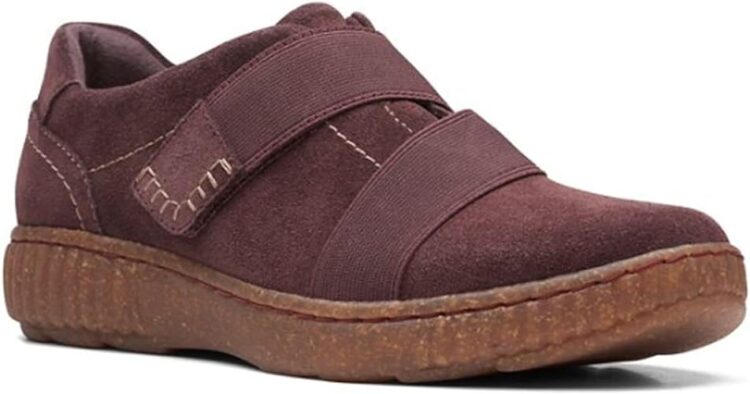 Clarks Caroline Holly Oxford
(Amazon / Zappos)
Dr. Scholl's
We love the texture on the Dr. Scholl's slip-ons (below), which adds an on-trend element. Plus, the elastic details on the side make them easier to get on. They come in a huge range of colors so you should find a favorite.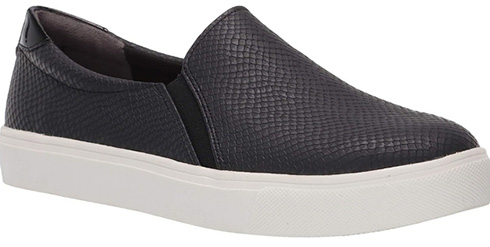 Dr. Scholl's Nova Sneaker
(Amazon / Zappos)
revere
A bit of leopard print for you now. The Revere Mary Janes (below) are soft and comfy, and they come with a fitting pack so you can adjust the fit for you.
Mephisto
Mephisto's strap loafers (below) are a good choice because of the easy to get on and easy to fasten design. They're made from full-grain leather and feature a removable footbed and soft air technology.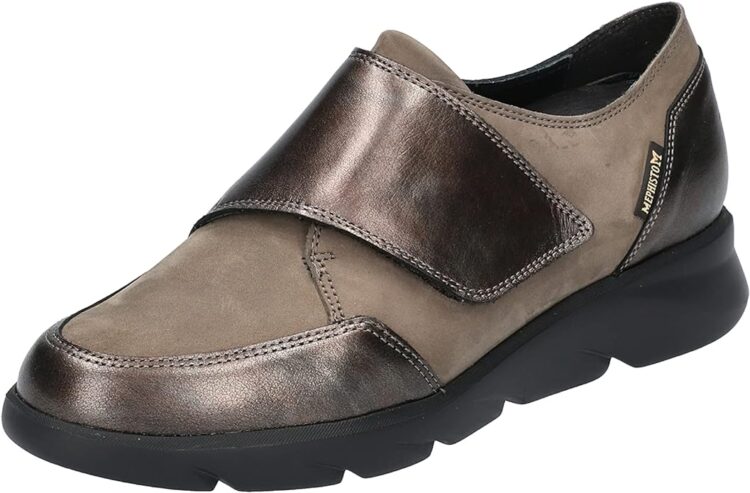 Mephisto Colombe Monk-Strap Loafer
(Amazon / Zappos)
Arcopedico
Add a pop of color to your outfits with the textured flats (below). They're fun, and comfortable, and reviewers say they help with mobility issues.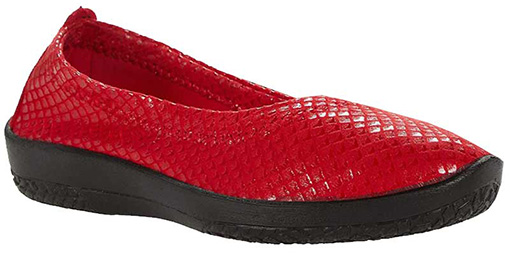 Arcopedico L15 Flat
(Amazon / Zappos)
Propet
If you're searching for comfort shoes, then Propet is a good go-to. Below, you can see three different styles from the brand, whether you prefer sneakers, slip-ons or a sturdier pair.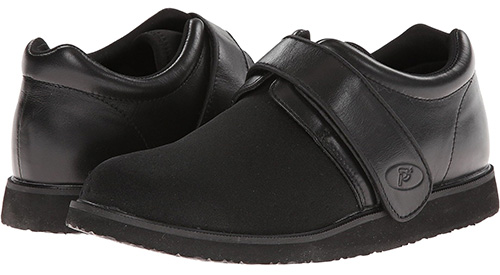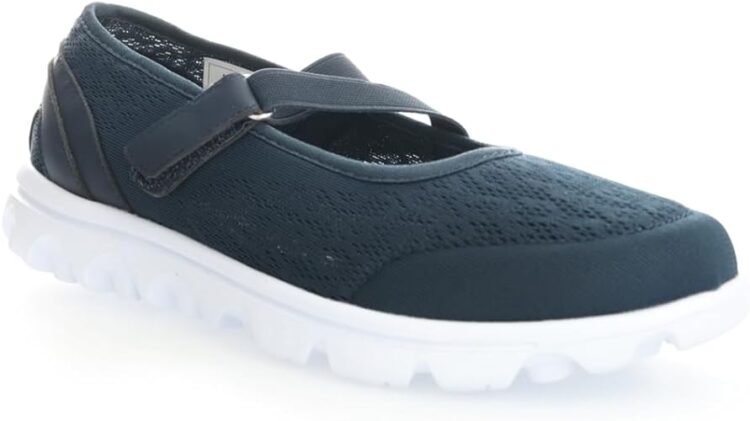 Propet TravelActiv Mary Jane Walking Sneaker
(Amazon / Zappos)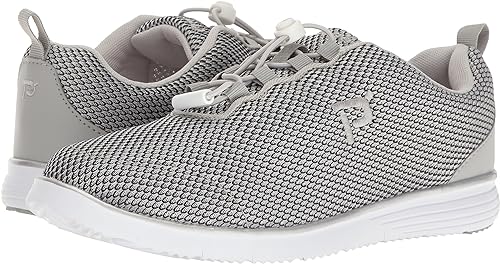 Propet TravelFit Prestige Slip On Sneakers
(Amazon / Zappos)
ecco
ECCO is a favorite of ours as they're good at mixing on-trend details with comfort. The three straps on the white sneakers (below) will help you to alter the fit along the length of your foot. Plus, white sneakers are a classic that won't date.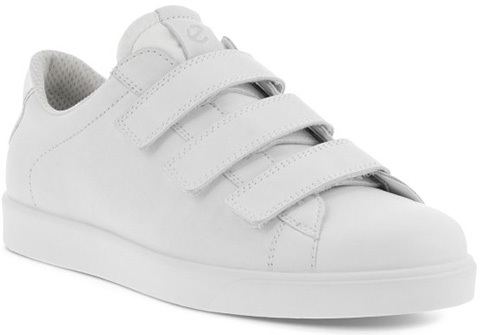 ECCO Street Lite Three Strap Sneaker
(Amazon / Zappos)
New Balance
New Balance is a sneaker brand often recommended by podiatrists. The velcro-fastening sneakers (below) come in black, white or the taupe shown.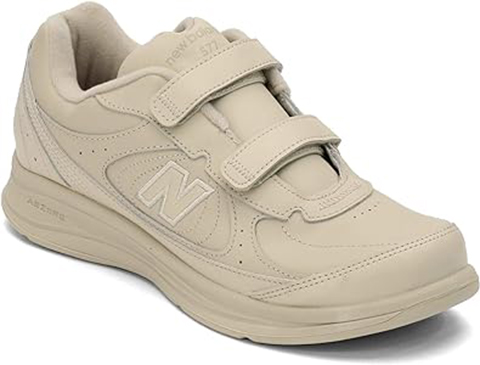 New Balance 577 V1 Hook and Loop Shoe
rag & bone
A designer option for you now, Rag & Bone's sneakers (below) are retro cool. Plus, they have a leather upper, ortholite footbed, velcro fastening and a round toe – so lots of features that are good for swollen feet.
rag & bone Retro Court Sneakers
(Amazon / Zappos)
Michael Kors
If you like to add a bit of height, but still need to be comfortable, look at high-top sneakers. The Michael Kors sneakers (below) are designed to be comfortable for long wears, and they come in four colors.
Michael Kors Gentry High-Top Sneakers
Bernie Mev
Bernie Mev's ballet flats (below) are made from stretchy woven elastic so they have lots of give and they're easy to get on. These would work well for your travel outfits too.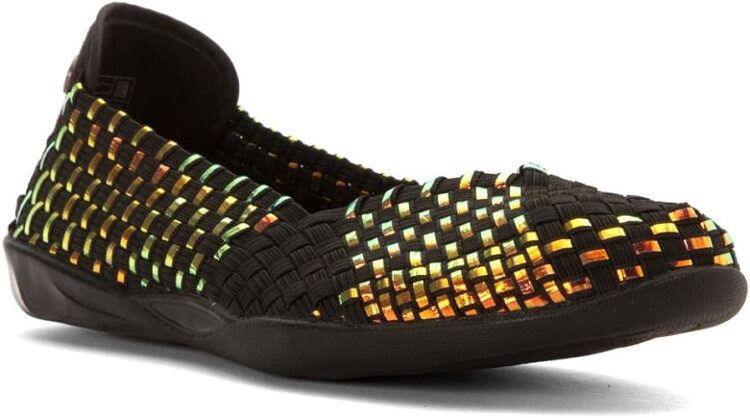 Bernie Mev Catwalk Ballet Flat
besroad
We think the Besroad lightweight shoes (below) would be a great alternative for slippers in the house, or if you don't need to walk too far. They're super flexible, ultra-lightweight and they have easy velcro fastening.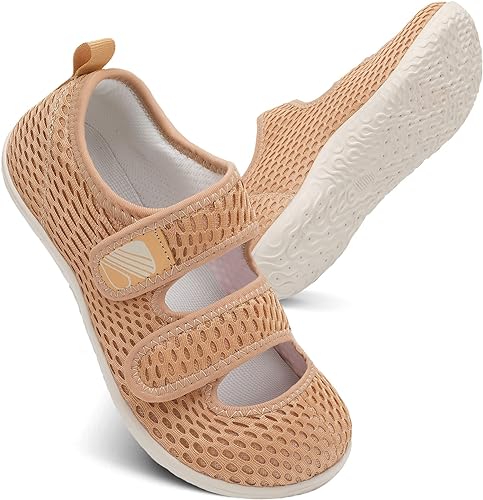 Besroad Unisex Lightweight Walking Shoes
stq
For more serious walking, weekends or running errands, the STQ walking sneakers (below) are a good choice. They come in 10 different colors, and reviewers say they offer great support. We like the elastic laces for ease of getting on and off.
KWUKOTY
The Kwukoty sneakers (below) are specially designed for foot problems that are commonly associated with diabetes, including swollen feet, but look just like regular sneakers.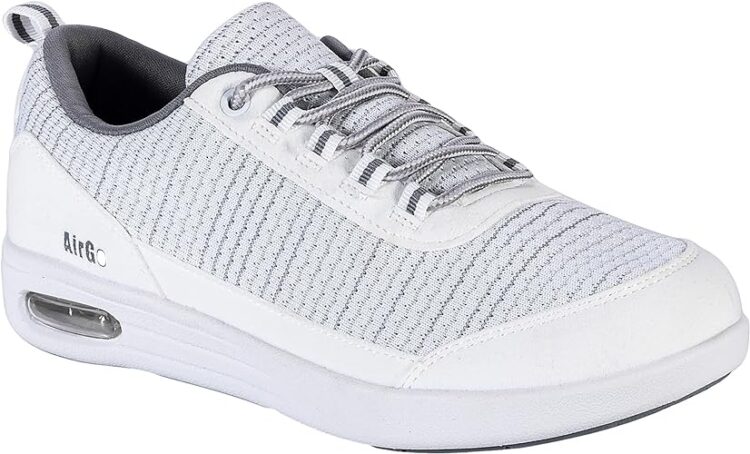 KWUKOTY Therapeutic Wide Sneaker
What are your recommendations for the best shoes for swollen feet? We'd love you to let us know in the comments at the bottom
shop the best shoes for swollen feet below:

Continue reading:
Like this article on the best shoes for Swollen feet? Share it on Pinterest
Want to get more articles from 40+style in your inbox, subscribe here.
You can also connect with 40+style on Facebook, Instagram or Pinterest.
Support 40+style by using the links in our articles to shop. As an associate for Amazon and many other brands, we receive a small commission (at no cost to you) on qualifying purchases which enables us to keep creating amazing free content for you. Thanks!