Blazer season is definitely here! A blazer is the perfect go-to for fall to add not only a little warmth as the weather cools – but also plenty of style.
Here are the best blazer styles for women to instantly add some pizzazz to your outfits.
What is a blazer?
First of all, it might seem like a silly question, but what is a blazer? How do you define whether something is a suit jacket or a blazer?
Blazers were originally developed for men for when an occasion wasn't formal enough to merit a full suit, but still required a degree of smartness.
For instance, if you were heading to the yacht club or the golf club.
Nowadays, there are an infinite number of beautiful blazer styles for women, whether you are looking for a smart look for work or a formal event, or a more casual style for weekends.
Here are some of the best blazers to choose from. But, first, some general tips on choosing blazer styles that will work for you.
Tips on choosing the best blazer styles
1. Your body shape
It can be easy to think that a blazer is just one style, but that couldn't be further from the truth.
As with the rest of your closet, think about what blazer style will work best with your body shape.
Here is how to determine body shape if you aren't sure what yours is.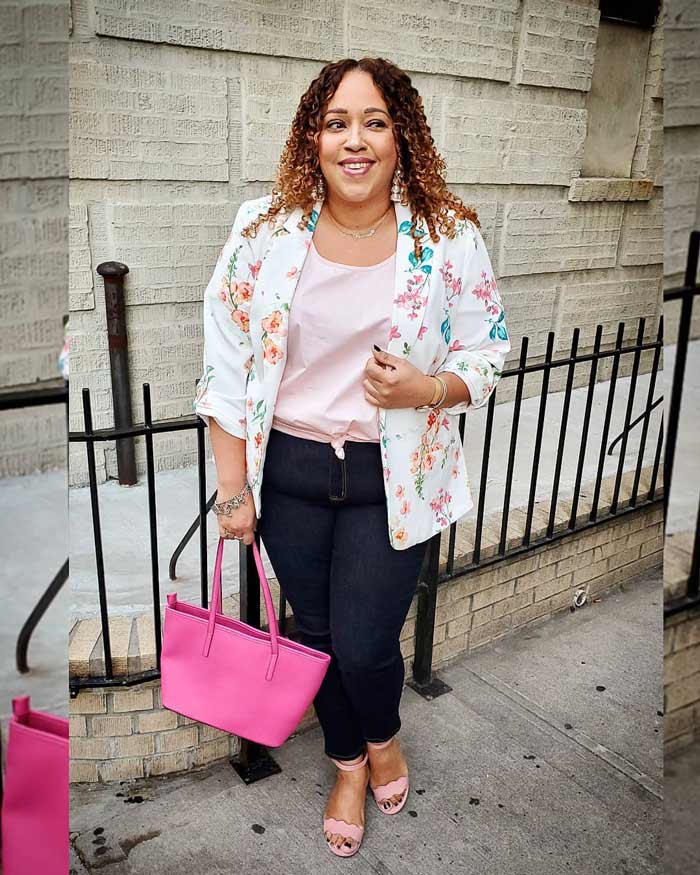 For example, you might want to opt for a belted blazer to show off your hourglass figure. Or you may choose a boyfriend blazer to complement your rectangle shape, or to skim over your apple shape tummy.
Sandra (above) chooses a figure-skimming floral blazer.
Steal her look with this similar floral blazer, denim leggings and sandals.
For more style inspiration, read our article on how to wear blazer with jeans
2. Color is important
Not only will the color blazer you choose help to set the tone of your outfit, but it can also create a flattering look, as well as bringing your outfit up-to-date.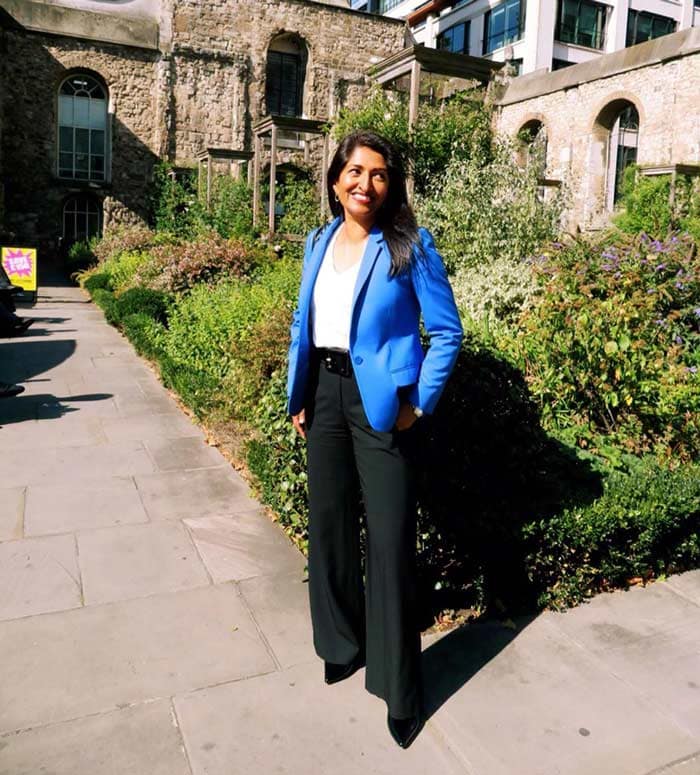 If you are a pear shape, for example, you are likely to want to draw attention away from your hips and thighs. You could do this with a brightly colored blazer.
Monika (above) wears a beautiful blue blazer and keeps her pants neutral.
Check out these similar royal blue blazer and wide-leg pants.
For color inspiration here are the best colors for fall 2019.
3. The right fit of a blazer
You can buy the most stylish blazer in the world, but if the fit is wrong, it will make your whole outfit look somehow "off".
Monica (above) chooses a blazer which fits perfectly at her shoulders.
Get her look with this similar mid-length blazer, lace camisole, jeans and sandals.
Here is how to fit a blazer, including making sure your shoulders and sleeves fit.
4. Double breasted or single breasted
Double-breasted is very on-trend right now, but single-breasted can be easier to wear.
That's because a double-breasted style tends to add width, while a single-breasted blazer has an elongating effect.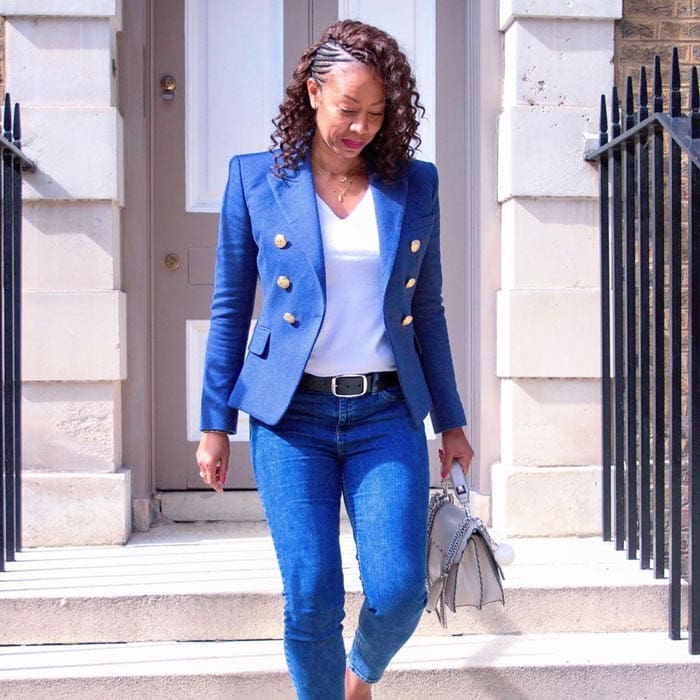 Natalie (above) shows how to choose a double-breasted blazer in a flattering style.
Note how her buttons don't go straight down, but are fitted diagonally for a slimming effect.
Check out these similar double-breasted blazer options from Balmain and Amazon (for an affordable option!). Complete her look with these similar jeans and belt.
5. The length of women's blazers
As with the rest of your clothes, shoes and boots, you can use the length of your blazer to draw attention to the areas you love and disguise the areas you aren't so keen on.
So, if you aren't happy with your hips, for example, you won't want your blazer to end right at your widest part.
Of, if you want to disguise your tummy, you could either opt for a longline blazer to skim right over it. Or, you could wear a crop blazer over a longer top to confuse the eye and draw attention away from your belly.
Cheryl (above) wears the 'Simply Perfect' blazer from Free People.
Complete her look with this similar sweater, jeans and sneakers.
There are 14 more tips here on wearing the right clothes to hide your tummy.
Stylish blazer ideas
A blazer should definitely be one of your 28 essentials every woman over 40 needs in her closet.
I would think about having a classic style in navy or black, which you can wear for any occasion.
You could look at this blazer as a good investment, so go for quality and think about cost-per-wear rather than just initial cost.
Petra (above) belts her blazer over a maxi skirt styled with Gucci pumps
Complete her look with this similar blazer, belt and pleated skirt.
I'd also add a blazer in a trendy style or pattern to update your outfits this season, as well as making sure you have an option you can pop over jeans, or over your little black dress or smart pants and blouse for dinner or a party.
The best blazer styles in stores now
So, now that you know what to keep in mind while shopping for a blazer, here are some of the best blazer styles in stores now.
Let me know which your favorite is.
Single-breasted blazer for women
A single-breasted blazer is a universally flattering style which would be a hard-working addition to your closet.
Double-breasted blazer
If you love the look of the classic double-breasted blazers from Balmain, but can't quite justify the price tag, then take a look at this one from Rachel Parcell for a similar style at a smaller price.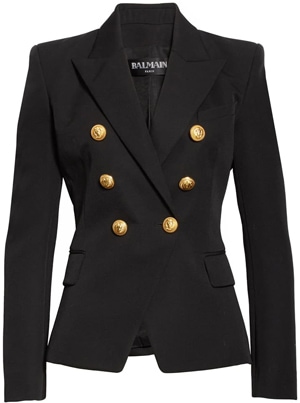 Balmain double breasted blazer
Plaid blazer
Plaid is very on-trend for fall. You can easily update an outfit of simple jeans and t-shirt with a plaid blazer.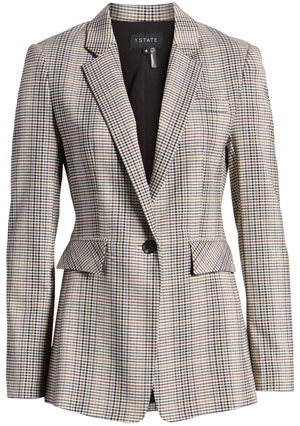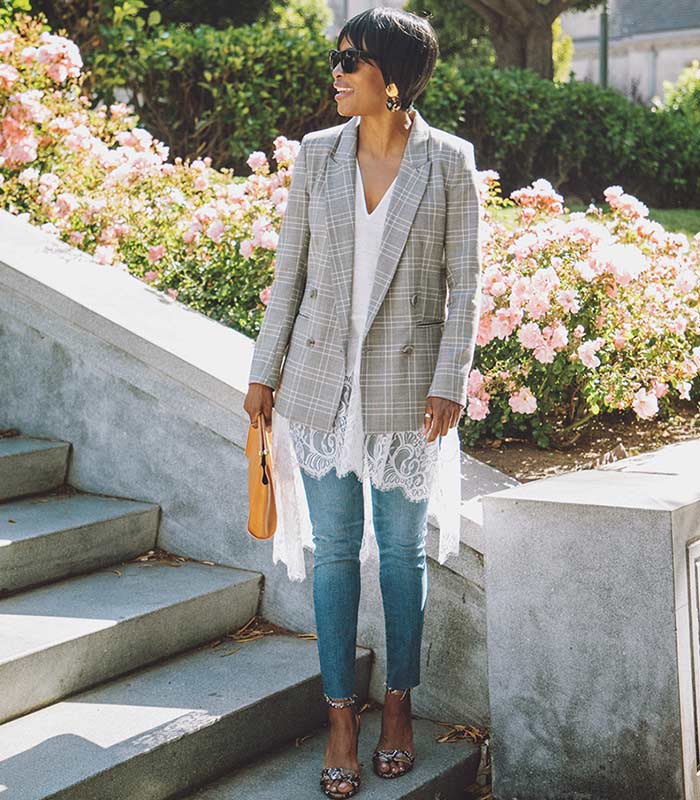 Kim (above) wears her blazer over a feminine lace top.
Check out this similar blazer, long lace top, jeans and sandals.
Boyfriend blazer
For a more casual style, you could opt for the looser fit offered by the boyfriend blazer.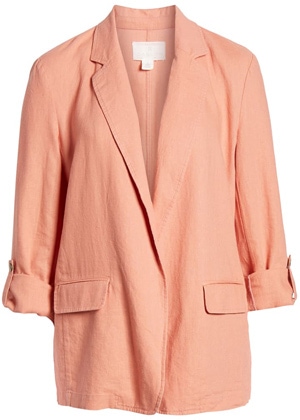 Chanel-style boucle blazer
Even if you don't have a Chanel budget, there are always plenty of Chanel-inspired blazers and jackets on the high street.
Marks & Spencer tweed checked longline blazer
Belted or tie-waist blazer styles
A tie-waist blazer is perfect if you want to show off a narrow waist. This style works particularly well for the hourglass and pear shapes.
@madame_cloche (above) opts for a tie-waist blazer in an eye-catching red.
Check out these similar pants and belted blazer options from Cinq à Sept and Amazon.
Cropped blazer
A cropped jacket can be tricky to wear, as there is the risk that it could make you look boxy.
For more tips take a look at how to wear a short jacket.
However, it can actually be a very flattering style. If you wear your cropped jacket over longer layers, it can confuse the eye, helping to disguise your tummy area.
Knit blazer
A knit blazer is often a great option for weekends to wear with jeans. That way, you elevate your look, but are still comfortable.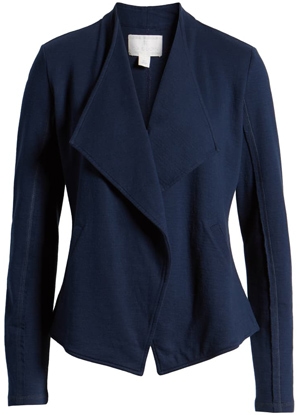 But, if you do want to wear it for work, a knit blazer always works well with wide-legged pants.
Tweed blazer styles
If you are looking to add more texture into your wardrobe, how about tweed?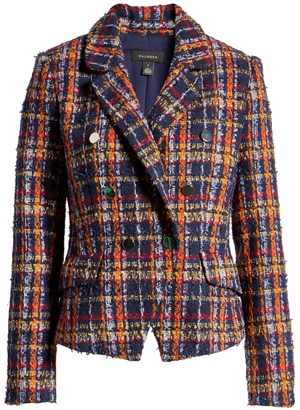 Alice (above) wears a tweed blazer like the one above with a Gucci belt
Check out this similar collared shirt, pants, pumps and the tweed blazers available in Nordstrom now.
Peplum blazer
A peplum style can be flattering for many women. It can help you to add shape if you have a rectangle figure and want to add more curves.
Or it can nip in at the waist and emphasize your existing curves if you are an hourglass.
Velvet blazer
For the festive season, you could try a velvet blazer worn over your party dress.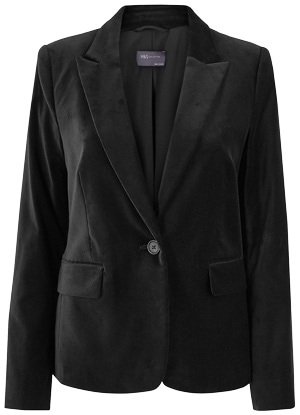 Marks & Spencer velvet fitted blazer
Oversize blazer
This is a shape that is very on-trend just now, but it can be very tricky to wear without looking like you have added extra bulk to your silhouette.
If you want to add an over-sized blazer to your closet, I would recommend keeping the rest of your outfit very streamlined.
Treasure & Bond oversized blazer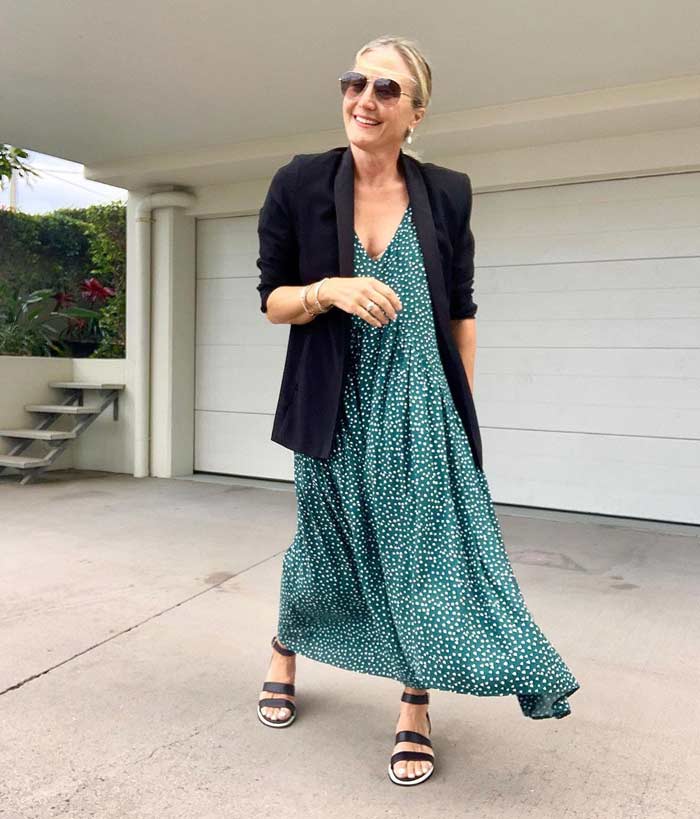 Melinda (above) wears an oversized blazer with her maxi dress.
Check out this maxi dress with the same print and this similar longline blazer and sandals to steal her look.
Colorful blazer
If you already have a black or navy blazer in your closet, how about adding a style in a bold, bright shade?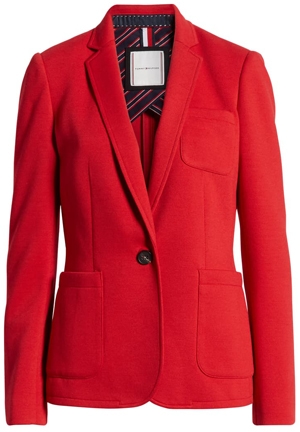 Tuxedo blazer styles for women
Tuxedo styles don't have to be reserved for men only.
This could be the basis for a beautiful party outfit this party season. You could, for example, wear with a pair of leather or faux leather pants and a silk blouse or camisole.
Sleeveless blazers for women
A sleeveless blazer can be a good way to add an extra layer and more interest to your outfit without adding too much warmth.
There's more inspiration here in the best sleeveless vests.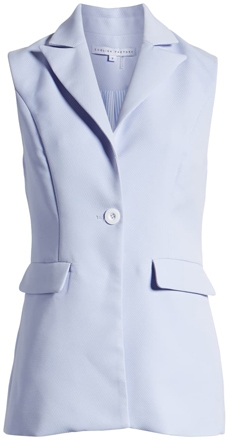 English Factory sleeveless blazer
Elke (above) teams her sleeveless blazer with jeans for a smart, yet casual look.
Get her look with this similar sleeveless blazer, shirt, jeans and scarf.
Blazer dress
The look of a blazer with the more formal style of a dress. A blazer dress could be a lovely option for work, parties or dinner.
Continue reading:
Like this post on the best blazer styles? Share this post on Pinterest!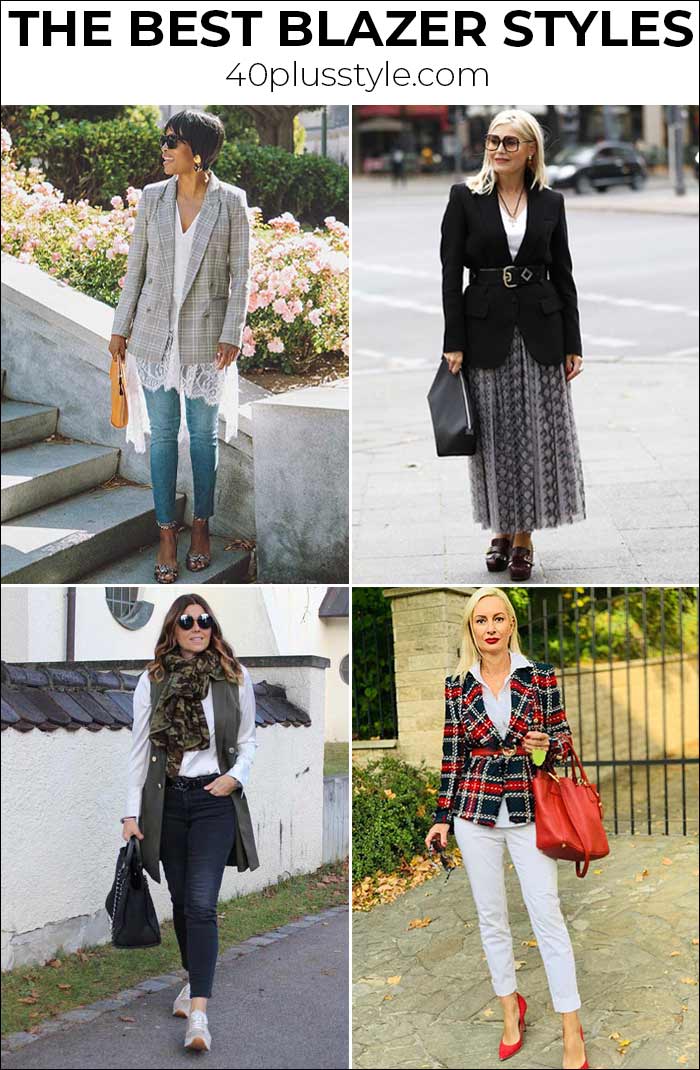 Feature image by Kim
Want to get more articles from 40+style in your inbox, subscribe here.
You can also connect with 40+style on Facebook, Instagram or Pinterest.
Support 40+style by using the links in our articles to shop. As an associate for Amazon and many other brands, we receive a small commission (at no cost to you) on qualifying purchases which enables us to keep creating amazing free content for you. Thanks!